You may not have realized just how many differences there are between chimpanzees vs gorillas. However, there are many similarities as well as preferences when comparing these two primate species– but what might those be? If you've always wanted to learn what makes a chimpanzee and a gorilla, respectively, you're in the right place!
In this article, we will address the many differences between these two amazing animals. These differences will include their habitats, sizes, appearances, and even some of their behavioral habits. Let's get started!
Comparing Chimpanzee vs Gorilla
| | Chimpanzee | Gorilla |
| --- | --- | --- |
| Genus | Pan | Gorilla |
| Size | 3-5 feet tall; 50-150 pounds | 3-6 feet tall; 200-500 pounds |
| Appearance | Sparse black hair covering everywhere but their palms, face, and soles of their feet; large ears and fingers. Lean body | Huge shoulders and broad body; black thick hair covering body except for face, palms, and feet. Males get silver in color as they age |
| Location and Habitat | Western and Central Africa; enjoys tropical forests and wooded areas | Tropical areas of Africa, including rainforests and remote locations |
| Lifespan | 50-60 years | 30-50 years |
Key Differences Between Chimpanzee vs Gorilla
There are many key differences between chimpanzees vs gorillas. For example, chimpanzees are members of the pan family, while gorillas are members of the gorilla family. Gorillas also grow much larger than chimpanzees do, both in height and weight. While the habitats and locations of chimpanzees and gorillas may be similar, chimpanzees far outlive gorillas, often by 5 to 10 years. 
Let's take a look at all of their differences in more detail now. 
Chimpanzee vs Gorilla: Family and Scientific Classification
One of the key differences between chimpanzees versus gorillas is their classification and genus. For example, chimpanzees belong to the pan family of animals while gorillas belong to the gorilla family. They are both members of the primate order, which is why they share some similarities, but gorillas belong to their very own unique family, as do chimpanzees. Both of these primates are extremely similar to humans genetically, as many studies suggest. 
Chimpanzee vs Gorilla: Physical Appearance and Size
You can easily tell a chimpanzee from a gorilla based on their physical appearance and size. Gorillas far outweigh chimpanzees, and they are much taller as well. The average chimpanzee is 3-5 feet tall and weighs 50-150 pounds, while gorillas range in size from 3-6 feet tall and weigh 200-500 pounds. Some gorillas weigh even more than this, which is much more than any chimpanzee will ever weigh!
The physical appearances of chimpanzees and gorillas are different as well. While both of these primates have coarse dark hair covering their bodies, male gorillas turn silver as they age, while chimpanzees don't. Chimpanzees also have pink or tan skin on their palms and faces, while gorillas have black skin on their faces and palms. The average chimpanzee is also much more slender when compared to the broad shouldered body of the average gorilla. 
You can also tell the difference between a chimpanzee and a gorilla based on their ears. Chimpanzees have extremely large ears on the sides of their head, much like humans do, while gorillas have small ears located toward the back of their skull. Gorillas are extraordinarily unique due to their skull shape and size. 
Chimpanzee vs Gorilla: Behavior and Diet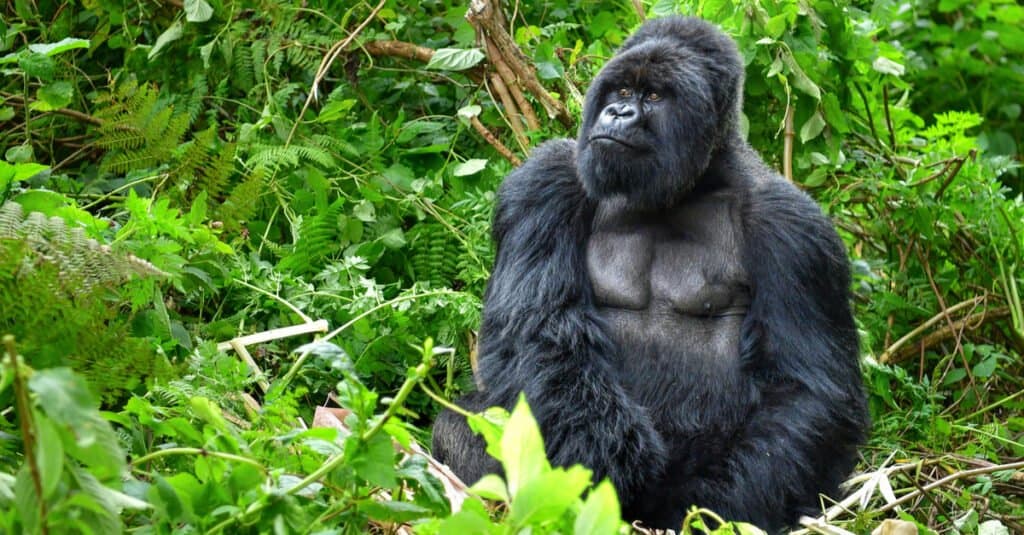 Another difference between chimpanzees vs gorillas lies in their behavior and dietary preferences. While both of these primates are considered omnivorous, chimpanzees eat insects and fruits, while gorillas eat leaves and flowers frequently. While their habitats overlap and affect their diets, these two animals tend to prefer different things no matter where they live.
Chimpanzees prefer to build their nests or sleeping areas in trees, while gorillas will build their nests either in trees or on the ground. These chimpanzees also live in larger groups than gorillas do, and they live as a tight-knit community, while gorillas are led by 1 or 2 male silverback gorillas. While both of these primates have advanced communication skills, chimpanzees are largely considered more sociable than gorillas. 
Chimpanzee vs Gorilla: Preferred Habitat and Geographic Location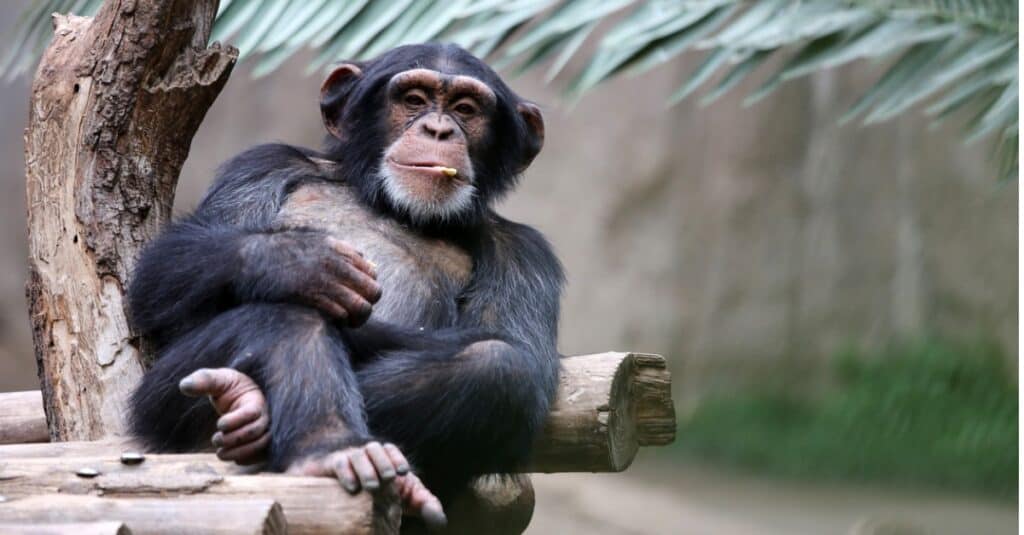 Both chimpanzees and gorillas can be found in Africa, particularly tropical regions with plenty of forest and trees. However, gorillas are often found in far more isolated locations when compared to chimpanzees. These primates also do not choose to live in the same area, given their territorial and protective natures. 
However, chimpanzees can be found in dryer and more arid climates, such as forested savannahs. Gorillas only live in humid rainforests, often isolated in the mountains. Given the large groups that chimpanzees often gather in, it makes sense that they need more areas to inhabit when compared to gorillas. 
Chimpanzee vs Gorilla: Lifespan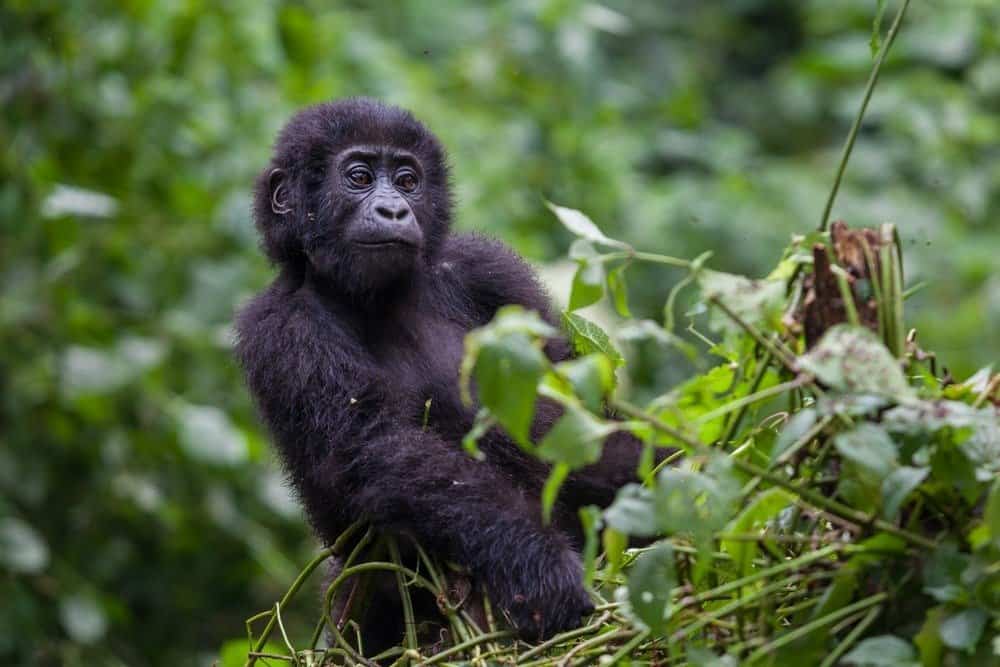 A final difference between a chimpanzee vs gorilla is their overall life span. Chimpanzees live an average of 50 to 60 years, while gorillas live an average of 30 to 50 years. Given a gorilla's life span being shorter on average, they tend to reach sexual maturity faster than chimpanzees do. Female gorillas are ready to reproduce by the age of 8 to 10, while chimpanzees need closer to 13 to 15 years to reach the same point. Gorillas also average one child every four to five years, while chimpanzees give birth to more offspring on average, despite both of these creatures having a similar gestation period.
---