Rivers are a vital part of the natural environment and provide us with essential resources such as drinking water, irrigation for crops, and recreation. But not all rivers are created equal – some can be quite cold! In this blog post, we'll explore the 13 coldest rivers in the United States.
1. Chena River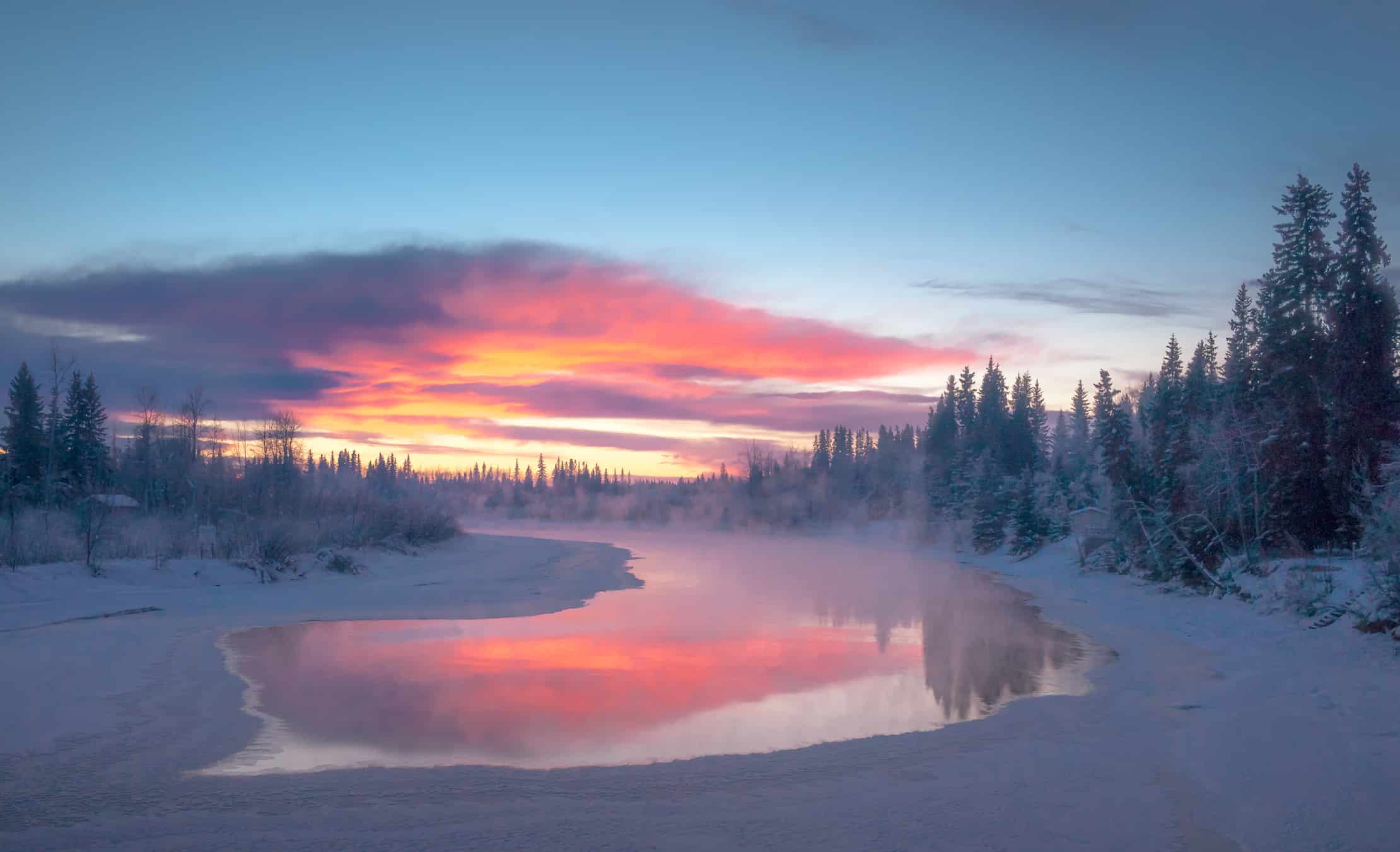 The first river on our list is located in Alaska: The Chena River. This river runs through Fairbanks, Alaska, and has been known to reach temperatures as low as -20 degrees Fahrenheit during winter months! These temperatures make this river one of the coldest rivers in the United States. It's also home to several species of fish including salmon and grayling which make it an ideal spot for fishing enthusiasts.
2. Nushagak River
Next up is another Alaskan river: The Nushagak River. This wild stretch of water flows from Lake Aleknagik into Bristol Bay near Dillingham, Alaska. The river reaches temperatures that dip below freezing even during summer months! Its icy waters offer plenty of opportunities for anglers looking to catch rainbow trout or Arctic Char among other species native to its chilly depths. 
3. Henry's Fork River
Henry's Fork River is a river located in eastern Idaho in the United States. It is a tributary of the Snake River and is known for its world-class fly fishing. This river is also said to have cold water temperatures. While there may not be specific information on the exact temperature of the river, it seems that the Henry's Fork River may experience cold water temperatures, particularly during the winter and early spring months. However, it is important to note that water temperature can fluctuate considerably over the course of a day and can also vary depending on the section of the river being referenced.
4. Big Hole River
Montana's Big Hole River stretches over 200 miles long before terminating at Beaverhead Rock State Monument near Dillon, MT. During winter months, this glacier-fed tributary dips down well below zero creating a frozen wonderland perfect for those seeking adventure! 
5. Colorado River
This river runs through seven states including Colorado, Wyoming, Utah, and New Mexico. It is known for its icy temperatures during winter months due to snowmelt from high elevations along its course. During summer months it can still be chilly as temperatures rarely exceed 68 degrees Fahrenheit (20 Celsius).
6. Snake River
Next up we have The Snake River which flows through Idaho and Oregon before entering Washington State where it empties into Puget Sound near Seattle. This river has an average temperature ranging from 40-50 degrees Fahrenheit (4-10 Celsius) all year round making it one of the coldest major US rivers.
7. Arkansas River
The Arkansas River runs for 1,469 miles across six states including Oklahoma and Kansas before finally reaching Louisiana where it empties out at Atchafalaya Bay near New Orleans bayou country.
Temperatures here tend to range between 46-52 degrees Fahrenheit (8–11 Celsius) with occasional dips below freezing during particularly harsh winters. Extreme weather events like floods or droughts cause even colder conditions upstream towards higher elevation areas such as those found in Rocky Mountain National Park located within this watershed region's boundaries.
8. The Rio Grande
This river forms part of America's southern border with Mexico while also running through Texas' Big Bend area as well as parts of Arizona & New Mexico too. Most people don't realize just how frigid the Rio Grande waters can get especially when considering its location. It is close enough to the Gulf Of Mexico's warm ocean currents yet far enough away that it remains relatively unaffected by it temperature-wise. Average temps here usually hover around 50°F/10°C. However, depending on rainfall levels throughout each season these numbers could change drastically, even potentially dipping down into single digits.
9. Yellowstone River
This river is known for its frigid temperatures due to its high elevation and fast-flowing water. It can reach up to 35 degrees Fahrenheit during winter months. It's also one of the longest undammed rivers in North America. Therefore, it offers plenty of opportunities for whitewater rafting or kayaking trips as well as scenic views along its banks.
10. Hudson River
The Hudson River has an average temperature range from 32-64 degrees Fahrenheit depending on seasonality and location within its watershed area. The river itself runs through several states including New York, Connecticut, Massachusetts, and Vermont before emptying into The Atlantic Ocean near Manhattan Island.
11. Eagle River
Colorado's Eagle River flows down from Rocky Mountain National Park all throughout Summit County before joining forces with Gore Creek near Vail Pass and eventually ending up at Lake Dillon Reservoir. Water temperatures range between 28–45°F (2–7°C). This makes this particular body ideal if you're looking to take advantage of both outdoor activities such as fly fishing while still being able to enjoy some warmer weather when needed too – perfect combination, right?! 
12. Deschutes River
Oregon's Deschutes River has headwaters that begin near Bend, OR then quickly turn southward towards Klamath Falls. Temps dip into the low 30s F (0′ C) during peak season – making this another prime spot if your goal is catching trout without worrying about frostbite setting upon your hands.
13. Salmon River
Last but not least comes the Idahoan Salmon River whose chilly waters hover around 33 °F (-1 °C) year round thanks in part to its high altitude. This gives anglers plenty of opportunity to test their luck against these native fish species even when conditions outside might be less than desirable otherwise.
In Conclusion
All these incredible waterways have something special about them. Whether you're looking for an unforgettable fishing experience or just want to take in nature's beauty, they all share one thing in common: they're seriously cold! So, if you're brave enough (and prepared) why not pay any one of these chilly rivers a visit? You won't regret it!
---
The Featured Image
---