Deer are common animals found in almost all parts of the world. As a result, it is unsurprising to discover that other animals share many of their characteristics and thus look quite similar. In fact, some species may even look identical to deer at first glance!
Below, we'll explore common animals that can easily be confused with deer. We will also look at their physical and behavioral differences so you know how to tell them apart.
1. Chinkara
The chinkara, also known as the Indian gazelle, is an antelope species inhabiting some parts of the Indian subcontinent. It is often mistaken for a deer because of its similar body stance and coloring. Like most deer, the chinkara has a reddish-brown coat with white undersides and long, slender legs. Moreover, the chinkara is a herbivore and prefers feeding on grass, fruits, and leaves at night.
Chinkaras are agile jumpers like their counterparts and can leap up to around 9.8 feet. Despite the resemblance to common deer, an adult chinkara is smaller, standing at about 26 inches at the shoulder and weighing about 51 pounds. Another difference is that male deer possess antlers, which are shed every year. In contrast, chinkaras have horns measuring approximately 15 inches and are never shed.
2. Gemsbok
The gemsbok, also known as Oryx gazella, is a large antelope native to the Kalahari Desert in Southern Africa. Gemsboks have long, black tails, muscular necks, and shoulders. Their coat is grayish to light brown with prominent black and white markings on the body and face.
Gemsboks are herbivores, feeding mainly on grasses, leaves, and shrubs. They are around 3.9 feet tall at the shoulders and have a body length ranging between 75 to 94 inches. Their small heads and 33-inch long, straight horns are the most distinctive characteristic.
3. Gazelle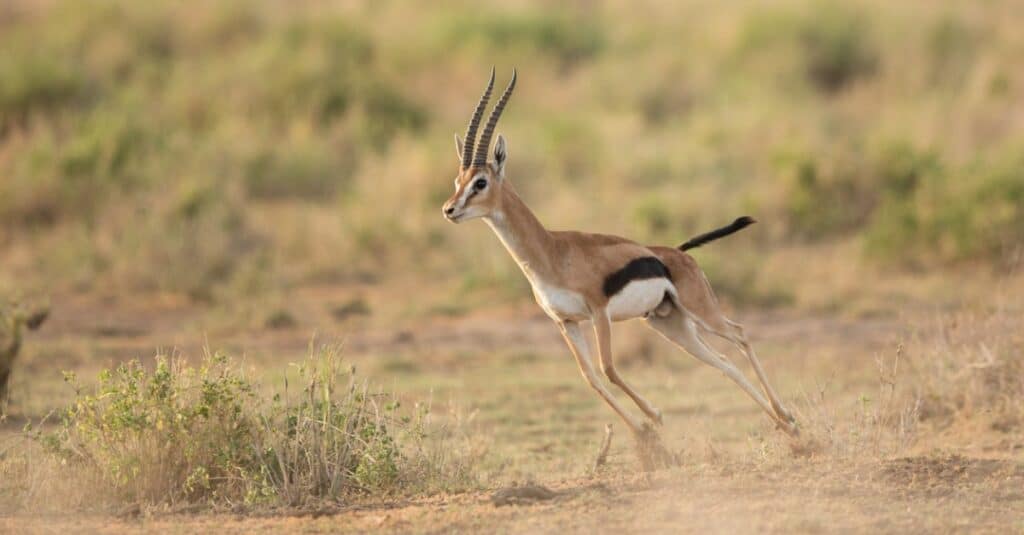 Gazelles are graceful and elegant animals commonly mistaken for deer. However, they have distinct features. Gazelles belong to the Bovidae family and inhabit the plains and savannahs of Africa, the Middle East, and India. Numerous gazelle species vary in size and build, ranging from 2 to 3.5 feet tall at the shoulder.
Gazelles have a tan-colored coat with white underparts and distinctive black stripes on their heads. Their horns are also quite distinct, growing in pairs and curving backward. Typically, male horns are larger. Reminiscent of deer, gazelles are pretty fast and can reach speeds of 60 mph.
4. Giant Sable
The giant sable (Hippotragus niger variani) is an antelope native to Angola. The giant sable is the largest member of the genus Hippotragus, reaching 4.7 feet tall and weighing up to 525 pounds. It is heavily built with long scimitar-shaped horns, growing up to 40 inches in females and 65 inches in males. 
Male giant sables have black coats, while females and calves are chestnuts. They have white markings on their legs, faces, and undersides. Like deer, they are herbivores and forage on grass and leaves. The giant sable population is endangered by habitat loss and hunting.
5. Blackbuck
The blackbuck, also known as the Indian antelope, is an antelope species native to the Indian subcontinent. Male blackbucks have black or dark brown coats, while the females are yellowish-fawn to tan. They have lean and muscular bodies similar to those of deer. A blackbuck's shoulder height is about 29 to 33 inches, and its weight ranges from 44 to 126 pounds. However, unlike deer, which grow antlers, blackbucks have spiral-shaped horns measuring 14 – 30 inches long.
Like deer, they are herbivores and graze on grasses and other vegetation. With a life expectancy of about 10 to 15 years, blackbucks can sustain a running speed of 50 mph. 
6. Greater Kudu
Another animal that looks like a deer is the greater kudu. Native to eastern and southern Africa, the greater kudu can be mistaken for a deer due to its large round ears, light brown coat, and overall body shape. It also has similar feeding habits as other deer, grazing on grasses and leaves.
However, one of its most distinctive features is the vertical white stripes running down its torso. Unlike male deer, which have antlers, male greater kudus grow horns measuring, on average, 47 inches long if straightened. Moreover, greater kudu horns have two and a half twists.
7. Roan Antelope
The roan antelope is a large antelope species found throughout Africa. It resembles a deer in appearance and body shape, with a reddish-brown coat. Being slightly bigger than deer, roan antelopes have thick necks and slender legs. Like deer, they are grazers and love to feed on grasses, succulents, and leaves.
However, the roan antelope has a horse-like build and long, ringed horns that arch backward and can grow up to 39 inches in males and slightly shorter in females. The shoulder height of this species ranges from 53 to 63 inches, while its body weight ranges between 510 and 710 pounds. The roan antelope has a head-and-body length of 93 to 112 inches.
8. Vietnam Mouse-Deer
Contrary to its name, the Vietnam mouse-deer is neither a mouse nor a deer. It is a small ungulate in the Tragulidae family. It is often mistaken for a baby deer because of its reddish-brown coat, grayish posterior, and white and reddish-brown markings on some parts of its body.
Vietnam mouse-deer weigh less than 10 pounds and are about the size of a rabbit, with a head-and-body length of roughly 19 inches. Unlike deer, they lack antlers but possess long tusk-like incisors, which males use for mating and territorial dominance.
9. Ladakh Urial
The Ladakh urial, also known as arkars or shapo, is a type of wild sheep inhabiting the mountain ranges of Ladakh, India. The Ladakh urial has long and slender legs, similar to a deer's. It also has light brown fur, a short deer-like tail, and a similar body shape. The Ladakh urial stands about three feet tall and can weigh up to 130 pounds.
What can help you distinguish urials from deer are their large, curly horns, which are shorter and straighter in females. Moreover, Ladakh urials have thick white beards extending from their necks to the front of their chests. 
10. Nyala
The nyala is a South African middle-sized antelope that resembles a deer in its coloration and feeding habits. Like deer, the nyala has a reddish-brown coat. However, the nyala has vertical white stripes on its body, which can help you tell it apart from a deer. It has yellow-tipped spiral horns that can grow up to 33 inches long.
Nyalas are around 3.5 feet tall at the shoulders and can weigh up to 309 pounds. They feed primarily on grasses, fruits, twigs, and leaves, similar to what deer eat. These browsers are active in the early morning and the late afternoon, while deer are most active at dusk and dawn.
Summary of the 10 Common Animals That Look Like Deer
Explore our list of the 10 animals that most look like deer but definitely aren't that species:
| Rank | Animals That Look Like Deer |
| --- | --- |
| 1. | Chinkara |
| 2. | Gemsbok |
| 3. | Gazelle |
| 4. | Giant Sable |
| 5. | Blackbuck |
| 6. | Greater Kudu |
| 7. | Roan Antelope |
| 8. | Vietnam Mouse-Deer |
| 9. | Ladakh Urial |
| 10. | Nyala |
Up Next:
---
Sources

Fauna Facts, Available here: https://faunafacts.com/deer/animals-that-look-like-deer/
Nature Nibble, Available here: https://naturenibble.com/similar-to-a-deer/
Animal Welfare Institute, Available here: https://awionline.org/content/deer-and-other-ungulates
Wildlife Boss, Available here: https://wildlifeboss.com/animals-like-deer/