Pink isn't often the first color that comes to mind when we think of animals and nature. And in the animal world, pink can be fairly rare. Animals can get their pink color in several ways. Often, it is a result of their diet. Flamingoes, for instance, get their color from the carotenoids found in microscopic algae that brine shrimp consume. And other species can be pink due to recessive genes. Whatever the reason, they stand out. Discover 25 cute pink animals from land to sea, including other pink things found in nature.
Check out these unique pink animals and discover where they live and how they get their coloring.
1. Domestic Pig
Domestic pigs are one of the most common pink animals you may encounter. There are hundreds of domestic pig breeds and they live around the world, where they are predominately used for meat. Pigs become pink when they stop producing melanin. Pink pigs evolved through selective breeding on farms; it did not naturally occur.
2. Roseate Spoonbill
These large wading birds are famous for their long, spoon-shaped bills and pink coloring. They spend their days walking through shallow water in mangroves and swamps. And they live year-round throughout much of South America and the West Indies. These birds get their coloration from carotenoids found in crustaceans and other invertebrates.
3. Flamingo
Similar to spoonbills, flamingoes are tall, wading birds with light to bright pink coloring. There are six living species with varying degrees of pink. The American flamingo is the most vibrant, and they live in tropical areas of North and South America. There are several other species found in South America and two in Africa. They, too, get their pink color from their diet.
4. Pink Katydid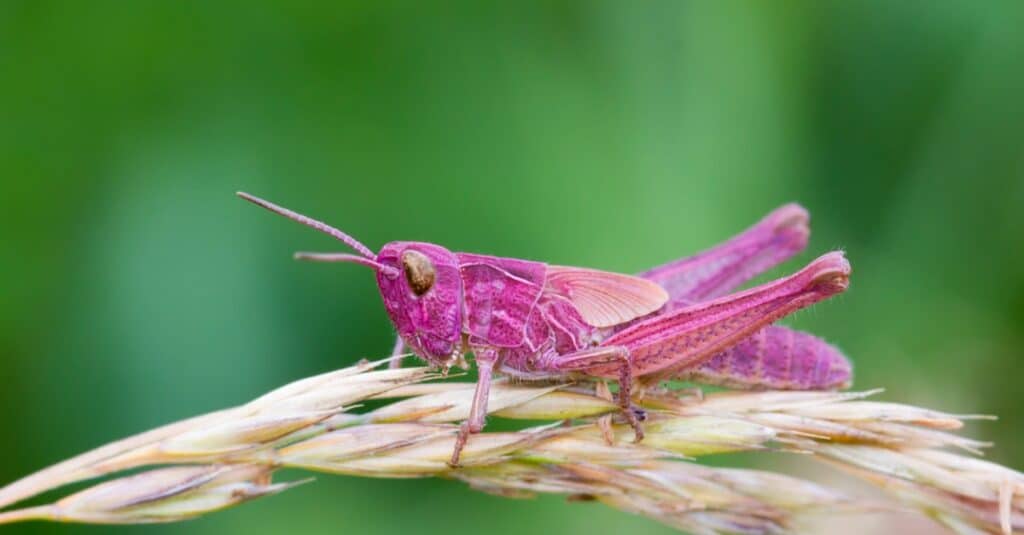 Technically, pink katydids are not their own species. Instead, they are a color morph of the green katydid. They occur as a result of a genetic mutation called erythrism, where recessive genes cause excess production of a certain pigment. And in some regions, like North America, bright pink can be the dominant color for certain species. Look for them in trees, bushes, and grasses.
5. Pink Robin
These hot pink and gray birds are Australian natives. They are relatively small passerines with plump bodies, small bills, and short legs. And they spend their days flitting around rainforests and eucalypt forests. This species is unique due to its dramatic sexual dimorphism. Only the males feature bright pink plumage. The females are rather dull featuring grayish-brown feathers.
6. Web-Footed Gecko
The web-footed gecko lives in the Namib Desert in Southern Africa, where it blends perfectly with the red sands of its environment. These unusual creatures have translucent skin with a light pink tinge. And they traverse their harsh landscape at night with surprising swiftness by using their webbed feet.
7. Roseate Skimmer
This dragonfly is native to North and South America, where it is relatively common. They live near water, both natural and artificial sources, and they breed in mud. The males feature a rosy, pink color, while the females are orange and brown. Mating and climate are the primary reasons for the male's bright colors.
8. Orchid Mantis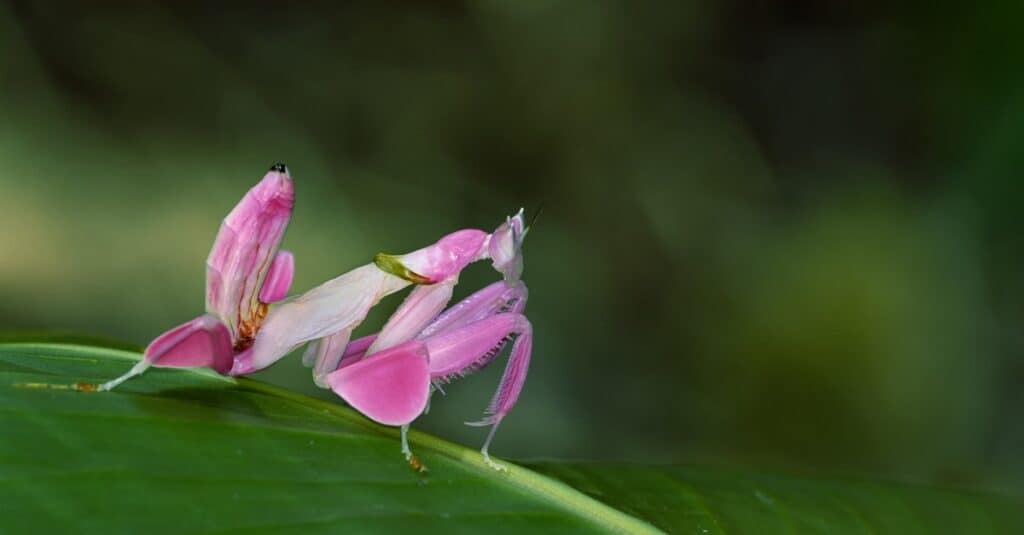 Known as a flower mantis, the orchid mantis mimics the orchid flower, with their legs resembling petals. This species inhabits tropical forests in Asia, where they spend their days tricking their prey. Depending on the color of its background, the orchid mantis can switch between brown and pink. Like many species, this insect uses its unique color for camouflage.
9. Small Elephant Hawk Moth
Found in Europe, Africa, and Asia, the small elephant hawk moth lives in several habitats, including grasslands, heathlands, and hedgerows. Adults feature olive and rosy pink coloring, but its coloration highly varies. Populations in warmer and drier areas are not pink. This occurrence primarily affects those in Central Asia.
10. Naked Mole Rat
We might be stretching the definition of "cute pink animal" with this one, but we think it lies somewhere in the elusive ugly/cute category, so it deserves a spot on the list. Also known as the sand puppy, naked mole rats are nearly hairless burrowing rodents. They are native to the Somali Peninsula and parts of Kenya, where they live in more arid regions of tropical grasslands. Their wrinkled skin is pink and translucent and lacks an insulating layer of skin. These unusual creatures defy the aging process and are immune to cancer. Scientists are studying them to understand how.
11. Sonoran Coachwhip
Named after its braided tail, the coachwhip is a nonvenomous colubrid endemic to the United States and Mexico. This species is thin with a small head and features various colors, with the most common being light brown. The Sonoran coachwhip is a subspecies that lives in Texas in a region where the soil is a pinkish color. These snakes adapt to fit their environments, using their pink coloring to camouflage.
12. Pink Dragon Millipede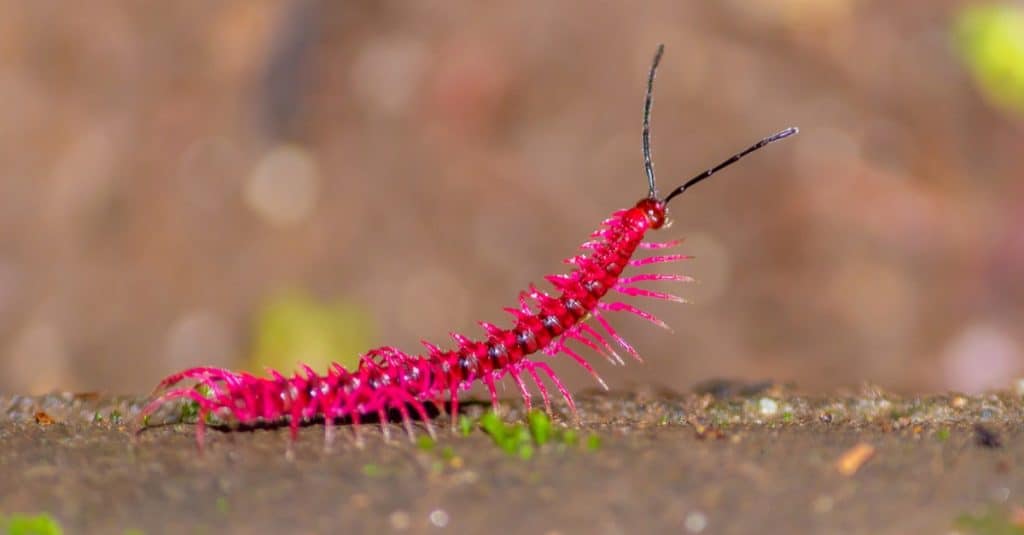 The pink dragon millipede is an excellent example of aposematism. These millipedes are spiny and toxic, featuring hydrogen cyanide-producing glands. This chemical compound is extremely poisonous, which they use to ward off predators. Their bright pink and red colors act as a warning to potential threats, "Stay back. I'm dangerous."
13. Pink-Headed Warbler
This small passerine is a common inhabitant of humid forests at high altitudes. They live in the Guatemalan and Mexican highlands up to 11,500 feet above sea level. Adults feature bright red bodies with grayish wings and tails and light pink heads. You will often find these birds in mated pairs, and both sexes have similar plumage.
14. Major Mitchell's Cockatoo
This medium-sized cockatoo inhabits extensive inland woodlands in arid to semi-arid areas of Australia. The Major Mitchell's cockatoo, also known as the pink cockatoo, is crisp white and soft salmon pink with a bright red and yellow crest. This species' population has declined due to habitat degradation.
15. Galah
Also known as the pink and grey cockatoo, the galah lives throughout Australia, with its range overlapping that of the Major Mitchell's cockatoo. In fact, it is replacing it in many parts of its range. This species actually benefits from human activity and a changing landscape. Their bodies are pink with silvery gray wings and tails. And they feature a pale pink crest.
16. Galapagos Pink Land Iguana
The pink land iguana is an endangered species native to the Galapagos Islands. It lives on the Wolf Volcano (Isabela Island), a shield volcano and the highest peak in the Galapagos. It's estimated there are less than 200 mature individuals alive. This rare species has a pink body with dark gray to black stripes and markings.
17. Primrose Moth
The primrose moth belongs to the owlet moth family and is native to North America. This moth lives in temperate regions, where it feeds on the flowers of the primrose. Adults feature pale yellow, white, and light pink coloring. And they rest inside flowers during the day before becoming active at night.
18. Pine Grosbeak
Pine grosbeaks are large, plump finches with stubby, thick bills and broad chests. Adult males are reddish-pink and gray, while females are more reddish orange. They live in open forests in Canada, the United States, Europe, and Asia. In the Northern US, they are frequent visitors to suburban feeders, especially those filled with sunflower seeds.
19. Pink Manta Ray
Inspector Clouseau is the only known pink manta ray in the world. He has been spotted less than10 times since 2015, swimming around Lady Elliot Island near Australia. Researchers believe his rosy hue is due to a genetic mutation called erythrism, which can cause skin pigmentation to become red or pink. The pink manta ray is actually a reef manta. Reef mantas have previously only been known to show three color patterns, including white, black, and a mix of both.
20. Bargibant's Seahorse
Bargibant's seahorse, or the pygmy seahorse, is a tiny species found on fan corals. They live in the waters of the Indo-Pacific, where they blend perfectly with their environment. These camouflaged seahorses feature colors, such as pink, gray, red, and yellow, to match the specific Gorgonian coral. They also have tubercles on their body to give them the appearance of polyps.
21. Axolotl
This could very well be the weirdest pink animal on our list! The axolotl is an odd and astonishing creature. They are a salamander species, but they do not undergo metamorphosis; they keep their gills and remain aquatic. They also have the power of regeneration, meaning they can regrow body parts and organs. Axolotls are translucent with a pink hue and reddish-pink gills. And they are native to Lake Xochimilco is in the Valley of Mexico.
22. Sea Anemone
The sea anemone comes in many different shapes, sizes, and colors. They are considered invertebrate marine predators related to jellyfish and corals. Most species have their base attached to a surface and tentacles protruding from a trunk. There are over 1,000 anemone species, and quite a few have pink coloration.
23. Pink Sea Star
The giant pink sea star is found in the Northeastern Pacific Ocean. They are large and thick, with five arms and a central disc. These stars can grow up to 35 inches and weigh more than nine pounds. Their coloring is usually light pink but can sometimes be gray. And you can find them on the sandy or muddy bottoms in bays or harbors.
24. Hairy Squat Lobster
The pinky hairy squat lobster is a flattened crustacean with a long tail. The Lauriea siagiani species of squat lobster is orange or pink and features reddish-purple markings. They live predominantly near giant sponges in the waters near Indonesia, Japan, and the Philippines.
25. Amazon River Dolphin
This pink-toothed whale is endemic to South America. They are the largest river dolphin species, growing over eight feet and weighing more than 400 pounds. Some adults, mostly males, obtain light pink coloring. They are born gray but turn pink over time. The exact reason is not well-known. But some believe it could be scar tissue from fighting.
Other Pink Things in Nature
Lake Hillier in Australia
Pink diamonds
Cherry blossoms
Pink fluorite
Pink and white terraces of New Zealand
Pink Sapphire
San Francisco salt ponds
Pink sand beaches of the Bahamas
---