Spring is a time of renewal when the world awakens from its winter slumber, and nature paints the landscape with vibrant colors. In the United States, white spring flowers play a key role in this seasonal transformation. They bring a sense of peace, purity, and serenity to gardens and meadows across the country. From delicate petals to fragrant blooms, these flowers come in various shapes and sizes, adding a touch of magic to the scenery.
If you're looking to plant a white flower garden, checkout this list of amazing white spring flowers in the US!
Snowdrop (Galanthus Nivalis)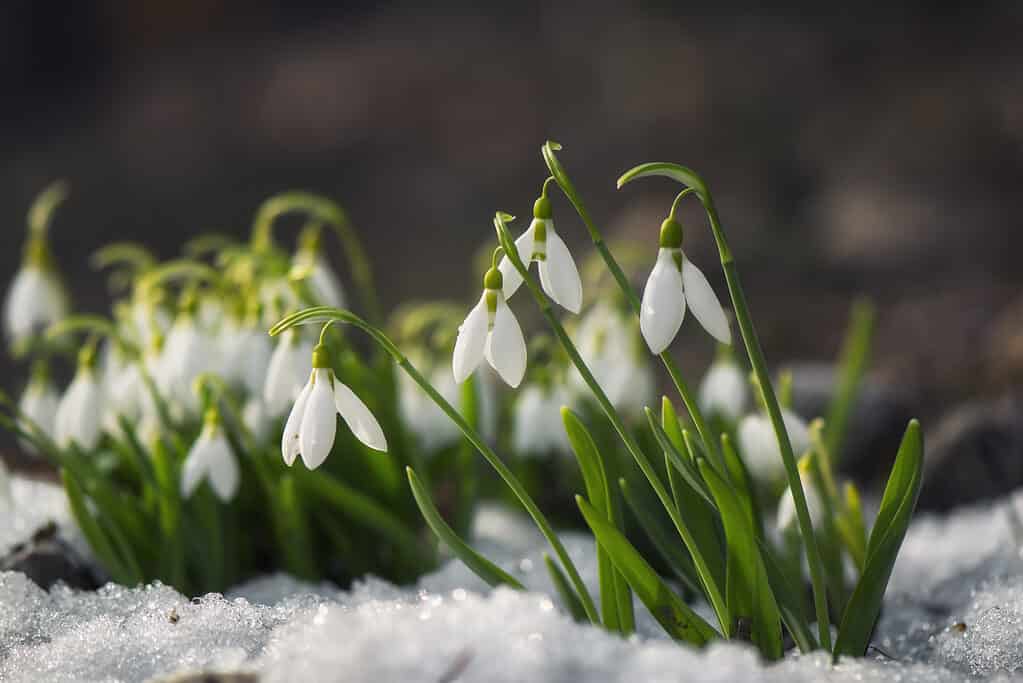 Galanthus nivalis, or the snowdrop, is a prized bulb that brings a touch of early spring magic to any garden. This perennial boasts delicate white blooms with a pop of green on each petal, creating a beautiful and fragrant display from late winter to early spring.
Standing at a height of 8-10 inches, it's a small but mighty addition to any outdoor space. With proper care, it will naturalize effortlessly, returning year after year with its cheery blooms. In fact, under ideal growing conditions, it will multiply quickly, filling your garden with more and more flowers every season. The snowdrop is a low-maintenance plant, requiring no deadheading or weeding.
It's also a recipient of the prestigious Award of Garden Merit from the Royal Horticultural Society, a testament to its exceptional qualities. Growing this bulb is simple and straightforward, as it thrives in average to moist soils and enjoys a combination of full sun and part shade.
Hellebore Sparkling Diamond (Helleborus)
The hellebore winter jewel "sparkling diamond" is a breathtakingly beautiful flower that boasts magnificent, large, and perfectly formed double blooms. Resembling the shape of a lotus, the pure white flowers radiate a diamond-like sparkle that brings a touch of elegance to any garden.
Blooming from late winter to early spring, these stunning flowers sit atop sturdy stems, rising above the glossy and evergreen foliage.
It is a low-maintenance perennial that thrives in partial to full shade. Growing in a bushy and upright clump, it can reach up to 12-15 inches tall and 24 inches wide. With optimal growing conditions, this plant has the ability to self-seed and spread in your garden.
This flower flourishes in fertile, moist, and well-drained soils that are neutral to alkaline. It is best to avoid areas prone to extreme moisture levels. The hellebore is valuable to any garden as it provides nourishing nectar for early pollinators.
It is important to note that this plant is toxic to humans, cats, dogs, and horses. So, although it's beautiful, be careful!
Lily of the Valley (Convallaria majalis)
Convallaria majalis, also known as the Lily of the Valley, is a lush, spreading perennial. It excels in shady areas and heavy clay soil. This low-growing plant is a true delight, with its sweet fragrance and stunning blooms. For three weeks in the spring, delicate, bell-shaped white flowers hang from slightly arched stems. They fill the air with their powerful aroma. 
Paired, elliptic green foliage provides a picturesque background for the enchanting flowers. 
Lily of the Valley is a highly esteemed plant that was awarded the prestigious Garden Merit of the Royal Horticultural Society in 1993. This charming groundcover grows to a height of 6-12 inches and spreads rapidly through its rhizomes. It forms dense colonies in favorable growing conditions. 
This plant is delightful, and its fresh-cut flowers are also a favorite among florists. It's quite adaptable, thriving in various soil conditions, including heavy clay, but it may struggle during dry spells. However, keep in mind that this plant is toxic if ingested and can cause harm to dogs, cats, and horses.
Sweet Alyssum (Lobularia maritima)
The sweet alyssum, sometimes referred to as snow crystals, is a charming and hardy annual with a sweet fragrance. Its vigorous growth and pure white, delightfully scented blooms make it a popular choice for adding to beds and borders. The plant is also known for its drought tolerance, making it a low-maintenance choice.
The sea of white flowers creates a stunning display. Additionally, they mix effortlessly with other annuals or perennials.
The snow crystals are a favorite among gardeners and butterflies alike. This hardy plant boasts an impressive blooming season that stretches from late spring all the way to frost. Standing at 6-8 inches tall and 10-12 inches wide, the snow crystals form a neat and compact mound.
Sweet alyssums prefer full sun locations and well-drained soil with average to medium moisture levels. Although this plant is tolerant of high summer temperatures, some afternoon shade may be appreciated in particularly hot climates. Regular watering is also recommended.
Amaryllis Alfresco (Hippeastrum)
The amaryllis alfresco is a breathtaking beauty that will leave you in awe. This stunning plant boasts large, pure white flowers that measure up to 6 inches across, resembling delicate peonies. The double to almost triple blooms are adorned with a charming chartreuse throat, making this plant truly captivating.
The bulbs grow elegantly to a height of 30-45 cm. They are known to produce two to three stems with five to eight flowers each. The overall flowering period is quite long. Because the flowers don't all bloom at the same time, you will experience weeks of delight!
Planting is effortless, and growing is nearly foolproof, making it perfect for even the most inexperienced gardeners. However, it's important to note that the plant can cause stomach upset to both animals and humans if ingested.
Single Late Tulip (Tulipa Maureen)
The tulip 'Maureen' is a blooming beauty that will light up your garden in late spring. This award-winning tulip boasts goblet-shaped pure white flowers and matures to a soft ivory hue. The sturdy stem of the 'Maureen' is able to withstand both wind and rain on windy spring days.
This flower is a member of the single late tulips group. The graceful gem is a must-have for any gardener who appreciates the beauty of classic white tulips.
Standing tall at 60-65 cm, it creates a dazzling display when paired with other late-season flowering bulbs. The tulip has been recognized for its exceptional beauty and received the prestigious Garden Merit Award. It requires full sun, fertile soil with medium moisture, and good drainage to reach its full potential.
However, it's essential to be mindful when handling this tulip. It is toxic to animals and humans and may cause severe discomfort and an allergic skin reaction. Be sure to wear gloves and protective gear when working with this gorgeous plant.
White Japanese Wisteria (Wisteria floribunda 'Alba')
Bring some Japanese elegance to your garden with the white Japanese wisteria. This stunning plant boasts white pea-like flowers that are fragrant and form long clusters up to 24 inches or 60 centimeters in length. As the leaves open in late spring or early summer, the 'Alba' wisteria displays a dramatic floral show as the flowers bloom in succession from the base.
This long-lived climber is a winner of the prestigious Award of Garden Merit. With its ability to reach up to 30 feet, this deciduous wisteria can quickly transform a plain wall or patio into a work of art. However, you must work hard for this beauty, as Japanese wisteria is high maintenance. If you're willing to put in the extra time, it is well worth the effort.
Thriving in full sun or part shade, white Japanese wisteria prefers moderate fertility, medium moisture, and well-drained soil. It is also known to be drought tolerant. Note that ingesting any part of this wisteria can result in severe discomfort.
Grecian Windflower (Anemone Blanda)
Anemone blanda, also known as "white splendor," is a captivating perennial that brings a burst of pure white to your garden in the mid-spring season. This multiple award-winning plant creates a beautiful carpet of flowers with large, luminous daisy-like flowers, measuring 2 inches wide, along with delicate fern-like foliage.
The flowers, adorned with greenish-yellow centers and rosy-tinted backs, are sure to impress with their long-lasting beauty.
Due to its petite stature of only 4-6 inches tall, this plant adds charm without dominating the space. It is also highly sought after for its effortless naturalization, which makes it a long-lasting addition.
This low-growing beauty thrives in partial shade areas and prefers moist soil. It's a good low-maintenance choice.
To ensure years of breathtaking blooms, plant the Grecian windflower in the fall and watch as it multiplies and spreads its charm.
Peony Bowl of Cream (Paeonia lactiflora)
The bowl of cream peony is a stunning award-winning beauty with large, double blossoms that resemble roses. Its creamy-white petals are so densely packed that the golden stamens are almost hidden from view. These fragrant flowers can reach up to 12 inches in diameter, making them stand out in flower beds. The strong stems and foliage only add to the overall aesthetic.
The bowl of cream is a reliable and vigorous herbaceous peony. This lush, bushy plant boasts glossy deep green leaves and reaches up to 34 inches in height. It is a winner of the American Peony Society Gold Medal and the National Exhibition Grand Champion.
This plant blooms heavily in the late spring to early summer, displaying its showy and fragrant blooms. The peony bowl of cream is low maintenance and prefers full sun or partial shade, as well as well-drained, fertile soils with medium moisture.
Keep in mind that this peony may take up to two years to produce its first blooms, but once it starts flowering, you will be treated to a magnificent display every year.
White Trillium (Trillium grandiflorum)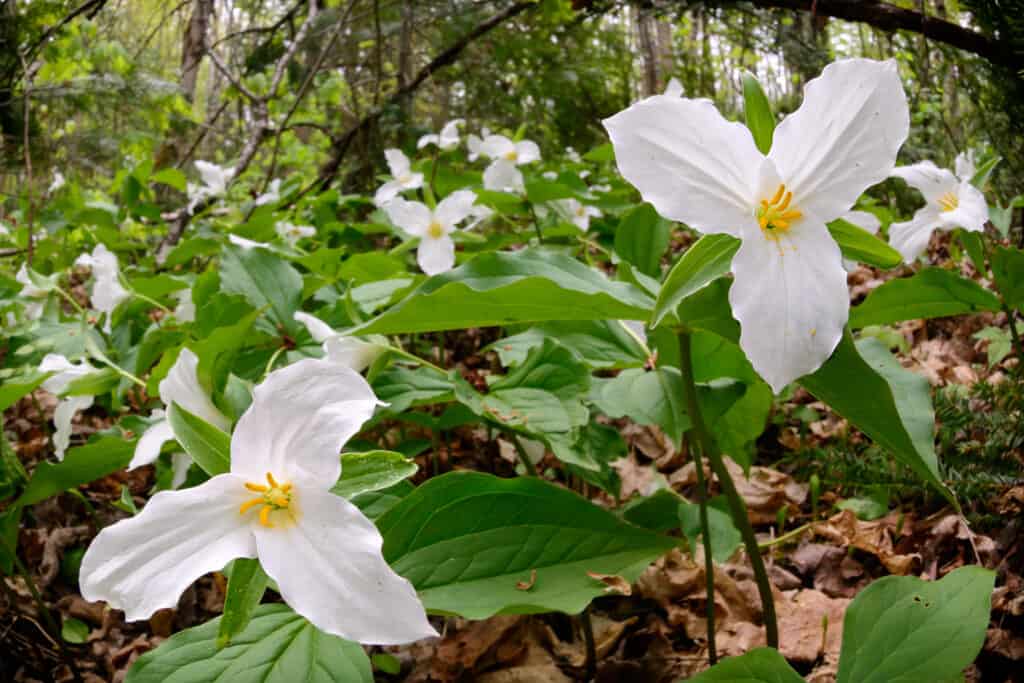 Last on the list is the white trillium, scientifically known as trillium grandiflorum. It is a stunning perennial plant. With its robust growth habit and clusters of broad, ovate leaves, this plant makes a statement. In the spring, a single, magnificent white flower appears in the center of the leaf whorl, with recurved petals that can measure up to 4 inches across.
As the blossoms mature, they turn a delicate shade of pale pink before giving way to berry-like capsules that persist long into the season.
The Royal Horticultural Society has honored the white trillium with its coveted Award of Garden Merit. This pretty plant has a mature height of 12-18 inches and spreads 12 inches wide. Its delicate, white blooms are a sight to behold, especially in a woodland setting.
To keep your white trillium thriving, provide it with deep, nutrient-rich soil that's moist and well-drained, and situate it in an area that receives either partial or full shade. The ideal time for planting this flower is in late summer or early fall.
Up Next
The photo featured at the top of this post is © Viacheslav Rubel/Shutterstock.com
---