For places like Colorado and Minnesota, you can expect snowfall and below-freezing temperatures during January. But California is primarily known for its mild year-round weather and sandy beaches. Even during the coldest months, California is a good-weather haven. However, there have been exceptions. Discover California's coldest January on record and learn about the snowiest place in the state.
California's Climate and Geography
California has over 1,300 miles of coastline along the Pacific Ocean. It also features deep canyons, national forests, deserts, valleys, and mountains. To say that California is a diverse state is an understatement. It contains both the highest and lowest points of elevation in the coterminous United States. These extreme differences in geography and topography allow for varied climates, vegetation, and animals.
California has pronounced climatic differences within short distances, meaning it can be sunny and warm 45 minutes away from freezing temperatures. Areas closer to the ocean experience a Mediterranean climate with warm winters and cool summers, while regions further from the coast have continental climates featuring warmer summers and colder winters. California's eastern mountains protect most of the state from extreme winter temperatures, but occasionally cold air from a high-pressure area can spread over the state. Much of California provides moderate temperatures, but some regions produce extremes in both directions, from over 130 degrees to well below freezing.
Average January Temperatures in California
Due to the state's climate and geography variability, there are no reliable "average" January temperatures. But we can split the state from northern and southern boundaries to create a better feel for common highs and lows.
Northern California has an average January high between 62 degrees (Fahrenheit) and 54 degrees. And an average January low from 33 to 47 degrees. Southern California has an average January high between 71 and 55 degrees. And an average January low from 31 to 50 degrees. These averages were collected from data from various cities across California between 1991 and 2020. 
When compared to the majority of the country during winter, California is quite mild even during a cold front. 
California's Coldest January on Record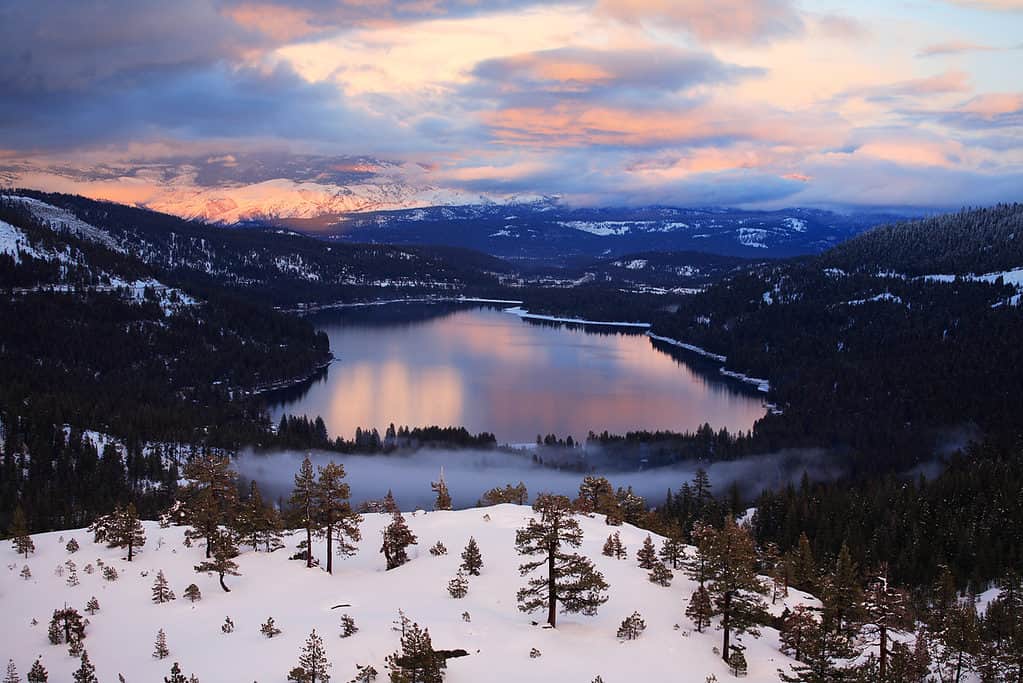 January brings blizzards and cold fronts across many areas in the United States. You may often hear about low wind chills moving through the midwest and the northeast, but you don't typically hear about freezing temperatures in California. According to the average temperatures during the month, the state can see temps drop below 32 degrees, but has it ever gotten colder than that? Actually, yes.
California's coldest January on record was in Boca, California on January 20, 1937. The temperature on this day reached minus 45 degrees Fahrenheit. To compare, the average low in January in Boca is 8 degrees. Boca is in Nevada County in the Tahoe National Forest near the Nevada border. It's located on the Southern Pacific Railroad and sits at an elevation of 5,528 feet above sea level.
What Animals Live in Boca, California?
Black bears
Deer
Turkeys
Bobcats
Coyotes
Raccoons
Quail
Occasionally mountain lions
What is the Snowiest Place in California?
Boca is near Lake Tahoe, which is an area that happens to produce some of the most snow in all of California. Homewood, California, and Tahoe City, California produce over 190 inches of snow annually. Homewood is a mountain ski resort located on the west shore of Lake Tahoe, and Tahoe City is also on the Lake Tahoe shore at the outlet of the Truckee River. Lake Tahoe has several communities that specialize in tourism for all seasons, from skiing in the winter to hiking and swimming in the summer.
What Was the Coldest Winter in Los Angeles?
Los Angeles, located in sunny Southern California, is not typically known for cold weather. But that didn't stop snow from falling for consecutive three days in 1949. January 10, 1949, was the first day of the storm that dropped two feet of snow on the city, including some beach communities. The temperature also dropped to a record-breaking 28 degrees, which is very unusual for LA. While the storm made for gas shortages and traffic hell, most residents made the best of the situation. Children made make-shift sleds and families built snowmen in their front yards. Additionally, random snowball fights broke out across the city.
Up Next:
More from A-Z Animals
---
The Featured Image
---
Sources

Western Regional Climate Center, Available here: https://wrcc.dri.edu/Climate/narrative_ca.php
Current Results, Available here: https://www.currentresults.com/Weather/California/city-temperature-january.php
Patch, Available here: https://patch.com/california/losalamitos/coldest-temperature-ever-recorded-california
USA.com, Available here: http://www.usa.com/rank/california-state--average-snow--city-rank.htm
Onlyinyourstate, Available here: https://www.onlyinyourstate.com/southern-california/coldest-winter-ever-socal/