From cozy cabins in Breckenridge to vibrant après-ski scenes in Vail, the many beautiful and charming ski towns in Colorado offer something for everyone. Whether you're looking for a family-friendly adventure or an unforgettable romantic retreat, these enchanting destinations will provide lasting memories of fresh powder and breathtaking views.
From mid-November to late April (and sometimes even into June at some resorts), the snow-covered slopes of the Rocky Mountains provide a beautiful backdrop for an unforgettable ski experience in Colorado. It's easy to understand why so many people want to hit the slopes as soon as possible, ready to enjoy a winter season full of thrills and fun. Whether you're a beginner or an expert skier, Colorado has something for everyone — so wax your skis and get ready to discover the very best of what Colorado ski towns have to offer!
1. Telluride
Nestled in the rugged San Juan Mountains of southwest Colorado lies the charming ski town of Telluride. With its breathtaking vistas, world-renowned skiing, incredible alpine hiking trails, and quaint Victorian-style buildings, it's easy to understand why Telluride has become one of the most desired winter destinations in the Rocky Mountains. 
Filled with beautiful scenery and activities, Telluride Ski Resort is one of the top spots in Colorado for alpine skiing and snowboarding. Even if you don't ski, the free gondola ride to Mountain Village gives you a stunning view of the scenic mountain town. Not far from the ski resort is Bridal Veil Falls, Colorado's tallest waterfall, which is ideal for ice climbing during winter months and hiking or canyoning during summer months.
You can also take an exhilarating snowmobiling tour of a ghost town or glide around the ice rink at Telluride Town Park. Then, cap off your day in Mountain Village with a visit to the Telluride Distilling Company for some delicious craft spirits. Or you can explore the quaint downtown area with its rustic frontier facades, grandiose Victorian storefronts, warm coffee shops, unique bookstores, galleries, restaurants, and music. Because Telluride doesn't have any billboards, neon signs, or stoplights, you'll feel like you've gone back in time!
2. Crested Butte
Deep in the pristine Rocky Mountains of southwestern Colorado is the charming ski town of Crested Butte, filled with breathtaking views and rich cultural experiences. This dreamy mountain town is tucked away from day-to-day business and traffic and offers plenty of activities for all kinds of adventurers. Nature lovers can explore miles of trails and admire the beauty of the local wilderness, while those seeking a thrill can partake in alpine climbing or skiing. 
With an atmosphere of comfort and ease, Crested Butte Ski Resort is perfect for experienced skiers and riders who are looking for a challenge in the mountains while taking in Colorado's finest nature. With an average of 216.6 inches of snow accumulating over 66 days each year, you can expect to find at least 18 feet of snow on the ground in this area — perfect for skiing, snowboarding, and all sorts of winter fun!
In addition, you can visit during one of the town's many winter festivals. The downtown area is home to many Victorian homes and storefronts providing a picture-perfect view of life and color. This is one place you won't want to miss. 
3. Breckenridge
The charming ski town of Breckenridge, Colorado is a real-life winter wonderland. Nestled at the base of the breathtaking Tenmile Mountain Range, Breckenridge draws visitors with its unrivaled experiences in high-altitude living. From skiing and snowboarding to breathtaking views and challenging hikes, this town offers a wealth of entertainment for adventurers!
With five peaks to explore (all accessible by a hike to the top!) and over 100 trails designed for various skill sets, the Breckenridge Resort is an ideal spot for getting out and enjoying the mountains. There are two additional iconic ski resorts nearby as well. The Keystone Resort and the Arapahoe Basin Ski Area are located just a short drive away.
After a long day of skiing, take a stroll downtown in Breckenridge, and you'll be amazed by its wide variety of restaurants, breweries, distilleries, boutiques, live music, and nightlife! With so many happy hour specials available at any given moment and tons of exciting things to do on any given night, this lively mountain village is sure to make your visit one to remember.
4. Vail
Home to one of the top ski resorts in Colorado, the charming town of Vail is a renowned ski destination for many. Located in the west-central region of the state, Vail boasts a simply stunning Austrian-inspired village. It also offers two picture-perfect base areas: Vail Village and Lionshead. Additionally, I-70, which cuts through the town, offers plenty of outdoor activities, such as cross-country skiing and snowshoeing.
With over 5,000 skiable acres of terrain, Vail Mountain Ski Resort is the largest resort in Colorado. From beginner runs to black diamond challenges and wide-open bowls, there's a variety of terrain for all ski levels. Vail is the perfect winter destination for both skiers and non-skiers alike. At Adventure Ridge you can try snow tubing and ski biking, or head over to the Nature Discovery Center for an educational experience.
Vail is easily accessible from Denver via I-70, which allows for a hassle-free journey to the slopes. However, be prepared for the crowds — with plenty of visitors flocking to this mountain paradise, the number of people can sometimes be overwhelming.
5. Winter Park
If you're looking for both adventure and relaxation, Winter Park is a wonderful choice. This quaint mountain village in Colorado features a Cabriolet gondola that takes visitors to its car-free street. The downtown area has plenty of dining options, affordable lodging, and easy-to-access recreational opportunities. 
Winter Park is a magical place to visit during the winter months. Visitors can snow tube down the picturesque mountains or join a thrilling dogsledding adventure in the backcountry. Take a leisurely stroll through the charming downtown, which is home to plenty of shops and restaurants. Additionally, ice skating is available at The Village!
Winter Park Resort is the closest major ski resort to Denver, located around 70 miles away, so you can enjoy the convenience of a short drive. However, since it is so close to Denver, Winter Park has a tendency to get crowded during the winter months.
6. Steamboat Springs
This charming ski town in the northwest corner of Colorado has an incredibly relaxed vibe.  But don't be fooled, Steamboat Springs still offers some of the best tree skiing in the state. Get lost amongst these trees on your way back down to the lift lines and enjoy the feeling of having entire areas of the upper mountain almost all to yourself. This is a great destination for those looking for a break from the hustle and bustle in the form of a tranquil winter getaway.
Apart from skiing, Steamboat Springs has much to offer. Snowmobiling tours give you the chance to experience the great outdoors with the added bonus of reduced avalanche risk. And after a day on the slopes, you can indulge yourself in one of Colorado's best hot springs at Strawberry Park Hot Springs or Old Town Hot Springs. If you're feeling spontaneous, pick up an iconic cowboy outfit from F.M. Light & Sons for a truly western experience! Afterward, round off your trip with a meal at one of the many local restaurants serving up delicious seasonal dishes.
7. Salida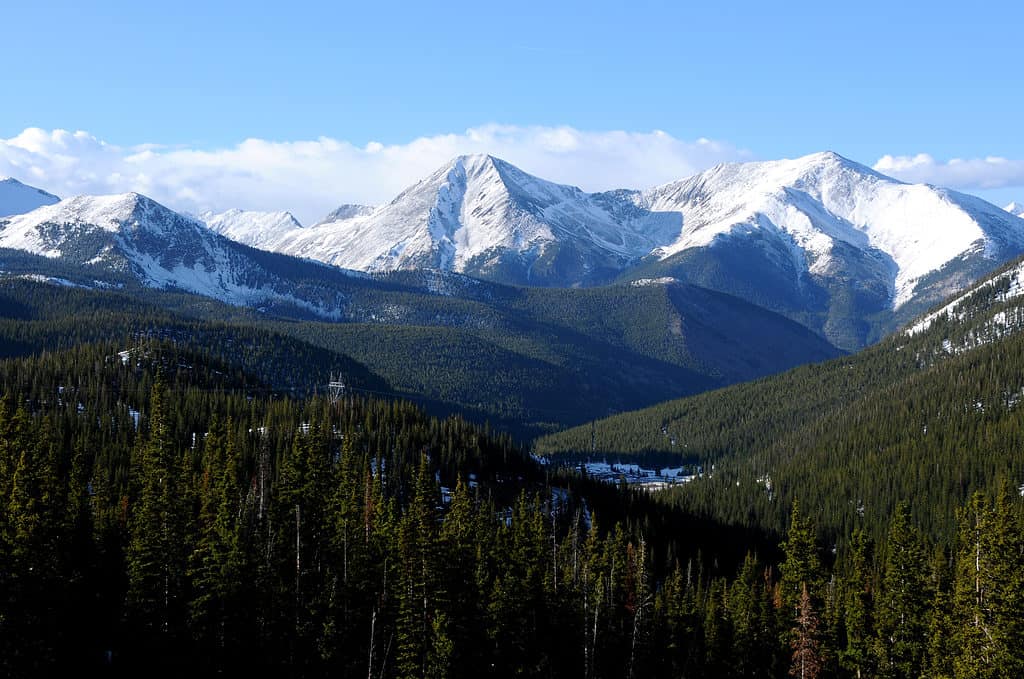 From the spectacular forests and meadows of the Sangre de Cristo Mountains to the friendly locals and cozy restaurants, Salida makes visitors feel right at home in central Colorado. Outdoor activities such as skiing, snowboarding, and snowmobiling, plus a variety of art galleries and antique shops, makes Salida one of the most charming ski towns in Colorado.
Salida's inexpensive lodging and lack of crowds may have you wondering if it's a less attractive option than the larger ski towns. However, this small town has plenty of unique appeal. What it lacks in big-resort lodging, it makes up for with plenty of amazing views and an authentic après ski scene at the Sidewinder Saloon. The relaxed charm of Salida is a refreshing break from the hustle and bustle of larger ski towns, offering unbeatable affordability, few crowds, and a low-key atmosphere.
Salida is a hidden gem nestled in the Sawatch Mountain Range. Its long history as a stagecoach stop gives the town a unique past, enhanced by its hot springs. In addition, Monarch Mountain Ski Resort offers a much more laid-back experience than its larger counterparts, with no lift lines, perfectly powdery snow, and plenty of opportunities to explore the stunning landscape.
8. Silverton
Tucked within the shadows of the majestic San Juan Mountains, Silverton offers breathtaking views, a laid-back atmosphere, and a low-key vibe that make it an ideal escape from city life. The tiny mountain town in southwestern Colorado has retained its 19th-century charm with quaint buildings and saloons dotting the picturesque streets. Adventure seekers can also find plenty to do here with nearby ski resorts providing endless opportunities for skiing, snowboarding, and snowmobiling.
Visitors to the Silverton Ski Resort should expect rustic accommodations that evoke a cozy, yurt-like atmosphere. While this may not be the most luxurious experience, it is a unique and memorable one that will provide plenty of charm and basic comfort.
A trip to Silverton isn't complete without a ride on the Durango & Silverton Narrow Gauge Railroad. This tourist attraction offers special event train rides year-round for an unforgettable experience. Other activities include hiking and camping in the nearby mountains, renting a jeep for sightseeing, or simply taking in the historic downtown. Restaurants, breweries, and festivals are plentiful throughout the year too, so there's always something fun to discover in Silverton.
9. Durango
Durango, the southern gateway to the San Juan Mountains, is brimming with a unique Western spirit. Just 30 minutes away from downtown lies the Chapman Hill Ski Area and Hesperus Ski Area, which offer a variety of night-skiing activities. Purgatory Resort is another great option for skiers and snowboarders, offering smooth cruisers as well as more challenging tree runs. Plus, Colorado's largest snowcat skiing operation can be found here. For those looking for a more authentic backcountry experience, there are several huts available with ample amenities.
For post-adventure relaxation, you can visit the Durango Hot Springs Resort + Spa. This newly renovated resort includes over 40 soaking and plunge pools, as well as Japanese-inspired Ofuro soaking tubs for an even more luxurious experience. After a challenging day of skiing, this place is perfect for relaxing sore muscles.
The town of Durango has so much to offer from skiing and snowboarding to National Historic Landmarks. You can enjoy a family-friendly ski day at the Purgatory Ski Resort, and then go to downtown Durango, a Nationally Registered Historic District. Ride on the Durango & Silverton Narrow Gauge Railroad that travels through the San Juan Mountains to beautiful Cascade Canyon. Or take a step back in time and visit Mesa Verde National Park to see the cliff dwellings and learn about Ancestral Pueblo history. 
10. Beaver Creek
This beautiful town features stunning mountain views, quaint shops and eateries, and world-class skiing and snowboarding. Whether you're looking to relax with hot cocoa in one of the cozy cafes or take on the slopes with an expert guide, Beaver Creek will keep you occupied. 
Beaver Creek Resort, owned and operated by Vail Resorts, provides a peaceful escape from the chaos of everyday life. With its quaint and luxurious atmosphere, Beaver Creek is highly sought after by those looking for a more private winter getaway. This ski destination offers all the amenities of nearby Vail while providing a tranquilized version of the mountain village experience. Ski down the well-groomed slopes or explore the trails around the resort — no matter what you choose, you'll be surrounded by stunning views of the Rocky Mountains and plenty of opportunities for relaxation.
And of course, visiting the charming Beaver Creek Village is an experience all its own. Surrounded by the majestic Rocky Mountains, this quaint village features an array of shops and restaurants, as well as a beautiful ice-skating rink for outdoor fun. Highlights include the cozy Golden Eagle Inn, a favorite local eatery, and Grouse Mountain Grill, where you can find delicious dishes to warm your stomach after a long cold day on the slopes. 
Up Next:
The photo featured at the top of this post is © iStock.com/stockphoto52
---
FAQs (Frequently Asked Questions)
When can you go skiing in Colorado?
Most resorts usually begin operations in late November or early December and will stay open for as long as possible before wrapping up the season sometime in April. On occasion, some resorts may stay open a bit later, but it depends on the snowfall each year. Make sure to plan your trip accordingly to take advantage of the best winter conditions and make the most of your ski getaway.
When is the best time to go skiing in Colorado?
January is an excellent time to experience Colorado's world-renowned ski slopes. Although it's one of the coldest months in the state, temperatures drop low enough to ensure plenty of powdery snow and the resorts are less crowded during midweek as people tend to be busy at work or school.
Sources

Colorado.com, Available here: https://www.colorado.com/activities/colorado-skiing-snowboarding