Virginia is a southeastern state between the Appalachian Mountains and the Atlantic Coast in the United States. The Old Dominion State is known for its oysters, Natural Bridge, Chesapeake Bay Bridge Tunnel, and breathtaking forest views in the fall.
According to the Virginia Department of Conservation and Recreation, there are 41 state parks in Virginia and 26 state forests. Most of the trees in the state are deciduous and turn yellow to brown in the fall. In this article, you will discover 7 incredible places to see fall foliage in Virginia.
Why Do Leaves Change Color in the Fall?
Contrary to popular belief, deciduous tree leaves are not naturally green. They appear green, but their natural colors range between red, orange, yellow, and brown. The obvious reason for the green pigment is chlorophyll.
Chlorophyll is present in all plants and is used to absorb sunlight for conversion to glucose. This conversion of light to chemical energy is known as photosynthesis. However, in the fall and winter, plants do not get as much sunlight as in the summer. According to Forest Service, this allows for other pigments, such as carotenoids and anthocyanin, which create yellow, red, and orange colors.
What Parts of Virginia Are About To Hit Their Peak?
Although no Virginia county is currently past its peak fall colors, Rockingham, Augusta, Highland, Bath, Patrick, and Rockbridge counties have only a few days left. By the 24th of October, these counties would be past their peak.
You are in luck, fortunately. Most Virginia counties haven't hit their peak, so you have a week or two, depending on where you live. 32 counties in Virginia will peak by October 24th. Wise, Bedford, and Washington Counties are some popular counties that fall within this category. All 32 counties are in the western parts of Virginia and their peak seasons will last about a week.
Though Virginians have more time than Northern American states to view good color this year, all 133 counties in the state will be past their peak by November 7th.
7 Incredible Places To See Fall Foliage in Virginia
According to National Parks Service, Virginia is part of Northern America's Eastern Deciduous Forest ecosystem. These forest areas are dominated by oaks, hard maples, and hickories. Some of the largest deciduous forests in the state are the George Washington and Jefferson National Forests. However, you don't have to head there to see fall foliage in the state. Some incredible places that are yet to peak include:  
1. Shenandoah National Park
Shenandoah National Park is perfect for you if you'd like to view the fall colors across various trees, wildflower fields, and shrubs. According to the NPS, the park stretches across 200,000 acres and houses more than 300 tree, shrub, and vine species, including chestnut oak, maple, and yellow poplar. If you choose to visit this park, buying your ticket online is a smart idea; ticket queues could be long and brutal.
2. Mabry Mill, Floyd County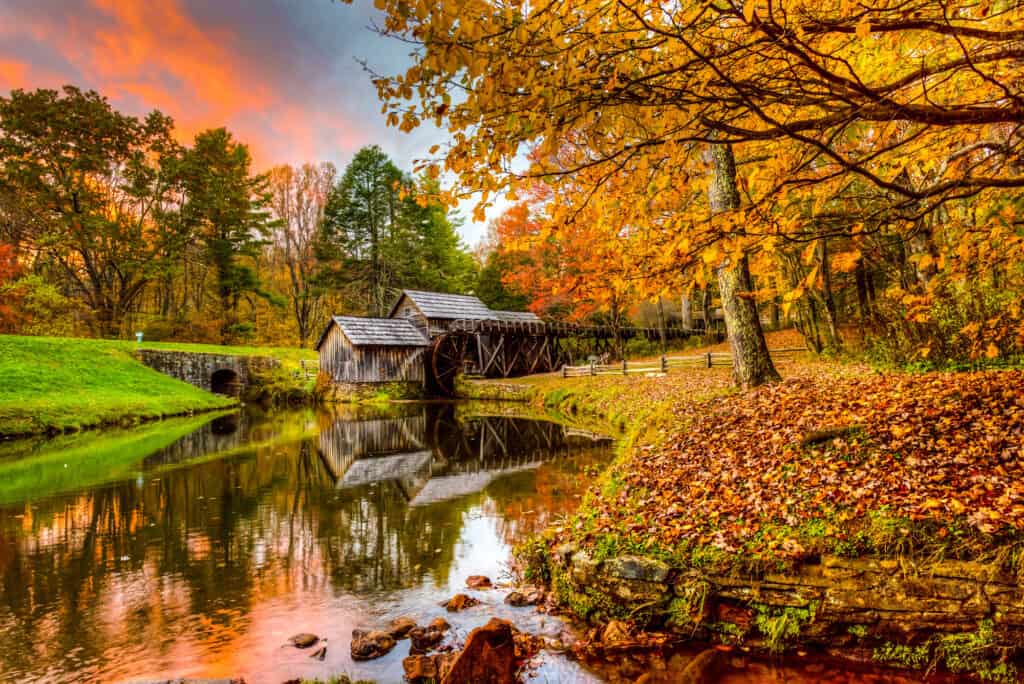 Mabry Mill is a watermill run by the National Parks Service on the Blue Ridge Parkway. The watermill is allegedly one of the most photographed places in the parkway, especially when the trees along the trail have bloomed in spring and summer. However, the parkway is just as lovely during the peak fall season.
According to Virginia's Wildlife Resources Department, common trees at the mill are sycamore and yellow poplar. These trees are often found along the county's 0.5m trail. In the fall, the trees have vibrant colors yet to peak.  
3. Mount Rogers National Recreational Area
The Mount Rogers National Recreational Area is a 200,000-acre forest with parts of the Appalachian and Virginia Creeper Trails. The park offers a large expanse of spruce forests and more than 50 threatened or endangered animal and plant species. The trees are gorgeous in the fall, and you can enjoy leaf-peeking while bird-watching, fishing, or sightseeing.
4. Potomac Heritage Trail
The Potomac Heritage Trail is a 19.2-mile national scenic trail near Virginia's Arlington County. The trail area has more than 20 rare plant species, including Virginia bluebells, toadshade, and dogtooth violets. What's more? The trail's trees and environs house many beautiful autumn bird species, which you can observe as you journey the trail. The Potomac Heritage Trail is a great place to visit if you'd like to enjoy a walk through history and nature while leaf-peeping.
According to Virginia's Wildlife Resource, the 61-acre Hidden Valley Lake is located in the mountainous Hidden Valley Wildlife Management Area in Washington County. The south of the lake is almost completely forested, while the north is a mixture of open lands and woods. Bluegills, black crappie, and channel catfish are some of the animals sustained by the lake. In the fall, the forests along the lake experience foliage and can be an amazing area to visit to enjoy its breathtaking land, aquatic ecosystem, and trees.
6. Priest's Wilderness, Amherst County
According to the Virginia Wilderness Committee, Priest Wilderness was established in Amherst County along the Appalachian Trail. The area is more forest than wilderness and measures about 5,994 acres. The forest mostly consists of eastern deciduous trees such as chestnut, yellow poplar, basswood, and scarlet oak.  
7. Appalachian Trail, Wise County
The USA's longest hiking-only trail. The unbroken trail crosses 14 states and, thus, serves as a migratory route for birds and an avenue for hikers to connect with nature.
According to news reports, the Appalachian Trail has about 30 tree species. Some of these trees are oaks that turn red, maples that showcase a variety of red, yellow, and orange, and birches. Red-tailed hawks and blue songbirds are two common species you could spot while leaf-peeking.
Up Next:
Why Do Leaves Change Color in The Fall?
Last Chance! 7 Beautiful Fall Foliage Spots in New Jersey Right Now
Discover the 12 Best National Parks in Virginia
More from A-Z Animals
---
The Featured Image
---
Sources

Virginia DCR, Available here: https://www.dcr.virginia.gov/state-parks/
Smoky Mountains, Available here: https://smokymountains.com/fall-foliage-map/
National Park Service, Available here: https://www.nps.gov/im/ncrn/eastern-deciduous-forest.htm