Japan has the Pacific Ocean off its eastern coast, the Sea of Japan to the west, the East China Sea to the southeast, and the Sea of Okhotsk to the north. The islands of Japan are also dotted with lakes and streams, as well as a few major rivers like the Tone and the Shinano.
With all this water, you can imagine some of the amazing fish species that can be found in Japan! With seafood being so popular in the country, you know there are some unique fish that make some unique dishes. There are also some crazy-looking fish that can be found in the coral reefs offshore. And don't forget the national fish of Japan!
Read on to discover 10 spectacular fish found in Japan!
1. Japanese Koi
Let's start with the national fish of Japan… The Japanese Koi! You may be familiar with these colorful fish often displayed in elaborate garden ponds. Koi is a version of the common carp that was purposefully bred years ago to develop a wide range of colorations, including orange, yellow, and red. Many of the koi have a mixed coloration with a base of orange with black markings, for example. The different variations of koi produce fish of differing sizes but some can get quite large. While average koi may be in the 12-24 inch range some can get as big as 3 feet or more! Although Koi are not originally from Japan, they were brought in from China as a food fish in the early 19th century, Japanese Koi are now highly prized fish and honored as the national fish.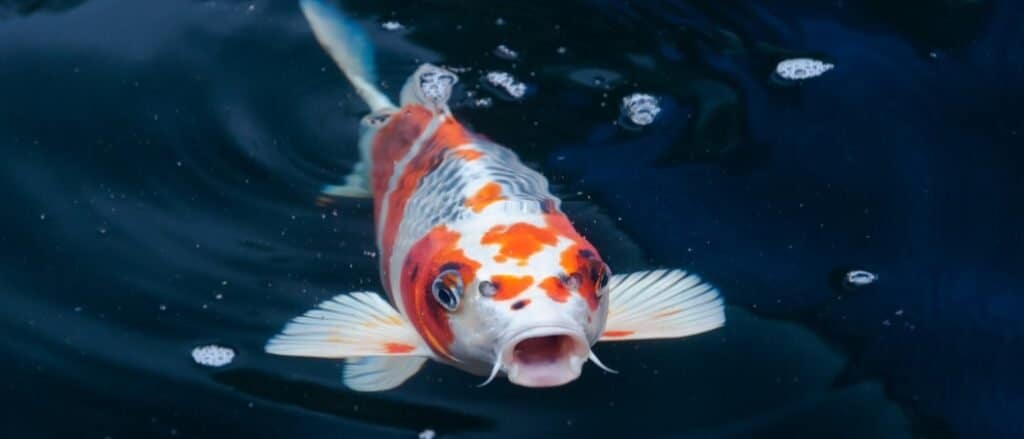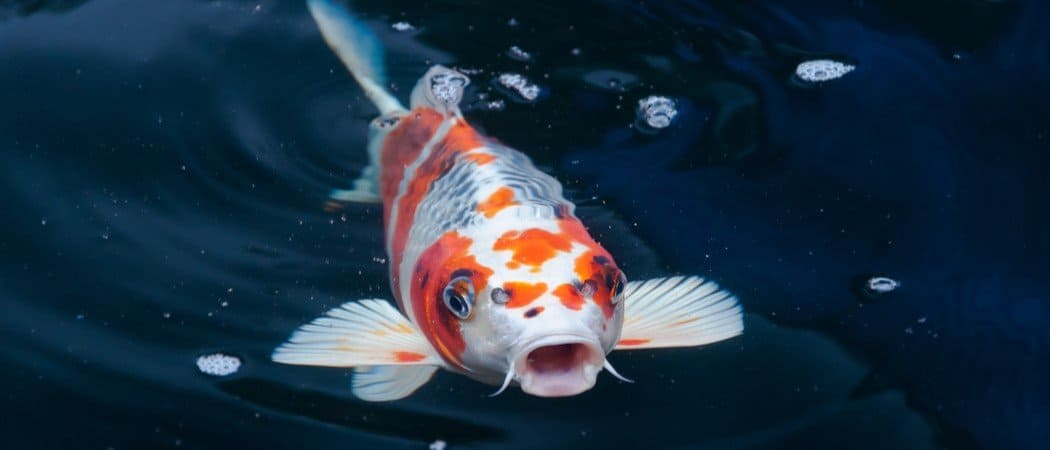 2. Pacific Bluefin Tuna
One of the most common fish used in sushi and sashimi dishes in Japan is the Pacific bluefin tuna. Although not as big as the Atlantic bluefin, they can still reach impressive sizes. An average Pacific bluefin is around 4 feet 11 inches long and weighs about 130 pounds but the all-tackle world record was 907 pounds 6 ounces!
Pacific bluefin tuna are dark blue on the dorsal side with a mix of greenish-blue iridescence along their side and a lighter underside. They have a series of dorsal fins, the first looking sail-like, the next more like a shark fin, and then a row of small triangular fins. Their torpedo shape helps them glide through the water at high speeds, with short bursts of 12-18 miles per hour!
3. Japanese Sea Bass
The Japanese sea bass is known as suzuki in Japan. They can be found off the coasts of Japan and in some of the brackish areas along the coast. Japanese sea bass are silvery in color and look much like perch, in fact, they are also sometimes called "Japanese sea perch." Anglers that are targeting sea bass in Japan will refer to the name of the fish depending on their size. The smallest ones are called seigo, then fukko, and, finally, suzuki.
The largest Japanese sea bass ever recorded was caught on the Katada River in Oita, Japan. The record-breaking Suzuki weighed 28 pounds 15 ounces and was caught by Yoshiaki Kubo on October 8, 2006. A truly spectacular catch!
4. Cherry Salmon
The cherry salmon, or masu, is only found in the Asian Pacific and are one of the smallest Pacific salmon. As adults, they can get up to 20 inches long and weigh between 4-5 ½ pounds. They are olive-green to brown with pinkish-striped blotches along their sides. Similar to coho salmon, cherry salmon start out in freshwater rivers and then move out to the saltwater sea, mainly the Sea of Japan or the Sea of Okhotsk, where they live for about a year before migrating back upstreams to spawn. They get their name "cherry salmon" because this spawning season coincides with the cherry blossoms, which usually occur in May.
5. Red Seabream
The red seabream is a traditional fish in Japan that is considered good luck and is reserved for special occasions like weddings and the Japanese New Year. The red scales of the fish are thought to ward off evil spirits, so the seabream are treated with respect. Seabream are pinkish to red with a lighter underside and darker tailfin. Most are in the 12-28 inch range but some can get almost 4 feet long. The Japanese name for seabream is madai. They can be found off the coast of southern Japan down to the South China Sea.
6. Japanese Freshwater Eel
Japanese freshwater eels go through several phases of their life. They are catadromous, meaning they spend most of their life in freshwater, like the coastal tributaries and rivers along Japan's coast, then migrate out to sea to spawn. These eels are long and skinny with an underbite and small pectoral fins. They are typically around 16 inches long. One of the spectacular feats of the Japanese freshwater eel is they are able to scoot across the land for short distances to find better conditions and food.
Due to several threats, the Japanese freshwater eel is considered "Endangered" by the IUCN. There are many factors that have contributed to their decline, including unsustainable fishing. The Japanese freshwater eel, or unagi, is one of the most expensive dishes in all of Japan. Some restaurants have prices starting at $90 for their traditional kabayaki dish. Eel farms produce more than 90% of the eel products for the global market.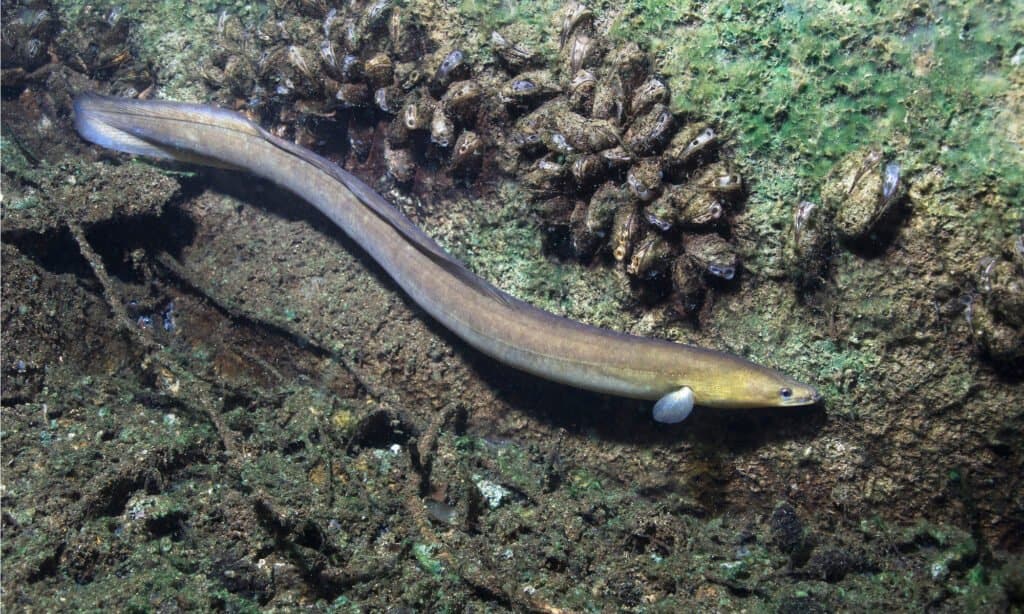 7. Tiger Pufferfish
The tiger pufferfish, sometimes called the Japanese puffer, is a spectacular-looking fish with a unique ability to use water to "puff" itself up. You may have seen pictures of pufferfish with large spikes all over their body, but the Japanese puffer has smooth skin without spikes. They are, however, very dangerous if eaten… deadly even! Pufferfish have a toxin in their organs, mostly the liver and ovaries, called tetrodotoxin that is poisonous to humans. Specialized chefs have figured out a way to prepare the pufferfish safely and it is another expensive delicacy called fugu in Japan.
8. Butterflyfish
Now, let's move on to some of the spectacular fish you can find along the beautiful coral reefs of Japan. There are several reef systems but one of the most commonly visited by divers and snorkelers is around the Kerama Islands off the southeast corner of Japan. The reefs contain hundreds of different species of fish and coral, including some of the most colorful species. Butterflyfish come in a variety of colors and patterns but they share the same dinner-plate shape with a pointed snout. They belong to the Chaetodontidae family. One common coloration is a background color of white with thin black vertical striping and bright yellow dorsal, anal, and caudal fins. Most are relatively small and rarely get bigger than 8 inches.
9. Giant Trevally
The massive giant trevally is a spectacular fish due to its size and aggressive attitude. Anglers target this species when they want a challenge of snagging a fish that is going to put up an epic fight. Giant trevally really are good-sized fish reaching lengths of 40 inches and 110 pounds. They are not long skinny fish like pikes but heavy-bodied fish with large heads and big eyes. Giant trevally are so ornery they are not afraid to mess with sharks and are known to even ram into sharks!
The world record biggest giant trevally was caught in Tokara, Kagoshima, Japan. Kagoshima is at the southern tip of Japan. Keiki Hamasaki caught the record breaker on May 22, 2006. Guess how much this monster fish weighed… 160 pounds 7 ounces! What a catch!
10. Yokozuna Slickhead
Here is a truly spectacular fish found in Japan that has just recently been identified. It might be the largest deep-sea fish ever found. Researchers posted their findings of these spooky-looking fish in the Frontiers in Marine Science journal. When we say "deep sea," we are talking 1.25 miles deep! The researchers sent baited boxes and cameras down to record what they could see. Six slickheads showed up to see what "smelled" so good. By comparing the size of the slickheads to the size of the bait trap they estimated one of them could have been around 8 feet long! Yokozuna slickheads are almost all black and have large eyes and gaping mouths. They are fuller-bodied toward the front of their body and then taper off towards the tail.
You won't find Yokozuna slickhead on any Japanese restaurant menu… yet, but they certainly qualify as one of the most spectacular fish found in Japan!
---