↓
Continue Reading To See This Amazing Video
November is a great time to travel and explore everything you are drawn to, be it wildlife viewing, hiking in the vast wilderness, scenic drives, mountain climbing, or enjoying the beautiful fall foliage and its changing colors.
Consider visiting some of the most impressive national parks in November. Why? Because the weather is cooler and crowds would be thinning out, which means quieter and more intimate outdoor activities.
The options for an ideal fall vacation are plenty. This article features a selection of the best national parks in the United States that you can visit in November, along with what to expect from each while you're there. 
1. Death Valley National Park
| Death Valley National Park | |
| --- | --- |
| State | California |
| Size  | 3,373,063 Acres |
| Animal to See | Desert Bighorn Sheep |
| Attraction to See | Windrose Charcoal Kilns |
November is the best time to visit Death Valley National Park. The weather is pleasant, the sky is very clear, and the park is less crowded during this time of the year. Take a scenic drive out to the Racetrack Playa and discover how the boulders slide across the park's landscape. 
Hike through the Sandston canyons and enjoy the park's unique landscapes from the Manly Beacon, a towering spire that rises above the park's badlands. Zabriskie's point is also another place where you can get a stunning panorama of the park in every direction.
There's a lot more life in Death Valley National Park than the name suggests. Many nocturnal species of animals thrive in the park. You may spot chuckwalla, desert bighorn sheep, ravens, ground squirrels, lizards, and other animals throughout the park. You may also notice coyote tracks along with those of a jackrabbit while hiking through the sand dunes.
2. Acadia National Park
| Acadia National Park | |
| --- | --- |
| State | Maine |
| Size  | 49,075 Acres |
| Animal to See | White-tailed Deer |
| Attraction to See | Cadillac Mountain |
November in Acadia National Park is magnificent due to fewer crowds, suitable temperatures, and spectacular fall foliage. The temperature is moderate in early November, but it starts to drop by the end of the month.
Hike through the flat Jordan Pond Path to get great fall views of the Jordan Pond. Try the Ocean Path Trail if you want to explore an easy coastal excursion. You can as well drive to the top of Cadillac Mountain.
Acadia National Park provides a habitat for around 40 species of wildlife. Beavers, foxes, coyotes, otters, raccoons, white-tailed deer, martens, and other animals impact Acadia's land and waterscapes.
3. Yosemite National Park
| Yosemite National Park | |
| --- | --- |
| State | California |
| Size  | 759,620 Acres |
| Animal to See | Grizzly and Black Bears |
| Attraction to See | Yosemite Falls |
Fall is a grand time to visit Yosemite National Park. Paint your next travel picture by visiting Yosemite in November. Due to fewer crowds, you will be able to explore all outdoor activities and get to enjoy cool evenings and crisp mornings all by yourself.
Get an exceptional guided backpacking experience by hiking along the John Muir Trail. You only need one wilderness permit to access this world-famous trail, which leads you to Mount Whitney.
Observe the truly fascinating behaviors of the 90 species of mammals at Yosemite. You may spot black and grizzly bears in the Pines campground and the meadows. Mule deer, coyotes, and Sierra Nevada bighorn sheep can also be found at Glacier Point and along the one-way roads in and out of Yosemite Valley. 
4. Rocky Mountain National Park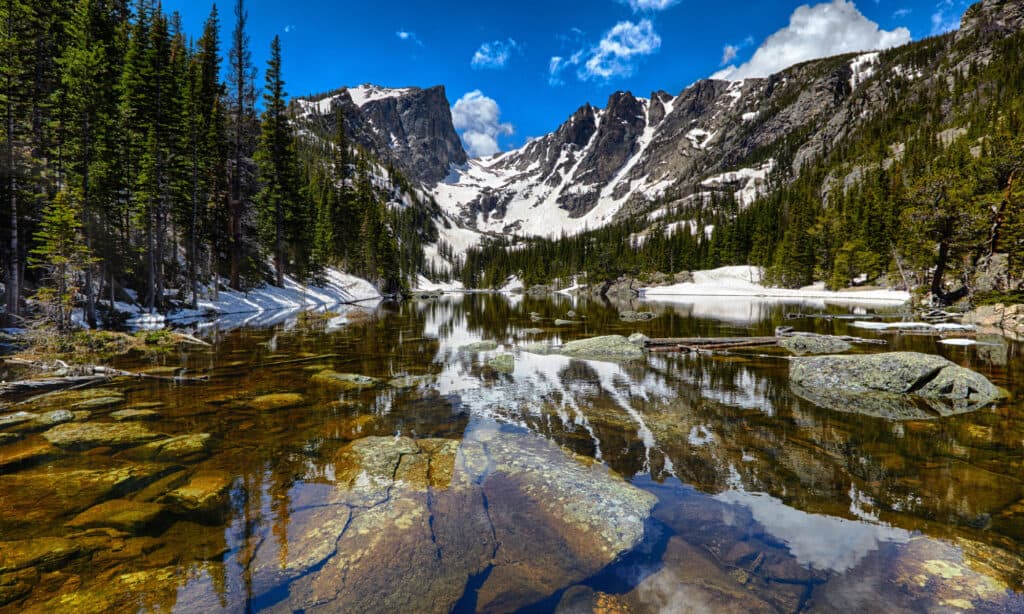 | Rocky Mountain National Park | |
| --- | --- |
| State | Colorado |
| Size  | 265,461 Acres |
| Animal to See | Mountain Lion |
| Attraction to See | Moraine Park Museum |
An early November visit to Rocky Mountain National Park is an opportunity to experience fall foliage. The cool weather and fewer crowds make it possible to explore plenty of outdoor activities such as hiking, fishing, scenic drives, photography, biking, and backpacking.
Drive along Trail Ridge Road, the longest paved road in Colorado and the entire United States. It's a fun road with spectacular views of the Rocky Mountains, wildlife, alpine tundra, and alpine forests.
Mountain lions, bobcats, coyotes, elks, American black bears, marmots, pikas, and numerous bird species can be found throughout the park. Some of the best spots to view wildlife while at the park include Bear Lake Road and Moraine Park.  
5. Glacier National Park
| Glacier National Park | |
| --- | --- |
| State | Montana |
| Size  | 1,013,322 Acres |
| Animal to See | Black Bear |
| Attraction to See | Lake McDonald |
Every month in Glacier National Park is stunning, but November is uniquely magical. The glacial curved mountainsides and valleys are painted with beautiful fall foliage and snow-capped peaks. The park is also less crowded in November.
Explore both sides of the Continental Divide through hikes and drive through the Going-to-the-Sun Road. During your traverse of the Logan Pass, you will see towering mountains, cascading waterfalls, beautiful valleys, and breathtaking glaciers.
Beyond its beautiful scenery and world-class hiking, Glacier is best known for its spectacular wildlife viewing opportunities. The park is home to 7 species of mammals, such as black bears, mountain goats, bighorn sheep, moose, Canada lynx, shrews, and around 276 bird species.
6. Arches National Park
| Arches National Park | |
| --- | --- |
| State | Utah |
| Size  | 76,679 Acres |
| Animal to See | Bighorn Sheep |
| Attraction to See | Double and delicate Arch. |
November is the perfect time to visit Arches National Park. The park is less crowded, and the daytime temperatures range from 60℉ to 80℉. By visiting the park in November, you will enjoy a peaceful front-seat view of the most stunning sandstone formations and breathtaking vistas.
Enjoy the Arches scenic drive on the one road that travels through the park where you will see the three cool arches: Turret Arch, South Window, and North Window. (It's easy to find a parking area in the arches during November!). You can hike back to your car using the Primitive Trail.
You may catch sight of most nocturnal animals such as skunks, mountain lions, desert bighorn sheep, bobcats, and ringtails roaming the side canyons and talus slopes near the Colorado River. You can easily see bighorn sheep along Highway 191 south of the visitor center.
7. Yellowstone National Park
| Yellowstone National Park | |
| --- | --- |
| State | Wyoming |
| Size  | 2,219,791 Acres |
| Animal to See | Elk |
| Attraction to See | Old Faithful |
Among the world's wonders are the features of Yellowstone National Park. Visiting in November makes your trip more fun as it is cooler and less crowded. Enjoy the scenic drives and hikes to the Grand Canyon where you will get magnificent views of the park.
Explore Yellowstone's beautiful geothermal features, such as the Old Faithful Geyser, home to hot springs known as the Mammoth Hot Spring, the Boiling River, and the Grand Prismatic Spring.
Visit the Lamar Valley to view coyotes, grizzly bears, ospreys, bald eagles, foxes, wolves, moose, pronghorn, and deer. You will also get a chance to see the largest herds of bison and elk, which are only found at Yellowstone National Park.
8. Zion National Park
| Zion National Park | |
| --- | --- |
| State | Utah |
| Size  | 146,597 Acres |
| Animal to See | Mule deer |
| Attraction to See | Virgin River |
Experience the most distinguished Zion National Park through scenic drives in the middle of the cliffs along the Zion Canyon Scenic Drive in November. The park is filled with amazing landscapes that you can explore through hikes.
Hike Angel's Landing to see the spectacular views of the canyons. However, it's a strenuous hike with potentially changing weather conditions. There are some other places like The Narrows where you can go without actually hiking.
Watch out for mule deer, American dippers, peregrine falcons, ringtails, and white-throated swifts at the Weeping Rock Area. You're more likely to see a surefooted bighorn sheep between the Eastern Entrance and the Zion-Mount Carmel Tunnel. They choose steep mountains where they can easily escape predators like mountain lions.
9. Everglades National Park
| Everglades National Park | |
| --- | --- |
| State | Florida |
| Size  | 1,508,976 Acres |
| Animal to See | Alligator |
| Attraction to See | Anhinga trail |
Everglades National Park is a great place with a diverse ecosystem. There's a lot to do here, the topmost being viewing the wild animals roaming within the park. You can also explore a guided airboat ride in the park's wetland to see alligators.
Hike or cycle to Shark Valley for a panoramic view of the park, and take a walk along the Anhinga Trail to view snake birds and gators.
For a serene and tranquil night, camp at the flamingo camping ground and enjoy watching the Milky Way. Kayak and canoe in the park's wetlands through mangrove tunnels and get a chance to visit the many islands within the park.
10. Joshua Tree National Park
| Joshua Tree National Park | |
| --- | --- |
| State | California |
| Size  | 790,636 Acres |
| Animal to See | Bighorn sheep |
| Attraction to See | Lost Horse Mine |
Joshua Tree National Park should be on your number one list when planning a trip in November. The temperatures are cooler and appropriate for you to explore the vast wilderness, with a variety of attractions and many activities to engage in.
Explore the wilderness and view desert plants such as Dollar-joint Prickley-pear and the Joshua Tree, which the park's name is derived from. The park also offers perfect camping grounds like the Cottonwood Campgrounds, where you can spend the night.
Joshua Tree National Park is home to around 52 species of wildlife. Hike through the Barker Dam and 49 Palms Oasis to see ground squirrels, white-tailed antelopes, coyotes, and kangaroo rats.
---
The Featured Image
---