With 13 states in total; the western United States is certainly one of the most beautiful regions in America. Yet, its national parks tend to slip under the international travel radar. Millions of visitors worldwide travel to the west each year to explore the rocky mountains, battlefield history, rolling plains, stark desert landscapes, steamy beaches, and an incredible array of flora and fauna.
The United States boasts 63 amazing national parks in total, and 40 of them are located in the west and span all 13 states. Each park offers a unique experience throughout the year. 
Here are the 10 best national parks in the western United States.
1. Grand Teton National Park
You can't beat the views at this world-famous Wyoming national park. People who visit Grand Teton National Park are always amazed by its jagged mountain peaks, many historical sites, beautiful alpine terrain, lush meadows, pristine lakes, and amazing wildlife.
Whether you're kayaking in Snake River, boat riding across Jenny Lake, or simply exploring the park through hiking, biking, or scenic drives, the majesty of the Grand Teton is guaranteed to leave you completely breathless.
You can get the panoramic views of Jackson Lake and the Teton Range from Signal Mountain. It takes around 15 minutes to drive up to Signal Mountain, and there's a chance you might spot different animals while on your way.
2. Yellowstone National Park
Rising above a scene rich with gushing geysers, dramatic canyons, hot springs, lush forests, and alpine lakes, Yellowstone National Park stands as a monument for the people who fought to protect it in 1872. Despite being the oldest national park in the United States, its magnificent beauty continues to awe visitors worldwide.
Yellowstone is famous for its fascinating geothermal wonders and diverse ecosystems. There are a lot of activities one can engage in to fully explore the park, including hiking, riding, and biking. You can take some of the easy hikes through the hissing lunar-like landscapes, canyons, or green valleys.
Visit some of the less crowded areas, like Hayden Valley, to view different species of animals. Yellowstone Lake is also a perfect place for boating activities.
3. Zion National Park
Zion National Park is Utah's first national park. It's famous for death-defying hikes along very steep red cliffs. You don't have to hike these massive sandstone cliffs to get the best views; you can just gaze at their varying colors that soar into the sky. 
Learn more about Zion National Park by joining a ranger team. Take a river trip to the Virgin River and hike the many trails within the park that range from short walks to strenuous adventures. Guided horseback ridings are also available at the park. Make sure you experience some wilderness in a narrow slot canyon.
4. Channel Islands National Park
A world-class outdoor escape, Channel Islands National Park offers a wide range of activities, including bird-watching, snorkeling, scuba diving, kayaking, hiking, and remote camping. The park encompasses five remarkable islands, protecting and preserving diverse cultural and natural resources.
Visit Channel Islands National Park for a delightful break from the city's congestion. The place is ideal for a tranquil moment with friends or family. Island Packers Cruises will take you to the island of your choice. Each of the islands has numerous trails with spectacular views, but Santa Cruz is bigger than the other four islands.
5. Glacier National Park
Also known as the "Crown of the Continent," Glacier National Park is filled with natural beauties and is one of the best places in Montana for photography. The park is home to spectacular lakes, carved valleys, snow-crusted mountain peaks, shimmering alpine meadows, and melting glaciers. It's a paradise for visitors seeking a real adventure in the wilderness.
Explore the vast expanse of beautiful natural space at Glacier by driving the Going-to-the-Sun Road. Expect to encounter bighorn sheep, mountain goats, bears, and marmots along this road. Other popular recreational activities include biking, stargazing, hiking, camping, fishing, and boating.
6. Joshua Tree National Park
Home to rolling mountains, two distinct ecosystems, and giant granite fragments, Joshua Tree National Park is full of natural wonders. This park has absolutely everything for everyone to explore- from hiking the Hidden Valley Nature Trail and driving up to Keys Views to taking a short walk along Barker Dam and spending a night under a star-filled sky at Jumbo Rocks.
Whether you choose to drive, walk, hike, camp, or ride a bicycle, you'll be graced with spectacular views of this park. The bizarre rock formations, numerous bird and wildlife species, ancient palm groves, and other surreal geological features present perfect photography opportunities. Watch for birds at the Oasis of Mara, Cottonwood Spring, and Barker Dam.
7. Olympic National Park
Olympic National Park is the world-renowned home of temperate rainforests, rugged Pacific coastlines, and glacier-capped mountains. The park exhibits an incredible range of elevation and precipitation.
From the magical Hurricane Ridge to the spectacular Lake Crescent, Olympic National Park offers several attractions for visitors to enjoy. The park has approximately 135 trails that lead to magnificent views of wide sandy beaches, pristine lakes, wildlife, temperate rain forests, and glacier-capped mountains.
8. Bryce Canyon National Park
Bryce Canyon National Park is the only place on the planet with the largest concentration of hoodoos (spire-shaped rock formations). It's not a single canyon you will see at Bryce Canyon, but a series of them carved into the edge of a high plateau.
There are many ways to tour Bryce Canyon. You can take a scenic drive, hike the trails, or ride a bike through the geological voodoo of hoodoos. You may need to attend a ranger program to deepen your understanding of the park.
Spend your night at one of the park's campgrounds for an excellent stargazing experience under one of the darkest skies in the country.
9. Arches National Park
Home to natural sandstone arches, hundreds of soaring pinnacles, and rugged rock formations, Arches National Park offers visitors a plethora of impressive wonders to behold. Scenic landscapes in the Devil's Garden and renowned landmarks like Fiery Furnace and Balanced Rock are just a few of Arches' most fantastic attractions.
You can explore the park through scenic drives, biking, or hiking. Park Avenue is the shortest and easiest hike you can take if you want a quick view of the giant rock formations like the Courthouse Towers and the Three Gossips.
10. Mount Rainier National Park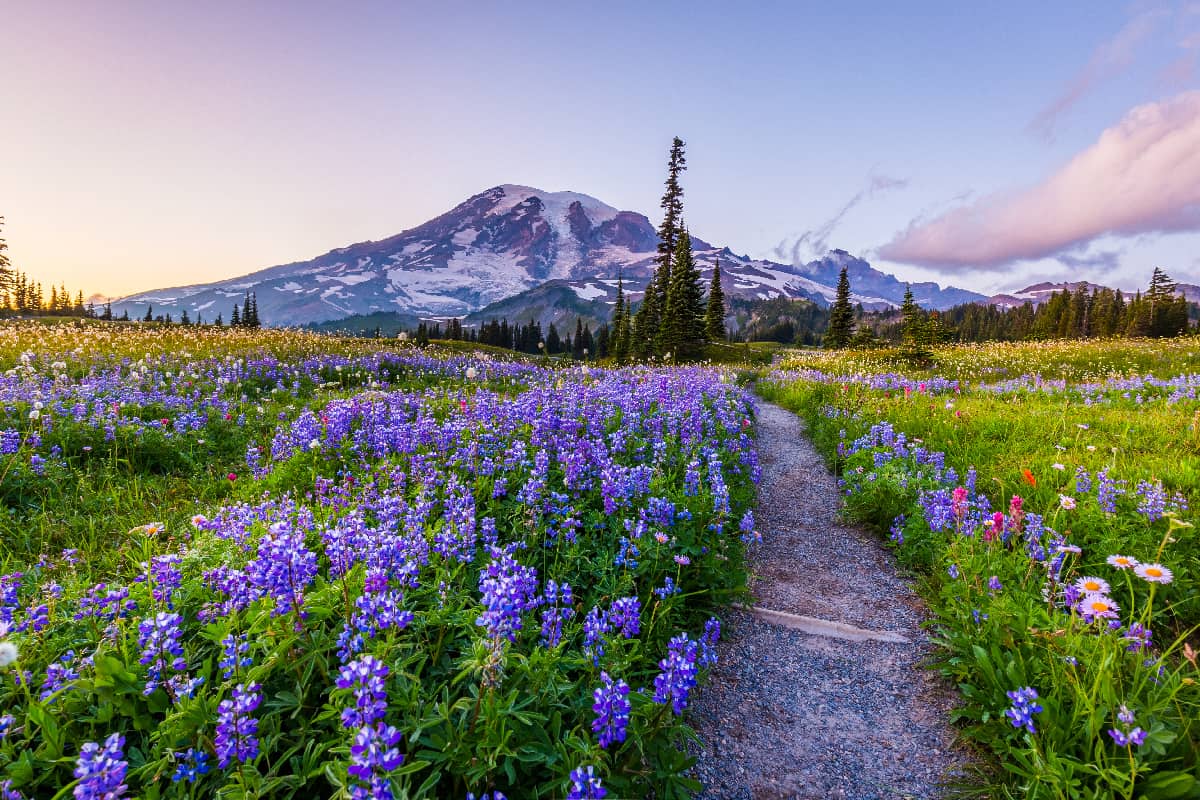 With numerous attractions scattered throughout the place, Mount Rainier National Park, is a national treasure. In addition to being an active volcano, Mount Rainier has the most glaciated peak that you can spot from far.
A lifetime of discovery awaits you at Mount Rainier. Make sure you spend some time at Paradise. It's a must-see spot in the park. Paradise offers the most beautiful views of the park in any season. For instance, during summer, you will be able to see the stunning wildflower meadows together with the ancient forests on the slopes of Mount Rainier.
Mount Rainier is home to diverse species of wildlife. You may spot elks, deer, chipmunks, and many other animals while exploring the park.
Up Next:
More from A-Z Animals
---
The Featured Image
---