Zoos are very popular around the world, providing wonder and education to millions of visitors a year. There are over 10,000 of these establishments around the globe, varying in size from small enclosures to the largest in the world. In the United States, there are 384. We're going to take a look at the 10 largest zoos in the United States and give you information on the best time to visit each. There are two different ways to rank the size of a zoo – by acreage and by the number of animals that live there. In order to keep our list cohesive, we will rank ours by the number of animals they house. We'll also include fun facts and some more information about what makes these man-made attractions so very important.
1. Henry Doorly Zoo
2. San Diego Zoo
3. Bronx Zoo
4. Columbus Zoo and Aquarium
5. Minnesota Zoo
6. Riverbanks Zoo
7. Zoo Miami
8. National Zoo
9. Dallas Zoo
10. Kansas City Zoo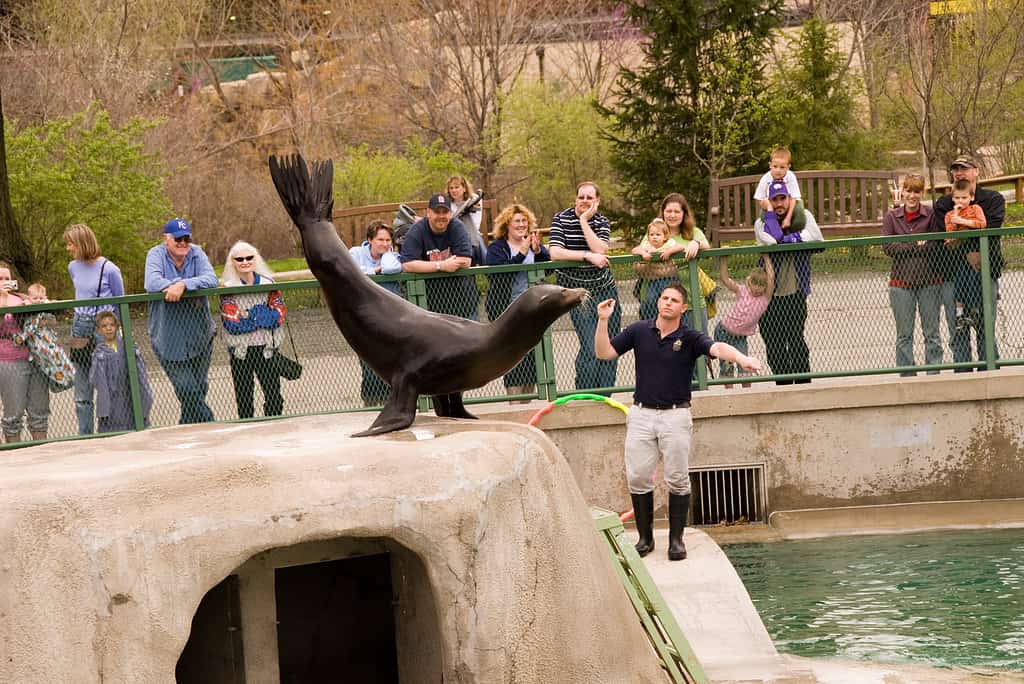 Purpose of Zoos
Zoos aren't just fun attractions for seeing wildlife up close. Zoos dedicate themselves to the protection and conservation of wildlife through a scope of education and awareness, research, fundraising efforts, and ethical breeding programs that revitalize endangered populations.
The Association of Zoos and Aquariums plays an integral role in upholding these values in all of their accredited zoos. Accredited facilities hold themselves to a scientifically-based standard that encompasses concern for animal welfare, access to veterinary medicine and care, conservation, rehabilitation, and education. This rigorous standard works to ensure the safety of all animals kept at zoos and aquariums in the association's network.
Through species management and survival plans, these zoos work diligently to monitor and preserve animal populations – especially those endangered or facing a risk of extinction. The success of these programs is clear, and a great example is the rehabilitation of the California condor. Condors were on the brink of extinction in 1982, with only 22 remaining birds. Through the collaborative efforts of a variety of organizations, including the San Diego Zoo, their population has grown to over 400 birds. Without the assistance of zoos and aquariums, this never would have been possible.
Zoos also work to restore habitats for animals. A main cause of animal endangerment is habitat loss, accounting for 85 percent of the threat to wildlife populations. By protecting and rebuilding these natural habitats, we help to secure and protect the safety of animals worldwide.
Are Zoos Ethical?
It is important to acknowledge the ethical implications of keeping wild animals in captivity. A variety of individuals and organizations have spoken out against zoos, voicing concerns about animal welfare, cruelty and abuse, and the emotional and physical impacts of life in captivity on animals. It's sad but true – there are many roadblocks and complications to ensuring that zoos remain ethical and safe, and a tragic history of abuse at some of these facilities leads many to condemn them as a whole.
However, we must not ignore the importance of zoos in protecting our planet and the organisms living here. Ever-raising standards of care protect wildlife from the harms of the past and work to ensure its survival in the future. Questioning and researching the practices of these establishments is integral to upholding these values. It is through activism and partnership with these organizations that we can learn how to best interact with the world around us – and change it for the better.
Best Time to Visit
The best time to visit zoos is on weekdays when there is less visitor traffic. A crowded zoo is not as fun of an experience for visitors or for the animals, and you will have a much better time visiting on quieter days. Further, animals are more active in the mornings and in the late afternoon and evening. Get to the zoo early to have the best chance of seeing well-rested and relaxed animals that are more likely to be moving around and interacting with each other. There are other advantages to visiting in the morning. On hot days, animals are more active during the cooler hours of the morning. Many zoos feed their animals in the morning, as well, and you'll have a higher chance of seeing them eating!
If you can't make it to the zoo in the morning, try for the late afternoon. The animals might be more tired and reclusive, but foot traffic often slows down at the end of the day and gives you a better chance at getting a good look at the animals and exhibits.
Zoo vs. Safari Park: What's the Difference?
You'll notice that we have not listed any safari parks on our top 10, and this is for good reason. Zoos and safari parks are different. Zoos showcase animals in a variety of ways, but most commonly construct enclosed environments for their wildlife. These enclosures mimic native habitats and offer many different angles for viewers to observe the animals from. They also allow the zoo to keep a larger variety of species – the specialized build of each enclosure gives animals from every continent a comfortable and temperate environment. One downside is that these enclosures have more limited space for the animals.
Safari parks are much larger than zoos by acreage, and they do not use the same enclosure type. Animals in safari parks roam free across large, open enclosures. Visitors drive their cars or ride trolleys through these open safaris and witness animals living in larger habitats. This structure limits the number of different animals you can see when you visit but lets you observe them behaving more naturally. Safari parks also commonly double as areas for population rehabilitation – the larger spaces encourage healthy cohabitation and breeding.
Both of these wildlife establishments have benefits for humans and animals and play an important role in the way we understand and interact with the world around us.
Summary of the 10 Largest Zoos in the United States
| Zoo | Total Number of Animals | Location (State) |
| --- | --- | --- |
| 1. Henry Doorly Zoo | 17,000 | Nebraska |
| 2. San Diego Zoo | 14,000 | California |
| 3. Bronx Zoo | 10,000 | New York |
| 4. Columbus Zoo | 10,000 | Ohio |
| 5. Minnesota Zoo | 4,500 | Minnesota |
| 6. Riverbanks Zoo | 3,000 | South Carolina |
| 7. Zoo Miami | 2,500 | Florida |
| 8. National Zoo | 2,100 | Washington, D.C. |
| 9. Dallas Zoo | 2,000 | Texas |
| 10. Kansas City Zoo | 1,700 | Missouri |
---