The great state of Washington is home to six of America's most beautiful national parks. These parks are home to treacherous landscapes, thousands of animal species, and essential pieces of Washington history. Two of the state's parks, Olympic National Park and Mount Rainier, experienced some of the most injuries of any in the state.
A study from Wilderness and Environmental Medicine found that many of these injuries were just surface level, and more severe injuries are rare. The study looked at ways park guides and rangers can implement strategies to lessen how many injuries happen in both national parks.
Many of Washington's parks are home to bald eagles, sea otters, bison, owls, and foxes. Washington is also home to several predator species, such as grey wolves, wolverines, cougars, lynxes, and grizzly bears.
1. Lewis and Clark National Historical Park
| Lewis and Clark National Historical Park | |
| --- | --- |
| Size | 3,303 acres |
| Animal to see | Bald eagles |
| Attraction to see | Lewis and Clark National Historic Trail Sites and Refuge |
The Lewis and Clark National Park boasts beautiful seaside views and historic passageways to discover the rich heritage of the native people who once inhabited the land. Centered around the story of the two historical figures, Lewis and Clark, explorers will find this park authentically beautiful and full of history. It encompasses sites along the Columbia River and the Pacific Coast. The park urges visitors to follow in the footsteps of the explorers and have what they call an "adventure in history."
The Lewis and Clark Refuge sits near the mouth of the Columbia River, providing habitat for tundra swans, geese, and ducks. It's also home to a number of shorebirds and bald eagles.
2. Mount Rainier National Park
| Mount Rainier National Park | |
| --- | --- |
| Size | 236,381 acres |
| Animal to see | Bison |
| Attraction to see | Ohanapecosh |
Mount Rainier rises 14,410 feet above sea level. The active volcano stands alone as the most glaciated peak in the United States, spawning five major rivers. Ancient forests cloak Mount Rainier's lower slopes while subalpine wildflower meadows circle the icy volcano. Wildlife is abundant and diverse within the park, with countless species living in all forest parts.
The National Park offers beautiful, winding paths to witness grizzly and black bears foraging, wolverines and grey wolves running, and cougars lynxes hunting. There is also an immersive bald eagle exhibit.
On a Drive Premier tour, visitors can drive past meadows, lakes, and forests to see more of the wildlife the forest has to offer. This includes moose, elk, bison, mountain goats, and more from the safety and comfort of your car.
3. Nez Perce National Historical Park
| Nez Perce National Historical Park | |
| --- | --- |
| Size | 4,561 acres |
| Animal to see | Coyote |
| Attraction to see | Nez Perce Museum |
The Nimiipuu (Nez Perce) people have inhabited the valleys, prairies, mountains, and plateaus of the northwest land known as Nez Perce since the beginning of our historic recordings. A resilient people, they survived the colonization that later became the United States and continued to thrive in the ways of their culture. This culture can be experienced through the National Park and all it offers. Nez Perce National Historical Park consists of 38 places important to the history and culture of the Nimiipuu.
Also of importance are the several threatened, endangered, and sensitive species that reside on the park's land. Species include the grey wolf and bald eagle, which you may come across while visiting. Other sensitive species that can occasionally be seen in the park include the mountain plover, great grey owl, swift fox, and many fish species that pass through the winding rivers.
4. North Cascades National Park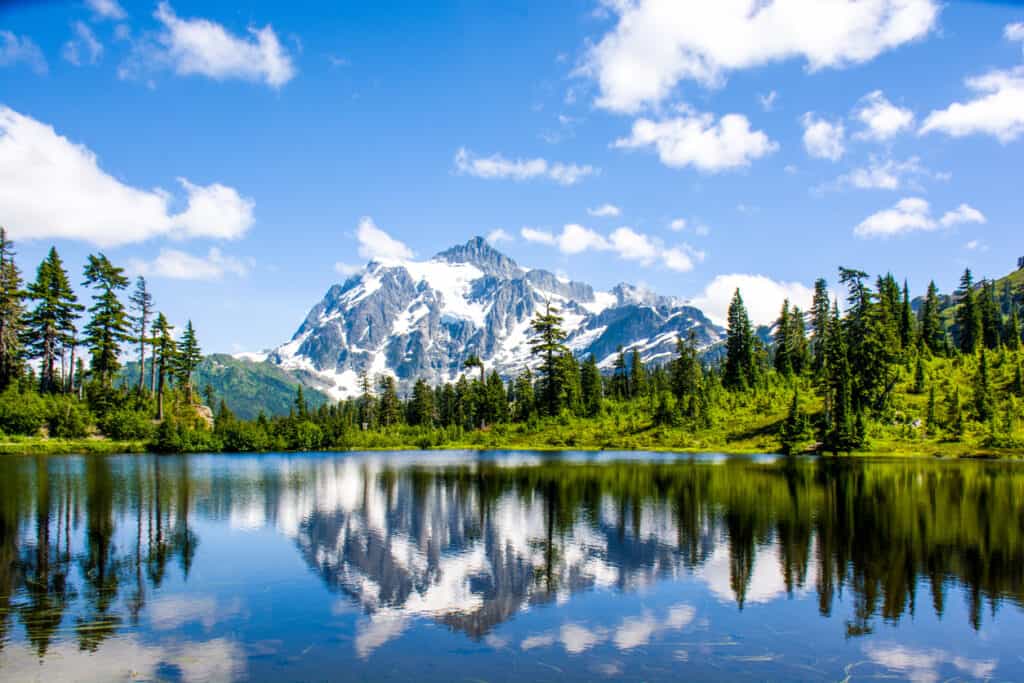 | North Cascades National Park | |
| --- | --- |
| Size | 504,654 acres |
| Animal to see | Grizzly bears |
| Attraction to see | The Cascades |
Less than three hours from Seattle resides are the North Cascades. Those brave enough to explore the jagged peaks, which are crowned by over 300 glaciers, may sit and listen to the cascading waters in forested valleys as they enjoy the sensitive landscape of the Cascades.
The park is home to a diverse population of animal species, including 75 species of mammals ranging from coyote, bobcat, cougar, mink, and lynx to river otter and black bear. The endangered species of timber wolf is also found in the North Cascades, alongside the at-risk grizzly bear. Slightly over two-dozen species of rodents can also be observed in the park. However, the park is primarily considered a habitat for grizzly bears and was honored in 1997 as an addition to the National Grizzly Bear Recovery Plan.
Aside from grizzly bears, hundreds of bird species pass through the park. These include golden and bald eagles, owls, swans, ducks, and woodpeckers. The cascade's rivers are home to multiple fish species as well.
5. Olympic National Park
| Olympic National Park | |
| --- | --- |
| Size | 922,650 acres |
| Animal to see | Black bears |
| Attraction to see | Olympic Peninsula |
The diversity of the Olympic National Park boasts an incredible range of both precipitation and elevation, making it a great place to visit for those who enjoy outdoor adventures. The park protects a vast area of wilderness that encompasses nearly a million acres, thousands of years of modern human history, and several uniquely distinct ecosystems. This includes glacier-capped mountains, historic temperate rain forests of old-growth, and just over 70 miles of untamed coastlines.
Holding these three distinct ecosystems, the Olympic National Park protects over 920,000 acres of land, 1,100 species of native plants, 300 species of birds, and 70 species of mammals. For example, Olympic marmots are only found on the Olympic Peninsula and are large rodents, usually weighing close to 15 pounds or more. Marmots are playful creatures, much like otters, and can be seen enjoying their time at elevations of 4000 feet or higher.
The coast of the Olympic National Park is also home to many marine mammals, including sea otters, lions, and even some grey whales. Grey whales can be seen from March to May during migration from the park's coast.
Aside from marmots, black bears can also be found on the Olympic Peninsula, enjoying the fresh salmon and berries in the area. Five species of salmon are frequently seen migrating through the Olympic River, providing a valuable and consistent source of protein for black bears, birds, and other wildlife on the Peninsula.
6. Deception Pass State Park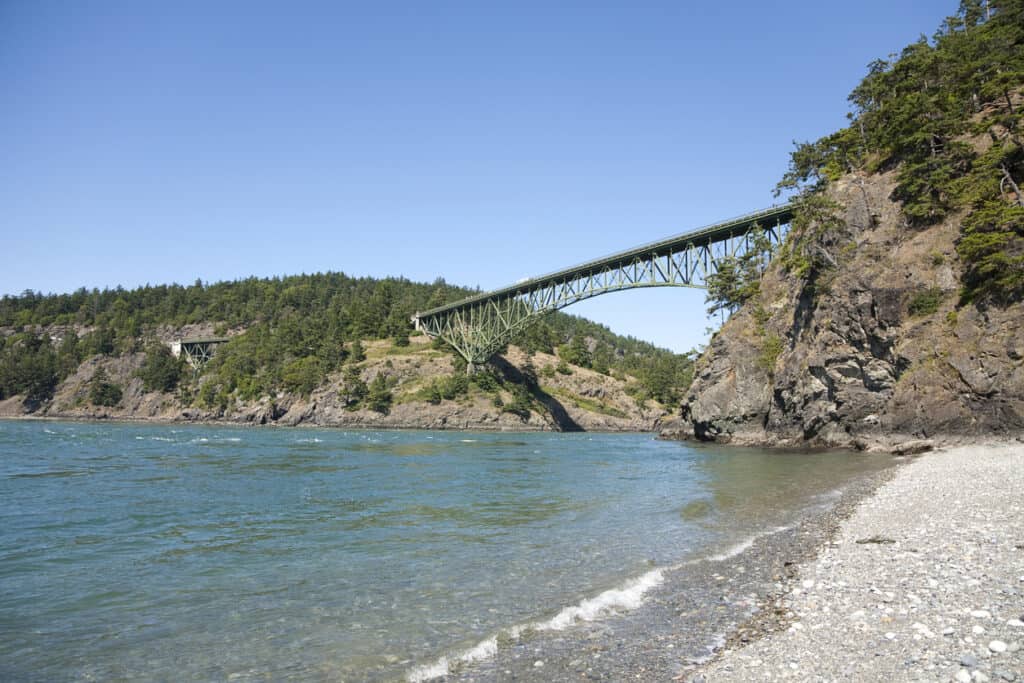 | Deception Pass State Park | |
| --- | --- |
| Size | 3,854 acres |
| Animal to see | Salmon |
| Attraction to see | Cranberry Lake |
This state park is one of the most popular in the entire state. It brings in around two million visitors each year and offers a wide range of water recreation. You can hike, fish, swim, camp, and kayak during your trip. There's a primitive cabin in the park and three campsites.
Deception Pass spans over three thousand acres of land and is home to a range of Washington wildlife. When exploring the area, you might run into salmon, bears, and beavers.
The photo featured at the top of this post is © Vidpen/Shutterstock.com
---