Whether you're from Illinois or planning to visit it, we're here to help you plan an excellent weekend in Illinois's beautiful historical and natural sites. 
Illinois is one of the fifty U.S. states located in the midwestern region. Chicago is the largest city in the state and the fifth in North America. Chicago is also one of the most popular cities in the U.S. Illinois's capital is Springfield. People also call it the "Land of Lincoln" because Abraham Lincoln, among other U.S. presidents, including Ulysses S. Grant and Barack Obama, were elected while living in Illinois. The state is also known for having a diverse economy due to its industrial cities, immense farmlands, and natural resources, such as timber, coal, and petroleum. 
The Illinois state park system was created in 1908 with Fort Massac State Park. It includes over 60 parks and many other recreational and wildlife regions. Various indigenous cultures inhabited Illinois for thousands of years. Visiting some of Illinois' state parks and national historic trails and sites will definitely enrich your cultural experiences and background.
1. Fort Massac State Park
| Fort Massac State Park | |
| --- | --- |
| Nearest city | Metropolis, Illinois |
| Built-in | 1757 |
| Size | 1,450 acres |
| Attraction to see | Historical monuments, a museum with Indian artifacts, grassy woods |
In 1906, Fort Massac became the first state park in the Illinois state park system. This park is perfect for discovering historical facts about Illinois if you're willing to spend some time learning. Its rich cultural and historical background brings it a great value. It includes a museum with Indian artifacts and mannequins reproducing the specific clothing. You can also enjoy a picnic with your family, enroll for a trail through grassy woods, and watch a re-creation of 18th-century life organized in October by the Fort Massac Encampment. 
2. The Lewis and Clark Historic Site
| The Lewis and Clark Historic Site | |
| --- | --- |
| Location | Wood River, Madison County |
| Size | 14,000 square-foot |
| Animals to spot | Eagles, garter snakes, osprey, elk, ducks, banana slugs |
| Attraction to see | Re-creation of Camp Dubois; six galleries with historical details |
The Lewis and Clark Historic Trail and Historic Site is another attraction you and your group will enjoy. The trail runs across the United States to commemorate the Lewis and Clark Expedition. It has approximately 4,900 miles and follows the historic routes of the expedition, as well as the preparatory area from Pittsburgh, Pennsylvania, to Camp Dubois at Wood River, Illinois.
The Lewis and Clark Historic Site commemorates Camp Dubois, the place where the members prepared for their expedition to the Pacific Ocean. It's a 14,000 square-foot exhibit space with six galleries that will certainly amaze you. You can learn about the Lewis and Clark expeditions and how they changed the modern United States in the galleries.
There's also a reconstruction of Camp Dubois. Interpreters will meet you there and help you with information on how the men prepared for their upcoming journey. This trip's cultural, historical, and natural specificities will make it fun for you and your friends to go on.
3. Starved Rock State Park
| Starved Rock State Park | |
| --- | --- |
| Location | Deer Park, LaSalle County |
| Size | 2,630 acres |
| Animals to spot | Red fox, coyote, opossum, raccoon, variety of fish |
| Attractions to see | Canyons, waterfalls, hiking trails |
Located less than 100 miles southwest of Chicago, Starved Rock State is a state park. Here you can find unique natural landscapes that will help you connect with nature like never before. You'll see 18 sandstone canyons and beautiful seasonal waterfalls. The park's 15 miles of hiking trails are full of tree-covered bluffs you can follow alongside seasonal free, guided hikes. On the Illinois River, you can also fish, boat, and relax near the water.
It will be a great historical experience to visit the Starved Rock State. The legend says that a great battle started during a tribal council meeting. Illinois took refuge on the great rock and died of starvation there. Hence the name of Starved Rock.
4. Lincoln Home National Historic Site
| Lincoln Home National Historic Site | |
| --- | --- |
| Location | Springfield, Illinois |
| Area | 12.24 acres |
| Established in  | 1971 |
| Animals to spot | Rarely elk, bison, black bear |
| Attractions to see | Abraham Lincoln's house and district |
The Lincoln Home National Historic Site is located in Springfield, Illinois. It preserves the home and district where Abraham Lincoln, America's greatest leader, lived between 1844 and 1861. This historic site makes time travel possible as it will instantly transport you to the 19th-century neighborhood. 
The site contains the only home that the president-to-be owned. The house has twelve rooms over two floors. Other houses in the district are also part of this national historic site. They have been reconstructed to have the same appearance as during the time Lincoln lived there. There's a visitor's center where you can watch a 25-minute film about the site. Live historical demonstrations take place during the summer, so you'll be lucky to participate in one if you visit the park then.
5. Pullman National Monument
| Pullman National Monument | |
| --- | --- |
| Location | Chicago |
| Area | 0.4 acres |
| Built in | Since the 1880s |
| Attractions to see | Visitor's center with exhibits; Philip Randolph Pullman Porter Museum |
The Pullman National Monument represents the first planned industrial community in the United States. It is also known as the Pullman Historic District and is rich in history. It will give your trip a unique touch, as it provides exclusive details about the Pullman Strike of 1894 that forever changed labor relations in the U.S. The visitor's center contains exhibits on topics such as labor and civil rights, urban planning, and manufacturing. 
Besides learning about the history of labor-management, you can also find out about the struggle of African Americans in the Pullman Company. You can do so at the A. Philip Randolph Pullman Porter Museum. 
6. Trail of Tears National Historic Trail
| Trail of Tears National Historic Trail | |
| --- | --- |
| Location in Illinois | Golconda, Pope County |
| Distance | 60 miles out of the total 5,043 miles |
| Animals to spot | Songbirds, white-tail deer, squirrels, raccoons, rabbits, rattlesnakes |
The history of the Trail of Tears began in 1830 when Congress passed the Indian Removal Act. It was followed by the U.S. Army troops forcibly evicting over 16,000 Cherokee Indians from their homes. The Trail of Tears stretches 5,043 miles over nine states. 60 miles of the route are located in southern Illinois, along the Golconda-Cape Girardeau Trace, from the Ohio River to the Mississippi River.
A trip on the Trail of Tears is devastating, considering its history. However, stepping on the ground where the Cherokee Indians walked, suffered, and died in the 19th century will make your trip memorable. American history is not complete without the understanding of the Trail of Tears. Visiting this state park will combine a leisure day with exploring places that have changed the destinies of thousands of people.
7. Mormon Pioneer National Historic Trail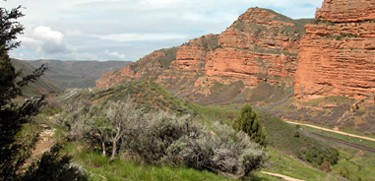 | Mormon Pioneer National Historic Trail | |
| --- | --- |
| Location in Illinois | Nauvoo, Hancock County |
| Animals to spot | Squirrels, snapping turtles, ducks, antelope, buffalo, deer |
| Attractions to see | Nauvoo museum and historic district; Carthage Jail and visitor's center |
The Mormon Pioneer National Historic Trail follows a 1,300-mile route from Nauvoo, Illinois, to Salt Lake City, Utah. Between 1846 and 1868, around 14,000 Mormons (members of The Church of Jesus Christ of Latter-day Saints) followed their leader, Brigham Young, to build a new settlement after being forced out of their own in Nauvoo.
In Nauvoo, Illinois, you can check out several visiting points.
The Nauvoo State Park Museum includes a house built by the Mormons in the 1840s. It eventually became a museum. Here, you can see the only wine cellar in Nauvoo open to the public and a press room. Various artifacts representing different periods in Nauvoo's history are also displayed.
The Nauvoo National Historic District is a site that contains over 1,000 acres of restored homes and shops. Brigham Young's home and a visitor's center can be found here.
The Joseph Smith Historic Site preserves the properties of the Smith family.
Carthage Jail and Visitor's center is the place where Joseph Smith Jr., the Mormon leader, was killed in 1844. You can go for relaxing walks in the gorgeous gardens nearby.
8. Shawnee National Forest
| Shawnee National Forest | |
| --- | --- |
| Location | Southern Illinois |
| Area | 265,616 acres |
| Animals to spot | Chipmunks, beavers, armadillos, groundhogs |
| Attractions to see | Garden of Gods, Golden Circle, Rim Rock Trail |
The Shawnee National Forest is the perfect choice if you're looking for a day spent in nature only. It's located in the Ozark and Shawnee Hills of Southern Illinois. The Forest hosts the famous Garden of the Gods with its extraordinary views and unique geological formations. The Garden of the Gods Outpost serves drinks and ice cream. 
If you're up to it, the Golden Circle is a destination that sets you up for a mesmerizing adventure. There, you can find a natural arch under which you can have a picnic.
The path to the Rim Rock Trail can help you reach the Pounds Hollow Recreation Area. Here you can swim, fish, or boat (with your gear). The American Fluorite Museum is another tourist attraction at the Shawnee National Forest.
9. Midewin National Tallgrass Prairie
| Midewin National Tallgrass Prairie | |
| --- | --- |
| Location | Will County (nearest city Wilmington) |
| Area | 18,226 acres |
| Animals to spot | Bison, a variety of birds, aquatic species, reptiles, and amphibians |
Reconnect with nature at the 18,226 acres reserve called Midewin National Tallgrass Prairie. In 2015, it hosted a conservation herd of 27 American bison. You can even spot a bison during the route to the pasture fence line if you're lucky enough. The Midewin staff at the Welcome Center can tell you more regarding their bison project.
A prairie is a place dedicated to restoring and reinforcing the human-nature relationship. The Midewin staff is doing its best to conserve and restore habitats of fish, wildlife, and plants, as well as use the land for scientific and educational purposes.
---