We've compiled a list of the top camping locations close to Phoenix in case you feel like spending the night in the great outdoors. Visit locations close to the Superstition Mountains, Sedona's red rocks, the Mogollon Rim, and much more. 
Anywhere you want to go, there will undoubtedly be a campground close by. Six campgrounds for regional parks are located in Maricopa County. Furthermore, Arizona has more than 12 million acres of public land under the control of the U.S. Bureau of Land Management, including six national forests, 31 state parks, and other recreational opportunities. 
So get the tents ready and gather all of your favorite camping goodies. Here are the locations of the top campgrounds in Phoenix, Arizona, including some a short drive from the city!
1. Cave Creek Regional Park 
The stunning 3,000-acre Cave Creek Regional Park is situated in the northern Sonoran Desert of Greater Phoenix. Campers should check out this park if they seek a fantastic place to establish themselves north of Phoenix. 
With just 44 developed sites, the campground at Cave Creek Regional Park is rather small. Although the sites are far apart and provide lots of privacy, the area is full of gorgeous desert scenic views and hiking trails, which makes it an excellent option for camping in the Phoenix area. 
The sites have flat surfaces, paved parking areas, and electrical and water hookups. Even horse stalls are available at certain campsites. There are flush toilets and shower rooms at comfort sites. A campsite at the Cave Creek Regional Park campground costs $32 per night. 
The campground can be found 40 minutes north of Phoenix's city center. This park is a terrific alternative for those who enjoy spending time outside trekking and taking in the desert
2. Usery Mountain Regional Park Campground
Usery Mountain Regional Park is the perfect camping destination if you're looking for one close to Phoenix, Arizona. This park is ideal for everybody looking to escape the sights and sounds of city life because it has 73 distinct campsites and gorgeous mountain scenery. 
The sites have flush toilets and showers. They can fit up to a 45-foot R.V. If you want a more luxurious outdoor experience, Usery Mountain Regional Park is a great choice because it has dump stations, water, and electrical hookups. 
Usery Mountain Regional Park charges $32 for every night of camping. The park is a wonderful choice for those looking to escape the city because it is only 40 minutes from downtown Phoenix.
3. McDowell Mountain Regional Park
If you want something a little more exciting than your typical campsite, McDowell Mountain Regional Park is a terrific area to camp. The Four Peaks Wilderness and the famous Tom's Thumb Trail, one of Phoenix's perfect hiking trails, are both located on the park's over 20,000 acres. 
The park offers a race track in conjunction with the single-track courses. We would consider the McDowell Mountain Regional Park Campground the ideal location to start exploring for a camper engaged in backpacking, horseback riding, and bike riding. 
The park includes 76 campsites that can hold R.V.s up to 45 feet in length and 50 miles of multi-use paths. Every site has a picnic table, a fire ring for grilling, water and electrical hookups, and public restrooms. This place will cost you about $32 per night. 
4. Lake Pleasant Regional Park
The outdoor area is wonderful in Lake Pleasant Regional Park. It is ideal for an afternoon or overnight stay due to its lovely views and accessible location. To keep you occupied, there are many things to do, such as hiking, picnicking, sailing, fishing, diving, and other water sports. 
The park also provides a range of programs, including history walks, sunset and full moon hikes, and more. The park has 148 RV and tent camping spots, and each one comes with electricity, water, a dump station, a picnic table, a grill, and other amenities. It is, therefore, the ideal place to spend the night. 
There are nearby public restrooms and showers as well. The cost per night ranges from $22 to $32. The trip from Phoenix's downtown takes roughly 50 minutes. Lake Pleasant Regional Park is the ideal location, whether you're looking for a spot to camp or just hang out for the day.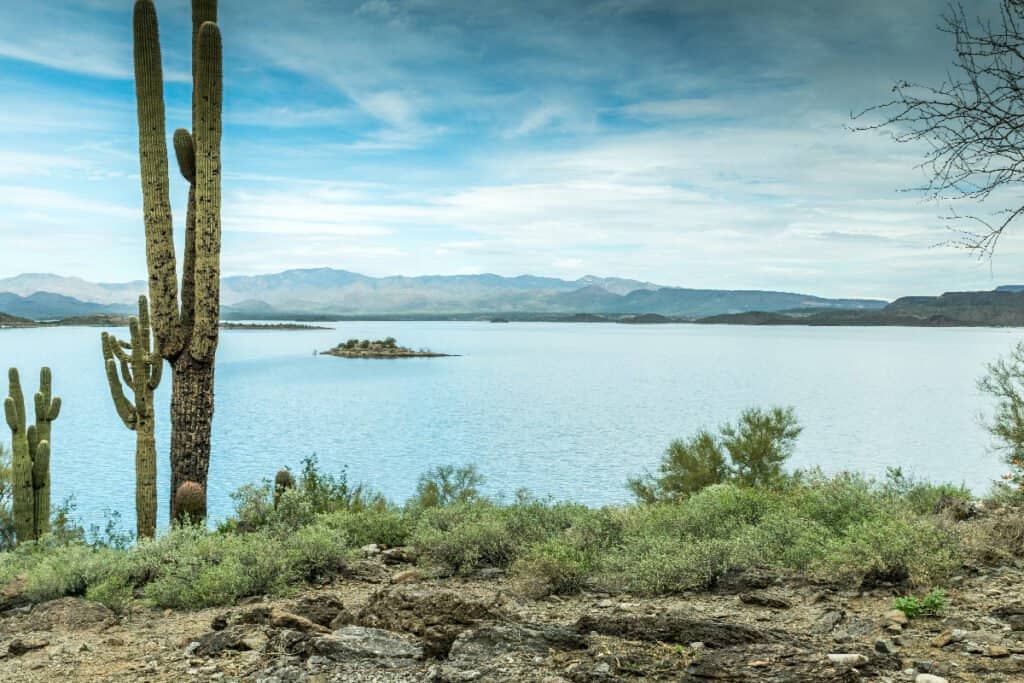 5. Estrella Mountain Regional Park
The Estrella Mountain Regional Park is your best option if you're looking for a great camping location close to Phoenix, Arizona. A 65-acre grassy picnic area and some of the greatest hiking, cycling, and horse-riding paths in the region can be found in this sizable park. 
The R.V. camping options are restricted to seven sites, but they provide all the facilities you want for a pleasant stay, such as water and electrical hookups, picnic tables, and BBQ grills. The flush toilets are also nearby. Camping costs only $32 per night to get started. The Estrella Mountain Regional Park is situated in the Southwest Valley, roughly 35 minutes from central Phoenix.
6. Lost Dutchman State Park
Among Arizona's most well-liked camping locations is Lost Dutchman State Park. The Lost Dutchman's Gold Mine, a well-known Western legend, inspired the park's name. In addition, the Superstition Mountains, one of Greater Phoenix's most well-liked locations for pictures and walks, are located in the 320-acre park. 
The Lost Dutchman State Park has 138 campsites in total, each of which has a picnic table and a fire pit. Go over to one of the surrounding lakes if you want to cool down while staying at this park. Camping at Lost Dutchman State Park is the best option if you intend to trek to the Flat Iron Summit via Siphon Draw. 
You can expect to pay $35 each night you camp with a $5 reservation fee. Each additional vehicle is an extra $15 per night. Your first vehicle is free. 
7. S.B. Cove Shoreline at Bartlett Lake
Want a camping trip that feels more like being on the beach? You should visit S.B. Cove Shoreline. This campground, which is close to Carefree and Scottsdale and is situated on the banks of Bartlett Lake, is ideal for people seeking a party-friendly setting. 
Be ready to have fun because this campground has no reserved sites or quiet times. What do visitors like most? To get one of the finest locations, all someone requires is a Tonto National Forest Day Pass. It just takes 75 minutes to get there from Phoenix for fees of $8 per car daily.
8. White Tank Mountain Regional Park 
If you want some quiet time, White Tank Mountain Regional Park is a nice spot to go. You may go horseback riding, motorcycling, or mountaineering in the White Tank Mountains. There are some fantastic petroglyph sites as well. 
The park offers 40 separate campsites with water, power hookups, and a dump station for campers. Petroglyph sites and fantastic hiking and bike trails, such as the Waterfall Trail, may be found in the mountains. 
The distance between the city and White Tank Mountain Regional Park is only about 40 miles. This spot is a fantastic area to camp, hike, and cycle for those looking for a little getaway near Phoenix! 
9. Coon Bluff Campground
Coon Bluff Campground is the best campground to choose if you want to camp nearby Phoenix. The Salt River is conveniently accessible from this campground, which is 17 miles from Mesa. 
The location has five campsites, each with a barbecue, a fire pit, and picnic tables. Phoenix's downtown is 40 minutes away from Coon Bluff Campsite. It is accessible from October 1st through May 1st and costs just $8 a day for each car. 
So gather your camping supplies and come to Coon Bluff Campground for a fun-filled weekend!
10. Burnt Corral Campground in Apache Lake 
A fantastic location for stunning vistas and water activities is Burnt Corral Camping. The Apache Trail National Forest Scenic Byway offers beautiful panoramas of the lake below, and there are several options for sailing and fishing. 
In addition to a courtesy dock for boats, the campsites are well-appointed with picnic tables, restrooms, and a water hydrant. The costs, which are about $20 per night, are pretty reasonable. This campground is an excellent choice for a fast break because it is only approximately two hours from downtown Phoenix.
11. Mogollon Campground 
If you want to camp somewhere with stunning views, check out Mogollon Campground. The Mogollon Rim, which provides breathtaking panoramas of the valley and the biggest Ponderosa pine forest in the world, borders the campground. 
You may go kayaking or fishing a few miles from the campground at Woods Canyon Lake. Mogollon Campground charges $18 per night for camping. From May through October, the campground is accessible, so make sure to schedule your trip properly! Two hours separate downtown Phoenix from that location.
Summary Of The 11 Absolute Best Camping Near Phoenix
| Rank | Campground | Location |
| --- | --- | --- |
| 1 | Cave Creek Regional Park  | Northern Sonoran Desert |
| 2 | Usery Mountain Regional Park Campground | Mesa |
| 3 | McDowell Mountain Regional Park | Fort McDowell |
| 4 | Lake Pleasant Regional Park | Morristown |
| 5 | Estrella Mountain Regional Park | Goodyear |
| 6 | Lost Dutchman State Park | Apache Junction |
| 7 | S.B. Cove Shoreline at Bartlett Lake | Rio Verde |
| 8 | White Tank Mountain Regional Park | Waddell |
| 9 | Coon Bluff Campground | Mesa |
| 10 | Burnt Corral Campground in Apache Lake | Roosevelt |
| 11 | Mogollon Campground  | Payson |
Up Next:
More from A-Z Animals
---
The Featured Image
---