The mighty Mississippi River is an important waterway that runs south over 2,340 miles and bisects most of the U.S. Lake Itasca in Clearwater County, Minnesota, is its source, and it discharges in the Gulf of Mexico. The Mississippi River provides drinking water for 15 million people and numerous ecosystems for animals, including migratory birds and over 300 fish species. Alongside this, it's a vital transportation route for heavy freight. Numerous locks and dams punctuate the water to ensure boats navigate their waters safely. This article will discover the eight biggest elevation drops on the Mississippi River, including natural waterfalls and man-made locks and dams.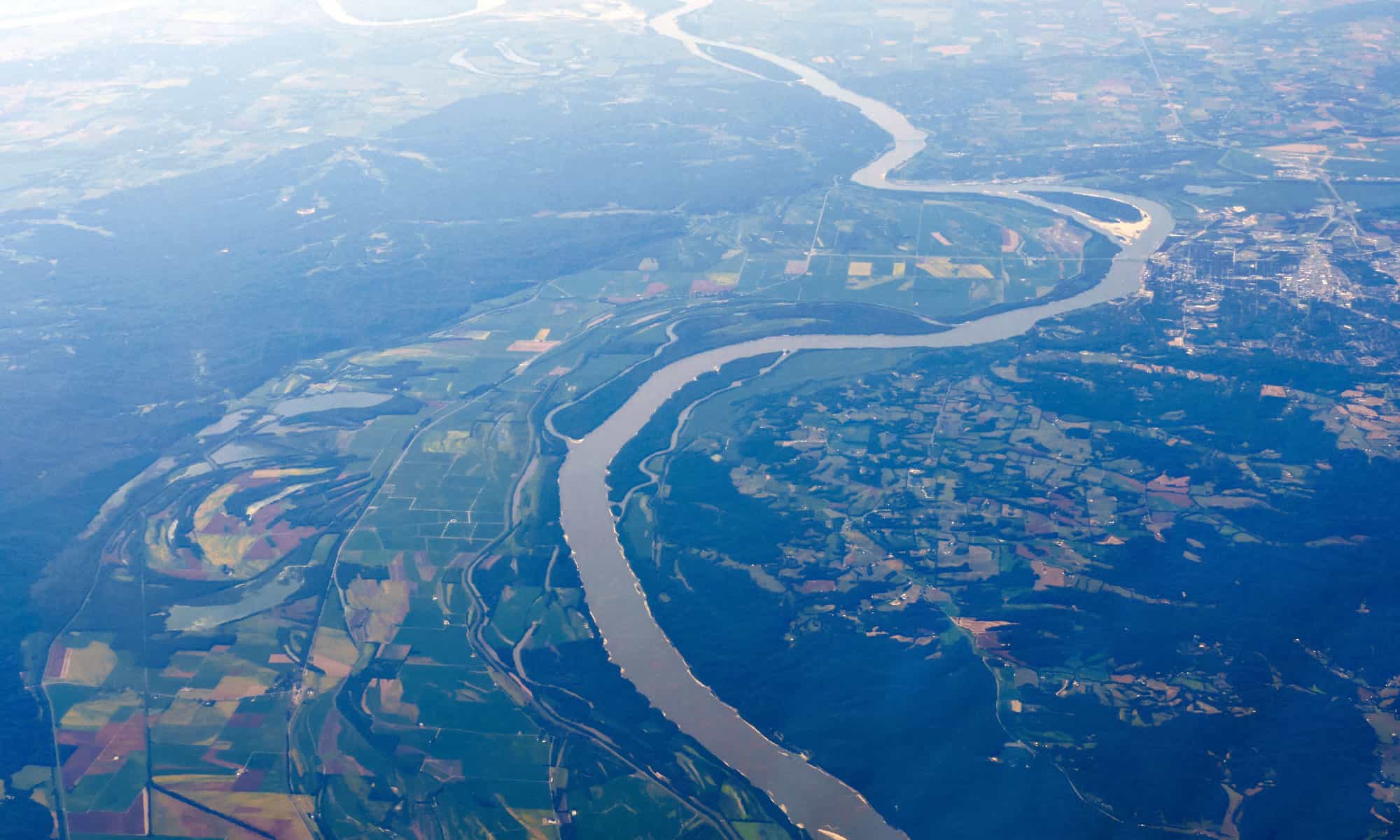 Mississippi River Elevation
Lake Itasca is approximately 1,450 feet above sea level, and this is where the Mississippi River begins its journey to the sea. Just after St. Anthony's Falls, it drops to 725 feet. A series of locks and dams manages the remaining drop to sea level.
Why Are Locks and Dams Needed on the Mississippi River?
Locks and dams ensure traffic can navigate the river without getting stuck in shallow areas. Congress authorized a nine-foot-deep channel navigation project on the Mississippi River in 1930. Barges needed at least nine-foot-deep water channels to float up and down the river, which was necessary for profitable commerce.  On the Upper Mississippi River, 29 locks and dams now hold back water and create pools large enough to float towboats.
The Mississippi River's dams hold back enough water to make deep pools that create a water stairway for boats as they navigate up the river (northwards) or down the river (southwards). Boats traveling north are lifted, and the system of locks and dams lowers those traveling south.
There are no locks and dams on the Lower Mississippi River because the Missouri, Illinois, Arkansas, and Ohio (plus others) Rivers all flow into it. This extra water makes the Mississippi River naturally deeper and wide enough for boats to navigate without locks or dams.
Let's uncover the biggest elevation drops on the Mississippi River.
The Biggest Elevation Drops on the Mississippi River
1. Upper St. Anthony's Falls: 49 feet
The largest elevation drop on the Mississippi River is Upper St. Anthony's Falls, located at mile 853.9 in Minneapolis. It took engineers from 1959-1963 to build this huge lock and dam system to conquer the natural rugged, wild, and steep 74-foot drop waterfall. The lock opened in September 1963.
This dramatic drop is the Mississippi River's only natural waterfall, but the natural waterfall is covered beneath a concrete shield next to the lock.
This is the northernmost lock, and it's huge! It's a single lock chamber that's 56 feet wide by 400 feet long. The vertical lift it provides is 49.1 feet. Together with Lower St. Anthony's Falls (see below), it accounts for more than 10% of the total height change between Minneapolis and St. Louis, MO.
Although the upper lock closed to navigation in 2015, tours are popular at Upper St. Anthony Fall's visitor center.
2. Lock and Dam 19: 38.2 feet
Lock and Dam number 19 is the second biggest elevation drop on the Mississippi River. It has a maximum lift of 38.2 feet.
This lock and dam is located on Iowa's shore near Keokuk. It's a whopping 110 feet wide and 1,200 feet long, which is twice the size of standard Mississippi locks and dams. It takes 10 minutes to fill with water and 12 hours for its water to travel to the next system lock. It's a huge facility that opened in 1957, wiping out the natural Des Moines Rapids that prevented northern Mississippi River traffic. The water level here was only 2.6 feet deep, which was not enough to float river barges.
The US Army Corps performs maintenance on the lock, while Ameren Missouri power company owns the dam.
3. Lock and Dam 1:  37.9 feet
Six miles downstream from St. Anthony's Falls, at mile 847.9 in Minneapolis, is Lock and Dam no. 1. Its maximum lift is 37.9 feet. The central lock opened in 1932, but an original dam built in 1917 controlled the waters beforehand. In 1978 and 1983, computer controls replaced many old-fashioned manual components.
Brookfield Power Company's owns a hydroelectric power station here. A public observation deck is open between April and November with two bridges across the water.
4. Lower St. Anthony Falls Lock and Dam: 25 feet
Built from 1950-1956, Lower St Anthony's Falls is located at mile 853.3 in Minneapolis. It has a 25 feet elevation drop.
Together with Upper St Antony's Falls, this lock and dam create the Upper Minneapolis Harbor Development, built to ascend or descend the natural 74 feet waterfall. This 25-foot drop added to 49.1 feet Upper St. Anthony's Fall bridges the distance.
5. Melvin Price Lock and Dam 26: 24 feet
Melvin Price's Lock and Dam sits at mile 200.5 and measures 1,160 feet in length. The moveable twin dam offers a 24-foot elevation and was constructed in 1989 to replace the older Lock and Dam 26, also known as Lock and Dam 26R.
This dam stands as the first replacement for one of the original nine-foot channel navigation project dams. Its colossal size forms a pool that is 40.6 miles long and covers 31,000 acres!
Melvin Price Lock and Dam is a state-of-the-art installation and worth visiting because it's next door to the Army Corps' National Great River Museum.
In case you were wondering, Melvin Price Lock and Dam is named for Charles Melvin Price. He was a member of the House of Representatives for over 40 years.
6. Lock and Dam 15: 16 feet
Lock and Dam 15 opened in 1932. It's located in the Quad Cities and stretches across the Mississippi at one of its narrowest points, right at the base of Rock Island Rapids.
This lock and dam system has a maximum lift of 16 feet. It takes seven minutes to fill or empty and measures 110 feet by 600 feet long. It's a moveable dam with lock gates that weigh 82 tons each. It's situated at a narrow point, so it's subject to debris or ice jams. This is why the Army Corp engineers decided on a movable dam.
When the Army Corps built the nine-foot Mississippi River channel, Lock and Dam 15 was the prototype.  
7. Lock and Dam 24: 15 feet
Lock and Dam 24 is in Clarksville, Missouri, at Mississippi River mile 273.5. It provides an average of 15 feet in elevation.
This lock and dam features a single lock that's 600 feet long and 110 feet wide. Its dam consists of 15 submersible gates that pivot vertically. In high water periods, the river flows naturally, but when levels drop, this lock and dam are necessary to create river depth deep enough for boats.
In 2005, a major overhaul replaced a large amount of the lock chamber walls and walkways.
8. Lock and Dam 25: 15 feet
Lock and Dam 25 creates a 15-foot drop on the Mississippi River (or an elevation depending on the travel direction). It's located in Winfield, Missouri, at river mile 241.4. It's the third southernmost dam.
Lock and Dam 25 opened its doors in 1939. Its pool stretches 32 miles and takes up 18,000 acres. While engineers designed the lock and dam system primarily for navigation rather than flood defense, its submersible roller gates do combat erosion.
In this part of the Mississippi River, high water levels make the river deep enough for boats. Therefore, when the water reaches these high levels, operators open the gates and let the water flow freely.
In 1999, a 52 million-dollar overhaul replaced and improved aging components.  
Who Maintains the Lock and Dams?
In 1907,, Congress authorized a navigation channel with a depth of six feet for the Mississippi River. However, they increased the depth to nine feet in the late 1920s.
The U.S. Army Corps of Engineers conducted a survey of the lock and dam system and outsourced some of the construction work. The Army Corps also handles the maintenance.
8 Biggest Mississippi River Elevation Drops
The mighty Mississippi River's elevation drops from 1,450 feet in Minnesota to sea level in the Gulf of Mexico. Only St Anthony's Falls is a natural elevation drop. Today, a lock and dam system controls this natural fall and creates a 49.1-foot drop, the biggest elevation drop on the Mississippi.
A series of locks and dams then control the Upper Mississippi River's water level so that boats can safely navigate without getting stuck in the river bed. They range from 49.1 feet to just a few feet elevation.
Summary of the 8 Biggest Elevation Drops on the Mississippi River
| Number | Location | Drop |
| --- | --- | --- |
| 1 | Upper St. Anthony's Falls | 49 feet |
| 2 | Lock and Dam 19 | 38.2 feet |
| 3 | Lock and Dam 1 |  37.9 feet |
| 4 | Lower St Anthony Falls Lock and Dam | 25 feet |
| 5 | Melvin Price Lock and Dam 26 | 24 feet |
| 6 | Lock and Dam 15 | 16 feet |
| 7 | Lock and Dam 24 | 15 feet |
| 8 | Lock and Dam 25 | 15 feet |
---