While significant April snowfall is relatively rare in Ohio, the biggest April snowstorm in state history was staggering. Ohio's snow season typically shifts into full gear in December, although November snows are not uncommon, especially in the northernmost reaches of the state. The earliest recorded snow in the state was certainly an aberration, arriving on October 2, 1974.
Ohio's heaviest snows generally wrap up for the season in March. In Dayton, for example, the average date for the last measurable snowfall of the season is March 29. It's not atypical for Ohio to see snow into early April, but snow totals are usually light, measuring from a dusting to just a few inches.
Even in northern Ohio, April normally means an upswing in temperatures and a decrease in snow activity. The average temperatures for April 1 in Cleveland, for example, are 54°F (high) and 36°F (low). By April 30, the averages rise to 66°F (high) and 46°F (low). These temperatures aren't conducive for snow, obviously. Apparently, April 1901 didn't get the message.
The Origins of an Unprecedented Late April Snowstorm
The vernal equinox in 1901 was on March 20, marking the official beginning of spring in the northern hemisphere. However, Ohio saw a crippling snowstorm a full month after spring began. 
The storm started with a low-pressure system that moved across Texas. The system picked up a large amount of moisture from the Gulf of Mexico. However, instead of continuing to move across the southern United States as expected, the system took a northeast turn. It moved through Virginia and into Pennsylvania, slowing down dramatically thanks to strong high pressure over the northeast Atlantic Ocean. The system essentially stopped in its tracks, and all of that Gulf moisture it had absorbed fell on the same areas over a three-day period. Much of Ohio saw that moisture fall in the form of snow. 
Massive Snow Accumulations
Snow totals from this storm were jaw-dropping.
The storm dropped modest amounts of snow on the extreme southwestern corner of the state. Hamilton County, where Cincinnati is located, received one to three inches of snow. Accumulations rose dramatically east of Columbus, where Ohioans saw around a foot of snow. 
But nothing could compare with the snow seen along a diagonal line from Fairfield County to the Ohio/Pennsylvania border. Ohio residents who lived along this corridor were pounded with snow for 30-50 hours straight, and the totals were staggering.
Cities like Wooster, Medina, Akron, and Cleveland all saw around 24 inches of snow. Youngstown and Warren saw over 37 inches of accumulation. Canton was situated in the heart of the heaviest snow band. A mere two inches of snowfall were recorded in Canton on April 19. By the time this storm moved out two days later, Canton was buried under a whopping 42 inches of snow!
C. F. Stokey, a meteorological observer in Canton, recorded the event. In his notes, Stokey remarked, "April 18th to 21st greatest snow storm ever known here in April. Temperature about 32° [Fahrenheit] all the time & snow settled, 'packed,' rapidly. Drifts 10 ft. reported; 4 ft. deep seen. Some snow remained in shaded drifts until the 1st of May."
Devastating Impacts
To complicate matters, this wasn't a light, fluffy snowfall that blanketed much of Ohio in April 1901. Because the temperatures hovered right around the freezing mark, Ohio was hammered with wet, extremely heavy snow. 
If temperatures are well below freezing from the surface up into the atmosphere, snow will remain frozen as it falls. This keeps the liquid content low and results in dry, lightweight snow. However, if the temperature is at or above freezing in the atmosphere, the snow will partially melt as it falls. Thus, it will have a much higher liquid content. The result is wet, heavy snow. Such was the case for the Great Snowstorm of April 19-21 in Ohio.
This storm wreaked havoc on the state's infrastructure. Telegraph and telephone lines were knocked out. Trains stalled out and were left stuck on the tracks. Travel and communication were virtually impossible in the areas most impacted by the storm.
Homes and businesses were also damaged or destroyed. One foot of dry, fluffy snow adds about 6,000 pounds to an average roof, whereas a foot of wet, heavy snow can add up to 19,000 pounds of weight to that same roof. Areas such as Canton were hit with up to 3.5 feet of this heavy snow. It's no surprise that the roofs of some homes, barns, and businesses partially or fully caved in. 
Media Reports
In the Youngstown Vindicator's April 20, 1901 edition, the paper opened with these headlines: "Blizzard is a record beater. The storm of Friday night smashes all records for this latitude. Plays havoc with wires. The snow fall the deepest of any April storm in the memory of the oldest people — Street car traffic suspended — The damage extends all over the city and vicinity."
Because telegraph service had been interrupted, the paper went on to report, "Youngstown has been cut off, practically, from communication by wire with the outside world." The paper noted that streetcars were not running and railroads were stopped. It also noted that winds were whipping up to 60 miles per hour at the height of the storm. On a lighter note, a 12-foot-tall snowman was built on South Hazel street in Youngstown!
Photographs of the event are scarce, but a few have survived such as the picture of the Hale House in Burton, Ohio (Geauga County), as well as this picture from Alliance, Ohio.
Ohio Wildlife
This late-April snowstorm caught all Ohio residents off-guard, including the state's animal population.
Birds
Many of the state's spring birds had already returned from overwintering in the south. Killdeer, red-winged blackbirds, and the Eastern phoebe are some of the earliest spring avian migrants to return to the Buckeye States. They surely sheltered in place through much of this historic winter storm. 
Hibernation and Topor Mammals
Hibernating mammals had come out of their winter slumber by the time this storm hit. The only true hibernating mammals in Ohio are groundhogs, jumping mice, and little brown bats.
Other mammals don't truly hibernate but rather enter a state of torpor. Animals such as raccoons, skunks, and opossums will sleep through some of winter's worst weather, but they will also wake up during warmer periods to search for food.
All of these mammals certainly holed up in dens as they waited for the storm to subside. Thankfully, the wait was relatively short considering the massive snowfall totals. While some snow drifts hung around until May, most of the snow melted by April 28, allowing Ohio's animals to resume their normal spring behaviors.
Other Mammals
Other Ohio mammals are active throughout the winter, such as squirrels and white-tail deer. Squirrels build up nut and seed caches to survive the winter. It's unlikely these caches would have been completely exhausted in April, so they would have had little trouble enduring this storm.
Deer feed on woody plants through the winter. Their long legs enable them to navigate deep snows, such as those seen in April 1901. Also, fawns are not born until at least mid-May. The deer's birthing season then stretches into July. No vulnerable white-tail deer fawns had to contend with this surprise late-April snowstorm.
If there was a silver lining for the state's animals, it's that the temperatures were not bitterly cold in this history-making storm. High temperatures hovered around 32°F.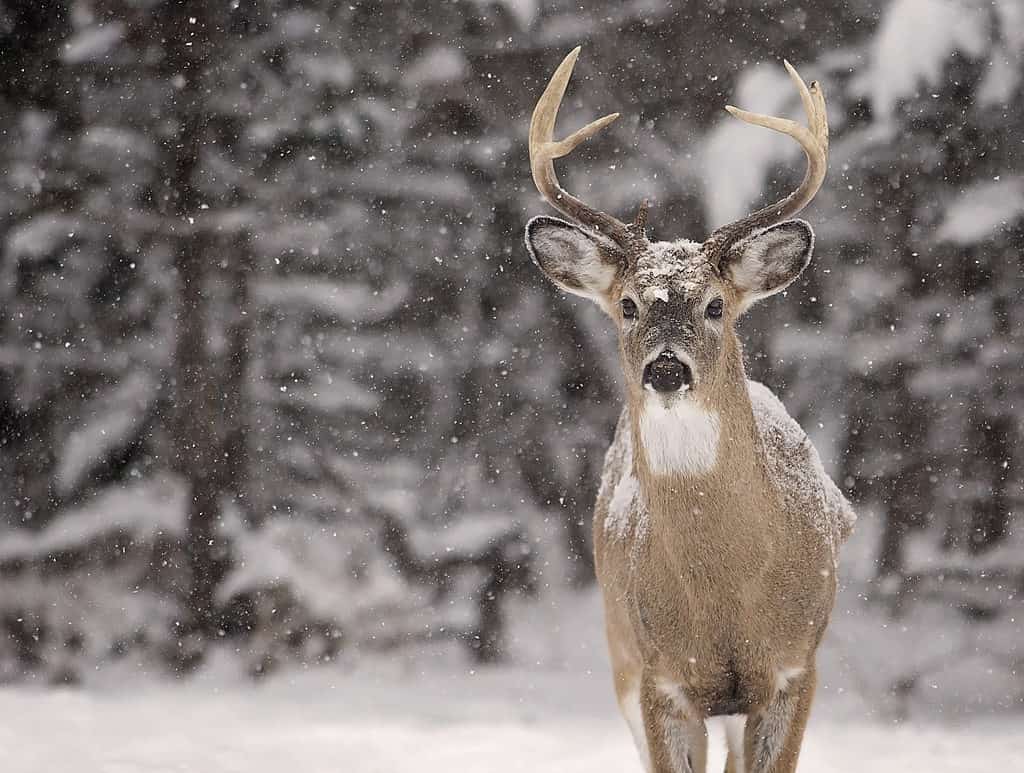 A Storm for the Record Books
While Ohio snowstorms aren't unheard of in April, a storm of this magnitude so late in the month was unprecedented. And, with the warming climate, it's fair to wonder if another April snow such as this will ever be seen again in Ohio. The Great Snowstorm of April 19-21 was certainly one for the books.
---