↓
Continue Reading To See This Amazing Video
If you've ever been to Missouri in winter, then you know just how bone-chilling cold it can get. But have you ever wondered what the lowest ever temperature recorded in the entire state of Missouri was? There's no need to look any further – Warsaw, Missouri, currently holds the record for the coldest recorded temperature at a jaw-dropping -40 degrees Fahrenheit. This temperature was recorded over a century ago on February 13, 1905.
Whether you're trying to learn more about the history of this small city or just curious about how cold it can get here, let's dive in and get to know this quaint but freezing little town called Warsaw in the middle of Missouri.
History Of Warsaw, Missouri
Located in Benton County, Warsaw is a charming small town in Missouri with a population of around 2,100 permanent residents.
During the summer season, the town sees an influx of tourists and seasonal residents who come to enjoy the area's recreational opportunities, including fishing and camping at Truman Reservoir and Lake of the Ozarks.
Native American Tribes
The land that would become Warsaw was originally home to several Native American tribes, including the Delaware, Shawnee, Kickapoo, and Sac tribes. However, the Osage tribe definitely outnumbered the other tribes in the area, so the river running through the town was named after them and called the Osage River.
In the early 1800s, French hunters, traders, and trappers began to trade with the Osage tribe along the river. As new settlers saw opportunities in the area, this trade increased significantly.
Foundation Of Warsaw
Early residents of Warsaw included English, Irish, and German farmers from Kentucky and Tennessee. It quickly became a crossroads for travel and freighting. One of the earliest settlers in the area was Stephen A. Howser from Kentucky, who arrived with his wife Sally Wyatt Howser in 1831.
The city of Warsaw was laid out in 1837 and officially incorporated in 1843. It was also designated as the county seat of Benton County.
It is believed that the town was named after the capital of Poland, Warsaw, as a tribute to Polish General and patriot Tadeusz Kosciusko. However, there is no official written record of this.
The Destruction Of Warsaw
In 1861, Union General John C. Fremont's troops deemed Warsaw a "treasonous" city and destroyed much of the town, taking over its supplies and homes for their own use. 
The following month, Union Army stragglers burned even more of the town. Despite this, the residents of Warsaw rose up and managed to rebuild and return to navigation and trading on the Osage River.
Warsaw – Journey To A Resort Destination
With the completion of the Harry S. Truman Dam and Reservoir in 1979, the Warsaw area began to develop into a resort destination located at the headwaters of the Lake of the Ozarks. The lake serves various purposes, including flood control, power generation, recreation, and wildlife management.
Today, Warsaw is a popular retirement community and a tourist destination, with visitors from all over Missouri and its neighboring states enjoying water sports, fishing, camping, and antique shopping in the downtown area.
The town is surrounded by cabins and homes on the roads and lakeshores for miles, and locals and visitors alike enjoy being at the center of two of Missouri's largest lakes.
Fun Facts About Warsaw
Truman Lake, also known as Truman Reservoir, is the biggest artificial lake in the state of Missouri. It's a popular spot for fishing and other outdoor activities.
Lost Valley Hatchery, located near Warsaw, is a state-of-the-art hatchery. It's among the biggest hatcheries of its kind in the country.
Warsaw holds the record for the lowest and highest temperature ever recorded in Missouri.
Average Temperatures
The weather in Warsaw can get pretty extreme! Did you know that on July 14, 1954, the temperature in Warsaw reached a scorching 118°F? That's the highest temperature ever recorded in the entire state of Missouri. On the other hand, on February 13, 1905, the temperature in Warsaw plummeted to a frigid -40°F, the coldest temperature ever recorded in the state.
That's quite a range! But don't worry, the average annual temperature in Warsaw is much more comfortable, at a cool 56.7°F.
The hot season lasts for about three and a half months, starting on June 3rd and ending on September 15th. During this time, the average daily high temperature is above 81°F, with July being the hottest month of the year, reaching an average high of 90°F and a low of 71°F.
On the other hand, the cold season in Warsaw lasts for about three months, from November 27th to February 27th. During this time, the average daily high temperature is below 52°F, with January being the coldest month, with an average low of 27°F and an average high of 43°F.
In a typical year, temperatures in the city fall below 50°F for a total of 132 days. That's almost half the year!
Here are some interesting facts about the weather in Warsaw, Missouri:
Warsaw gets an average of 44 inches of rain per year, which is slightly more than the US average of 38 inches.
Warsaw also sees an average of 8 inches of snow per year, much less than the US average of 28 inches. If you're a fan of snowy winters, you might be disappointed by the relatively low amount of snow in Warsaw.
On the other hand, Warsaw is a pretty sunny town, with an average of 203 sunny days per year.
Population
Warsaw had roughly 800 permanent residents when this small city experienced the record-breaking temperature of -40°F. And in 1954, when Warsaw broke the highest temperature ever recorded (118°F) in Missouri, the population was just fewer than 1,000.
As of the 2020 Census, Warsaw has 2,209 permanent residents; the highest number ever recorded in history. This number is expected to grow as Warsaw has become increasingly popular with retirees and tourists.
Wildlife In Missouri
Missouri is home to a diverse array of wildlife, including many species of mammals, birds, reptiles, amphibians, and fish. Some common mammals found in Missouri include white-tailed deer, raccoons, opossums, squirrels, rabbits, bats, and skunks. The state is also home to a variety of carnivorous mammals, such as coyotes, bobcats, and black bears.
In terms of birds, Missouri is home to many species of songbirds, waterfowl, and raptors. Some common birds found in the state include cardinals, blue jays, robins, geese, ducks, and eagles.
Reptiles and amphibians are also prevalent in Missouri, with snakes, lizards, turtles, and frogs commonly found throughout the state.
Missouri is also home to various species found in its many rivers, streams, and lakes, including bass, catfish, crappie, and perch.
It's worth noting that the specific types of wildlife found in Warsaw, Missouri, may vary somewhat from the state as a whole, as different regions of the state can have their own unique ecosystems. However, many of the species mentioned above can also be found in Warsaw.
Up Next
More from A-Z Animals
---
The Featured Image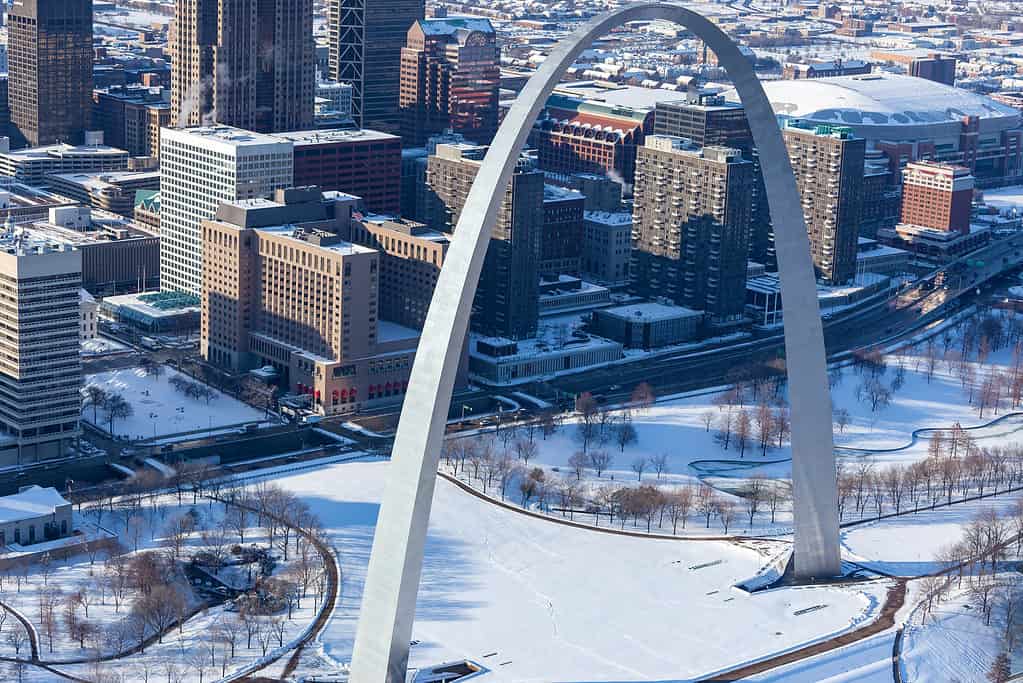 ---
Sources

Legends of America, Available here: https://www.legendsofamerica.com/mo-warsaw/
Missouri Climate Center, Available here: http://climate.missouri.edu/sigwxmo.php#:~:text=1905%3A%20February%2013.,%3A%20%2D40%C2%B0%20in%20Warsaw