April is the start of spring in many parts of the US, which means beautiful flowers start to bloom. But not all states are created equal when it comes to spring. Some states remain quite chilly even as the days get longer and the snow begins to melt. If you're curious about which states are the coldest in April, you've come to the right place!
So, let's bundle up and venture into the frigid regions of the United States to discover which states are the coldest in April.
1. Alaska
When it comes to listing the coldest states in April, Alaska is an undeniable contender that cannot be overlooked. After all, Alaska is the northernmost state in the USA, with around a third of the state sitting above the arctic circle.
85% of the land in Alaska is in permafrost year-round, meaning the ground never goes above 32 degrees F!
It is the largest state by area and has a population of approximately 732,673. Tourist attractions include the Alaska Native Heritage Center, the Iditarod Trail Sled Dog Race, and the Denali National Park and Preserve.
The state was purchased from Russia in 1867 and became the 49th state in 1959.
Weather In Alaska In April
Alaska has a significant temperature fluctuation throughout the year. In January, it can consistently stay below -20 degrees F. However, in summer, it can get up to 70 degrees F. In April, Alaska experiences transitional weather as winter gives way to spring. Average temperatures in the state can range from the mid-20s to mid-40s. But, as Alaska is such a large state, the temperatures can vary widely.
April is one of the driest months in Alaska, with the lowest precipitation levels. However, snow is still possible in many areas, especially in the northernmost regions. To prepare for these fluctuations and weather changes at this time of year, it's best to dress in layers!
Wildlife In Alaska
Over 1,000 wildlife species call Alaska home, including iconic species such as:
Brown bears
Moose
Wolves
Caribou
Dall sheep
Mountain goats
Sea otters
The state also has several endangered species, such as the steller sea lion and the North Pacific right whale, and in the arctic regions, the polar bear. 
Furthermore, this state is known for its diverse marine life. You can find various species of salmon, halibut, and crab here.
2. Coldest States in April: North Dakota
North Dakota is unique since the geographic center of North America lies here. It is known for its vast prairies, beautiful badlands, and strong agricultural economy. As of 2021, its population was estimated to be around 774,948 people. 
Popular tourist attractions include the International Peace Garden,  the Scandinavian Heritage Park, and Theodore Roosevelt National Park. Native American tribes originally inhabited North Dakota before becoming a territory and eventually a state in 1889.
Weather In North Dakota In April
North Dakota is the second coldest state in the USA, so it's no surprise that it comes in as the second coldest state in April. Winter temperatures are very commonly below 0 degrees Fahrenheit, and summer temps rarely go above 80 degrees F.
In North Dakota, temperatures begin to warm up in April but remain chilly compared to other states. In April, average high temperatures generally range from the mid-40s to low-60s, depending on the area. And you can expect average low temperatures ranging from the mid-20s in the north to mid-30s in the south.
Precipitation during this time is usually moderate, with snowfall possible early in the month but rain becoming more common as the month progresses. Windy conditions are also common in April.
Wildlife In North Dakota
North Dakota is home to a variety of different animals, including:
Bison
Elk
Deer
Coyotes
Wolves
The state also has a rich bird population, with over 400 species recorded, including the American white pelican and bald eagle. 
The northern prairie region of the state is particularly important for grassland bird species such as the chestnut-collared longspur and Sprague's pipit. The state has several endangered species, including the piping plover and whooping crane.
3. South Dakota
South Dakota isn't far behind its Northern cousin regarding being one of the coldest states in April. As of 2021, its estimated population is 895,736. The state boasts several tourist attractions, including Crazy Horse Memorial, Mount Rushmore National Memorial, and Badlands National Park.
The state's history is deeply rooted in Native American culture, with various tribes inhabiting the area for centuries before European settlers. And in 1889, South Dakota became the 40th state to join the United States.
Weather In South Dakota In April
South Dakota has brutal winters, with temperatures below freezing until late March. The coldest recorded temperature in the state was nearly -60 degrees F in 1936!
In April, temperatures remain cool enough to retain snow cover in higher elevations. The average temperatures generally range from the mid-30s to the mid-60s. However, keep in mind that temperatures can vary depending on the location.
In April, the trend typically involves a rise in the sunshine and a decrease in the likelihood of snowfall. April is a relatively dry month for the state, with an average of just 1 inch of precipitation.
Wildlife In South Dakota
South Dakota is home to a variety of fascinating wildlife, such as:
Bison
Pronghorn antelope
Elk
Coyote
Furthermore, this state's population of prairie dogs and white-tailed deer thrive. South Dakota is also home to a number of endangered species, including:
Swift fox
Black-footed ferret
4. Montana
Montana boasts an abundance of mountains, with no less than 300 peaks. This state has a population of just over 1 million individuals. While many people call this state home, Montana is also a popular state to visit, thanks to its many attractions, including Yellowstone National Park. Montana is an amazing place to visit for outdoor enthusiasts.
As with most other states, Montana's history is characterized by the presence of Native American tribes and later by European explorers and settlers. Montana joined the United States in 1889, becoming the 41st state to do so.
Weather In Montana In April
Being located in the far north of the contiguous United States with a high average elevation Montana is a particularly chilly state. The temperature in the state typically starts dropping below freezing in late October and doesn't fully thaw until May!
April in Montana can be pretty chilly, particularly in the mornings and evenings. The average temperature in the state during this month ranges from the mid-20s to the mid-50s, but this can vary by location and elevation. 
The state usually experiences moderate precipitation in April, with an average of about 1 inch of rainfall. Snowfall is also common during this month.
Wildlife In Montana
It's no secret that Montana is home to an impressive range of wildlife. When visiting this state, you may encounter everything from grizzly bears to moose to even wolves and bison! In fact, outside of Alaska, Montana has the largest population of grizzlies in the USA. The state's stunning landscapes are perfect for these creatures to thrive. 
However, some animals, including white and pallid sturgeon, are endangered. Montana is also home to the black-footed ferret, which you may be able to spot if you're lucky enough to come across one of these rare animals!
5. Minnesota
Minnesota is home to an impressive 11,842 lakes, providing ample opportunities for outdoor recreation and water-based activities for its population of around 5.7 million people. But many tourists come to Minnesota to enjoy these outdoor activities as well. Some of its top tourist attractions include the Mall of America, Split Rock Lighthouse, and the Boundary Waters Canoe Area Wilderness. 
Minnesota played a significant role in the Civil War and has since become a center for agriculture, industry, and technology.
Weather In Minnesota In April
Minnesota is located in the far north of the lower 48 states, so it experiences frigid winters. It is frequently below freezing between November and April, with the coldest temperature being -60 degrees F.
The weather of the North Star State in April can be described as breezy and cold. The average temperature ranges from around 35 to 55 degrees Fahrenheit, with warming temperatures as the month progresses. Precipitation in April is moderate, with an average of 2.8 inches of rain and a chance of snow. 
April weather trends can vary widely, from sunny and mild to cold and damp, with occasional storms. 
Wildlife In Minnesota
Minnesota's rich and varied landscape is home to a wide range of wildlife, from majestic mammals like moose and black bears to smaller creatures like river otters and beavers. The state is also home to over 400 bird species, including endangered species like the Henslow's sparrow and the burrowing owl. 
Minnesota's lakes and rivers support a diverse fish population, including the state fish, the walleye. 
6. Wisconsin
There is no better place to explore America's midwest than Wisconsin, home to almost 6 million people. Some attractions in Wisconsin that both locals and tourists enjoy include the Wisconsin Dells, Milwaukee Art Museum, Lambeau Field (home of the Green Bay Packers), and Door County.
The state was initially home to Native American tribes before becoming part of the French and British colonies. Wisconsin became a U.S. state in 1848 and played a crucial role in the Civil War and Prohibition era. Wisconsin is known for its cheese, beer, and stunning natural beauty.
Weather In Wisconsin In April
Like most mid-western states, Wisconsin experiences a huge fluctuation in temperatures throughout the year, with winter temperatures well below freezing and summer temperatures in the 70s and 80s.
April marks the start of spring in Wisconsin, but the weather can still be chilly. The average temperature ranges from around 40 to 50 degrees Fahrenheit across the state. The state experiences around 5 to 6 inches of precipitation on average in April. Some areas may still experience snow in April, but this is usually limited to the most northern parts of the state.
Wildlife In Wisconsin
The Badger State boasts an impressive 668 species of native vertebrates. The state's forests, lakes, rivers, and wetlands support a variety of mammals, including:
Red fox
Badger
Long-tailed weasel
Bobcats
For those bird enthusiasts, you may even be able to spot species like:
However, some endangered species in Wisconsin require conservation efforts to protect them. These include the Kirtland's warbler and the eastern massasauga rattlesnake.
7. Wyoming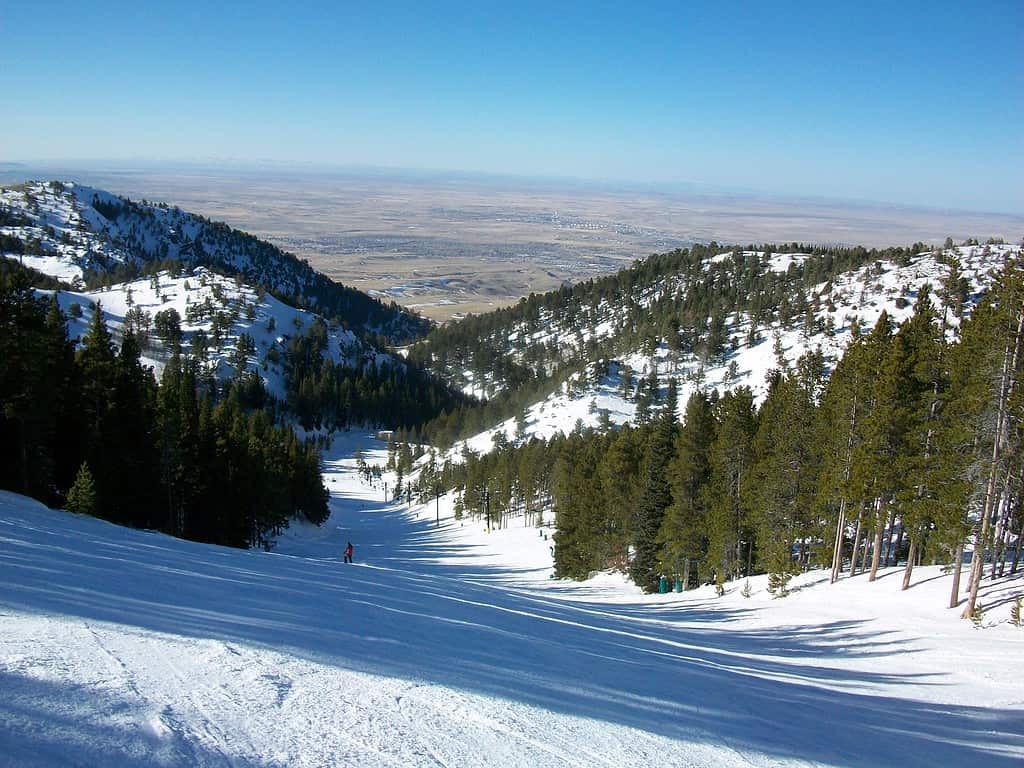 Wyoming is renowned for its cowboy culture and bull riding events and is home to some of the world's most magnificent rangelands. This state is also known for its rugged landscapes, including Yellowstone National Park. Other popular tourist attractions include Devil's Tower, the Cheyenne Frontier Days Rodeo, and the National Historic Trails Interpretive Center. Part of the state's beauty might be attributed to being one of the least populated states in the country, with a population of just over  580,000 people.
Wyoming boasts a rich history. Interestingly enough, Wyoming was the first state to grant women the right to vote!
Weather In Wyoming In April
Wyoming is one of the coldest states in the US, thanks to its mean elevation of 6,700 feet. Be prepared for some breezy and chilly weather in the month of April. But with that said, temperatures can vary greatly depending on the location within the state. For example, average temperatures range from the mid-40s to the low-60s°F during the day, while temperatures at night can quickly drop below freezing. 
Precipitation levels in April are relatively low, with some areas experiencing snow or rain showers. So if you visit Wyoming in April, you should be aware of the potential of late-season snowstorms, especially if you visit parts of the state in higher elevations.
Wildlife In Wyoming
Some of the notable wildlife you can spot in Wyoming include:
American bison
Elk
Moose
Mountain lion
Wild horse
Endangered species in Wyoming include the black-footed ferret, swift fox, and Wyoming toad. If you're interested in fishing, you'll be excited to learn that this state is also known for its world-class trout fishing.
Up Next:
More from A-Z Animals
---
The Featured Image
---