Learning about the coldest states in May will help you plan better. The weather in May is delightful in many states, with bright sunshine and warm temperatures. It's a perfect time to visit the United States, especially if you're uncomfortable with crowds during the hotter summer.
According to collected weather data by NOAA National Climatic Data Center, the season average is 52.0 degrees Fahrenheit (11.1 degree Celsius). This statistic excludes Hawaii and Alaska, which are on either side of the extremes.
May falls in spring when most states are experiencing warm weather. However, some states remain quite cold, even at the end of spring.
Five Of The Coldest States In May  
In general, U.S. weather is warm in spring. However, states in the north may have relatively low temperatures in May.
Here are the top five coldest states in May:
| State | Avg °F | Avg °C |
| --- | --- | --- |
| Alaska | 24.7 | -4.1 |
| Maine | 39.1 | 3.9 |
| Wyoming | 40.8 | 4.9 |
| North Dakota | 41.1 | 5.1 |
| Vermont | 41.5 | 5.3 |
Comparison of the five coldest states.
1. Alaska
Alaska is in the extreme northwest of the continent of North America. It was the 49th state to be admitted to the United States on January 3, 1959. The state covers an area of 1,723,337 square km and is inhabited by 733,583 people, per 2022 estimates.
Its capital is Juneau in the state's southeast, in the panhandle region. Alaska borders the Arctic Ocean and the Beaufort Sea to the north and the Pacific Ocean to the South. On the eastern side, it's bounded by British Columbia and Canada's Yukon Territory. On the west, lies the Bering Sea and Bering Strait.
In the summer, temperatures in the interior range from 45°F to 75°F and drop to about 20°F to -10°F in winter. May temperatures range from as low as 24.7°F and as high as 62°F. The state holds the record for the lowest temperature recorded in the United States. On January 23, 1971, at Prospect Creek Camp in the Arctic Circle along Alaska pipeline, temperatures measured -80°F.
Nearly a third of the state is within the Arctic Circle, and about 80% of Alaska is covered by permafrost (a mixture of frozen sediment and rock). Half of the state's surface area is surrounded by treeless Arctic plains known as Tundra. Parts of Alaska and Canadian make up the world's most extensive glacial cover outside Antarctica and Greenland.
There are many species of wildlife in Alaska despite being a temperate region. The animals are well-adapted to life in such a climate. In fact, they can't survive in the southern parts of the U.S. due to the warm weather.
Animals In Alaska
Black Bear
Moose
Dall Sheep
Wolves
Bald Eagles
Gray Whale
Puffins
Orcas
Some animals in Alaska hibernate during winter, and it's not easy to spot them. Others, like wolves, avoid human interaction and can only be witnessed in deep forests and parks.
2. Maine
Maine is the largest of the six New England states in the U.S. and represents almost half of the New England area. This state is among the coldest states in May. It was admitted as the 23rd state into the union on March 15, 1820. Its capital is Augusta. It borders Quebec and New Brunswick Canadian provinces to the northwest and northeast, respectively, and New Hampshire to the west.
The state covers an area of 91,634 square km (35,380 square miles) and has a population of 1,385,340, according to 2022 estimates. Most of Maine is sparsely populated, and four-fifth of its land is forested. It has three climatic zones: northern, southern, and central.
May temperatures in Maine range from a high of 65°F to as low as 39.1°F. The average across the state is 54°F. Mean annual temperatures in the state range from 37°F to 45°F. The northern part of the state sees lower temperatures, while the central and southern regions experience warmer temperatures. In winter, temperatures can fall as low as 20°F. And in the summer, they can rise to 62°F.
The flora and fauna of Maine represent a combination of Subarctic and Appalachian species. Pine, fir, and spruce are among the softwoods. Hardwoods include aspen, sugar maple, paper birch, and yellow birch.
Animals In Maine
Here are some of the prominent wildlife found in Maine:
Deer
Black bears
Moose
Foxes
Lynx
Hares
Raccoons
Porcupines
Coyotes
Bobcats
Fishers
Tourists will likely spot flying squirrels and white-tailed deer when exploring Maine woodland and mountain areas. The state is also the native home of 202 bird species, 16,000 invertebrate species, and 34 reptile and amphibian species.
Some of the best places for wild animal lovers to visit in Maine include:
The Kennebec Valley
Rachel Carson National Wildlife Refuge
Mt. Desert Island
Rangeley Lake State Park
Machias Seal Island
3. Wyoming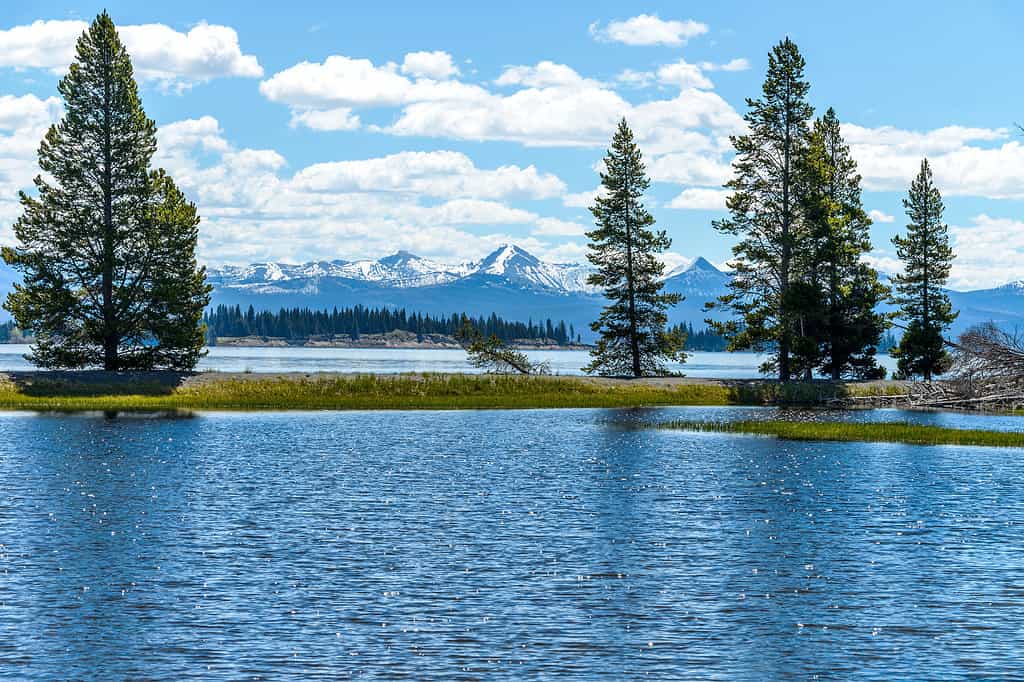 Wyoming comes in third in the coldest states in May. It became the 44th state in the union on July 10, 1890. It's the 10th largest state in the country in terms of area coverage.
It shares borders with six Great Plains and mountain states, including Montana, Nebraska, South Dakota, Colorado, Utah, and Idaho.
May temperatures in Wyoming range from a high of 65°F to a low of 40.8°F in some regions, with an average of 54°F. Wyoming's topography consists of large basins and the Rocky Mountains that are part of an intact temperate-zone environment. The state has an area of 253,334 square km (97,813 square miles), inhibited by a population of 581,381.
Animals In Wyoming
The state has a low population. In fact, there is only one person for every 111 acres. This means Wyoming has a vast wilderness for wildlife to occupy. Wyoming wildlife is composed of 100 species of mammals, along with 400 species of birds and reptiles. Large mammals include the bison (official state mammal), black bear, grizzly bear, moose, mountain lion, deer, wild horse, elk, wolf, and pronghorn antelope.
It is possible to see some animals in the state, like pronghorn antelope, bison, and bears, almost anywhere within the state due to the sparse human population. However, the best places for viewing wildlife in Wyoming include:
National parks (Grand Teton, Yellowstone, and Seedskadee)
Mountains (Bighorn, Bear Lodge, Casper, and Wind River)
Medicine Bow National Forest
Pilot Butte Wild Horse Scenic Loop
4. North Dakota
North Dakota was the 39th state admitted to the union on November 2, 1889. It borders two Canadian provinces to the north, Minnesota to the east, Montana to the west, and South Dakota to the South. The capital is Bismarck, located in the center of the state.
The state has a continental climate that experiences extreme temperatures. It has a population of 779,261 (2022 est.). Summer temperatures can rise above 49°F (120°C); in winter, they can fall below -51°F (-60°C). In general, May temperatures range from a high of 65°F to a low of 41.1°F.
Animals In North Dakota
Most of the land is covered by grass, providing pasture for animals like antelope and buffalo.
Around forests in the state, you can spot white-tailed deer, ferrets, and raccoons. Significant predators living in North Dakota include mountain lions, red foxes, velox, elk, and bighorn sheep. Common rodents are black-tailed prairie dogs and beavers.
5. Vermont
Vermont is also among the coldest states in May. The state is among the six New England states in the northeastern corner of the U.S.A., admitted as the 14th state on March 4, 1791. Vermont's capital is Montpelier, the country's least-populous state capital. The state borders Quebec to the north, New Hampshire to the east, Massachusetts to the south, and New York to the west. 
The state winter temperatures can dip to -34°F (-37°C); in summer, they can rise above 90°F (32°C). May temperatures in Vermont range from a high of 68°F to as low as 41.5°F.
Common trees in Vermont are hemlock, pine, fir, and spruce, with birch and maple being the indigenous species. Sugar maple is Vermont's state tree, reflecting the state's reputation for producing maple syrup.
Animals In Vermont
The state has a vast population of deer, and in the autumn, deer hunting is a popular attraction. There is also a sizable moose population; since 1993, the government has allowed a season of moose hunting annually. It's rare to see wild cats, although bears are often seen. Other animals you can see in Vermont are:
Geese
Peregrine falcons
woodpeckers
Owls
Wild turkeys
Loons
The state is also home to rodents like river otters, gray foxes, and southern bog lemmings, including reptiles like the painted turtle.
In Vermont, wildlife is everywhere, and you can spot wild animals throughout the year in all parts of the state. Some great places to observe animals in Vermont are Dead Creek Wildlife Management Area, Conte National Wildlife Refuge, and Victory Basin Wildlife Management Area.
Conclusion
Although most of the country experiences warm weather in May, some states in the north remain cold. If you plan on visiting any of the coldest states in May, pack your sweaters!
---
The Featured Image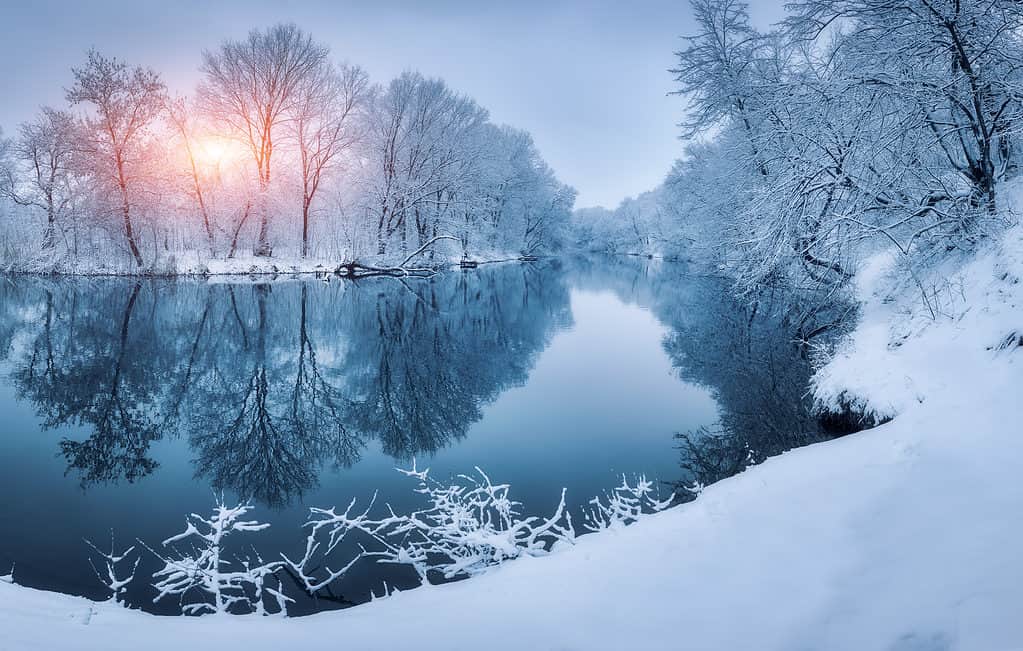 ---