↓
Continue Reading To See This Amazing Video
Eagle Mountain Lake is a hidden gem in the state of Texas. Not only is it the most beautiful and deepest lake in Fort Worth, but it's also a haven for outdoor enthusiasts. With over 8,600 acres, you'll find plenty of opportunities to fish, water-ski, wakeboard, and boat on this recreational lake. And if you love nature, you'll be happy to know that this lake is home to a wide variety of wildlife species. This makes it a vital part of the local ecosystem.
But that's not all — Eagle Mountain Lake is also known for its stunning lake houses. These are just a short drive from downtown Fort Worth. Imagine waking up to breathtaking views of the surrounding hills, bluffs, and mountains every day! And if you're feeling adventurous, why not rent a boat and explore the lake for yourself? Trust us – there's no better way to experience the beauty of Eagle Mountain Lake than on the water.
History of Eagle Mountain Lake
The area around Eagle Mountain Reservoir has a long and rich history dating back thousands of years. Then, Native Americans lived there, hunted for game, and used the Trinity River as a water source. Later, European fur traders and trappers also recognized the area's abundant natural resources. When European explorers arrived, they traded with the Caddo and Tonkawa tribes who lived there.
In 1922, Fort Worth experienced a devastating flood that left people stranded without drinking water. This event sparked a campaign to convince voters to invest in building more dams in the region. That included the dams that created Eagle Mountain Lake and Bridgeport Lake. On October 7, 1924, the citizens of the county voted four to one in favor of beginning construction on these two lakes.
The Texas State Board of Water Engineers awarded contracts to three companies to build the dams concurrently on May 1, 1928. The Trinity Farms Construction Company estimated that they would need 2,000 men with axes to clear trees for the two lakes.
In January 1930, work began on the dam that formed Eagle Mountain Lake, which was completed by October 1932. The reservoir was filled with water on February 28, 1934. As a military base for training glider pilots during WWII, Eagle Mountain Lake hosted the Marine Corps Air Station Eagle Mountain Lake on its eastern shore. New controlled spillways were completed on July 31, 1971, thanks to a bond election conducted by the Tarrant Regional Water District in 1965.
How Deep Is Eagle Mount Lake?
The depth of a lake can have a significant impact on the wildlife that lives within it and around it. Eagle Mountain Lake is a prime example of this, as it covers a vast 19,050 acres with a maximum depth of 47 feet and 93 miles of shoreline.
At 47 feet deep, Eagle Mountain Lake provides a diverse habitat for various aquatic species, such as fish and amphibians. Deeper lakes tend to have cooler water temperatures, which can create a suitable environment for certain types of fish that thrive in colder water. Eagle Mountain Lake is stocked with numerous fish species that thrive in deep water, including catfish, bass, and crappie.
The depth of a lake can also impact the plants that grow within it. For example, deeper lakes may not have enough sunlight penetration for certain types of plants to thrive. This can lead to a lack of vegetation in deeper parts of the lake, ultimately affecting the animals that rely on those plants for food and shelter.
What To Expect at Eagle Mountain Lake
Eagle Mountain Lake is the perfect getaway destination, with its rolling hills, bluffs, and blue waters. It's close enough to Fort Worth to access supplies easily, but it also has a taste of the country. The southern end of the lake offers views of the city lights of Fort Worth, while the northern end is a dark sky region filled with stars where west Texas begins.
There are endless natural wonders to explore around Eagle Mountain Lake, including the Fort Worth Nature Center and Refuge, unique shops, fishing, public parks, boating and camping opportunities, and trails. The lake also features several beach areas covered in sand, which is great considering Fort Worth is a 4-and-a-half-hour drive from the nearest beach!
The area also offers stunning sunrises and sunsets, beautiful homes, and working ranches. There's no shortage of activities at Eagle Mountain Lake, from shooting ranges and golf to the Federal Bureau of Engraving and Printing, all within close proximity of the lake.
Wildlife in Eagle Mountain Lake
Eagle Mountain Lake is a haven for various wildlife, including an abundance of fish species. These fish can be found in different areas of the lake, depending on the water depth and temperature.
In addition to fishing, there are many other outdoor activities to enjoy in the area, such as birdwatching, hunting, and boating. The diverse array of wildlife at Eagle Mountain Lake makes it a popular destination for those who love being in nature. 
Let's look into some of the animals that live in the lake.
Largemouth Bass
Largemouth bass is a voracious predator that can grow up to 16 inches in just three years. In fact, adult largemouth bass is the top predator in their aquatic ecosystem, aside from humans. These fish are highly adaptable and can thrive in various habitats, but they prefer clear, quiet waters with plenty of protective covers like logs, rocks, vegetation, and man-made structures.
While largemouth bass may be preyed upon by larger fish, they are formidable predators themselves. They are known for their impressive hunting skills and are able to locate and pursue their prey with precision. Whether you're a seasoned and experienced angler or simply starting out, targeting largemouth bass can be a thrilling and rewarding experience. Just be prepared to put up a good fight – these strong fish are known for their power and acrobatic leaps out of the water.
Channel Catfish
If you're a fan of delicious, flavorful fish, you'll definitely want to try your luck at catching channel catfish. These popular bottom feeders are found in streams with moderate to low currents. They bite on a variety of bait, including cheese, stinkbait, grasshoppers, chicken, shrimp, liver, and worms. Channel catfish are highly sought after by both trotlines and rod-and-reel anglers. It's easy to see why, too — not only are they fun to catch, but they also taste great when cooked.
In fact, channel catfish are so popular in Texas that they come in third place in terms of preferred fish to catch. They fall behind only bass and crappie.
If you're an angler looking to reel in a huge catch, try your luck with channel catfish. These fish are known to grow to impressive sizes. Some goliaths weighing over 36 pounds being caught in Texas waters. The North American record for a channel catfish stands at an impressive 58 pounds. The best time to go fishing for these fish is typically in late spring or early summer when the water reaches a temperature of 75 degrees Fahrenheit.
White Crappie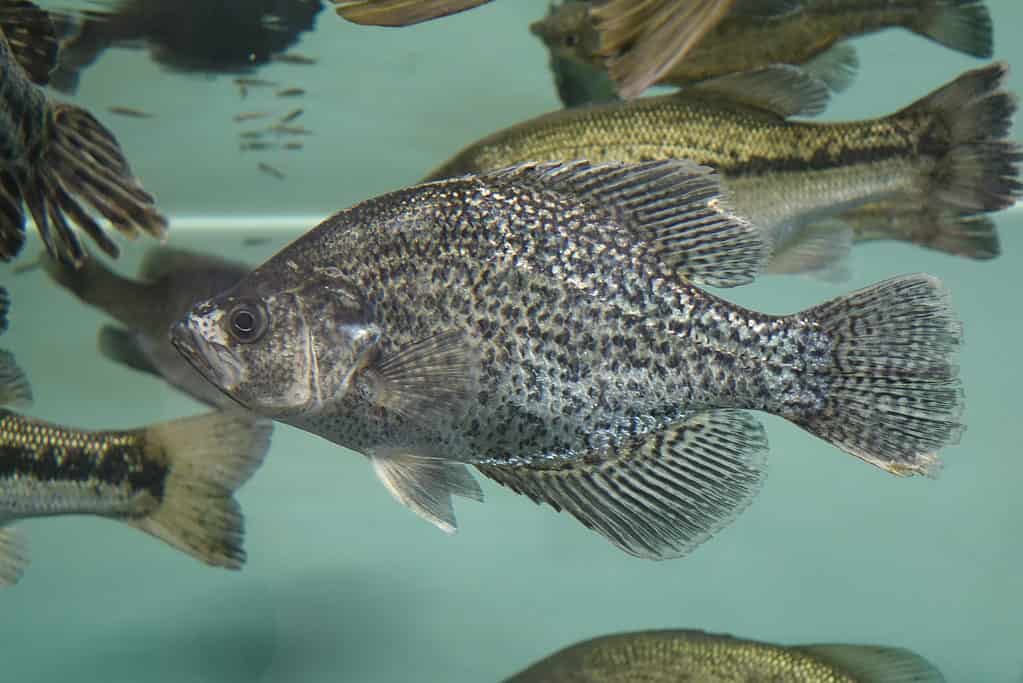 White crappie is a type of panfish highly popular with anglers in Texas. Both boat and bank fishermen enjoy targeting crappie, which are known for their deep bodies and silvery coloring. White crappie range from a silvery-green on the belly to a silvery-white color or even dark green on the back, and they have several vertical bars on their sides.
Whether you're an experienced fisherman or just starting out, crappie is a fun and rewarding fish to target.
Armadillo
Armadillos are an interesting and unique type of mammal that is native to the Americas. These animals are known for their armored shells and distinct appearance. They have also been spotted in the area around Eagle Mountain Lake. Armadillos can be seen in various habitats, including forests, grasslands, and wetlands, and they are often found near water sources.
Armadillos can vary significantly in size depending on the species. For example, the pink fairy armadillo is the smallest species, measuring just 5-6 inches in length and weighing less than a pound.
Up Next…
More from A-Z Animals
---
The Featured Image
---
Sources

EagleMountainLake.com, Available here: https://www.eaglemountainlake.com/information#:~:text=Eagle%20Mountain%20Lake%20covers%2019%2C050,and%2093%20miles%20of%20shoreline.
EagleMountainLake.org, Available here: https://eaglemountainlake.org/
HavingFunintheTexasSun.com, Available here: https://havingfuninthetexassun.com/2016/05/15/eagle-mountain-park-fort-worth/
LakeLubbers.com, Available here: https://lakelubbers.com/lake/eagle-mountain-lake-texas-usa/
Texas Parks & Wildlife, Available here: https://tpwd.texas.gov/fishboat/fish/recreational/lakes/eagle_mountain/