↓
Continue Reading To See This Amazing Video
Did you know that more than 2,900 lakes are found in Illinois? On top of these vast bodies of water, the Prairie State also boasts around 84,000 ponds and 3 massive reservoirs. Thinking about it alone is mindblowing, but what's even more fascinating is that Illinois also touches one of the Great Lakes – Lake Michigan.
Due to hydrologic modification, the Illinois component of the Lake Michigan watershed only covers 100 square miles or 0.22% of the entire watershed's area. It only makes up 0.17% of the state's total land area. Still, Lake Michigan counts as the state's largest lake, and perhaps not only that. Below, we will dive deep into the deepest lake in Illinois and uncover more of the state's deepest lakes.
What is the Deepest Lake in Illinois?
Boasting a maximum depth of 925 feet and an average depth of 279 feet, Lake Michigan is no doubt the deepest lake in Illinois. The Great Lakes Commission estimates that Lake Michigan can reach a maximum depth of 925 feet or nearly the height of a 92-story structure. Lake Michigan is the ninth-deepest lake bottom in the country and sits at an elevation of 579 feet above sea level.
The Chippewa Basin in Wisconsin is home to Lake Michigan's deepest point, where the average annual temperature is 39 degrees. The environment and high temperatures of Lake Michigan have prevented it from becoming entirely frozen throughout the year. It might not be one of the deepest lakes on Earth, but it has a lot of water to bury shipwreck debris.
Chicago, IL, is sometimes referred to as the "Windy City," but it is also known as the "City by the Lake" since it is adjacent to Lake Michigan, one of the most well-known lakes in the nation. You may be familiar with the renowned Lake Michigan if you reside close to Illinois, Indiana, Wisconsin, and Michigan.
How Big is Lake Michigan?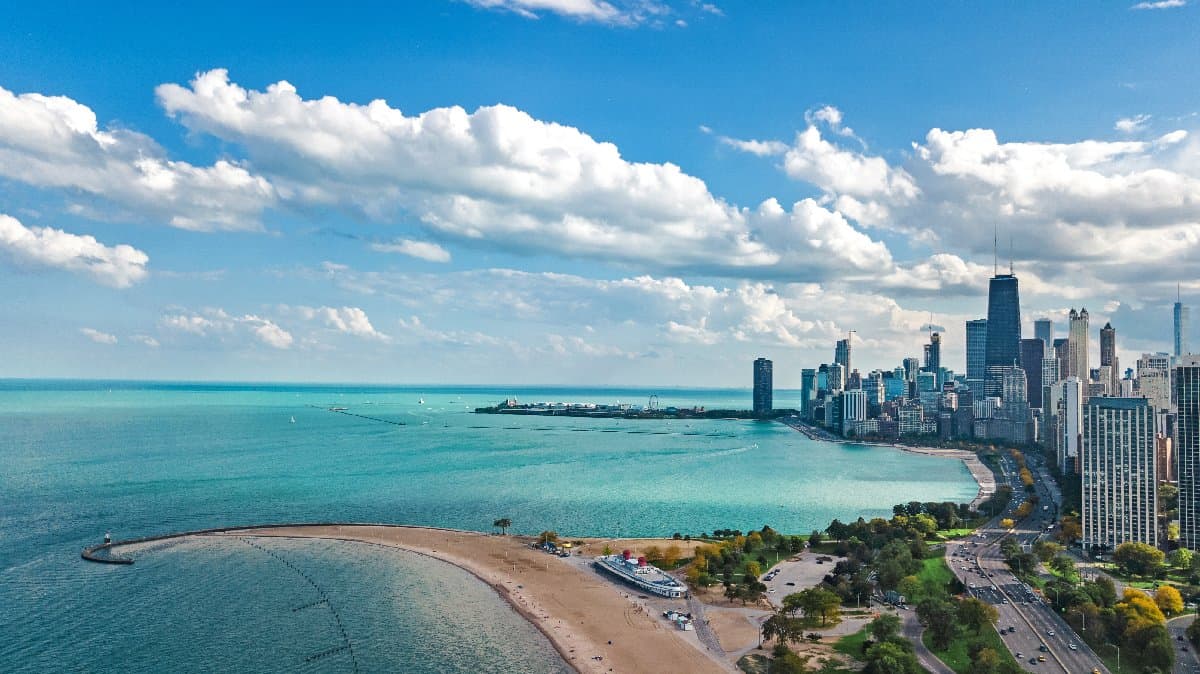 Based on the water's surface, Lake Michigan stretches 321 miles long and has a maximum width of 118 miles. The lake's water surface covers 22,300 square miles and extends along broad shorelines with impressive dunes. Among the largest freshwater lakes in the world, Lake Michigan is the fourth largest lake overall. One quadrillion gallons of water, or 1,200 cubic miles, can be found in Lake Michigan alone. Satellite measurements show that to lower the lake's water level by one inch, 400 billion gallons would need to be drained from it.
What Lies at the Bottom of Lake Michigan?
There is a lot of mystery at the bottom of Lake Michigan. While the surface activity is simple, significant historical investigations have been done into what lies beneath. The vast Great Lake's bottom is home to around 1,500 shipwrecks. However, only a small number—a few hundred — have been located. On November 29, 1960, a snowstorm caused the final shipwreck in Lake Michigan known to have occurred. A cargo ship named the SS Francisco Morazan veered off course and crashed with the wreckage of the Walter L. Frost, which went down in 1903.
What is the Deepest Inland Lake in Illinois?
Lake Michigan sure has impressive depth, but if we're talking about the deepest inland lake in the state, that's another story. The Devil's Kitchen Lake takes home the title as the deepest inland lake in Illinois, having a maximum depth of 90 feet. It may be shallow compared to Lake Michigan, but its name will surely be enough to keep you out of its depths. 
The damming of Grassy Creek resulted in the creation of the 810-acre reservoir known as Devil's Kitchen Lake in southern Illinois. Early settlers frequently camped in the valley where Devil's Kitchen Lake now stands, pausing from their trips to rest and refuel. 
The fascinating name of the lake has two sources. One refers to a sizable, black rock outcrop that provided a view of the valley and was used as a campfire and cooking area for travelers. Black, which at the time had a particularly ominous connotation, contributed to the name "Devil's Kitchen." Eleanor Roosevelt allegedly gave the other name. Homeless people occupied the Crab Orchard Creek Project facilities during World War II, and after the war, Franklin and Eleanor viewed the project's development, where the latter reportedly said, "This truly is the Devil's kitchen," when she saw the untidy cookhouse.
Fishing at Devil's Kitchen Lake
Since Devil's Kitchen Lake is so deep, rainbow trout, a cool-water species that do not perform well in other Illinois waters, can live there. Crappie, bluegill, largemouth bass, and redear fish are also available to anglers. The lake is quiet and serene due to the 10-horsepower restriction, making it possible to see deer or wild turkeys at the water's edge.
The Crab Orchard National Wildlife Refuge manages the shoreline, and there are three distinct boat-launching locations: one each on the northern end, the western shore, and the eastern side. More of the species seen around the lake are river otters, American bald eagles, quail, bobcats, raccoons, opossums, beavers, cottontail rabbits, and turtles.
Other Deep Lakes in Illinois
Kinkaid Lake
Kinkaid Lake, a 2,750-acre reservoir with an 82-mile shoreline and a maximum depth of 80 feet, is situated in southwest Illinois. When Crisenbery Dam dammed up Kinkaid Creek in 1972, Kinkaid Lake was formed for recreational use and water supply.
Little Grassy Lake
The Little Grassy Lake is a tranquil body of water situated in the heart of a Southern Illinois wildlife refuge. Watchful forest trees and open grasslands surround it. It has a maximum depth of 77 feet and covers 1,200 acres of surface water.
Apple Canyon Lake
Apple Canyon Lake, a private lake five miles southeast of Charles Mound, Illinois' highest natural peak at 1,235 feet, is situated in the picturesque Jo Daviess County. The three-mile long lake's surface area is 480 acres and boasts a maximum depth of 70 feet.
Up Next:
The 13 Biggest Lakes In Illinois
---
The Featured Image
---
Sources

Lake Lubbers, Available here: https://lakelubbers.com/deepest-lakes/?lakes-in=illinois&lid=6410
Lake Lubbers, Available here: https://lakelubbers.com/lake/devils-kitchen-lake-illinois-usa/
Wikipedia, Available here: https://en.wikipedia.org/wiki/Devils_Kitchen_Lake