Key Points
The deepest lake in Southern California is a man-made reservoir called Pyramid Lake.
The lake was created with the completion of the Pyramid Dam in 1973, which sits on Piru Creek.
Pyramid Dam is 387 feet high and holds 171,196 acre-feet of water.
Southern California contains hundreds of lakes ranging from the shallow salty Salton Sea to deep man-made reservoirs and naturally formed lakes. Many of its lakes are publicly accessible for fishing or water sports, and they are popular cooling-off spots when temperatures get high. This article will discover the deepest lake in Southern California, its history, and more.
What Is the Deepest Lake in Southern California?
The deepest lake in Southern California is Pyramid Lake. It's a man-made reservoir created by the Pyramid Dam that sits on Piru Creek.
A geometric pyramid shape carved into the rock above the reservoir gives it the name Pyramid Lake. Route 99 builders carved it into the rock when the new highway opened.
Who Built It?
Pyramid Lake is part of the West Branch California Aqueduct. It was built in 1972 as part of California's State Water Project.
Rock and earth-built Pyramid Dam stretches 387 feet tall, and its water outflow rushes to its terminus – Castaic Lake. Together, Pyramid and Castaic Lakes are reservoirs for Castaic Power Plant, a hydroelectric plant that generates electricity from water flow.
How Deep Is the Deepest Lake in Southern  California?
Pyramid Lake is the deepest lake in Southern California at 700 feet at its deepest spots. It's the deepest lake in the California Water Project. Its partner reservoir, Castaic Lake, is a close second at 330 feet deep.
Thirty-five lakes and reservoirs form the California State Water Project. It comprises 701 aqueduct miles, 24 pumping plants, and five power plants. Over 25 million Californians receive water via the project, plus it irrigates 750,000 acres of farmland.
Where Is Lake Pyramid Located on a Map?
The deepest lake in Southern California is located in Los Angeles County at 35800 Vista Del Lago Road, Lebec.
It's in the eastern San Emigdio mountains near Castaic on the border between the Angeles National Forest and Los Padres National Forest. To get there, exit Interstate 5 at Vista Del Lago Road, Exit 191.
History of Lake Pyramid
Pyramid Lake's construction began in 1972 and was completed just a year later in 1973. Its purpose was a holding reservoir for the California State Water Project, but it's become a big public draw over the last few decades.
Pyramid Dam's construction began in 1968 to ensure regular water supplies to businesses and communities. It's 387 feet high and was originally a mountain. Route 99 construction workers carved off its mountain face, and then, when traffic was safely accommodated, workers carved its distinctive pyramid face. The stepped pyramid design sits directly in front of the dam.
Pyramid Dam shows off some pretty impressive stats:
It holds 171,196 acre-feet of water
Held water covers 1,297 acres
Max capacity is 180,000 acre-feet
What Is at the Bottom of Lake Pyramid?
Lake Pyramid is a man-made reservoir that flooded forest land during construction. There's no drowned village or sunken ships, but a few boat wrecks and tree trunks from the original flood are probable. Anglers have pulled pretty impressive fish from Pyramid Lake, so there are at least some lake monsters down there, too.
And speaking of fish…
How Is the Fishing on Lake Pyramid?
Pyramid Lake is a fishing paradise. Anglers are permitted from every location and by boat.
California's Department of Fish and Wildlife annually stocks Lake Pyramid with rainbow trout. Other fish regularly snagged by anglers include:
Largemouth bass
Smallmouth bass
Striped bass
Channel catfish
Common carp
Bluegill
Crappie
The California Office of Environmental Health Hazard Assessment offers advice on fish containing mercury from Piru Creek water, including how much you can safely eat.
If you're looking to break a Lake Pyramid record, fish for smallmouth bass. Mark Torrez hooked a 4.04-pounder there in 2013. Since then, anglers say its smallmouth bass are growing to even heftier proportions.
What Animals Live at Pyramid Lake?
Pyramid Lake, CA, is a busy recreational destination. Picnickers, kayakers, and boaters arrive early, so spotting wildlife isn't easy.
However, the reservoir is close to forests and mountains that many Californian animals call their home. Animals living in or near Pyramid Lake include black bears, lizards, coyotes, rattlesnakes, eastern fox squirrels, red-tailed hawks, bobcats, turtles, and mule deer. Plenty of insects enjoy Lake Pyramid, too, including mosquitoes, ants, and wasps, so go prepared.
Recreation at Lake Pyramid
Lake Pyramid has approximately 20 acres of shoreline, which is more than enough for day trippers to enjoy everything from fishing to boating and camping.
Camping: Lake Pyramid offers five camping sites (Spanish Point, Tin Cup, Serrano Camp, Yellowbar, and Bear Trap) that are unique because they are only accessible by boat! Each campsite has a courtesy dock, and each one has its own beach. Hard Luck Camp on Piru Creek doesn't require a boat and offers large, clean family camping sites.
Sunbathing and picnics: The best spot for sun and fun with family is Vaquero Beach, a wide and sandy area perfect for kids. Emigrant Landing Beach is a great spot for picnics, too. It boasts a marina with boat ramps plus picnic areas and a sandy beach. Reach Emigrant Landing via the Smokey Bear exit on Interstate 5.
Swimming: Algal blooms are frequent in SoCal. Check with California's harmful algal bloom portal before swimming or allowing your dog in Lake Pyramid.
Check out Vista del Lago Visitor Center, which overlooks the lake, for all the activities you can enjoy at Pyramid Lake, including water safety.
What Is the Deepest Lake in California?
700 feet Deep Lake Pyramid is the deepest man-made lake in southern California, but how does it compare to the deepest lake in all of California?
It's a puddle!
California's deepest lake, Lake Tahoe, is 1,654 feet deep, a whole 1,300 feet deeper than Pyramid Lake. It's so deep it would cover the entire Empire State Building.
Lake Tahoe is a freshwater lake in the Sierra Nevada. It covers 191 square miles, straddling California and Nevada's state lines. This natural lake formed two million years ago by glacier movement as part of the larger surrounding Lake Tahoe basin.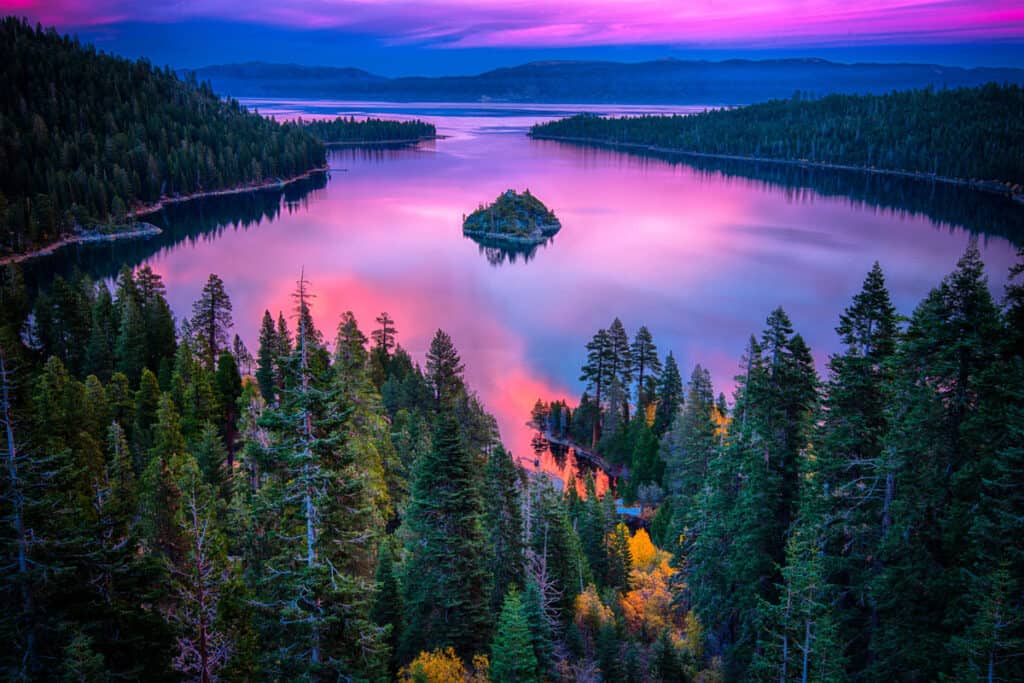 Deepest Lakes in Southern California
Southern California doesn't have lakes as deep as Lake Tahoe's incredible 1,654 feet, but there are lakes and man-made reservoirs with impressive depths dotted throughout. Here are a few of the lakes most popular with anglers, picnickers, and campers.
Castaic Lake (upper Lake main reservoir) is 330 feet deep.
Diamond Valley Lake near Hemet in Riverside County is 259 feet deep.
Lake Casitas in Ventura County is 239 feet deep.
Lake Arrowhead in San Bernardino County is 185 feet deep.
Silverwood Lake in San Bernardino County is 167 feet deep.
Lake Perris in Riverside County is 100 feet deep.
Lake Gregory in the San Bernardino Mountains is 80 feet deep.
Big Bear Lake is 7,000 feet elevation in the San Bernardino National Forest, and it's 72 feet deep.
Lake Elsinore in western Riverside County is 42 feet deep.
Deepest Lake in Southern California: Lake Pyramid
Let's recap on all this deep water.
We've discovered the deepest lake in Southern California is 700 feet deep man-made reservoir Pyramid Lake. California's State Water Project built it in 1972 as a water holding area. 387-foot-tall Pyramid Dam cut through a mountain face to build Route 99, and after the highway's construction, workers carved the distinctive pyramid shape into the mountain face.
Today, Pyramid Lake is just one piece of a water system that delivers drinking water to 25 million Californians and irrigates 750,000 acres of farmland. Plentiful bass and carp make it popular with anglers, and its boat-access-only campsites are a unique attraction.
Wildlife watchers should arrive early in summer because it's a popular spot, but in the winter months, various species of Californian animals arrive to drink and bathe in relative peace.
---