The state of Colorado is known for its stunning natural beauty and diverse wildlife. The rolling hills, colossal peaks of the Rockies, and rushing streams bring a massive array of wildlife to the state. Black bears, moose, elk, and cougars call this state home. But have you ever wondered which animals reign supreme in terms of speed? From the majestic pronghorns racing across the plains to the agile mountain lions stalking their prey, Colorado is home to some of the fastest creatures on the planet. 
Get ready for an exhilarating journey as we explore the eight fastest animals in the Centennial State.
Big Brown Bats – 40mph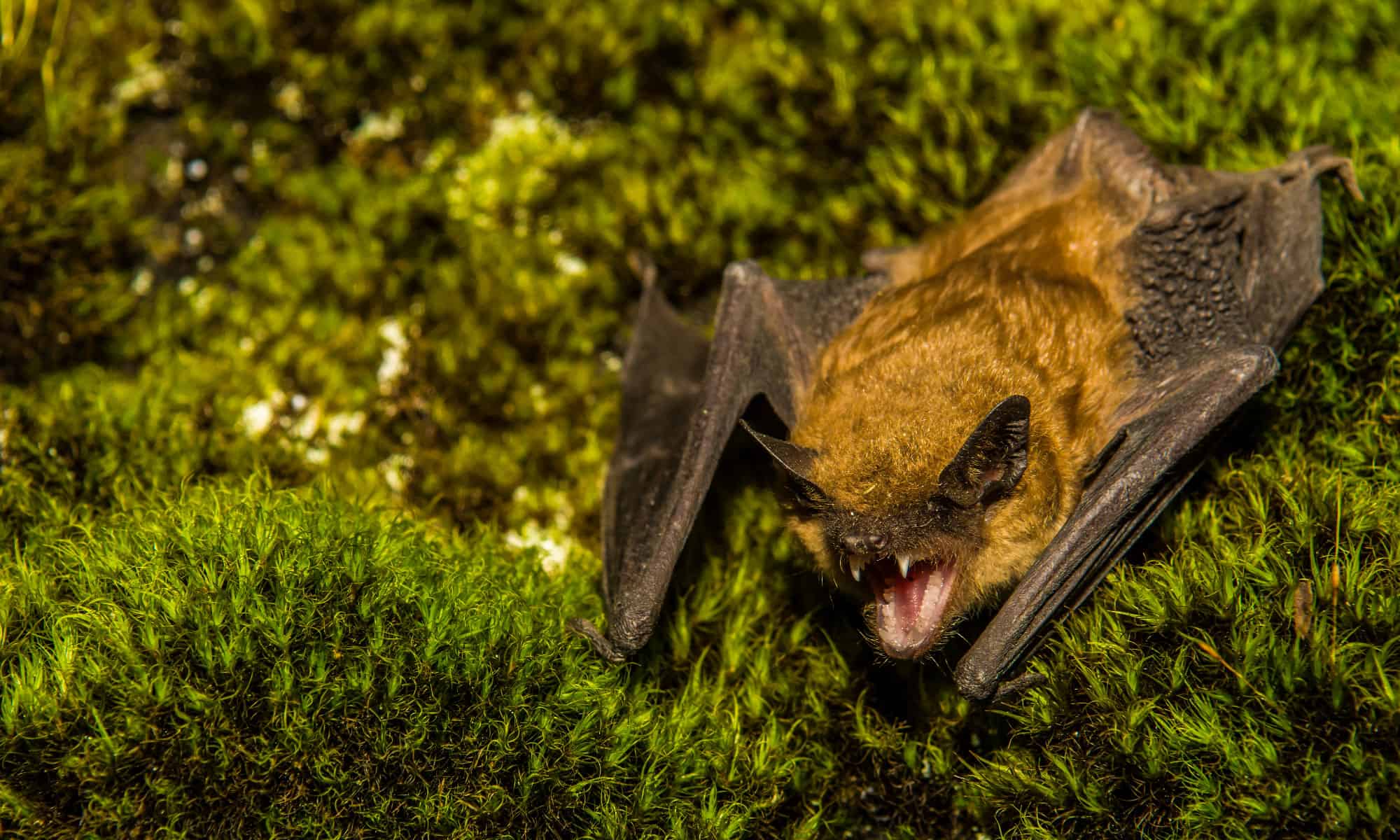 A species of vesper bat, the big brown bat is known for its speed. It is capable of reaching speeds of up to 40 mph while flying. Using its echolocation abilities, this bat can effortlessly navigate around obstacles and capture its prey. 
With distinctive reddish-brown fur, a glossy appearance, and a wingspan of 12.8-13.8 inches. The big brown bat is a relatively large specimen of its kind, weighing in at 0.03-0.05 lbs.
The big brown bat is abundant in Colorado and is often seen in urban areas, particularly near human settlements. They are the most commonly observed bat. It can frequently be spotted flying under street lights at night to hunt insects drawn to the light.
As an insectivore, the big brown bat feasts on various night-flying insects, with a preference for beetles. Active only during the night, this species seeks out sheltered places to roost during the day, utilizing structures such as caves, mines, buildings, tree cavities, bat boxes, storm drains, and more. 
In Colorado, there are 18 species of bats that either reside permanently or just pass through during migration. However, it's important to note that the big brown bat, Eptesicus fuscus, has sharp teeth capable of biting and that some individuals may carry rabies and pose a threat to humans.
Mule Deer – 45mph
The mule deer, with its distinguishing large ears that resemble a mule, is considered one of the quickest animals in North America, capable of reaching top speeds of 45 mph when escaping from predators. 
Its body size is relatively small compared to other deer species, with an average height of 31-42 inches at the shoulder and a length of 3.9-6.9 feet from nose to tail. They typically weigh between 200-400 pounds. However, adult male mule deer, known as bucks, have been recorded to weigh as much as 460 pounds.
The mule deer have a unique way of running, referred to as "pronking" or "stotting," similar to gazelles, where they jump and land on all four hooves simultaneously. 
They have the largest population in western Colorado shrublands and can be frequently spotted in these areas. These deer have a diverse diet, consuming nearly 800 different species of plants. 
Currently, the population of mule deer in Colorado stands at around 400,000 individuals.
Elk – 45mph
Elks are one of the largest members of the deer family and are known for their impressive speed. They can reach up to 45 miles per hour in short bursts. 
Their coats range in color from a dark brown in the winter to a lighter tan in the summer, and they are distinguished by a prominent buff-colored patch on their rump. Male elk are distinguishable by their large antlers, which grow in the spring and shed in the winter, while females lack antlers. In addition, some individuals may sport a thin mane on their neck. 
In the summer months, Elk tend to form large herds that can number up to 400 individuals. The state of Colorado is home to a particularly productive habitat for these animals, with aspen forests providing both a lush understory and a high concentration of elk. 
During the peak of the rut, which usually occurs from mid-September to mid-October in Rocky Mountain National Park, it's common to hear the sounds of elk bugling echoing through the area. 
Their dietary habits change with the seasons, with native grasses forming a staple year-round, tree bark consumed in the winter, and sprouts and forbs added to their diet during the summer months. 
The population of Elk in Colorado is estimated to be around 290,000!
American Goldfinch – 47mph
The American Goldfinch can reach remarkable speeds. Some recordings show it can fly at close to 47 miles per hour. This speed allows the bird to traverse extensive territories efficiently when searching for food or during migratory journeys.
In the spring and early summer, male American Goldfinches sport vibrant yellow plumage, with a black forehead and wings that feature white markings. Their tails boast white patches both above and below, while female counterparts exhibit a duller yellow underside and an olive-colored back. During the winter, these birds transform into a drab brown hue, with blackish wings, indistinct streaks, and two faint pale wing bars.
American Goldfinches can be spotted in numerous habitats, such as fruit orchards, gardens, roadsides, and urban areas across Colorado all year round. These tiny birds are primarily seed-eaters but do incorporate insects into their diet. They especially like to nourish their young with the necessary protein. 
To survive harsh winter nights, American Goldfinches have been observed burrowing under the snow to form a warm sleeping nest. They also gather in large numbers to roost in coniferous trees. Unlike many other birds, Goldfinches undergo a complete feather molt twice annually. Molting once before breeding season in the spring and again post-nesting in the fall.
Puma Concolar – 50mph
The puma, also known as the mountain lion or cougar, is a remarkable hunter with the ability to reach speeds of up to 50 miles per hour. 
Its ambush tactics, jumping skills, and muscular physique make it the second-largest feline in the Americas. This predatory cat boasts a powerful, agile body with a long, furry tail and a distinctive flat face. The puma's coat is characterized by its pale golden-brown hue, with white fur on its underbelly. Its face is adorned with distinctive white patches and bold, dark lines.
As a carnivore, the puma depends solely on a meat-based diet and cannot survive on anything else. This hunter will prey on a diverse range of animals, from small insects to elk or even moose. The puma's versatility allows it to thrive in various habitats, including mountainous regions, prairies, deserts, and dense forests.
The species has a preference for habitats with lush foliage, which provides ideal conditions for ambushing its prey. In Colorado, there are estimated to be between 3,000 to 7,000 mountain lions inhabiting the area.
The puma holds a unique distinction as the animal with the greatest number of names in the Guinness World Records (over 40 in English and more in Spanish and Native American tongues). It is commonly referred to by many names, such as the cougar, puma, and mountain lion.
Pronghorn – 60mph
Pronghorn antelopes boast the most extensive overland migration in the mainland United States. They also hold the title of being the quickest land-dwelling animal in North America. 
Their athletic ability allows them to sprint at nearly 60 mph. They exhibit a physique that resembles a deer, with elongated legs and a narrow snout paired with a stubby tail. Their fur can range in color from a rusty brown to a lighter tan or even a dark brown hue. Distinctive white stripes adorn their necks, with additional white markings present on their faces, bellies, and hindquarters. Pronghorns are the fastest land mammal in North America.
Pronghorns live primarily on vegetation, including prairie grasses, forbs, and sagebrush. The Eastern Plains of Colorado are home to a substantial population of these antelopes. Access to view them is limited due to the vast majority of the land being privately owned, with only limited public land areas. 
Pronghorn are most active during the day, making daylight hours the optimal time to observe them. As of now, there are approximately 79,000 pronghorn roaming in Colorado.
Golden Eagle – 200mph
Golden eagles are renowned for their exceptional speed and agility. This far surpasses any land-dwelling animal, including the renowned cheetah that can attain speeds of up to 80 miles per hour. When soaring through the skies, these magnificent birds can maintain an average speed of 28 to 32 miles per hour. During a hunting spree, their speeds can go up to 120 mph. 
However, when diving to catch their prey, they can attain breathtaking speeds of 150 to 200 mph, all thanks to their aerodynamic bodies and substantial wingspans.
Moreover, golden eagles possess one of the strongest grips among all raptors in the world. Their talons exert a remarkable pressure of 1200 pounds per square inch. This makes them twice as strong as the human jaw, which produces around 600 pounds of pressure.
The striking appearance of the golden eagle is characterized by its dark brown plumage, with distinctive white feathers at the base of its tail. This bird is further distinguished by the gold feathers on the back of its head, giving the bird its name, "golden eagle". The talons and bill of the golden eagle are black.
Golden Eagles in Colorado primarily breed in mountainous areas in the western part of the state and in canyons located in the southeastern region. However, a few breeding pairs are also found in the northeast. During the winter months, these magnificent birds are known to range more extensively and can be spotted frequently throughout Colorado. 
Their diet consists mainly of birds and mammals, which they hunt alive or consume as carrion.
Peregrine Falcon – 242mph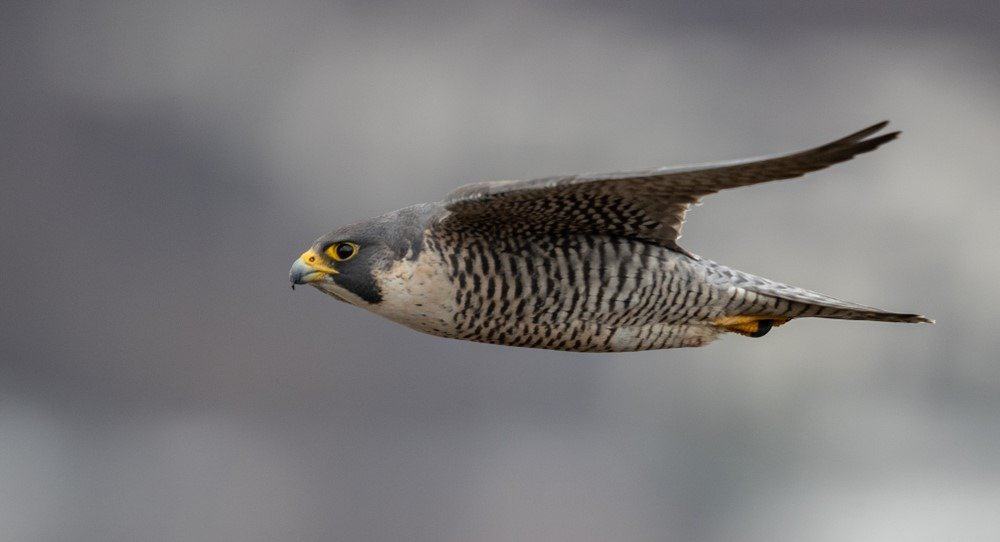 The peregrine falcon is one of the most widespread birds of prey. These feathered creatures boast remarkable speeds during flight. They have the ability to cruise at a rate of 40 to 60 mph. The falcon reaches a tremendous velocity of 242 mph while hunting prey. 
The birds are officially recognized as the fastest animal in the world, let alone Colorado.
The peregrine falcon is a formidable bird of prey, characterized by its large size and strength. With its distinctive long and broad wings that taper to a point and a compact tail, this bird exudes power and grace. Its blue-grey plumage is punctuated by a distinctive black cap, set against a white face. Meanwhile, the breast of this bird is adorned with delicate bars.
The peregrine falcon eats just about anything it can get its talons on. In urban areas, peregrine falcons are known to prey on pigeons. Along the coast, ducks and shorebirds are commonly hunted. This versatile hunter is capable of taking down a range of prey, from small songbirds to large loons, geese, and gulls. In addition to birds, the peregrine is known to feed on a small number of small mammals. This incredibly fast animal also eats meals often to keep up the energy needed to fly at tremendous speeds.
Habitat
The habitat of the peregrine falcon is diverse. It encompasses a range of open country environments and cliffs, from mountain tops to coastal regions. They can also be found in urban areas, adapting well to manmade structures.
In the state of Colorado, the presence of peregrine falcons can be observed from the Front Range to its western border. According to estimates, approximately 200 pairs of these birds call Colorado their home.
---
FAQs (Frequently Asked Questions) 
How fast does the peregrine falcon fly?
The peregrine falcon is one of the most widespread birds of prey. These feathered creatures boast remarkable speeds during flight, with the ability to cruise at a rate of 40 to 60 mph and reach a tremendous velocity of 242 mph while hunting prey. 
What is the special distinction the puma holds?
The puma holds a unique distinction as the animal with the greatest number of names in the Guinness World Records (over 40 in English and more in Spanish and Native American tongues). It is commonly referred to by many names, such as the cougar, puma, and mountain lion.