↓
Continue Reading To See This Amazing Video
Located in the northeastern section of the country on the Atlantic Ocean, Delaware is the second smallest state in the United States. Despite its small size, it's home to a wide variety of incredible animals. Some of those animals, such as peregrine falcons and golden eagles, are among the fastest creatures in the country. Here, we'll discover eight of the fastest animals in Delaware—sans any fast-swimmers. From large predators to gentle herbivores, we'll find out just how fast each animal is. And we'll discover a little more about each, including how big they get, and what they eat.
Keep reading to learn about some of the fastest animals in this tiny state!
8. Gray Fox-28 mph
With erect ears, fluffy fur, and long, swishing tails, gray foxes are easily one of the cutest animals on our list. But they're not just cute; they're also fast. Gray foxes can reach speeds of 28 mph when hunting or escaping from bigger predators. These tiny predators eat small animals, like rodents and rabbits, lizards, snakes, and anything else they can get their mouths on. Gray foxes weigh as much as 15 pounds and may reach 4 feet in length.
7. White-Tailed Deer-30 mph
With a maximum speed of 30 mph, white-tailed deer are some of the fastest animals in Delaware. As herbivores, white-tailed deer only run this fast when they're evading predators. They're fairly small deer, weighing up to 300 pounds for the largest males, and stand around 4 feet tall (at the shoulder). Fawns are light brown, with white dappled spots, while adults are dull brown with light bellies.
6. Bobcat-30 mph
They might not grow as big as their cousin, the mountain lion, but bobcats are successful predators in their own right. They can run at speeds of up to 30 mph, and primarily hunt rabbits, rodents, and hares. Bobcats aren't common in urban or peri-urban zones. Instead, they prefer secluded wilderness hideaways. Adults weigh around 30 pounds and stand about 2 feet tall. Like housecats, their ears are erect, but unlike housecats, they lack long, feline tails. Adults are dull brown, with white bellies and black to dark brown spots and bars, primarily along their legs and backs.
5. Coyote-43 mph
With a top speed of 43 mph, the coyote is easily one of the fastest animals in Delaware. These dog-like predators are common throughout most of the United States. Sometimes mistaken for wolves, coyotes grow to around 2 feet tall (at the shoulder), with the largest adults weighing around 50 pounds. They eat just about anything they can find, and primarily hunt small creatures, like rabbits, rodents, and ground dwelling birds. Coyotes have pointed, erect ears, bushy tails, and fluffy coats. They range from dusky brown to grayish, and frequently display more than one color of fur.
4. Mountain Lion-50 mph
Also known as pumas or cougars, mountain lions are a continual source of wonder and fear. These amazing predators can reach speeds of up to 50 mph. Males reach up to 220 pounds, while females reach up to 140 pounds. Tan in color, with erect, rounded ears and long tails, mountain lions eat almost exclusively meat. White-tailed deer are one of their favorite foods, but they won't turn their noses up at smaller game. Though encounters with people are rare (negative encounters even more so), you should always use caution when recreating in mountain lion territory.
3. Bald Eagle-100 mph
Not only are bald eagles one of the fastest animals in Delaware, they're also one of the most iconic. Symbolic of American patriotism, the bald eagle can reach speeds of 100 mph when diving for prey. Humans need not be worried though—bald eagles eat mostly fish. They're one of the largest birds in North America, with a wingspan of up to 8.5 feet. Adults have dark brown feathers covering their wings and bodies, with pure white feathers on their necks and heads.
2. Golden Eagle-120 mph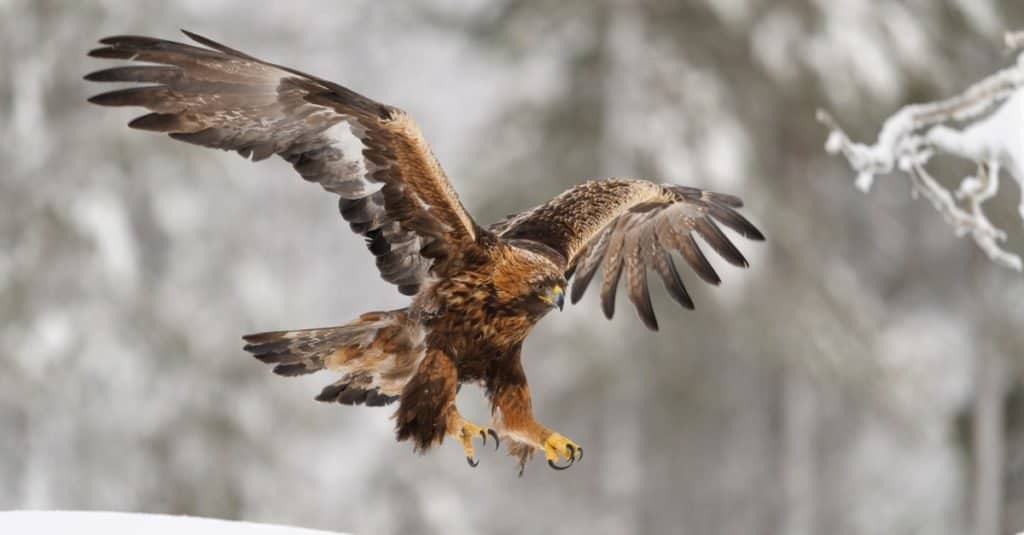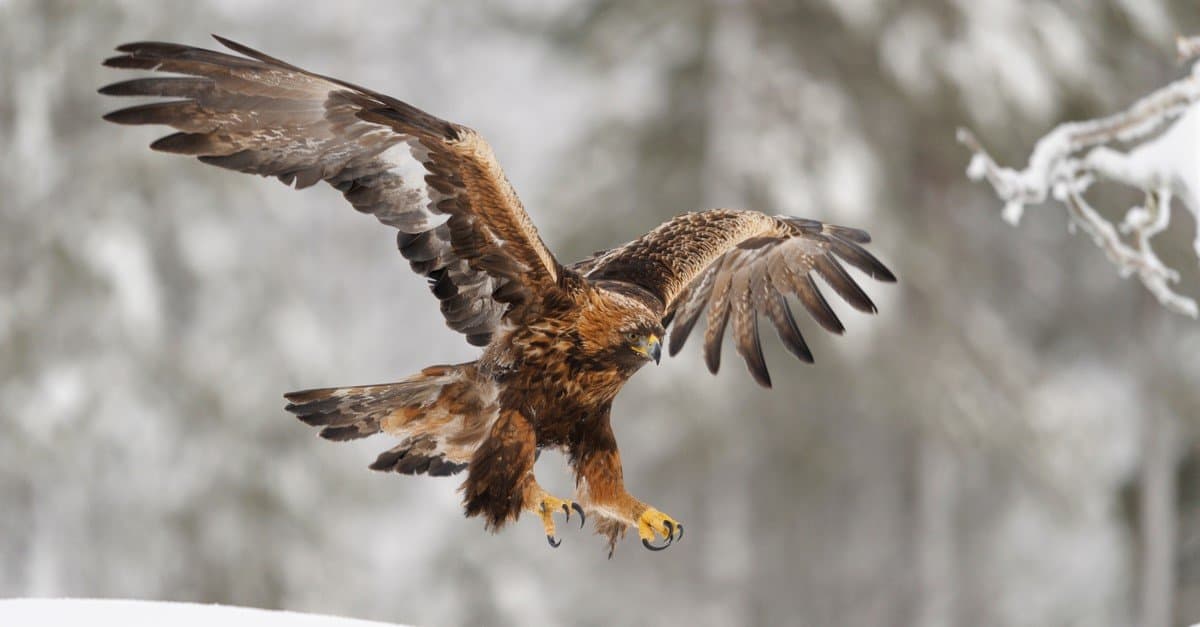 Even faster than the bald eagle, the golden eagle can reach speeds of up to 120 mph. Adult golden eagles don't grow quite as big as bald eagles, with a maximum wingspan of around 7.5 feet. Golden eagles don't soar around at 120 mph. Instead, they reach this incredible speed only when diving for ground dwelling prey, like rodents and rabbits. Because of their ferociously competent hunting, golden eagles have long been used by humans to bring down prey, like antelope and deer. 
1. Peregrine Falcon-200 mph
The peregrine falcon is the fastest animal in Delaware. These large falcons are the fastest birds on the planet, with a maximum speed of over 200 mph. Like golden and bald eagles, they attain these speeds when diving for prey. Interestingly, peregrine falcons eat mainly birds, like pigeons and ducks. Singularly large for falcons, adult wingspans can reach 3.5 feet across. 
Up Next
More from A-Z Animals
---
The Featured Image
---