Mississippi is home to various fascinating and diverse wildlife, including some of the fastest animals on the planet. Discovering the fastest animals in Mississippi is an adventure that will both captivate and educate! Learn about land-dwelling sprinters and sea creatures that swim at remarkable speeds.
Mississippi has a range of environments to explore, from the rolling countryside to the depths of the Gulf of Mexico. The fastest animals in Mississippi offer a glimpse into the incredible world of nature and its many wonders. Let's discover the fastest animals in the state of Mississippi!
Red Fox – 30 mph
Red foxes have impressive agility. They have a maximum velocity of 30 miles per hour and the capability to jump to heights of 6 feet! These creatures are known for their bushy tails, large ears, and diverse coloring and markings.
The typical red fox is characterized by its reddish-brown fur with a contrasting white or gray chin, belly, and chest. In addition, these foxes often feature a white-tipped tail, though it may also sometimes be dark red or black.
In 1997, the red fox was officially recognized as one of Mississippi's state mammals, alongside the white-tailed deer. These animals can be found throughout the state, inhabiting both suburban and rural regions, as well as parks. The ideal habitat for the red fox is a combination of open fields and woodland edges, lawns, and meadows.
With an omnivorous diet, red foxes feed on various food sources, including animals and plants. A typical red fox diet consists of snakes, rabbits, insects, mice, birds, fruits, and berries.
White-Tailed Deer – 35 mph
You'll find this animal scattered throughout the state. The white-tailed deer can run at a remarkable speed of 35 miles per hour. However, it can only sustain this speed for a brief time. Additionally, this animal is an excellent leaper. White-tailed deer can jump over 7 feet high when stationary and up to 10 feet while in motion.
During the summer, the white-tailed deer is a rich tan or brown hue. In winter, it turns a grayish brown shade. It boasts distinctive white markings on its throat, eyes, nose, stomach, and underside of its tail. Males of this species have antlers, making them easily distinguishable from females.
The white-tailed deer population is estimated to be around 1.75 million in the state of Mississippi. This species, also known as Odocoileus virginianus, holds great significance as a financial and recreational resource. Hunting these deer is a popular activity and is a primary source of revenue, contributing over $150 million to the economy annually.
The white-tailed deer thrives in areas abundant with grassy fields and meadows. Despite this preference, they possess the adaptability to survive in a wide range of habitats. Their diet primarily consists of flowers, grasses, and weeds, with nuts, corn, and even fruit if they can find it.
Wahoo – 60 mph
This fast animal in Mississippi is none other than a fish. The wahoo is known for its incredible velocity and can swim at lightning-fast speeds of up to 60 mph. This tropical species has a sleek and slender body. It reaches lengths of up to 8 feet and weighs nearly 200 pounds.
Its brilliant blue hue and sail-like dorsal fin make it an attractive target for sports fishermen. Anglers regard it as a highly coveted game fish due to its strength and agility. In addition, wahoo's delicate taste has earned it a place in the hearts of culinary enthusiasts.
Wahoos can be found in subtropical and tropical seas around the world. The season for catching wahoo in Mississippi is subject to fluctuations throughout the year. However, the peak period is generally from July to August and the off-season is from January to April and October to December.
Despite being a sought-after game fish, the wahoo population is abundant. They have been classified as a species of Least Concern, so there are no worries about a dwindling population.
These fish primarily feed on squid and other sea creatures, such as butterfish, mackerel, porcupine fish, and round herring. They often encounter competition with tuna, and their razor-sharp teeth allow them to feed on larger prey by breaking it down into manageable pieces.
Sailfish – 68 mph
The next fastest animal in the state is another fish, considered the second fastest fish in the world: the sailfish. Sailfish are renowned for their incredible speed and agility, particularly their short bursts of speed. In speed trials, these fish have been recorded reaching 68 mph or 110 kph.
The sailfish has a sleek, streamlined body, long pelvic fins, and a distinctive large dorsal fin that resembles a sail. This majestic fish stands out from other similar species like marlins. It boasts a deep blue color on top, with a shimmering silver underside and a brilliant blue, spotted dorsal fin.
This species inhabits the deeper waters of all the world's oceans, so you'll need to journey anywhere from 20 to 100 miles off the coast of Mississippi to find them.
If you're hoping to snag a sailfish, it's important to know their dietary habits. During daylight, they mainly feast on a variety of fish and squid. Tunas, halfbeaks, mackerels, jacks, herring, needlefish, and other surface-swimming species rank among their preferred meals.
Sailfish are widely distributed, and their numbers are believed to be stable. Despite this, their abundance may vary based on location and other environmental factors.
White Marlin – 80 mph
Beating the sailfish by over 10 miles is the fastest fish in the world and in Mississippi: the white marlin. The white marlin shows impressive maneuverability, with speeds reaching up to 80 mph in some instances. Its body is encased in dense, bony scales. It features a sharp, elongated bill and a rounded dorsal fin, with a large, rigid, and deeply cleft tailfin.
These magnificent creatures can reach a length of 9 feet and weigh up to 180 pounds. Females tend to be slightly larger than males.
White marlins can be found roaming the tropical and temperate waters of the Atlantic Ocean. They reside in deep portions of the open sea where temperatures hover above 70 degrees Fahrenheit. Usually close to the ocean's surface, they visit the coastal waters of Mississippi at certain times of the year.
During the daytime, white marlins hunt for prey near the surface, feasting on a diverse range of mackerels, herrings, and dolphins, as well as the occasional squid and crab.
White marlins are considered a prized catch in the culinary world and are frequently used in various dishes. This species is a popular food source in the United States, as well as in countries bordering the Mediterranean and Caribbean seas.
Bald Eagle – 100 mph
It'll be no surprise to many that the majestic bald eagle takes a spot as one of the fastest animals in Mississippi. In normal flight, bald eagles can reach speeds between 20 to 40 miles per hour. However, these magnificent birds can dive at an incredible rate of 100 mph. Soaring to new heights, they can fly at altitudes exceeding 10,000 feet. They remain aloft for hours on end through the use of thermal updrafts and natural wind currents.
Adults are distinctive in appearance, sporting white heads and tails that contrast with their dark brown wings and bodies. Their bright yellow legs and bills further set them apart. Juveniles, however, present a different look. These little guys have mostly dark tails and heads, with white speckles on their brown wings and bodies.
Throughout the year, bald eagles can be seen in Mississippi. However, their presence increases in the winter months from October to January. As their primary food source is fish, these birds prefer to live within a 2.5-mile radius of water. You'll find them near the coast, bays, rivers, or lakes.
The bald eagle's diet also consists of turtles, waterfowl, rabbits, snakes, and other small animals and carrion.
Approximately 100 bald eagles call Mississippi their home.
Golden Eagle – 200 mph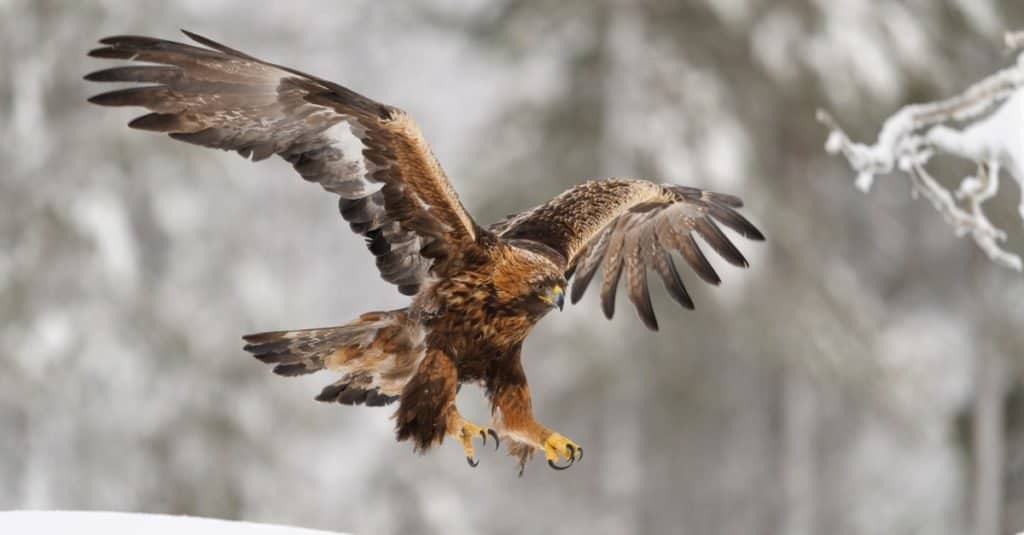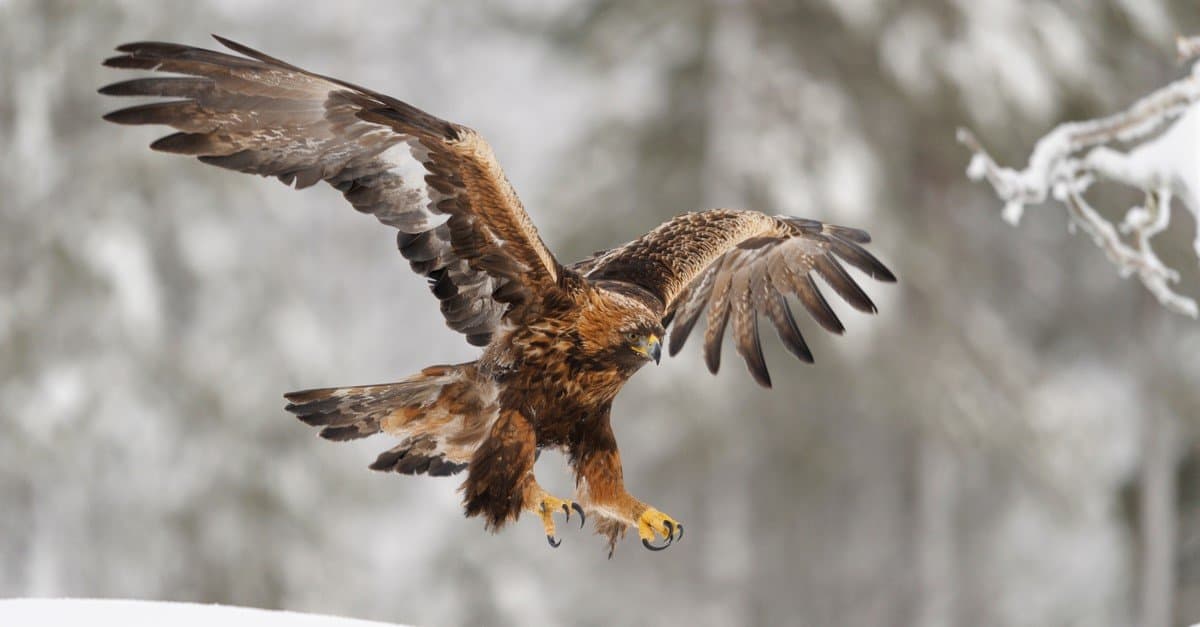 Another eagle takes home the silver medal when it comes to the fastest animals in Mississippi: the golden eagle. When soaring through the air, a golden eagle flies at a maximum of 32 miles per hour. But these stunning creatures can attain speeds of 120 miles per hour when gliding. They have been documented diving for their food at speeds reaching an unbelievable 200 miles per hour.
The golden eagle displays brown plumage with a touch of white at the tail base and distinctive gold feathers on its head. Its claws and beak are black, while immature eagles exhibit a wide white tail band bordered by black and significant white markings on their wing undersides.
In Mississippi, golden eagles are a rare sight, appearing only occasionally during the winter months. However, they have been spotted in the vicinity of Coldwater River National Wildlife Refuge in recent times. Despite this, golden eagles are known for their widespread distribution and are found throughout the northern hemisphere.
Their preferred habitats are vast, open spaces such as deserts, plateaus, and steppes. They also enjoy a mix of cliffs or towering forests and open areas.
The diet of these powerful birds primarily consists of both live and scavenged mammals and birds.
Peregrine Falcon – 242 mph
The fastest animal in Mississippi is none other than the peregrine falcon! Peregrine falcons, with their aerodynamic bodies crafted for speed, are renowned as the fastest animal in the world. While these raptors can reach breathtaking speeds of 242 mph during their dives, their cruising speed is around 68 mph.
The wings of a peregrine falcon are colored with a mix of blue-gray and slate. Their backs exhibit black streaks, while their underparts are light in hue. These birds have a distinctive appearance, with a white face, black stripes near their eyes, and a dark, piercing gaze. The feathers of a peregrine falcon do not alter in hue based on the seasons.
Peregrine falcons are widely found across North America, with a modest non-breeding group inhabiting the southern regions of Mississippi. Winter is the most suitable time for observing these birds, as their population is concentrated in this area.
The peregrine falcon's diet consists primarily of other birds, from tiny songbirds to large geese, along with pigeons and waterfowl. These birds of prey also can capture small mammals, such as bats or rats. On rare occasions, they may consume insects or scavenge carrion.
The photo featured at the top of this post is © Geoffrey Kuchera/Shutterstock.com
---