For most people, climbing the highest point in a state that averages about 760 feet above sea level doesn't have the excitement of scaling the Matterhorn or climbing Mt. Everest, but for those who pursue the activity of "highpointing," reaching the highest point in Indiana could be the start or finish of a herculean effort. Highpointing is the pursuit of climbing the highest point within a particular region.
Many high pointers aim to climb the highest point on each of the seven continents, but a slightly more modest goal in the United States is to reach the highest point in each state.
This will involve epic climbs in Colorado or Alaska, but Hoosier Hill in Indiana, at 1,255.48 feet (1,257 according to old measurements), is more of a gentle climb relative to the height of the surrounding terrain. Hoosier Hill is a rarity—a flatland highpoint.
Indiana's Highest Point
Located in Wayne county, near the Ohio border, Hoosier Hill is adjacent to a private farm in a small grove of trees. This location was thought to have been identified by A.H. Marshall, the first recorded person to visit the high points of all U.S. states (48 at that time.)
Hoosier Hill is on private property (visitors used to need to climb over a fence to reach it), but with the landowner's permission, Kyle Cummings overhauled the site for his Eagle Scout project. The site now has a picnic area with a bench, placed by the Highpointers Foundation, a fire pit, a sticker-covered mailbox filled with souvenir cards, a pen, and a visitor log.
There is also a cairn marking the site, a bat house to control insects, and a donation box. A short gravel drive with a path to the site, marked by a green sign with a 1,257-foot measurement, has been prepared for visitors. A previous wooden marker was repeatedly stolen, so a commemorative boulder with an inscription has replaced it. As long as people are respectful, clean up after themselves, and stay off the surrounding property, the owners are happy to allow visitors.
The location sees about 1,500 visitors a year. Some come from as far away as Germany, Japan, and Australia—and is maintained by Wayne County's Resource Inventory Council. The council retrieves the visitor log a few times a year. After counting the visitors, sends it off to be archived by the Highpointers Club.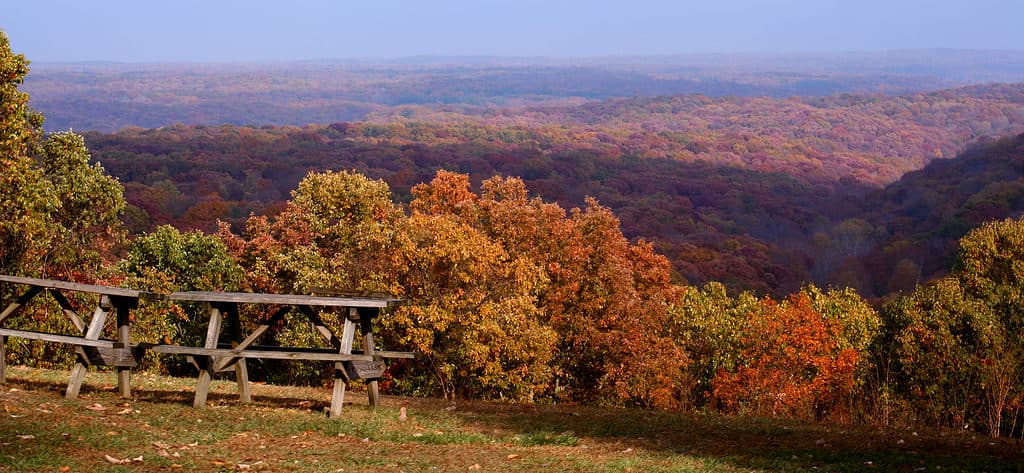 Geology of the Region
Hoosier Hill is located on the Cincinnati Arch. This is a geological uplift created by oceanic sediment deposited over 400 million years ago. Ohio's highest point, Campbell Hill, is also on this uplift. It is thought that the sediment deposits in this region were due to powerful hurricanes from the northwest. The layering from these deposits is visible in the road cuts throughout this region, made for highways. Hoosier Hill is higher than the surrounding areas of the arch. With an average of about 1,100 feet, due to the accumulation of glacial debris after the last ice age. Some may mistakenly think that hills in Brown County are higher. This is only because of the relative difference in height between the hills and valleys. The highest point in Brown County is only about 1,050 feet above sea level.
How to Get There
Hoosier Hill is approximately a mile from the Indiana/Ohio border and just south of the line between Wayne and Randolph counties. To get there from Indianapolis, take I-70 East toward Dayton, Ohio, for about 71 miles. Just past Richmond, Indiana, take Exit 153 towards Union City, going north on route 227. Go approximately 10 miles, and then turn left on Bethel Road. Follow it for about a mile, then take a right on Elliot Road, going north for about a mile. Look for a grove of trees after a gravel pullout to your left. It will most likely be marked with a sign. There is a short, well-marked trail to the top, and the highest point is just inside the grove.
Where is Wayne County Located on a Map?
Wayne County, situated in the state of Ohio, houses a population of 116,894 as of the 2020 census, with Wooster acting as its county seat; the county derives its name from General "Mad" Anthony Wayne and encompasses the Wooster, OH Micropolitan Statistical Area.
Here is Wayne County on a map:
Fun Facts
Up Next:
More from A-Z Animals
---
The Featured Image
---