South Africa has several nicknames, including "rainbow nation" and "a world in one country." This African country has immense cultural diversity, international metropolitans, unbelievable scenery, wonderful wildlife, and plenty to explore. Discover the nine largest cities in South Africa by land size and learn about their geography and attractions.
Pretoria
Land Size: 2,431 sq. miles
Population: 2.9 million
Geography: Pretoria lies 34 miles north of Johannesburg in a fertile valley encompassed by the Magaliesberg range. This city is the administrative capital of South Africa, serving as the seat of the government's executive branch.
Notable For: Pretoria is a renowned academic area and an essential center of research. The city is also notable for purple flowers called Jacarandas. It has diverse architectural styles, historical buildings, museums, gardens, public art, and rugby.
Best Tourist Attractions: Union Buildings, Voortrekker Monument, National Zoological Gardens of South Africa, Freedom Park Heritage Site & Museum, Rietvlei Nature Reserve, Moreleta Kloof Nature Reserve, Hazel Food Market, and Pretoria National Botanical Gardens.
Bloemfontein
Land Size: 2,426 sq. miles
Population: 747,000
Geography: Bloemfontein, also known as Bloem, is the judicial capital of South Africa and the capital of the Free State province. You will find this city in Central South Africa on the edge of the Highveld, an inland plateau. The city's area is flat with dispersed hills.
Notable For: Bloem has museums, planetariums, rose festivals, sports, and botanical gardens.
Best Tourist Attractions: Toyota Stadium, War Museum, Free State National Botanical Garden, Ultimate Cheetah Experience, National Museum of Bloemfontein, Naval Hill, and Haval Hill Planetarium.
Johannesburg
Land Size: 1,296 sq. miles
Population: 10.5 million
Geography: Nicknamed "The City of Gold," Johannesburg is a megacity. In fact, it is one of the largest urban centers in the world. It is the largest city in South Africa by population and is located on the eastern plateau of the country (Highveld). The city features flat land, rolling hills, and many streams that feed the Limpopo and Orange Rivers.
Notable For: This megacity is famous for soccer, mineral trade (gold and diamonds), city parks, wildlife, higher education, shopping, museums, art galleries, performing arts, and tall city skylines.
Best Tourist Attractions: Gold Reef City Theme Park, Apartheid Museum, Constitution Hill Human Rights Precinct, Mandela's House, Maboneng Precinct, South African National Museum of Military History, Johannesburg Zoo, Walter Sisulu National Botanical Garden, and Wits Art Museum.
East London
Land Size: 979 sq. miles
Population: 755,000
Geography: East London sits on South Africa's southeast coast in Eastern Cape province. This city is on the Indian Ocean between the Buffalo River and the Nahoon River. The area has a relatively flat landscape and a humid subtropical climate.
Notable For: East London has the only river port in the country and is also notable for its industrial center, cricket, surfski, white sandy beaches, and natural areas.
Best Tourist Attractions: East London Zoo, East London Museum, Vincent Park, Nahoon Beach, Ann Bryant Art Gallery, Southern Sun Hemmingways, and Addo Elephant National Park.
Cape Town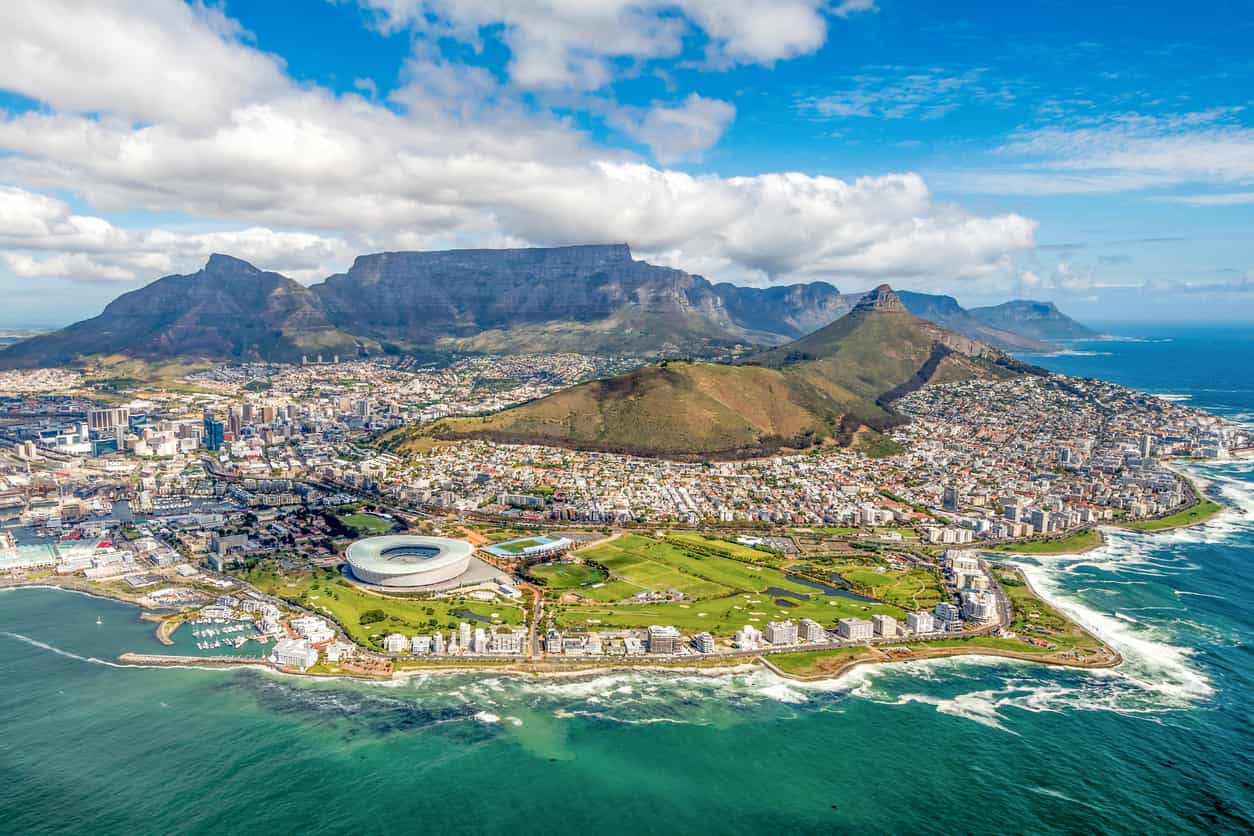 Land Size: 950 sq. miles
Population: 4.7 million
Geography: Cape Town is the third capital of South Africa, serving as the country's legislative branch. It is the second-largest city by population and the oldest in the country. It's located at the southern tip of the continent along the Atlantic Ocean. It includes the Table Mountains and the Cape Floristic Region.
What is it Known For: Cape Town is most notable for its natural scenic beauty, beaches, and resorts. But it is also famous for its biodiversity, major company headquarters, botanical gardens, African penguins, shopping, universities, architectural heritage, cuisine, and sports.
Best Tourist Attractions: Boulders Beach, Kirstenbosch National Botanical Garden, V&A Waterfront, Maclear's Beacon, Iziko Bo-Kaap Museum, Robben Island, Cape of Good Hope, Two Oceans Aquarium, and District Six Museum.
Durban
Land Size: 885 sq. miles
Population: 3.4 million
Geography: Durban is the third largest city in South Africa by population and one of the largest cities along the Indian Ocean on the African continent. The city sits at the mouth of the Umgeni River and features a natural harbor, the busiest port in South Africa.
What is it Known For: Durban is known for its ethnically diverse population, archaeological finds, sugarcane, street markets, nature reserves, surfing, media, sports, art centers, and museums.
Best Tourist Attractions: uShaka Marine World, Moses Mabhida Stadium, Durban Botanic Gardens, Umgeni River Bird Park, Kwa Muhle Museum, Golden Mile, Suncoast Casino, and Addington Beach.
Gqeberha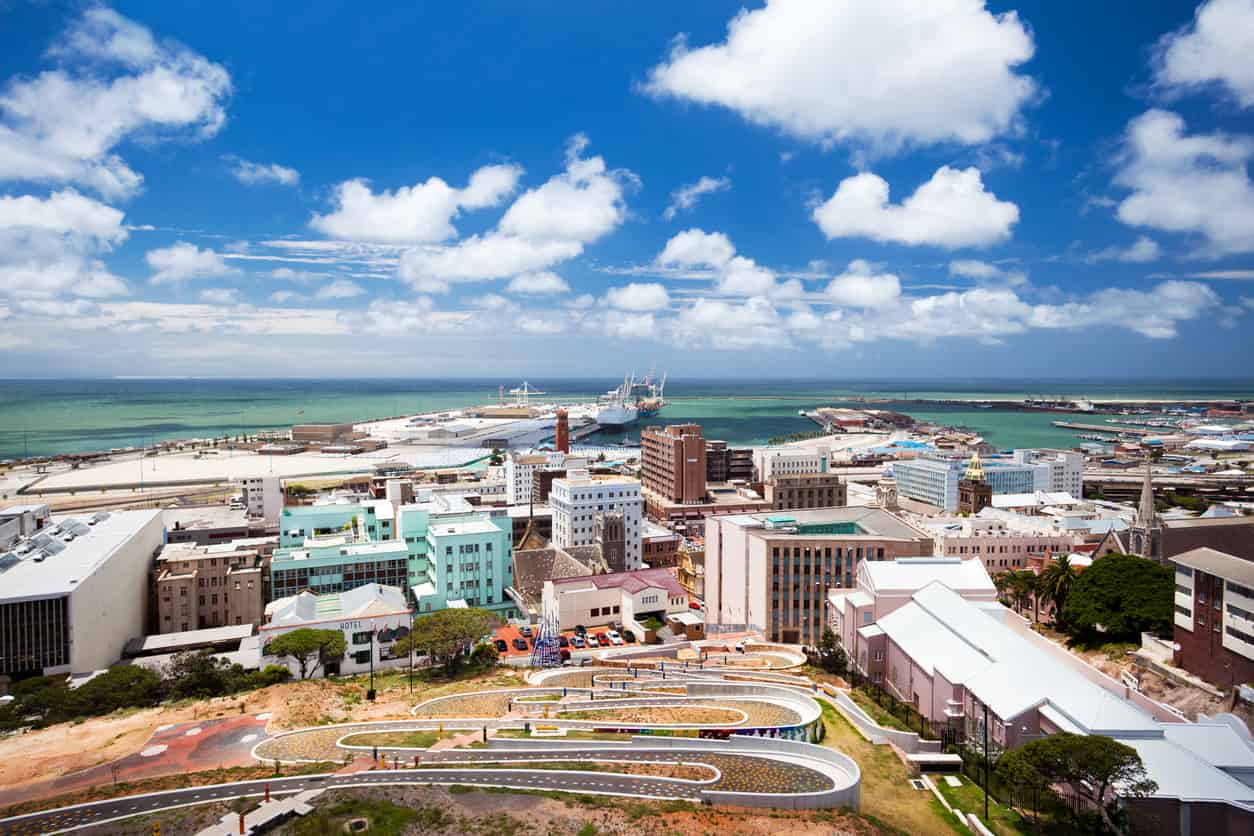 Land Size: 756 sq. miles
Population: 1.1 million
Geography: Gqeberha, or Port Elizabeth, is the largest city by population in the Eastern Cape province. It lies along South Africa's southeastern coast on the western portion of Algoa Bay. The city is named after the Baakens River, or Gqeberha River, that runs through it. 
What is it Known For: The area is notable for its major seaport, blue-flag beaches, urban coastline, safaris, archaeological cave sites, soccer, Victorian Gothic architecture, swimming, hiking trails, and rugby.
Best Tourist Attractions: Addo Elephant National Park, Kragga Kamma Game Park, Van Stadens Wild Flower Reserve, Nelson Mandela Bay Stadium, Sardinia Bay Beach, Donkin Heritage Trail, Donkin Reserve, and Route 67.
Vereeniging
Land Size: 72 sq. miles
Population: 99,000
Geography: Vereeniging is a city located in Gauteng Province's southern region. It is situated near where the Klip River empties into the Vaal River. 
What is it Known For: This Northeastern South African city is an essential industrial manufacturer. It is also notable for coal mines, education, healthcare, golf, parks, and gardens,
Best Tourist Attractions: Tapimanzi Adventures, Orange Farm Park, Vaal Dam, Jabulani Butterfly Garden, Marievale Bird Sanctuary, and Maccauvlei Golf Club.
Boksburg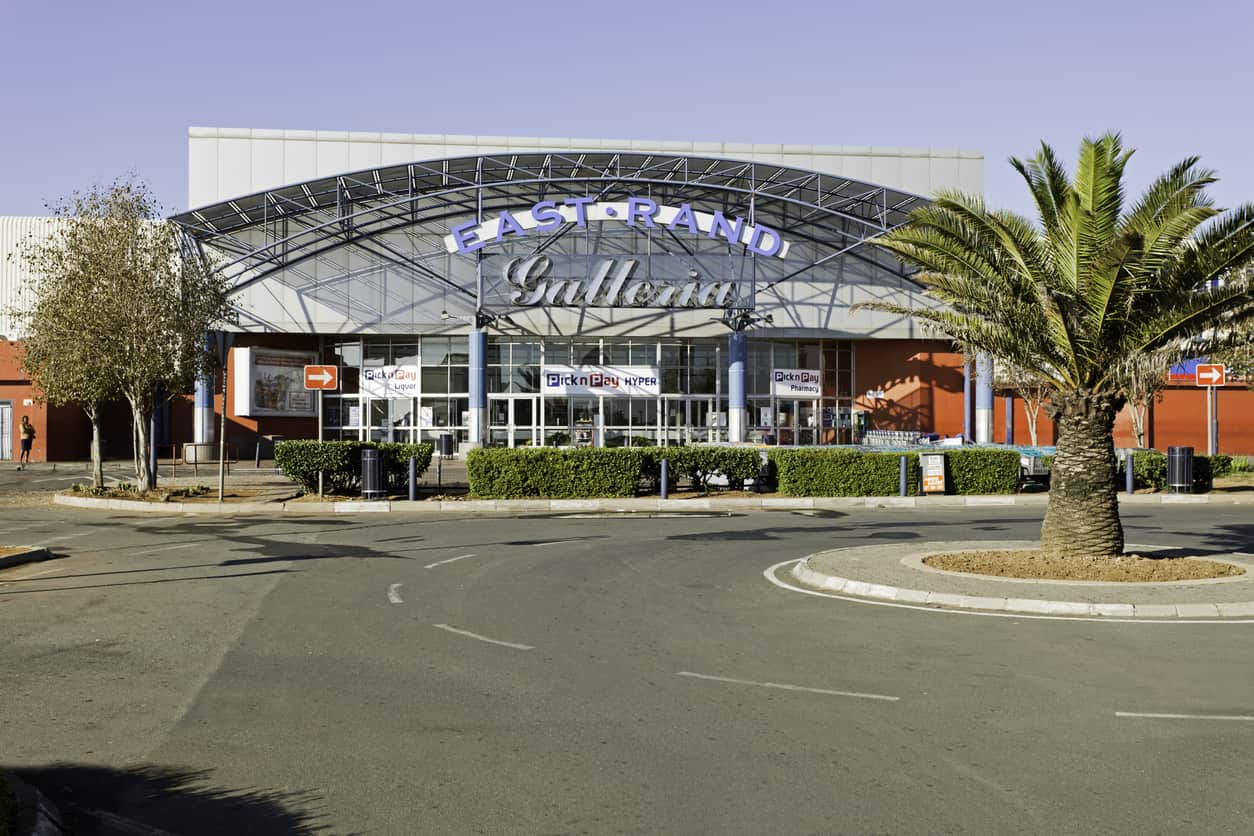 Land Size: 62 sq. miles
Population: 260,000
Geography: It lies on the East Rand of Gauteng Province. Residential suburbs surround the city. It is a popular area for those wanting a quiet suburban life while remaining close to dense urban areas.
Notable For: The residents of Boksburg remember its gold production, manufacturing, and mining. The area has sailing, golfing, swimming, historic hotels, rugby, and shopping.
Best Tourist Attractions: East Rand Mall, Wild Waters, Apartheid Museum, Bokkie Park, Korsman Bird Sanctuary, Nelson Mandela Square, Emperors Palace, and Musical Fountain Park.
Summary Of The 9 Largest Cities In South Africa
| Rank | City | Land Size |
| --- | --- | --- |
| 1 | Pretoria | 2,431 sq. miles |
| 2 | Bloemfontein | 2,426 sq. miles |
| 3 | Johannesburg | 1,296 sq. miles |
| 4 | East London | 979 sq. miles |
| 5 | Cape Town | 950 sq. miles |
| 6 | Durban | 885 sq. miles |
| 7 | Gqeberha | 756 sq. miles |
| 8 | Vereeniging | 72 sq. miles |
| 9 | Boksburg | 62 sq. miles |
Up Next:
More from A-Z Animals
---
The Featured Image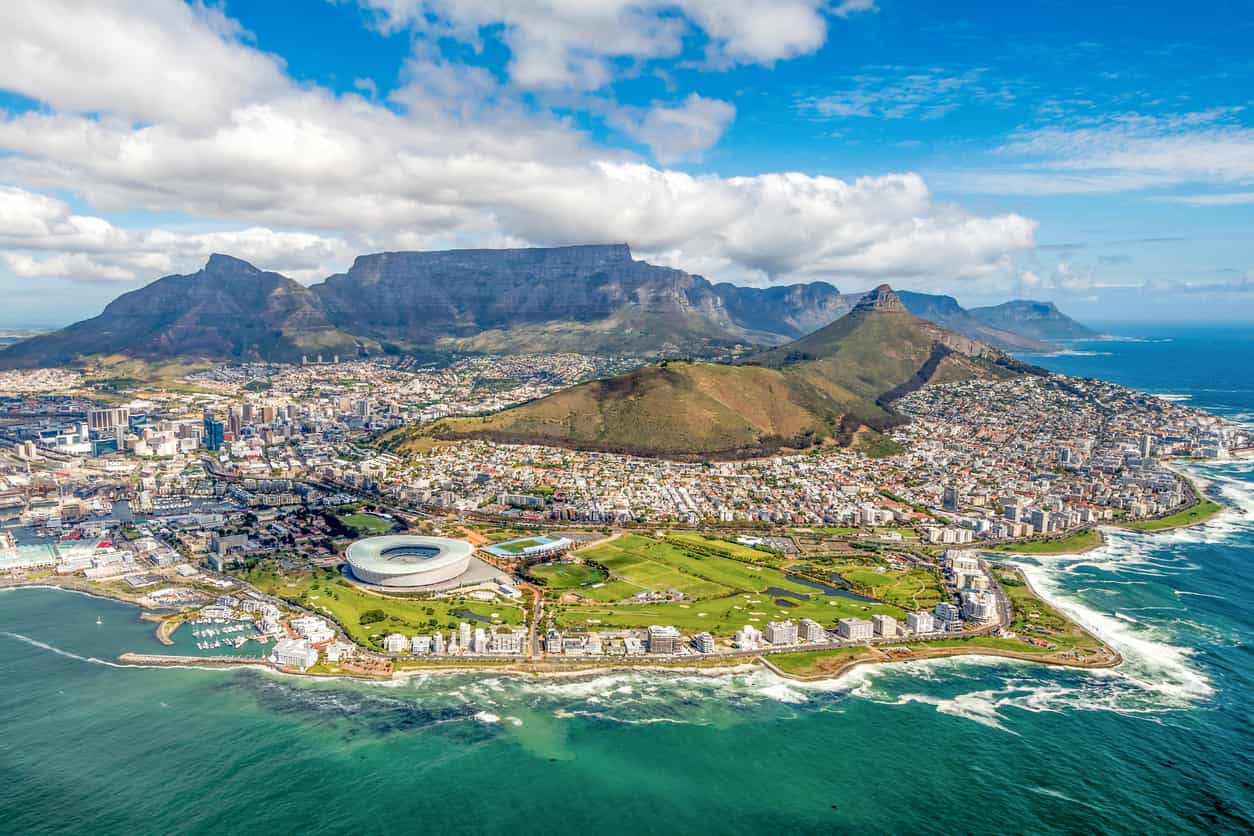 ---