Key Points
Cougars have many names. They are also called panthers, pumas, and mountain lions.
The average cougar weighs between 150-200 pounds.
The largest cougar ever caught in Colorado was 16 points.
The cougar, also known as mountain lion, puma, or panther, is a large predatory cat native to the Americas. It is the second-largest wild cat in North America after the jaguar and is known for its powerful hind legs allow it to make great leaps and climb trees.
Cougars are a common sight in the wilderness areas of Colorado, where they roam freely in search of food. Colorado State has one of the largest populations of cougars in the United States, with an estimated population of 3,000 to 7,000.
Although cougars are a protected species in Colorado, they sometimes come into conflict with humans and their domestic animals, leading to management efforts to reduce these conflicts.
Today, we discover the largest cougar ever caught in Colorado and the world. We also explore the cats' history in Colorado, their biology and behavior, interaction with humans, population and distribution, and conservation efforts.
The Largest Cougar Ever Caught in Colorado
The largest cougar ever caught in Colorado scored an impressive 16 points. Hunter Brian K. Williams, who also owns the trophy, caught the cougar in 2001, breaking the state's 100-year record set in 1901 by hunter Theodore Roosevelt. Roosevelt's trophy, which scored 15 12/16 points, belongs to the National Museum of Natural History.
The most recent catch was by hunter Charles R. Maze in 2021, although it was no match for the William's and Roosevelt's. The trophy, which still belongs to Charles R. Maze, scored 15 4/16 points, making it the 25th largest cougar ever caught in Colorado.
The Largest Cougar Ever Caught Worldwide
The largest cougar ever caught in the world over scored 16 4/16. Hunter Douglas Schuk caught the cougar in February 1979 at the Tatlayoko Lake in British Columbia.
Schuk's hounds had been trailing the cougar through the 32-inch snow blanketing the Tatlayoko Lake region on the fateful day, closing in on the cat at 3 p.m.
Charles Travers would later acquire the cougar's skull and owns it to date.
History of Cougars in Colorado
Colorado's cougars boast a long and complicated history going back thousands of years.
Although these massive carnivores have evolved to survive in Colorado's untamed forests and mountain ranges, human settlement and infrastructural development have tremendously impacted their populations.
Early Settlements and Cougar Populations
Cougars were once widespread across North America, including Colorado, but their populations declined rapidly in the late 19th and early 20th centuries due to hunting and habitat loss.
As European settlers moved into the state and began establishing farms and ranches, cougars were hunted as a threat to livestock and viewed as a danger to humans. Consequently, their populations in Colorado had declined to near extinction by the 1930s.
Changes in Cougar Habitat and Numbers
However, as attitudes towards cougars changed and hunting regulations were enacted, their populations began to recover.
The Colorado cougar saw a rebound in population after being listed as a protected species in 1965.
Cougars have adjusted to living near human settlements and now occupy a large portion of their historic territory in Colorado.
Despite this rebound, Colorado's natural cougar habitats continue to face threats from:
Urbanization
Habitat fragmentation
Industrialization
Elk and deer, cougars' primary prey species, have decreased; as a result, increasing the possibility of cougar-human conflict.
Cougar Biology and Behavior
Cougars are one of the most intriguing and enigmatic animal species in Colorado.
They contribute significantly to the state's ecosystems because of their distinctive physical traits, feeding and hunting patterns, and social organization.
Physical Characteristics
Cougars are large predatory cats that can grow to six feet long and weigh 200 pounds. They blend in perfectly with their natural surroundings because of the unusual tawny hue of their fur.
Large paws and robust hind legs allow them to navigate tough terrain, and their muscular back legs enable them to scale trees. In addition, cougars can detect prey using their strong hearing, sense of smell, and vision.
Hunting and Feeding Habits
Cougars are lone predators that prey on various animals, including:
They usually hunt at night, ambushing their victim with stealth and speed.
A cougar will frequently drag its kill to a secure area where it can eat it after making the kill.
Reproduction and Social Structure
Cougars are solitary creatures that don't establish enduring social ties. However, at roughly two years old, they are sexually mature and mate in the winter.
Female cougars have litters of one to six kittens, which they rear on their own. The young spend up to two years with their mother, learning to hunt and survive independently, before dispersing to claim their own territories.
Interactions with Humans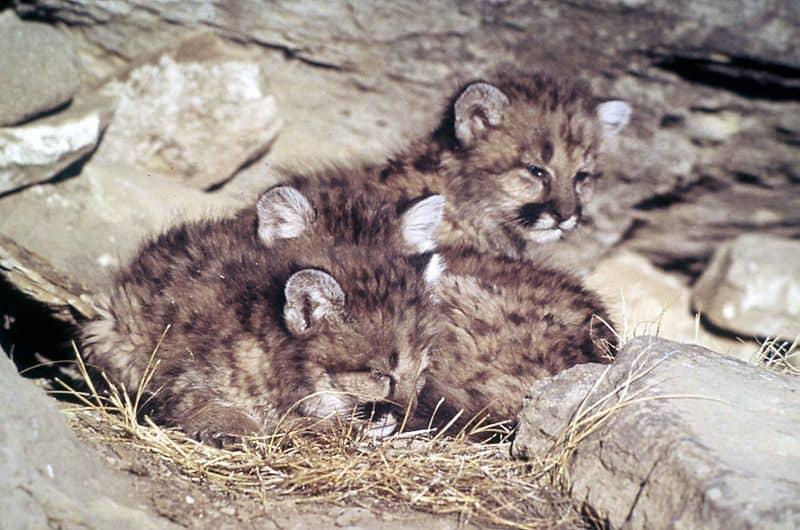 In Colorado, encounters between these majestic animals and people have increased as human populations have expanded into cougar areas. These encounters can range from non-lethal sightings to potentially deadly conflicts that endanger both human and cougar lives and the general public's safety.
Conflicts with Humans
There have been more cougar-human contacts in Colorado as cougar populations soar. These interactions can range from innocent sightings to dangerous altercations.
The most common conflicts happen when cougars come too close to human settlements and threaten public safety or prey on domestic animals like pets and livestock. In such situations, wildlife officials might need to take action to prevent the cats from endangering life and property.
Preventing Conflicts
Wildlife officials and land managers have established several best practices and measures to lower the possibility of interactions between cougars and people. They include:
Educating people about cougar behavior
Protecting food supplies and rubbish to lessen attraction to residential areas
Promoting responsible pet ownership by teaching people about cougar behavior and safety
Management and Conservation
State and federal wildlife laws and the best practices of wildlife biologists and land managers serve as the foundation for Colorado's cougar management and conservation initiatives.
These initiatives aim to safeguard the security and welfare of both cougars and people by preserving healthy cougar populations and lowering the possibility of conflicts with humans.
Population and Distribution of Cougars in Colorado
The Colorado native cougar, commonly referred to as the mountain lion, is prized for its strength, stealth, and athletic prowess.
Despite habitat degradation and poaching causing cougar populations to decrease in the early 20th century, the species has made a remarkable comeback in recent years.
Let's look at its historical distribution, current population and distribution, conservation and management, and challenges in the conservation and management efforts.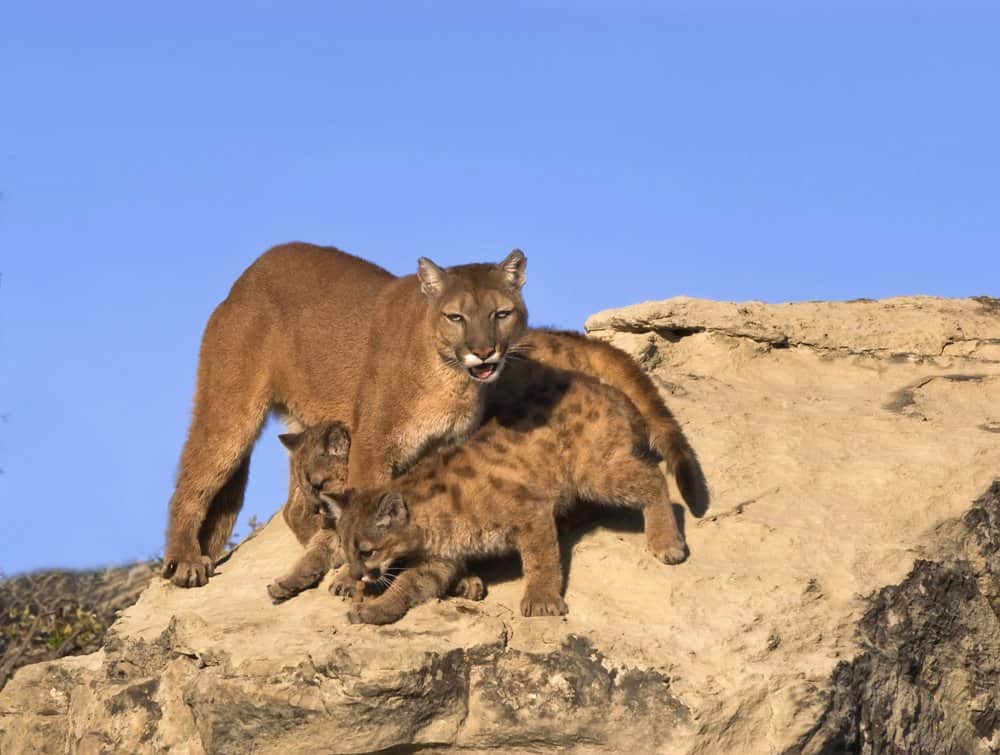 Historical Distribution
There once were cougars all over North and South America, including Colorado State. But cougar populations in the state have drastically decreased due to the growth of human settlements and activities.
Early in the 20th century, cougars were seen as dangerous to cattle and public safety, leading to government-sponsored eradication campaigns that significantly decreased their population. As a result, cougars were not on the list of animals protected by the Endangered Species Act until the 1960s and 1970s. when their numbers began to increase.
Current Population and Distribution
Cougars have recently made a comeback in Colorado and have been observed in all of the state's counties. Although it might be challenging to pinpoint exact figures, estimates place the Colorado cougar population at between 3,000 and 7,000 individuals at the moment.
The species inhabits various environments and can be found everywhere—from the grasslands to the highlands. Cougars are also known to move far. Some have been observed roaming more than 200 miles from their birthplace.
Many cougars have been observed roaming more than 200 miles from their original birthplace, and they are also known to travel enormous distances.
Conservation and Management
Colorado Parks and Wildlife (CPW) has implemented several conservation and management strategies for the cougar species to safeguard the state's cougar numbers. These include initiatives to:
Educate the general public
Conduct research
Preserve habitat
To reduce human-cougar conflicts and maintain the population's health, the CPW has also adopted hunting and control measures. The CPW also collaborates closely with other groups to keep an eye on cougar population and distribution and to guarantee their safety.
Challenges in the Management and Conservation
Managing and conserving cougars still presents many challenges, despite efforts to protect them.
Cougar-human conflicts are a serious concern, especially in places with heavy human populations. Further, it is challenging to properly understand cougars' population dynamics and habitat requirements due to the lack of information and studies on them.
The public's opinion about cougars can also be problematic for their conservation because some see them as dangerous to people and property.
Conservation Efforts
Cougars are critical to Colorado's ecosystems. Therefore, protecting them is essential to keeping the environment healthy and in balance. Several conservation initiatives are being made to save cougars and their habitats, including:
Habitat preservation
Population control
Outreach and education to the general public
Protecting Habitats
Preserving cougar habitats is among the most important aspects of cougar conservation.
Large, continuous tracts of wilderness and forest are necessary for cougars to thrive. Thus protecting these habitats is crucial to maintaining cougar numbers in Colorado.
Through land-use planning and development, efforts can be made to lessen habitat fragmentation and degradation. Initiatives can also be taken to protect places that are vital to cougar survival and restore habitats that have been damaged.
Managing Populations
An essential part of conservation efforts is regulating cougar populations and protecting their ecosystems.
This may entail monitoring cougar populations to gauge their abundance and health and then using this data to make management decisions.
In some instances, it can also entail programs of regulated hunting, which can assist in maintaining healthy cougar populations and lowering the likelihood of conflicts with people.
Public Education and Outreach
Another essential part of cougar conservation efforts is public education and outreach programs.
Wildlife managers and conservation organizations can lessen the possibility of conflicts and increase knowledge and respect for these wonderful creatures by educating the public about cougar behavior and safety.
Outreach programs can also help spread the word about the significance of preserving cougar habitats and safeguarding these species for future generations.
Conservation initiatives for cougars are essential to keep populations thriving and prevent conflicts with people.
Key Takeaways
Colorado is among the states with a significant cougar footprint. That's why hunters have, over the years, trooped to the state to try their luck with cougar trophies. Several have been successful and made it to the state's wildlife trophy records.
Colorado's impressive cougar numbers aren't without a good reason. The state's ecology and culture are well-suited for cougars. However, although they inhabit many parts of the state, they are still misunderstood, which might lead to conflicts with people.
We can better appreciate these majestic carnivores and help to secure their survival in Colorado by knowing cougar biology, behavior, and relationships with humans. This will also help us understand the conservation efforts in place to safeguard these endangered cats.
Since cougars are essential to our natural environment, why not protect and preserve them?
We can collaborate to ensure that cougars continue playing a key role in Colorado's ecosystems and are respected and protected for years to come. Through education, ethical wildlife management, and habitat preservation, we can achieve this goal.
The photo featured at the top of this post is © Kwadrat/Shutterstock.com
---
FAQs (Frequently Asked Questions)
What was the size of the largest cougar ever caught in Colorado?
The largest cougar ever caught in Colorado scored an impressive 16 points. Hunter Brian K. Williams, who also owns the trophy, caught the cougar in 2001, breaking the state's 100-year record set in 1901 by hunter Theodore Roosevelt. Roosevelt's trophy, which scored 15 12/16 points, belongs to the National Museum of Natural History.
What was the size of the largest cougar ever caught in the world?
The largest cougar ever caught in the world over scored 16 4/16. Hunter Douglas Schuk caught the cougar in February 1979 at the Tatlayoko Lake in British Columbia.