Key Points:
The Lake Jocassee Dam was completed and opened in 1973.
The Largest Dam in South Carolina is The Lake Jocassee Dam.
It is a man-made dam with a lot of natural wildlife.
South Carolina is filled with dams. There are over 10,000 locations throughout the state. About 34 of the 10,000 are federally regulated, while 2,317 are state regulated. You can imagine just how impressive it is to see the largest dam in South Carolina. Follow along to discover this massive dam and the animals in the body of water.
What is the Largest Dam in South Carolina?
Technically, two dams can be considered the largest in South Carolina. For example, if you are looking for the largest by height, it's the Jocassee Dam. Lake Jocassee Dam stands at an impressive 385 feet and is about 1,800 feet long. However, the Saluda Dam is 7,800 feet long but only 200 feet tall. Saluda Dam's reserve though is larger.
This dam created Lake Murray, which has a total capacity of 2,200,000 acres per foot. The surface area of Lake Murray is 50,000 acres. The Jocassee Dam though created Lake Jocassee, which has a total capacity of 1,185,000 acres per foot. Lake Jocassee's surface area is only 7,500 acres. For the sake of this article, we are going to refer to the largest dam in South Carolina as the Lake Jocassee Dam.
When was Lake Jocassee Dam Built?
The Lake Jocassee Dam was completed and opened in 1973. This dam was constructed on the Keowee River and formed Lake Jocassee, one of the largest man-made lakes in the state. This large and deep lake is fed by the Toxaway, Thompson, Horsepasture, and Whitewater Rivers. Other than recreational purposes, this dam was created for hydroelectric power generation and flood control. This dam is owned and powered by Duke Energy.
Animals in and Around Lake Jocassee
Despite being man-made, many animals live in and around Lake Jocassee. This beautiful lake is found between the mountains in Pickens and Oconee Counties. While visiting, you can kayak, hike tails, birdwatch, and fish. Located below are some animals you can encounter while visiting Lake Jocassee and the largest dam in South Carolina.
Great Blue Heron
Birdwatching is a common activity while visiting Lake Jocassee. One of the most commonly spotted birds along the edges of the lake is the great blue heron. These birds are about 11 to 38 inches tall with wingspans sometimes larger than their height. Despite their name, not all great blue herons have large patches of blue. Plumage varies and can be white, brown, or gray.
Largemouth Bass
Anglers can try their luck while fishing in Lake Jocassee. There are many popular fish in these waters including largemouth bass. This bass species is native to parts of North America. These carnivorous fish are invasive species in Japan and have led to a decrease in native fish species in Lake Izunuma-Uchinuma.
Spotted Bass
Like largemouth bass, spotted bass is common in Lake Jocassee. These fish are sometimes called spots or spotties. They are native to North America and are found in many states, including South Carolina, Florida, Texas, and Mississippi. Spotted bass are long fish, they can reach about 25 inches long. These large fish have been introduced to other parts of the world. For example, they are an invasive species in South Africa, although their population has been completely eradicated.
Blue Catfish
Another fish species in Lake Jocassee is the blue catfish. This catfish is the largest catfish species in North America. Impressively, it can weigh up to 150 pounds! Although not as common as other states, you can also find blue catfish in Florida. These fish are also not picky eaters. They are opportunistic feeders that consume anything easy to catch including small fish, frogs, and freshwater mussels. Although native to parts of North America, they are an invasive species in Virginia, causing problems because of their size and lack of predators.
Bobcat
Although bobcats don't live in the lake, they are common in the area. Bobcats are medium-sized cats in North America found from southern Canada to southern Mexico. Bobcats have short stubby tails. They can grow up to 50 inches long and are about 1 to 2 feet tall. Bobcats typically weigh less than 50 pounds but may grow up to 60 pounds. Bobcats are very adaptable and live in many habitats. They travel and live close to their prey.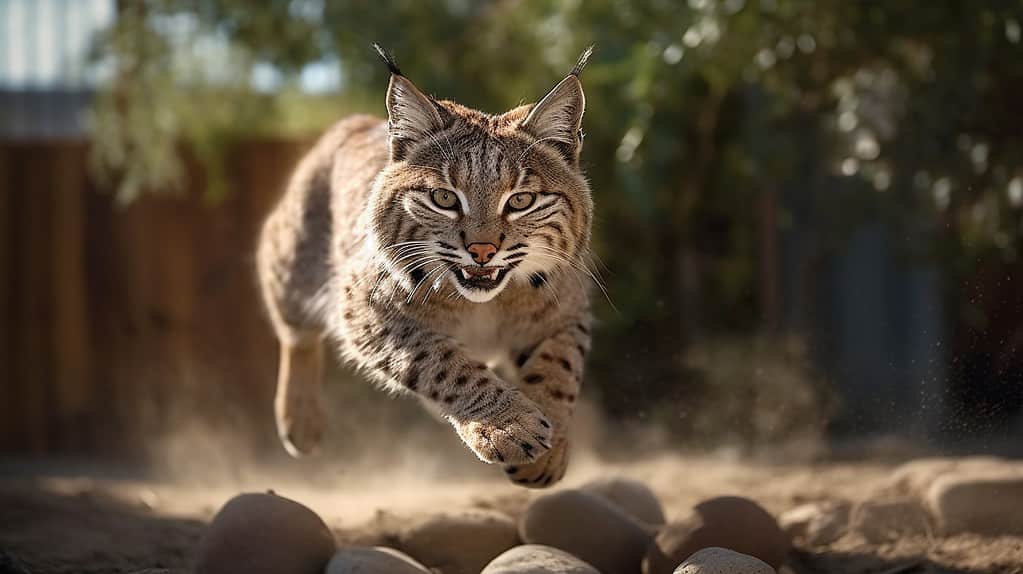 Where is The Jocassee Dam Located on a Map?
The Jocassee Dam is a dam on the Keowee River. It straddles the border between Pickens and Oconee counties in South Carolina in the U.S.
Here is The Jocassee Dam on a map:
---