Arkansas is home to an enchanting forest that seems almost too magical to be real. With towering trees, bubbling brooks, and the sweet chirping of birds, this forest is where nature comes alive. Within this large, wooded area is an entire world, a thriving ecosystem where numerous species of plants and animals coexist. As the largest forest in Arkansas, it's a remarkable natural wonder that deserves a closer look!
The Largest Forest in Arkansas: the Ouachita National Forest
Nestled in the Ouachita Mountains of Arkansas and Oklahoma, the Ouachita National Forest is a vast expanse of unspoiled wilderness. Its stunning trees and natural habitats cover 1.8 million acres.
The name "Ouachita" comes from the Choctaw language and means "large hunting area." The name is fitting, as the majority of the area has dense forests and a vast array of wildlife. A variety of trees, such as pine, oak, and hickory, are spread throughout the forest, even at higher elevations. 
With its awe-inspiring mountain panoramas, scenic rivers, streams, and lakes, it is a haven for outdoor enthusiasts. It's also great for camping aficionados seeking an extraordinary and unforgettable experience.
Breathtaking landscapes and picturesque drives are not the only highlights of the Ouachita National Forest. Visitors can indulge in a wide range of outdoor activities, including hunting, fishing, and dispersed camping. As you explore the forest, discover its rich history through informative wayside exhibits dotted along the scenic drives. 
For a more immersive experience, participate in educational programs that showcase the unique botanical, mineral, and prehistoric resources found in the forest.
The Ouachita Mountains owe their unique geological features to the sedimentary rocks that form them. These are some of the oldest rock formations in the United States! The ancient rocks have been subjected to intense tectonic forces over millions of years, resulting in their characteristic folding into formations known as anticlines and synclines. 
Geologists say these rocks were formed during the Paleozoic era, which spans millions of years in the earth's geological history.
History Of the Ouachita National Forest
Before the arrival of Europeans, the Ouachita Tribe inhabited the forest that now bears their name. The Ouachita Mountains and the protected forest were their homelands. The French version of the word Washita is the origin of the name Ouachita. The term roughly translates to mean "good hunting grounds" or "land of giant buffalo." This translation is indicative of the importance of hunting to the tribe's livelihood.
During the sixteenth century, the local indigenous population consisted of farmers who resided near the Ouachita River in established huts. These individuals relied on agriculture to sustain their way of life. 
Europeans arrived in the region in 1541, although significant settlement didn't occur until the 1700s. The region's natural resources and trading opportunities gradually attracted European settlers.
Historical evidence suggests that during this era, the Ouachita Tribe merged with the Natchitoches Tribe, possibly due to cultural and linguistic similarities. Over time, many descendants of the Ouachita people became members of the Caddo Nation.
In 1907, the Arkansas National Forest was established, which is now known as the Ouachita National Forest. This marked a significant step forward in the region's conservation and natural resource management efforts. 
Around a decade later, there was a proposal to convert the forest into a national park. However, this idea was ultimately abandoned. Officials changed the forest's name to the Ouachita National Forest in 1926 to better reflect the historical and cultural significance of the area. 
Activities In the Ouachita National Forest
The Ouachita National Forest is an outdoor enthusiast's dream, with a vast network of trails, breathtaking landscapes, and diverse wildlife. It's the perfect destination for hiking and camping, providing a unique opportunity to immerse oneself in nature. Here are some of the best outdoor activities in this national forest:
Hiking
Arkansas is home to some of the most magnificent hiking trails in the country, and the Ouachita National Forest is no exception. With an array of trails that cater to people of all levels, it's a must-visit destination for hiking enthusiasts. The longest trail in the park is the Ouachita Recreational Trail, which stretches 192 miles, offering a challenging backpacking experience. 
However, if you're a day hiker, you can choose from a variety of trails that are suitable for your skill level. The best approach is to pick an area of the park you want to explore and select a trail that matches your ability. Moreover, the park has wheelchair-accessible trails, including the Friendship Trail, the Shady Lake Trail, and the Orchard Trail, so all visitors can experience the beautiful setting.
Camping
The park offers many choices for a comfortable and extended stay with your family, and you can take your pick from various cozy campsites. There are designated areas for tent camping, as well as spaces for RVs and campers that require an electrical hookup. 
If you're looking for a unique experience, Camp Clearfork is an excellent option, offering rustic cabins that are available only by reservation. These cabins are perfect for family reunions, church groups, and other gatherings. Don't forget to bring your sleeping bag and a book of spooky stories to enjoy around the campfire at night.
Boating
Boating is an excellent way to spend a fun-filled day in the forest, whether you prefer fishing, tubing, or simply drifting around the lake. You'll find paved boat docks at many of the park's lakes, making it easy to launch your boat for an enjoyable day of fishing or sightseeing. 
Don't have your own boat? No problem! You can rent a boat from several locations on Ouachita Lake. Many of them also offer non-motorized equipment, including kayaks, paddle boats, and canoes.
Horse Riding
If you're a horseback riding enthusiast, you'll be thrilled to discover the horseback riding trails available throughout the park. With ample parking space available for your horse trailer, you can easily unload and hit the trails. The park offers a wide range of trail options, catering to horses of all abilities and preferences. 
From challenging terrains to leisurely paths, you can find a horse trail that perfectly suits your desired difficulty level. Some trails include gravel, adding a unique texture to the riding experience. 
Treasure Hunting
If you have a family member who loves treasure hunting, make sure to add Crystal Vista to your list of must-visit spots. This location was once a quartz mine but is now open to the public, free of charge. You're allowed to take up to 20 pounds of material home, and it's a fantastic opportunity to uncover beautiful treasures. 
Even if you don't find any crystals, the view from the top of Gardner Mountain is worth the visit. You can gaze out at the stunning Ouachita Lake and Mount Ida. Remember that reaching the site requires a 25-minute uphill hike, as it is located on the top of Gardner Mountain. However, the breathtaking view and unique treasure-hunting opportunity make it well worth the journey.
Wildlife In the Ouachita National Forest
The Ouachita National Forest is home to an incredible array of wildlife, including both non-game and game species. Over the last four to five decades, the forest has seen a fascinating eastward invasion of western animals. These new species add to the park's already impressive biodiversity. 
Below are just a few examples of the many fascinating creatures you might encounter during your visit to the park:
Red-shouldered Hawks
Red-shouldered hawks are one of the permanent residents of the national forest, though they are especially noticeable during migration periods. These hawks are part of the Buteo group, characterized by their chunky appearance, fan-shaped tails, and broad wings.
Red-shouldered Hawks have a dark brown back, a brown head, and finely barred underparts in reddish brown. They tend to prefer oak, cypress, and pine forests located near bodies of water. Keep your eyes peeled during your visit and you might just spot one of these fascinating birds of prey.
Black Bear
Avid bear watchers should visit the Talimena National Scenic Byway. This location is in the midst of one of the most significant black bear habitats in Arkansas. It's an ideal spot for bear sightings. 
You can catch a glimpse of these beautiful creatures all year round, but the best time to see them is from late April through May, especially during twilight.
Black Bears, the only type of bears that inhabit this area, have a coat that is typically black. However, it can also be dark brown, yellow-brown, or cinnamon. Their eyes are brown, and their skin is light gray. These bears can be quite large, ranging from 4 to 7 feet in length.
It's important to remember not to startle a bear if you happen to encounter one. Instead, try to alter your route or back away slowly, ideally in the direction you came from. Walk calmly and keep your eye on the bear to observe its reaction.
Chipmunks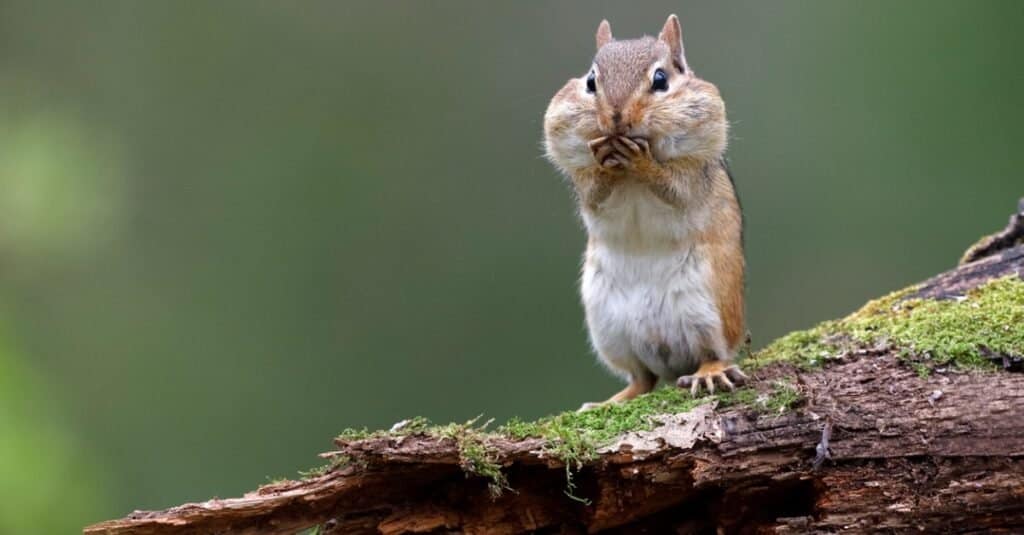 The Ouachita National Forest is teeming with chipmunks, and they are easy to spot. They mainly reside in forest edges in deciduous trees, but they also live along fence lines, fields, and meadows.
Sporting a reddish-brown coat with a prominent black stripe down the middle of its back, the small mammal is hard to miss. The critter also features black and white stripes extending from the neck to the base of its tail. Despite their tiny size, these adorable creatures are fascinating to observe.
Rich Mountain Salamander
The northern slopes of Rich and Winding Stair Mountains are a habitat for several unusual creatures. Among them is the Rich Mountain salamander. This species flourishes in rocky regions that have plenty of fallen logs in advanced stages of decay. These, along with deep pockets of leaf mold, provide an excellent environment for them to thrive.
These 2-inch-long salamanders are mottled and slatey-grey in color. They camouflage well in their natural surroundings. Interestingly, these salamanders have special glands on their backs that secrete a noxious substance to deter predators.
Deer
Deer are well adapted to forested habitats as these regions provide everything they need for survival, including food, shelter, rest, and breeding grounds. The Talimena National Scenic Byway is a great place for spotting deer. These animals can grow up to 300 pounds and stand between 31 and 40 inches tall at the shoulder. Their coats change color throughout the year, with reddish-brown hues in summer and duller grayish brown in winter. Deer have white fur on their throats, inner ears, underparts, and tails.
Where is Ouachita National Forest Located on a Map?
Situated in the western part of Arkansas and spanning into parts of extreme-eastern Oklahoma, the Ouachita National Forest is an expansive National Forest designated by Congress, offering a vast expanse of natural beauty and resources for visitors to explore and enjoy.
Here is Ouachita National Forest on a map:
Up Next:
More from A-Z Animals
---
The Featured Image
---