Situated in the heart of the Midwest, Missouri is a state that is rich in natural beauty and diverse landscapes. From its rolling hills and sprawling prairies to its bustling cities and tranquil streams, Missouri has something for everyone. Missouri acts as a crossroads between the Mississippi and the Missouri rivers. This gives the state rich soil to attract unique flora and fauna.
However, one of the state's most striking features is its vast forest array. In particular, one forest in Missouri stands above the rest in terms of its size and magnificence. Let's take a journey to the largest forest in Missouri and be amazed by the wildlife, towering trees, lush undergrowth, and endless miles of tranquil woodland trails. 
The Largest Forest in Missouri: Mark Twain National Forest
Missouri is a state that boasts natural wonders, and Mark Twain National Forest is the crown jewel among them. Spanning across southern and central Missouri, Mark Twain National Forest is the largest forest in Missouri, offering a diverse range of landscapes, from the rocky glades of the southwest to the rolling hills of the St. Francois Mountains in the southeast.
This natural wonder covers a vast expanse of more than 1.5 million acres. It is the only national forest in the state.
A unique blend of natural wonders, including nationally-recognized streams, caves, ancient volcanic mountains, and large permanent springs, characterizes this one-of-a-kind wilderness.
Nestled mostly in the Ozark Highlands, it is a haven for nature enthusiasts and outdoor adventurers alike. Its unique beauty is made even more exceptional by the presence of the largest assemblage of "first magnitude" springs in the world.
Greer Spring, in particular, is renowned for its beauty and pristine waters. It is considered the most scenic spring in the entire state of Missouri.
Where Is Mark Twain National Forest Located on a Map?
Mark Twain National Forest is located in the mainly rural region of Missouri referred to as the Ozarks. Its 1.5 million acres of public land cover 29 counties. Sections of the forest are within one hour's drive away from St. Louis, Springfield, Columbia, and Branson.
History of Mark Twain National Forest
The Mark Twain National Forest has a rich and unique history that has led to its creation as the magnificent wilderness area it is today.
The forest was once home to various Native American communities, including the Osage, Illini, Missouria, and Chickisaw, who lived in harmony with the natural world before the arrival of European settlers. Despite the rough terrain, which made farming difficult, the forest attracted pioneers during the nation's westward expansion, who were drawn to the area's natural resources.
The Mark Twain National Forest has seen many changes, including intense logging in the late 1800s and early 1900s. By the 1920s, the lumber mills that had once thrived in southern Missouri had vanished, and the result was widespread depletion of the region's hickory, pine, and oak forests. This decline was the outcome of citizens harvesting these forests for lumber during the 1870s.
As the effects of intensive logging became more apparent in the 1920s and 1930s, the people of Missouri began to express growing concern about the state of abandoned and idle lands in the region.
Conservation Efforts
Between 1934 and 1935, eight separate purchase units were established, covering a total of 3,313,705 acres across 28 counties. And so, the conservation efforts bore fruit, as Franklin Roosevelt, the President of the U.S. at the time, declared the creation of Mark Twain National Forest in 1939, encompassing four of the purchased units, while the remaining four units became Clark National Forest.
This was a pivotal moment in the history of the forest, as it officially became a protected space for wildlife and recreation and a symbol of the state's commitment to preserving its natural heritage for future generations.
On February 17, 1976, the Mark Twain National Forest was merged with the Clark National Forest, creating the massive expanse you can see today.
Hiking and Camping in Mark Twain National Forest
The Mark Twain National Forest is a true adventurer's playground. With more than 750 miles of diverse trails, there is no shortage of opportunities for visitors to challenge themselves and test their skills in various outdoor activities.
Hiking
The Mark Twain National Forest is home to a diverse network of trails, each offering its own unique experience and natural wonders to explore. The options are endless, with more than 750 miles of trails. There are trails open to multiple uses, like hiking, mountain biking, and horseback riding, to those that are dedicated solely to hiking. Let's look at some of the best trails this forest offers for hiking.
Piney Lookout Tower Trail
Embark on a moderate 4-mile loop trail at Piney Lookout Tower for a unique outdoor experience. The trail offers an elevation gain of 500 feet with a few steep rock areas. The trailhead may not be well marked, but it's worth the challenge as the hike presents clear streams and an abundance of pines.
Greer Spring Trail
Discover the beauty of Greer Springs on a 2-mile moderate out-and-back trail. This well-maintained path presents a stunning display of pine scenery while leading you to the second-largest spring in Missouri. With only 206 feet of elevation gain, mainly on the return hike, this trail is perfect for nature enthusiasts of all levels.
Blue Spring Trail
Escape to the serenity of the great outdoors with this 3.1 mile out-and-back trail near Eminence, Missouri. This idyllic route is ideal for hikers, anglers, and campers who are looking for a peaceful escape. With its moderate difficulty, it takes the average hiker 59 minutes to complete this tranquil trek.
You'll be surrounded by breathtaking natural beauty and seclusion, as the trail is known for being sparsely populated. This trail is open year-round, and dogs are welcome to join you on your adventure but must be kept on a leash.
Camping
Relax and recharge after your hike by setting up camp in the stunning Mark Twain National Forest. Immerse yourself in the diverse landscape, surrounded by rolling prairies, lush forests, and ancient mountain ranges. The forest provides the perfect setting for a peaceful night under the stars, surrounded by nature's beauty.
Berryman Trail & Campgrounds
Located at the starting point of the Berryman Trail lies a small, secluded primitive camping area perfect for those seeking an escape from the hustle and bustle of city life. With 24 miles of breathtaking Ozark scenery to explore, the Berryman Trail is sure to satisfy the hunger of any nature lover's soul.
Bring along your own drinking water and whip up a delicious meal over a crackling campfire.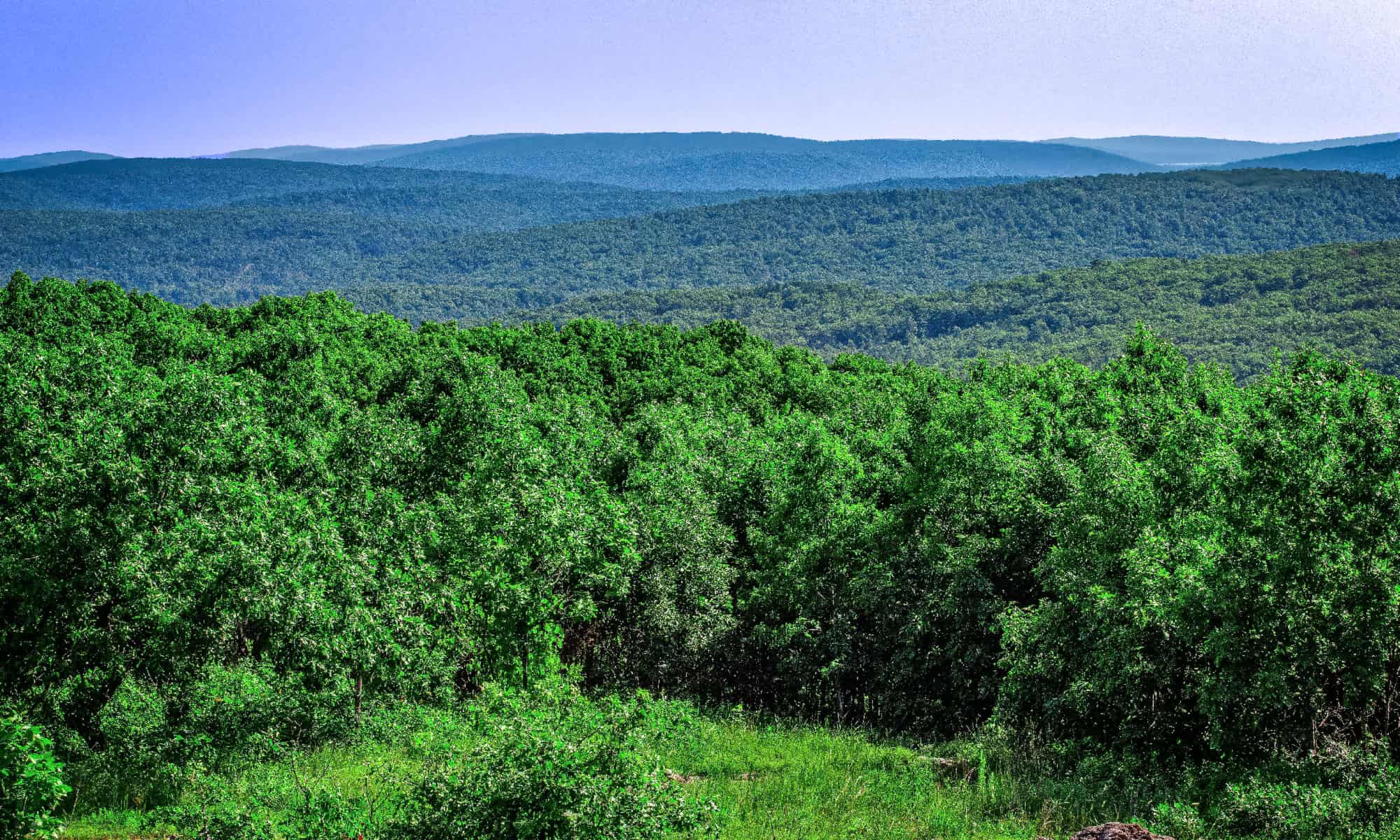 Council Bluff Recreation Area and Campground
Discover the ultimate camping experience at Wild Boar Campground, located in the picturesque Council Bluff Recreation Area. With its spacious and well-developed facilities, this campground is the perfect place to bring the whole family.
For the adventurous, the 440-acre lake provides endless boating opportunities, and canoe and paddle boat rentals are available.
Red Bluff Campground
Escape to the peaceful beauty of Red Bluff Recreation Area, nestled along the tranquil banks of Huzzah Creek and surrounded by towering red bluffs. This serene spot is a popular destination for fishing, with plenty of bass and sunfish waiting to be caught.
At the campsite, you can take a leisurely hike along the 1.2-mile loop trail, surrounded by stunning natural beauty, and cool off in the refreshing waters of Huzzah Creek. Swimming and tubing are the most popular pastimes here, so bring your swimsuit and tube or raft for a fun-filled day on the water.
Water Activities
Mark Twain National Forest boasts abundant natural beauty. It includes more than 3,000 natural springs that feed into streams and rivers that flow all year. These waterways are a vital water source for the surrounding landscape and attract thousands of visitors annually.
Eleven Point National Wild and Scenic River
Meandering through the lush Ozark Hills, this river offers a variety of water adventures. It boasts clear pools to rushing rapids and continuous springs.
There are plenty of access points along the river for boaters, fishermen, and paddlers. This makes it easy to hop in and enjoy the scenery. And for those looking for an extended adventure, there are eight float camps available for overnight excursions.
Big Piney River
Experience the serene beauty of the Big Piney River, a waterway that winds through the Ozark Mountains. Fed by a spring, this river offers 21 miles of pristine waters perfect for fishing, boating, floating, and swimming.
Take a leisurely float down the river and enjoy the stunning scenery as it winds through the undeveloped Ozark hills. Cast a line and try your hand at fishing, or swim in the cool, clear waters.
Wildlife in Mark Twain National Forest
The Missouri Ozarks boasts the stunning Mark Twain National Forest, a habitat for more than 650 indigenous fauna species. The variety of life within the forest is awe-inspiring, with nearly 200 species of fish swimming in its streams, more than 100 amphibians and reptiles roaming its land, and over 300 avian breeds soaring through its skies. 
Additionally, the forest is home to approximately 60 mammals, making it a veritable treasure trove of biodiversity. Let's explore some of the wildlife commonly found in Mark Twain National Forest.
Ozark Sculpin (Cottus hypselurus)
The Ozark sculpin, scientifically known as Cottus hypselurus, is an exciting species of fish that is native to the state of Missouri. This fish belongs to the Cottidae family, commonly referred to as the "typical sculpins." It is mainly found in Missouri's Gasconade, Osage, and Black river drainages. 
The Ozark sculpin is a small fish that can grow up to 5.5 inches in length. It is easy to find in rocky riffles of headwaters and creeks. If you're a fishing enthusiast, this is a species that should definitely be on your radar.
Western Slimy Salamander (Plethodon albagula)
Another resident of the Mark Twain National Forest is the western slimy salamander. These intriguing creatures have a sleek, black bodies dotted with white speckles that sometimes turn into large, white blotches on the sides. Their big, bulbous eyes and long tails make for a fascinating sight.
If you're up for a night-time adventure, you might spot one of these elusive creatures. They are primarily nocturnal and often found lurking under rocks or other ground debris in moist, wooded areas.
Barred Owl (Strix varia)
The barred owl is a majestic bird of prey in North America. Dubbed the "northern barred owl," the "striped owl," or affectionately the "hoot owl," it is a proud member of the Strigidae family, the true owl family.
This versatile owl thrives in diverse environments, from lush deciduous and mixed forests to semi-open wooded areas with mature trees. They are in areas that have recently undergone logging, such as the Mark Twain National Forest. The barred owl is adaptable and not limited to dense forest environments.
With their distinctive markings and beautiful hooting calls, the barred owl adds to the beauty and diversity of Mark Twain National Forest.
Nine-Banded Armadillo (Dasypus novemcinctus)
One of the most intriguing mammals found in the Mark Twain National Forest is the nine-banded armadillo. This species has several names, including the common long-nosed armadillo and nine-banded long-nosed armadillo.
Weighing anywhere from 5.5 to 22 pounds, these armadillos are among the largest of their kind. They are remarkably adaptable and versatile.
Despite their preference for the forest, these armadillos dwell in scrublands, open prairies, and even tropical rainforests. This showcases their ability to adapt to different environments. However, they do struggle in extremely cold or dry conditions.
North American Racer (Coluber constrictor)
The North American racer, also known as the eastern racer, is a nonvenomous snake belonging to the Colubridae family. These snakes come in varying lengths. The smallest individuals measure 20 inches and the largest reach a staggering 73 inches in total length, including the tail.
Known for their speed and activity, these racers are diurnal creatures. They are often near water sources and in suburban areas, brush, trash piles, roadsides, and swamps. They are a common sight in the Mark Twain National Forest.
The photo featured at the top of this post is © Randy Kostichka/Shutterstock.com
---
FAQs (Frequently Asked Questions)
How large is the Mark Twain National Forest?
This natural wonder covers a vast expanse of over 1.5 million acres and is the only national forest in the state.
What is the most scenic spring in Missouri?
Greer Spring, in particular, is renowned for its beauty and pristine waters and is considered the most scenic spring in the entire state of Missouri.