↓
Continue Reading To See This Amazing Video
Are you ready to embark on a fun adventure through the wild and wondrous forests of Pennsylvania? With its lush vegetation and diverse wildlife, this state has some of the most incredible natural attractions in the country.
As you wander through the forest, you'll be amazed by towering oaks, stately pines, and creatures that call it home. Graceful deer and mischievous foxes are just two of the many animals that live here. You'll want the chance to explore and admire the breathtaking nature of Sproul State Forest, the largest forest in Pennsylvania.
The Largest Forest In Pennsylvania: Sproul State Forest
Named after former Pennsylvania Governor William Sproul, the forest was established to protect and manage the state's natural resources. At over 305,450 acres, Sproul Forest is the largest state forest in Pennsylvania and is home to a huge variety of both plant and animal life.
Located in north central Pennsylvania, Sproul State Forest is an expansive, beautiful piece of land. It's the perfect destination for outdoor enthusiasts of all kinds, with endless opportunities for hiking, fishing, hunting, and more. This massive forest is also an essential part of the state's history and ecology.
From towering hardwood forests to picturesque streams and wetlands, Sproul State Forest is a true natural gem.
There are several campgrounds within the forest, as well as rentals for those who don't like roughing it. The forest also has a network of trails for hiking and mountain biking, ranging from easy to challenging. In the winter, cross-country skiing and snowmobiling are popular activities as well.
One of the great things about Sproul State Forest is its location. It's situated in the heart of the Allegheny Plateau, which means it's surrounded by some of the most beautiful landscapes in the state.
For future generations, the forest is protected and preserved by the Pennsylvania Department of Conservation and Natural Resources. This department manages the forest's timber resources and controls pests and invasive species.
Whether you're looking to spend a day outdoors or interested in learning about Pennsylvania's natural history and ecology, Sproul State Forest is worth visiting. With its stunning beauty and endless recreational opportunities, it's a place that everyone should experience at least once.
History Of Sproul State Forest
The Sproul State Forest in Pennsylvania is dedicated to former Pennsylvania Governor William C. Sproul. The forest itself has a fascinating history. It was created in response to the widespread deforestation that occurred in the state during the late 19th century.
At that time, logging and iron companies were clear-cutting the old-growth forests, leaving behind barren land and debris. This not only damaged the environment but also hindered the regrowth of new forests.
Conservationists like Dr. Joseph Rothrock fought for changes in forest management practices to address this issue. Consequently, they urged the state to purchase lands from these companies and adopt sustainable forest management practices.
Dr. Rothrock became the first commissioner of the Pennsylvania Department of Forests and Waters in 1895. This organization later changed to the Pennsylvania Department of Conservation and Natural Resources.
Pennsylvania General Assembly passed a bill authorizing the creation of state forests in 1897 due to the efforts of these conservationists. The Sproul State Forest, one of many protected areas established to preserve and manage Pennsylvania's natural resources, marked the new era of the State Forest system in the state.
Hiking And Camping In The Sproul State Forest
In terms of recreational opportunities, Sproul State Forest has something for everyone. There are over 300 miles of trails, ranging from leisurely strolls to challenging backcountry hikes. If you're into fishing, you'll find plenty of opportunities to cast a line in the many streams and ponds scattered throughout the forest.
Let's discuss some of the exceptional outdoor activities the forest offers.
Hiking
Looking for a new outdoor adventure? The Sproul State Forest has got you covered with a couple of fantastic hiking trails! Covering both the Burns Run Wild and Fish Dam Wild areas, the Chuck Keiper Trail is a 50-mile double loop. Just look for the orange paint blazes to stay on track.
If you're up for a challenge, consider taking on the mammoth task of hiking the Donut Hole Trail. But beware that this trail is for seasoned hikers only.
The forest also has a number of footpaths built originally for fire access, making the area super accessible to hikers. Just be sure to come prepared with proper clothing for the weather and a map and compass to navigate. These trails may not be maintained or marked, so it's important to be prepared.
Mountain Biking
Get ready to hit the trails on your mountain bike in the Sproul State Forest! This forest has plenty of options for you, with all trails open to biking (except the Chuck Keiper Trail and the Donut Hole Trail). Just be aware that some routes may become overgrown during the summer months.
Looking for a particularly thrilling ride? Visit the Eagleton Mine Camp Trail. It has a lot of steep, narrow, and rocky sections, especially in the southern loop. The northern section is slightly less technical but offers a great ride.
Cross-Country Skiing
Love skiing? In that case, the Hiking Bear Ski Trail is just the place for you! Located on beautiful Hyner Mountain, this 14-mile (23 km) trail is perfect for skiers of all skill levels.
Whether you're a seasoned pro or a newbie, there's something for everyone on this diverse and challenging course.
All Terrain Vehicles
ATVs are allowed in a part of Sproul State Forest. There are many old coal mining roads, wood roads, and unreclaimed surface mining areas near the Huling Branch of Two Mile Run.
Please note that ATVs are not allowed in all areas of the Sproul State Forest. So rev up those engines and hit the trails in the designated area!
Fishing And Hunting
With over 400 miles of cold water streams, you'll have plenty of opportunities to fish. Twelve of these streams are designated as Wilderness Trout Streams, indicating that the native trout population is exceptional.
If hunting is more your thing, the Sproul State Forest has got you covered too. Whitetail deer, wild turkeys, and ruffed grouse inhabit the forest in substantial numbers, along with black bears.
Wildlife In Sproul State Forest
Looking for a chance to see some fantastic wildlife in its natural habitat? Sproul State Forest has bobcats, black bears, coyotes, white-tailed deer, and a variety of other animals that live away from densely populated areas.
In the spring, you can even spot all sorts of migratory birds as they come to nest in the forest. Just pick any of the six designated wildlife trails, grab a pair of binoculars, and enjoy these amazing animals.
Several parts of the Sproul State Forest have been designated as "Important Bird Areas" by the Pennsylvania Department of Conservation of Natural Resources because of the wide variety of migratory species that can be found there. 
Here are just some of the wildlife found in this majestic forest.
Coyotes
While spending some time in the forest, you might come across some coyotes. Coyotes are common throughout the forest and can often be seen at dawn or dusk, as they are most active during those times.
Overall, coyotes are an important part of the ecosystem in the Sproul State Forest and can be a really cool animal to spot during your visit. Just remember to respect their space and enjoy watching them from a safe distance.
Bobcats
If you're lucky, you might see a bobcat during your visit! These elusive animals are native to the area and can often be found in forests, swamps, and other areas with dense vegetation.
They are usually solitary animals and rarely seen out in the open, so you'll need to keep your eyes peeled for any signs of their presence. Also, keep an ear out for their distinctive calls, which sound like a mixture of a meow and a growl, and look for tracks or scat in the area.
Birds
In the spring and summer months, visitors to the forest may spot species such as the colorful scarlet tanager, mourning dove, and the melodic wood thrush.
The forest is a popular spot for birdwatchers, as it is home to a variety of warblers, sparrows, and other small songbirds. In the winter, the forest plays host to species such as the graceful snow goose and the common raven.
The Sproul State Forest is a critical habitat for many of these species, serving as a breeding ground for birds such as the cerulean warbler and the hooded warbler.
Black Bears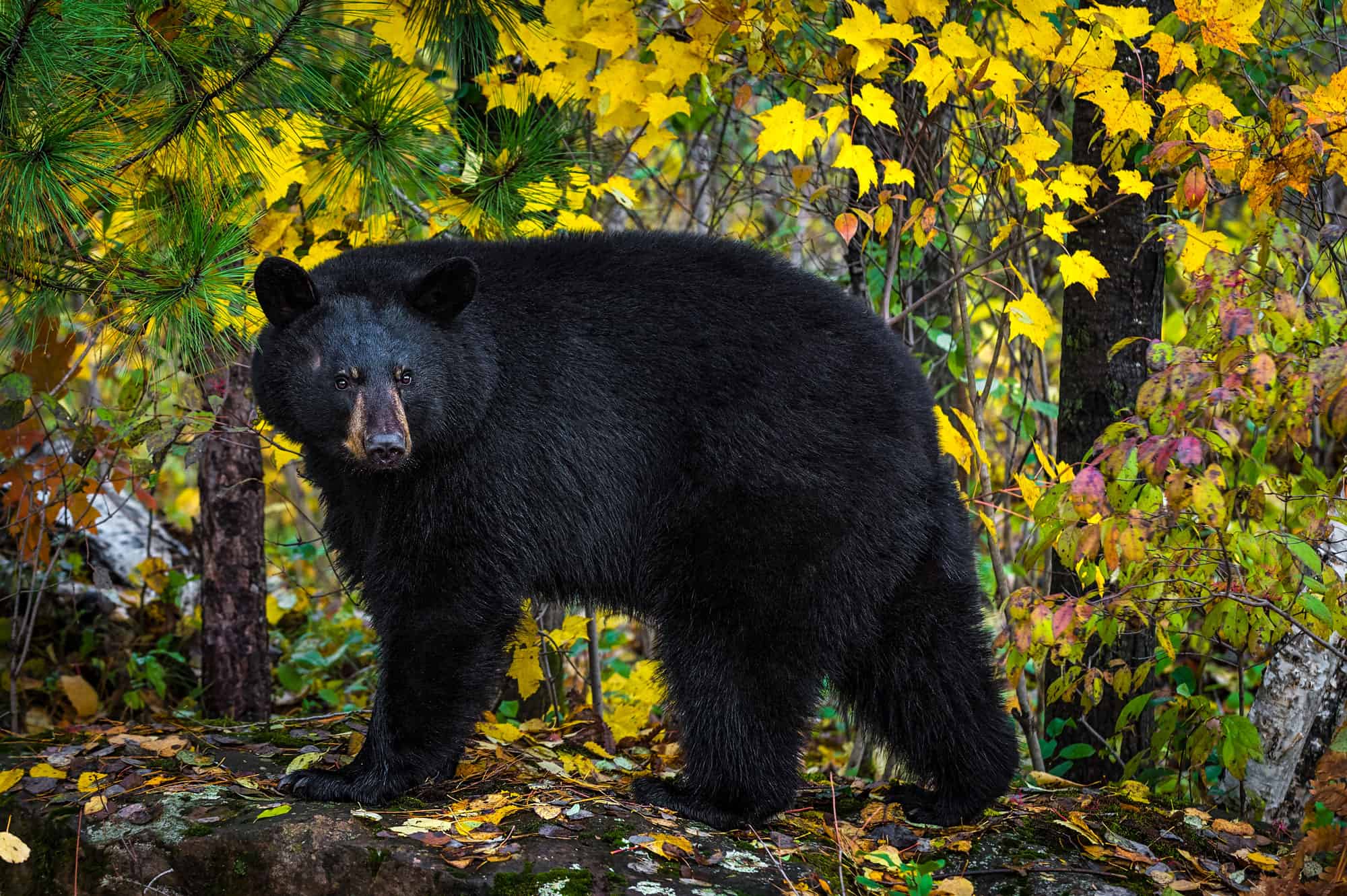 Black bears are the only bear species in Pennsylvania and can be found in many areas of the state, including in Sproul State Forest. These bears are generally shy and avoid humans, but they can become accustomed to people if they associate them with food. For this reason, it's essential to follow proper bear safety guidelines when visiting the forest, such as properly storing food and not approaching bears.
These bears are a popular game species in Pennsylvania, and hunting them is regulated by the state government. Black bear hunting season usually takes place in the fall, and hunters must possess a valid license and follow specific rules and regulations. These rules are in place to ensure sustainable hunting practices and protect the bear population.
Up Next:
More from A-Z Animals
---
The Featured Image
---