↓
Continue Reading To See This Amazing Video
Tennessee is home to some of the most spectacular forests in the United States. From the amazing Great Smoky Mountains to the vast Franklin State Forest, Tennessee is a true wilderness wonderland.
However, there is one forest that stands above all the rest: the Cherokee National Forest. This forest is the largest in the state and is home to a wide range of plant and animal species. So, if you're looking for an adventure that will take you to the heart of Tennessee's natural beauty, a visit to the largest forest in the state is a perfect choice. Come and explore this unique ecosystem and discover what lives within it.
The Largest Forest in Tennessee: The Cherokee National Forest
If you love nature and outdoor adventures, then you need to check out the Cherokee National Forest in Tennessee.
This massive public land spans 655,598 acres and is the largest in the state. Numerous wildlife and plants call the Cherokee National Forest home. It also offers endless opportunities for hiking, fishing, camping, and more. Plus, it's divided into two distinct regions – one in the north and the other in the south – so there's always something new to explore.
Get ready to explore the breathtaking Cherokee National Forest, a paradise of diverse terrain ranging from lush valleys to towering peaks reaching up to 6,000 feet above sea level. In addition, this forest is home to a network of Tennessee River tributaries.
While exploring the forest, keep in mind when exploring that even though the folding and fault lines in the area are mostly dormant, there have been some minor tremors recorded now and then.
If you are into geology, you'll love the rock formations in the area. From ancient, highly deformed sedimentary rocks to igneous and metamorphic rocks dating back to the Pre-Cambrian period, this place is a geologist's paradise. It's always cool to think about the millions of years it took for these rocks to form and all the history they've witnessed.
Nestled in the Southern Appalachian mountain range, this region is known for its stunning diversity. So whether you're a nature lover or just looking to escape the city for a while, the Cherokee National Forest is the perfect place to explore and unwind.
From Chattanooga to Bristol, this vast stretch of land offers endless opportunities for outdoor enthusiasts, history buffs, and anyone looking to escape the hustle and bustle of daily life.
From hiking and camping to fishing and picnicking, there's something for everyone in the Cherokee National Forest. And with over 20,000 species, you'll have the chance to see some truly unique and beautiful wildlife during your visit.
History of the Cherokee National Forest
Incredibly, this vast forest has a rich history that stretches back at least 10,000 years, with various groups occupying and using the land in different ways. The Cherokee people, whom the forest is named after, relied on its resources for hunting and gathering.
Unfortunately, the Cherokee people experienced significant changes to their culture and tribal lands after European contact. They were devastated by diseases introduced by Europeans, as well as wars and cultural assimilation. In 1838, they were forcibly removed from their lands.
This forest is a testament to the resilience of the Cherokee people and the enduring beauty of the land they once called home.
The National Forest has a long history of European-American settlement dating back to the late 1700s. One of the trails within the forest, the Overmountain Victory National Historic Trail, celebrates the American victory over the British at the Battle of King's Mountain in the Revolutionary War. This trail can be found in the picturesque Roan Scenic Area within the National Forest.
Although the Tennessee River valley offered more hospitable land for settlement, some European Americans still opted to make their homes in the challenging landscape of the National Forest.
These settlers, who hailed from Scotland, Ireland, Germany, and England, were primarily farmers and ranchers and relied on both agriculture and livestock farming for their livelihood. Despite the difficulties of living in the forest, they persevered and made a life for themselves in this rugged region.
The forest remained largely unchanged until the 1880s when timber and northern mining companies began to move into the forest.
To regulate navigable waterways and oversee the timber industry, the Weeks Act of 1911 allowed the federal government to buy private land to use for national forests. 14 years later, President Woodrow Wilson established a series of national forests in the southern Appalachian Mountains.
In 1936, during the presidency of Franklin D. Roosevelt, the Tennessee sections of the Pisgah, Cherokee, and Unaka National Forests were merged to form the Cherokee National Forest.
Hiking and Camping in the Cherokee National Forest
With 30 developed campgrounds, tons of picnic areas, and over 700 miles of trails, there's no shortage of outdoor activities in The Cherokee National Forest. The seven whitewater rivers and two scenic byways offer even more opportunities for fun.
Different areas of the forest provide various outdoor activities to its visitors. Let's briefly examine some of the areas offering incredible activities.
Watauga Lake Area
Love being near the water? You'll love it here! The area boasts Watauga Lake, three rivers (the Doe, Elk, and Watauga), and plenty of streams. Plus, there are seven waterfalls to explore.
If you're into more developed recreational activities, Watauga Lake has plenty of facilities for picnicking, swimming, boat launching, and fishing. The area's backcountry is also home to the Appalachian National Scenic Trail, which offers more rugged adventures.
Citico Creek Area
Looking for some solitude and an epic backcountry experience? You'll find it in spades in the Citico Creek and Joyce Kilmer-Slickrock wilderness areas, which cover over 20,000 acres. These areas are prime spots for catching stocked trout and native fishes in Citico Creek.
If you're looking to catch some fish, you can try your luck at catching catfish and smallmouth bass in the creek's lower areas.
Roan Highlands
The roan highlands is a very unique and diverse landscape. Various rare plants and animals live on the rugged, steep mountainsides and in high-elevation hollows.
While you're exploring, keep an eye out for rock outcrops, spruce-fir forests, high-elevation mountain balds, and lush wildflower displays. And if you visit in June, you'll be treated to some of the most spectacular Rhododendron blooms in the region. So whether you want to go for a short hike or spend a few days on the Appalachian National Scenic Trail, you'll find plenty of opportunities to get out and enjoy nature.
Ocoee River Area
Looking for a thrilling adventure? You can find it with local outfitters who offer white water rafting trips on the renowned Ocoee River. For those seeking more information about outdoor activities in the area, the Ocoee Whitewater Center is a great resource. You can go on a hike or bike ride on trails like the Tanasi Trail complex or the Chilhowee Recreation area or simply have a picnic.
If you'd rather take it easy, go for a drive along the Ocoee Scenic Byway (Forest Road 77 and US 64). And when it's time to rest for the night, you'll find plenty of camping areas to choose from, like Thunder Rock Campgrounds and Parksville or the Chilhowee Recreation Area.
Hiwassee Riva Area
The Hiwassee River Gorge is a beautiful spot with forested hillsides and peaceful river bottoms. It's a great place to go fishing, rafting, canoeing, or hiking. If you're planning to spend the night, there's a state campground at Gee Creek.
The area also has a variety of trout, and you can try your luck fishing from the shore or from a motorized boat. There's even a boat launch available. And the best part? You can access this site by passenger car, so it's super easy to get to.
Wildlife in the Cherokee National Forest
The Cherokee National Forest is home to many animals thanks to its rugged mountains, sparse human population, and varied habitats. In the Cherokee National Forest alone, you can find 154 species of fish, 43 species of mammals, and 55 species of amphibians and reptiles. So no matter what kind of critters you're into, you'll have plenty of chances to see them in their natural habitat. 
Let's discuss some of the wildlife in detail.
Elk
If you love nature, you won't want to miss out on the winter magic that happens in Cherokee Forest. Every year, thousands of elk migrate down from the mountains in search of food, turning the forest into a wonderland. And trust us, it's a sight you won't want to miss!
Elk are one of the biggest members of the deer family, weighing up to an impressive 1,000 pounds. They're genuinely majestic animals, and it's always a treat to watch them graze in meadows or drink from rivers and streams.
River Otter
River otters are cute and playful critters that call the Cherokee National Forest home, and if you're lucky enough to spot one, you're in for a treat.
River otters are small, typically weighing between 10 and 30 pounds. They have sleek bodies that are perfect for swimming and diving, which they do with ease as they chase fish or dig for clams and other underwater treats. But they're just as agile on land; they can climb trees and even dig burrows.
White-Tail Deer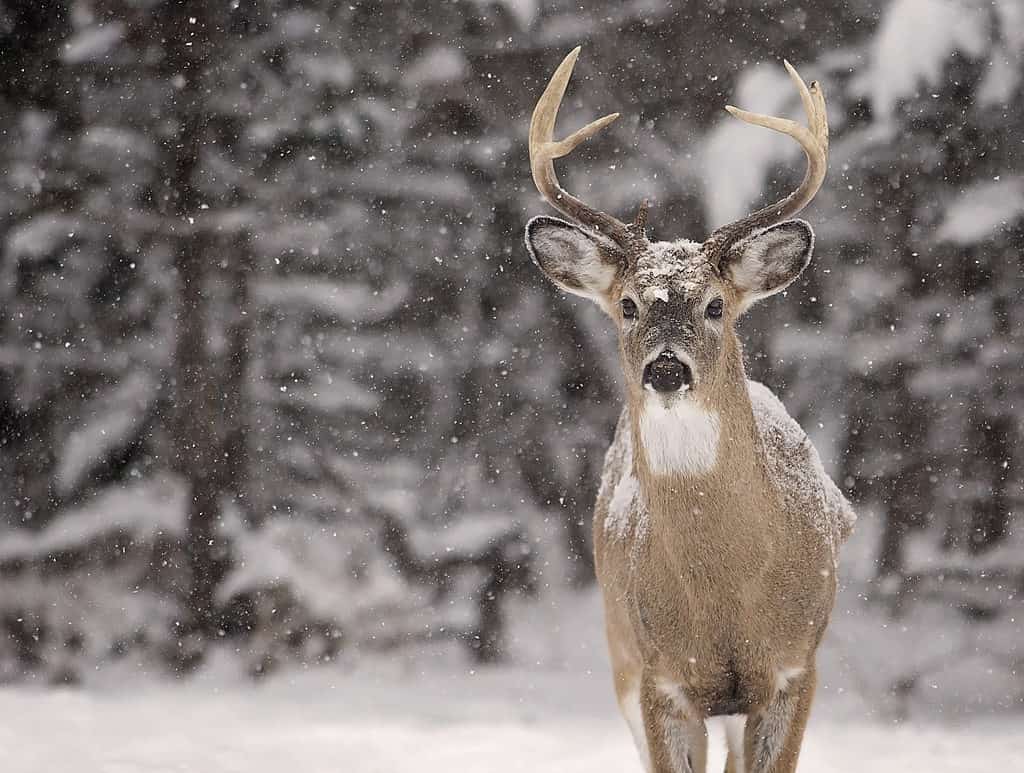 The Cherokee National Forest is home to a significant deer population, and these animals play a crucial role in the local ecosystem. As herbivores, they eat plants and help to control the vegetation growth. This, in turn, provides food for other animals like rabbits and mice. However, deer are also prey for larger predators like bears and coyotes.
Every fall, the Cherokee National Forest sees a surge in its deer population as these animals migrate through the area. The Cherokee people have a long history of relying on deer for sustenance and shelter, and their dedication to conservation has helped to preserve the forest for future generations.
Osprey
Have you ever seen an osprey? These massive birds of prey have wingspans that can reach up to six feet! They're easily recognizable by their dark brown backs and white undersides. Ospreys like to nest in tall trees close to bodies of water, where they can hunt for fish using their sharp talons.
If you're in the Cherokee National Forest, keep an eye out for ospreys near lakes and rivers. You might spot them perched on dead trees or power lines.
Black Bear
Tennessee is home to thousands of black bears. These massive animals weigh anywhere from 250 to 600 pounds. They can be black, dark brown, brown, blue-black, or blond in color. They are skilled climbers and swimmers with outstanding hunting abilities. Black bears are most active at night, but you might also catch a glimpse of one during the day.
The Cherokee National Forest is home to an estimated 1,500 black bears, so if you're visiting, keep an eye out for these impressive animals. Seeing one of these beautiful creatures in its natural habitat is a truly memorable experience.
Up Next…
More from A-Z Animals
---
The Featured Image
---
Sources

Carolina Ocoee, Available here: https://carolinaocoee.com/cherokee-national-forest/
National Forest Foundation, Available here: https://www.nationalforests.org/our-forests/find-a-forest/cherokee-national-forest
Quest Expeditions, Available here: https://questexpeditions.com/blog/cherokee-national-forest/
U.S. Forest Service, Available here: https://www.fs.usda.gov/cherokee#:~:text=The%20Cherokee%20National%20Forest%20is,Virginia%2C%20North%20Carolina%20and%20Georgia.
U.S. Forest Service, Available here: https://www.fs.usda.gov/attmain/cherokee/specialplaces#:~:text=Activities%20include%20fishing%2C%20hiking%2C%20horseback,Branch%20or%20Paint%20Creek%20ponds.