↓
Continue Reading To See This Amazing Video
Delaware is a coastal state that boasts many wetlands, rivers, and estuaries. And while it only contains one natural lake, there are several man-made lakes great for fishing. 
Bass fish spend their time in lakes and rivers, with plenty of fresh water. Bass may not be native to the state of Delaware, but that doesn't mean you won't find big largemouth bass for the taking. 
Are you wondering what the best record is in the first U.S. state? Continue reading to discover the largest largemouth bass ever caught in Delaware!
How Many Kinds of Bass are in Delaware?
There are six different kinds of bass documented in Delaware:
Largemouth
Smallmouth
Striped
Striped Hybrid
White
Rock
The largemouth bass is distinctive from other types of bass because of its, you guessed it, largemouth. Its mouth often extends beyond the rear edge of its eyes. 
The largemouth is a species of black bass that is carnivorous. They are relatively easy to catch, and you will often find them lurking around docks.
Does Delaware Have Good Bass Fishing?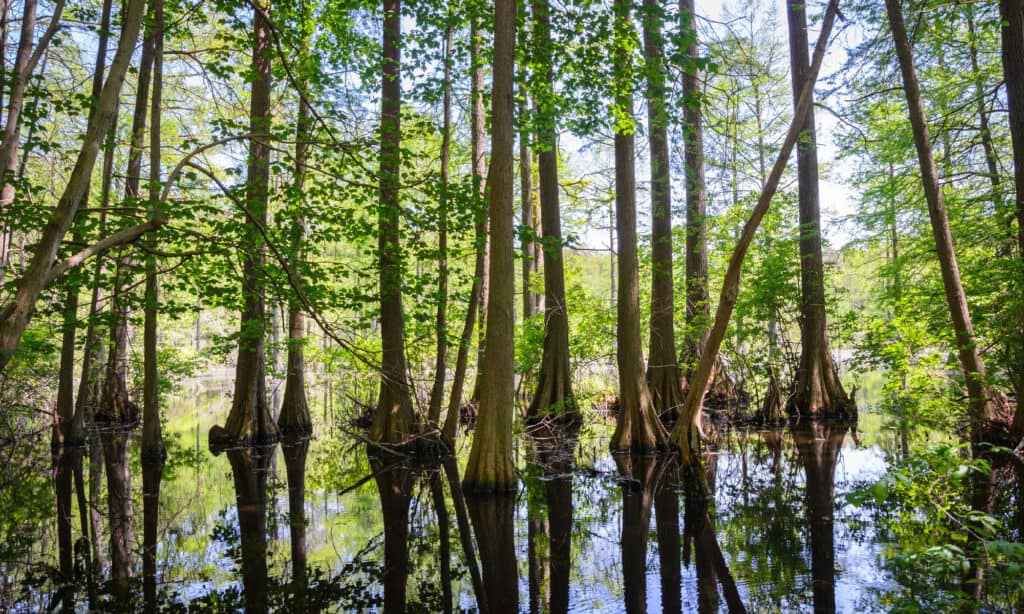 As one of the most sought-after game fish, the largemouth bass is popular amongst all anglers. The largemouth bass is non-native, but this type of fish is abundant in Delaware's freshwater systems.
No matter where you are in Delaware, you can find a bass fishing lake close by stocked to the brim with these distinctive fish. 
Delaware is known for its rich coastline, but don't underestimate its freshwater lakes, streams, and ponds. You can enjoy public access to the state's best water sources for game fishing. The best time to visit Delaware's lakes and ponds is between late spring and early summer. 
The largemouth bass is found among woody debris, docks, and freshwater weeds. Its diet consists of small fish, frogs, small birds, small mammals, and reptiles. The best way to catch these fish is to use lures that imitate fish and frogs. 
Try using spinnerbaits, jigs, and top-water lures. You can use large minnows or golden shiners as live bait.
What is the Largest Largemouth Bass Ever Caught in Delaware?
The largest largemouth bass ever caught in Delaware was 11.10 pounds by Andrew Klein in 2016. Andrew caught the fish in Wagamons Pond in Milton, Delaware, and broke the previous record of a 10.10-pound largemouth in 2012 out of the same pond. 
This record-breaking bass was 27-inches long with a circumference of 20 ½ inches. The typical largemouth bass is only 12 to 16 inches long and around 1 to 3 pounds. 
Are you curious about what Andrew used to catch this giant bass? He slow-rolled a Bleeding Shad Strike King Premier Plus spinnerbait with a Dawai Megaforce rod he bought on eBay. 
This northern-strain largemouth bass was released back into Wagamons pond alive after being certified.
What is the Biggest Largemouth Bass Ever Caught?
The biggest largemouth bass ever caught was 22.4 pounds by George Washington Perry on June 2, 1932. George Perry caught the world record bass fish at Montgomery Lake in southern Georgia. 
Perry was not a professional angler, just a Great Depression-era farmer enjoying an afternoon on the lake. On the way home, he stopped to weigh his prize fish at the post office and fed his family of six for two whole days. 
While others have gotten close to beating the record, George Perry still holds the title for the biggest largemouth ever caught. Take a trip to Georgia and see if you can topple the 90-year streak!
Are There Any Other Bass Records From Delaware?
While Delaware may not hold any world records for bass fishing, the state has several other impressive records for bass species. 
Earl Blevins caught a 13-pound, 13-ounce striped bass in 1990. The typical striped bass is around two to three pounds and less than 20-inches long. Although, striped bass along the Atlantic coast can get between 10 and 40 pounds. 
In 1989, Jerry Proffitt caught a 4-pound, 15-ounce smallmouth bass. Four pounds may not seem like a lot, but the average smallmouth only gets up to less than a pound.
What Fish is Delaware Known For?
The weakfish is the official state fish of Delaware. These marine fish have historically been plentiful in the state.
The weakfish gets its name from the tender membrane in its mouth, which you can easily tear. It also contains large canine teeth in its upper jaw. You will find them in the Atlantic Ocean, Delaware Bay, and inland bays.
What are the Best Lakes and Rivers for Largemouth Bass Fishing in Delaware?
Check out these lakes, ponds, rivers, and streams for the best bass fishing in Delaware!
Wagamons Pond
This reservoir is located just outside of Milton, Delaware, and is famous for the catchings of multiple giant largemouth bass. Known for more than just its massive largemouth, you will find crappie, bluegill, perch, and sunfish. Aim for fishing times between late morning and early afternoon.
Lums Pond
Lums Pond is Delaware's largest freshwater millpond inside a state park. The area features many recreational activities near New Castle County. The pond is 189 acres and provides fantastic fishing opportunities, including largemouth.
Killens Pond
Killens Pond is known for its waterpark and pondside hiking trails, but it is also an excellent spot for largemouth bass fishing. Spend the day on this 66-acre pond in Killens State Park near Felton, Delaware.
Trap Pond
Trap Pond was the site of an industrial logging pond in the 1700s and features impressive bald cypress trees. Take a wilderness canoe ride and spend the day fishing for many fish species, including largemouth and smallmouth bass.
Nanticoke River
Nanticoke River is the largest tributary of the Chesapeake Bay on the Delmarva Peninsula. The river provides hundreds of miles of freshwater for recreational fishing of largemouth bass, perch, blue crab, and sea trout.
Silver Lake
Silver Lake is located in Dover, Delaware, and is the source of the St. Jones River. It is part of a pair of freshwater lakes made by receding glaciers and is home to many fish species. Visit Silver Lake, learn about the last ice age, and catch some largemouth bass!
White Clay Creek
White Clay Creek is an 18.5-mile long tributary of the Christina River and is the most stocked body of water in Delaware. Rainbow trout and largemouth bass are the most popular fish species in this creek.
---
The Featured Image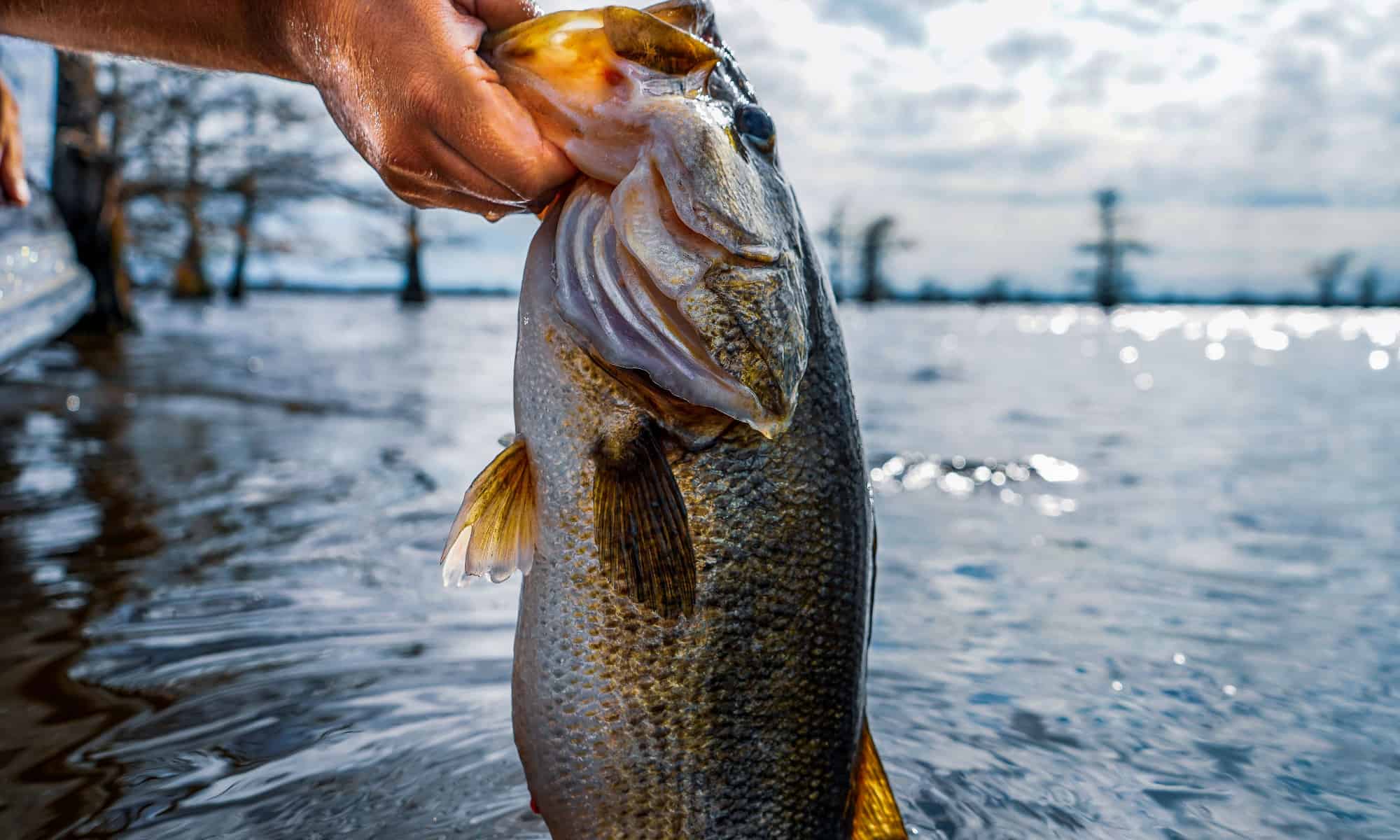 ---