Key Points:
An impressive specimen weighing 21.4 pounds set the Louisiana state record for red grouper.
Angler Jackson caught the Louisiana record red grouper weighing 21.4 pounds.
The angler used a live pogie, also known as gulf menhaden, as bait to catch the red grouper.
The red grouper that set the state record in Louisiana weighed an eye-popping 21.4 pounds. It's not really fair to say this fish broke the previous record. This red grouper obliterated the old record! The previous record red grouper (2014) weighed 13.25 pounds. That record held for eight years until angler Steve Jackson boated the new record red grouper on August 12, 2022. His massive fish bested the old record by more than eight pounds!
Catching A Record Fish
Jackson made the 10-hour drive from his home in Bentonville, Arkansas, to Venice, Louisiana, for this fishing excursion. His son and four business associates accompanied him. They intended to fish for tuna, but the weather was not conducive to tuna fishing. Instead, they began bottom-fishing with considerable success. They hauled in sizable triggerfish, scamp, and snapper.
Then, Jackson hooked into a fish that would land his name in the Louisiana record book. A state fisheries biologist witnessed the weighing of the red grouper on certified scales at the marina. The biologist confirmed the identity of the species as well as the weight. All signs pointed to a new state record, but working through the bureaucratic red tape of such things can sometimes be slow. Jackson caught the red grouper in August but didn't receive his state record certification until October. 
Celebration
After finally receiving confirmation of his record, the Arkansas fisherman celebrated on social media, saying, "Well, it's finally official. I am now the Louisiana state record holder for Red Grouper caught on a rod and reel!"
He thanked the charter boat captain for putting them on so many good fish and noted the best part of the experience was sharing it with his son. The Facebook post contains pictures of the official certification and, of course, a picture of the huge record-setting fish.
Record-Catching Bait 
Many anglers will want to know what Jackson used to catch the Louisiana record red grouper. He was using a live pogie as bait. "Pogie" is the common slang term for the gulf menhaden. These small fish are impossible to count in the Gulf of Mexico, numbering in the many, many millions. Schools of pogies aren't measured in numbers but rather in acres! 
Pogies are harvested commercially and used for fish oil and fish meal. The pogie industry is the largest fishing industry in the Gulf of Mexico by weight. Around 1.1 billion pounds of pogies are harvested each year.
The abundance of these small fish makes them a target for a litany of ocean predators. Fish from grouper to redfish to tarpon to sharks feed on pogies. They are among the most commonly used and most effective baits while fishing in the Gulf of Mexico.
Red Grouper
Groupers belong to the Serranidae family, a large family of fish that includes sea basses, sea perches, and jewfish. 
The red grouper (Epinephelus morio) is named for its brownish-red color. Due to its proliferation and its light, sweet taste, red grouper is the most common grouper found in seafood markets.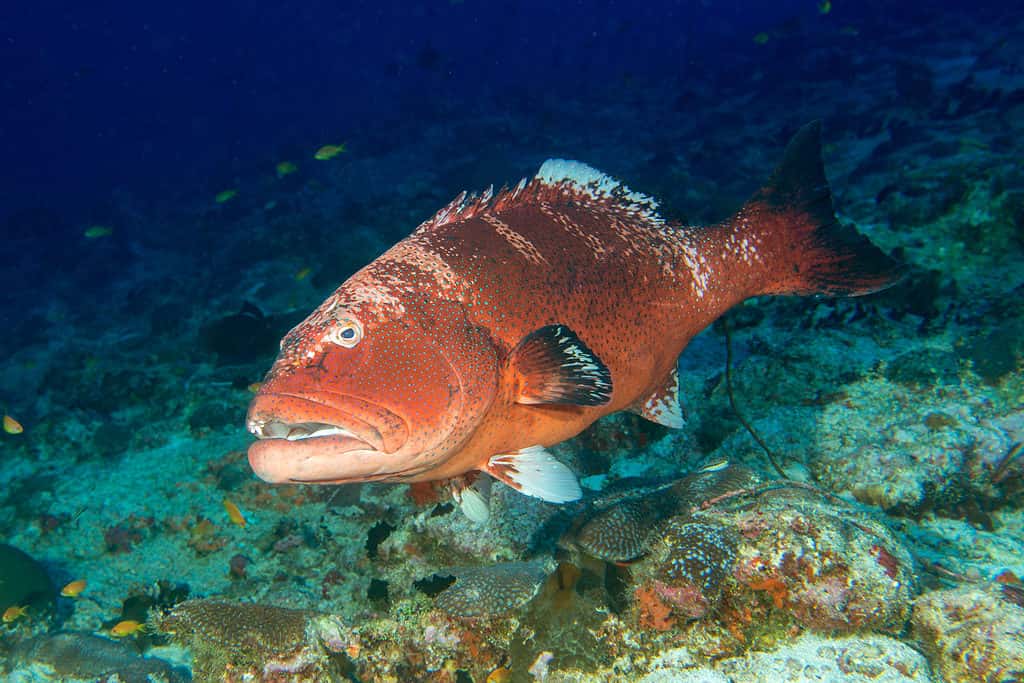 Size
Red groupers grow slowly, but they are rather long-lived fish. The oldest red grouper documented in the Gulf of Mexico was estimated to be 29 years old. This long lifespan allows red grouper to grow to lengths around 50 inches consistently. These fish usually weigh 50 pounds or more. 
Reproduction
These fish are protogynous hermaphrodites, meaning they start their lives as females, but some fish later transition to males. Red groupers reach sexual maturity around four to six years of age and spawn from February through June. The fish can spawn around 25 times in that five-month window.
Prey and Predators
Red groupers have huge mouths to inhale their prey. They are opportunistic feeders that will eat whatever prey is available. They are known to predate octopus, fish, lobsters, shrimp, along with many other aquatic animals. Red groupers swallow their prey whole, but by opening their oversized mouths and dilating their gill covers, they can swallow very large prey.
These predators can also become prey, especially when they are young. Small red groupers are a food source for sharks, moray eels, jacks, barracudas, and other groupers. Large sharks are among the very few ocean predators that can eat mature red groupers.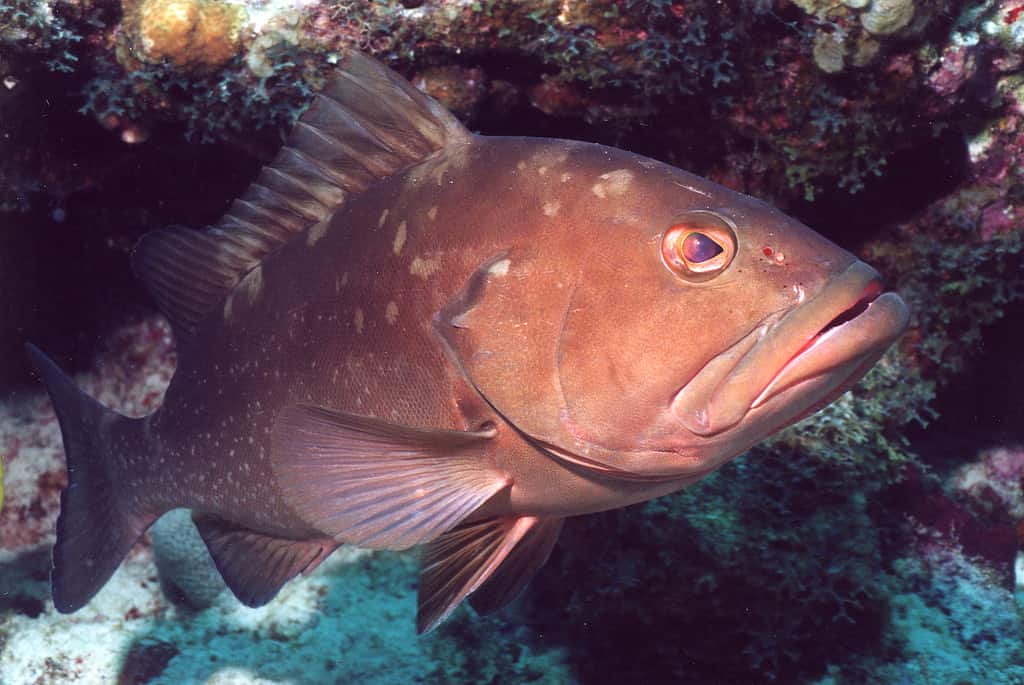 Range
Red grouper are found in the coastal waters of the United States from Massachusetts to the Gulf of Mexico. Their range extends as far south as Brazil.
World Record Red Grouper
Jackson's fish easily set a new Louisiana record, but the world record remains unbroken. In 1997, Del Wiseman, Jr. hauled in a mind-boggling red grouper in Florida weighing 42 pounds 4 ounces!
Where is Bentonville, Arkansas, Located on a Map?
Here is Bentonville, Arkansas, on a map:
---