New York State is in the northeastern United States and shares borders with Vermont, Massachusetts, Connecticut, and Pennsylvania. The state has over 20.2 million people and covers an area of 54,556 square miles. Albany is the capital of New York State, while the state's largest city is New York City. Other major cities include Buffalo, Rochester, Yonkers, and Syracuse. In this article, we discover the lowest point in New York, its benefits, and what it offers tourists and residents of this magnificent state.
New York's Lowest Point – Atlantic Ocean
The Atlantic Ocean marks New York State's lowest point at sea level. As such, it is home to several different plant and animal species not found elsewhere in New York State. This diversity makes it an important ecological site. 
The state's average elevation is 1,000 feet. Therefore, the average elevation of New York City (33 feet) is lower than the state average. This low elevation is due to its proximity to the Atlantic Coastal plains. With an average elevation of 64 feet, Albany – the state capital – has one of the lowest elevations compared to other major cities. For instance, Buffalo lies at an elevation of 600 feet, and Rochester was built at 505 feet above sea level. Consequently, New York City's elevation is generally lower than most other places in the state besides the Atlantic Ocean.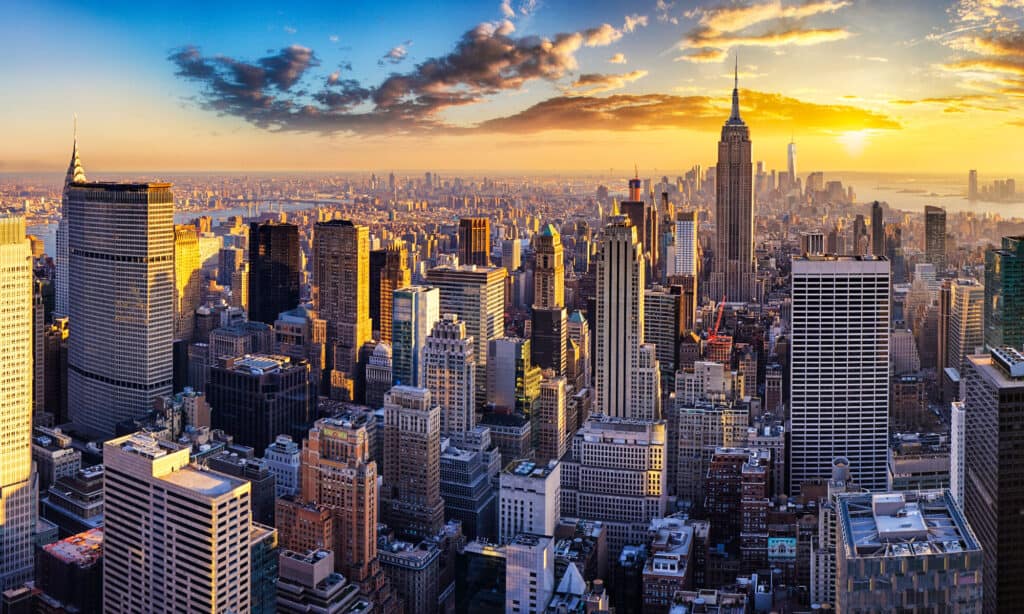 Geography And History Of New York
New York State is home to various landscapes, from the skyscrapers of New York City to the Adirondack Mountains. The state also has several rivers, lakes, and streams. One of the most striking features of New York State is Niagara Falls, near the border between New York and Ontario, Canada.
New York State has three distinct geographical regions: the Adirondack Mountains in the north, the Hudson River Valley in the center, and the Appalachian Plateau in the south. The Adirondack Mountains are home to New York's highest point, Mount Marcy, which rises to an elevation of 5,344 feet. The Hudson River Valley is a central agricultural region and is also home to many of the state's largest cities. The Appalachian Plateau is a primarily rural region that includes the Catskill Mountains and the Finger Lakes.
The state also has an impressive history dating to when the Native Americans originally inhabited the region. New York is included in the thirteen colonies that initially formed the United States of America and is renowned for its involvement in the American Revolution and the Civil War. Today, New York is one of the country's most populated and economically important states.
Atlantic Ocean: New York State's Lowest Point
New York's shoreline on the Northern Atlantic Ocean is home to various estuaries. The Peconic Bays system, Long Island south shore bays, and New York/New Jersey Harbor are some of the most valuable estuaries in the state for providing essential services to coastal communities.
These bodies also contain abundant marine life, which provides food for the fishing industry. Besides, these beautiful waters are an economic engine that drives the region's economy. Moreover, they provide valuable resources such as drinking water to many people.
The Atlantic Ocean Basin And New York
New York is home to a 914 square mile section of the Atlantic Ocean, known as the Atlantic Ocean Basin. However, this basin only includes the marine portions of the coastal waters and not any of the land areas. The gulf is teeming with life – both plant and animal – and provides essential habitats for many species of birds, horseshoe crabs, and other invertebrates. 
Much of the basin's beachfront property is public, making it accessible and enjoyable for all New Yorkers. The bay is a valuable resource for recreation, tourism, and commercial and industrial development. Visitors and residents who want to escape the city commotion usually head to one of New York's beautiful beaches. It is the perfect spot for vacations where you can take in all the Atlantic Ocean has to offer.
Tourism Industry In New York State
Any discussion of the tourism industry in New York State must begin with an acknowledgment of the historical and natural attractions that bring visitors to its doorsteps. From Niagara Falls to the Atlantic basin shorelines, New York has long been a destination for those seeking to experience many of the most popular, beautiful vacation destinations on the planet.
In recent years, however, the state's tourism industry has become much more than simply a collection of world-class attractions. Thanks to the efforts of dedicated business owners, entrepreneurs, and government officials, New York has developed into a premier destination for both leisure and business travelers alike. 
Today, tourism is vital to the state's economy, driving billion-dollar revenues and supporting hundreds of thousands of jobs. In 2019 alone, 265.5 million visitors spent a record-high of $73.6 billion, while in New York, generating an economic impact of $117.6 billion. With so much to offer visitors, it is no wonder that New York continues to be popular.
Visit The Best Places On The New York Coast's Lowest Point
Many are looking to escape the hustle and bustle of New York's cities to recover at the state's lowest point, the Atlantic Ocean City. Fortunately, plenty of coastal towns within driving distance offer a much-needed break from city life. Here are some beautiful places to visit on the New York coast:
Fire Island
Fire Island is a popular place to visit on New York's coast. This 32-mile-long, car-free barrier island is home to several charming communities, including Ocean Beach, Cherry Grove, and The Pines. Plus, Fire Island is home to the Fire Island National Seashore. This protected area welcomes bird watchers and campers in droves. If you'd rather spend your vacation swimming, surfing, or sunbathing, head to Robert Moses State Park in the summer to enjoy its beautiful beaches.
Shelter Island
Are you looking for a nearby getaway that feels a world away? Consider Shelter Island, one of Long Island's hidden gems. Only several hours from New York City, at the lowest point, lies Shelter Island. This island allows visitors to rejuvenate body and spirit in a beautiful natural setting. Shelter island also includes the Mashomack Preserve, a protected area with hiking trails, wildlife, and stunning views. Downtown Shelter Island features Victorian-era buildings housing charming boutiques and restaurants.
Last, no visit should be over until you relax on one of the island's gorgeous beaches. Whether looking for a peaceful retreat or an adventurous escape, Shelter Island is the perfect place to enjoy all that Long Island offers.
Thousand Islands
Regarding New York's coastline, the Thousand Islands region is worth a visit. This area – which covers more than 1,800 islands – is best explored via an open-air boat tour. You'll see scenic lighthouses, mansions, and castles and learn about the region's exciting history (including its real-life pirates and Gilded Age starlets). Once you're ready to return to land, check out Wellesley Island State Park and Mary Island State Park, which offer excellent hiking and fishing opportunities.
New York's Lowest Point – Gem Of The U.S
The Atlantic Ocean is a true gem in the United States, and its importance to New York cannot be understated. With its many benefits and vast history, there is much to explore about this natural wonder. This article thoroughly represented the Atlantic Ocean and its significance to New Yorkers and tourists. Undoubtedly, the Atlantic Ocean is the lowest point and a vital part of New York City. It's not just a beautiful place to visit – it's an essential part of the city's culture and economy. If you are ever in New York, take some time to appreciate this natural wonder.
Where Is New York State Located On A Map?
The Atlantic Ocean in New York State is located off the southeast region of the state. New York State is located in the northeast region of the United States, in what is known as the mid-Atlantic, and is bordered by New Jersey to the south, Pennsylvania to the south and east, Massachusetts, Connecticut, and Vermont to the east, the Canadian Provinces of Ontario, and Quebec to the North, and Lake Erie and Lake Ontario to the west.
Up Next:
More from A-Z Animals
---
The Featured Image
---
Sources

USGS, Available here: https://pubs.usgs.gov/gip/Elevations-Distances/elvadist.html
NETSTATE, Available here: https://www.netstate.com/states/geography/ny_geography.htm
Department of Environmental Conservation, Available here: https://www.dec.ny.gov/lands/207.html
Department of Environmental Conservation, Available here: https://www.dec.ny.gov/searchresult.html#stq=Atlantic%20Ocean%20Basin&stp=1
Empire State Development, Available here: https://esd.ny.gov/industries/tourism
U.S. News, Available here: https://travel.usnews.com/rankings/best-places-to-visit-in-new-york/