A beluga's globular head is its most distinctive feature. However, these social underwater creatures are so much more than their unique appearance. Of all the whales, belugas are the most vocal. They display an exceptional ability to swim backward, which aids them as they navigate arctic waters. Although known for their white color, they don't develop this color until about eight years into their lives. Beluga whales are actually born dark gray. They survive icy waters with their tough dorsal ridges and lots of blubber to keep them insulated. Unfortunately, belugas are endangered, facing a slew of threats from climate change, humans, and predators. To get an opportunity to behold the magnificence of these sea creatures in person, you can visit one of the aquariums with beluga whales.
4 Aquariums with Beluga Whales
1. Georgia Aquarium
Location: Atlanta, Georgia
The Georgia Aquarium is one of the lucky aquariums with beluga whales. At the Georgia Aquarium, you can visit a wide variety of animals. These animals include American alligators, Asian small-clawed otters, manta rays, and whale sharks. Guests can enjoy animal encounters, exhibits, and guided tours. Take the Behind the Seas Tour, which takes you into the backstage area of the most popular exhibits. Their website boasts a live stream webcam that gives you a look at what the beluga whales are doing at any given time throughout the day.
When you visit, you can take in the splendor of these small white whales and appreciate their features up close. Learn everything there is to know about them from their ability to swim backwards to their opportunistic feeding habits. To remember your visit, you can pick up beluga whale gifts from the gift shop. To make your visit even more magical and memorable, you can even purchase a painting completed by none other than a beluga whale. Could you have guessed these gorgeous creatures double as abstract artists?
2. Mystic Aquarium
Location: Mystic, Connecticut
At the Mystic Aquarium, guests can "seas the day" and enjoy an educational experience filled with mystical animals. You can experience African penguins, California sea lions, northern fur seals, sand tiger sharks, stellar sea lions, and the easy-to-identify beluga whale. You can take in these tremendous beauties that grow up to fifteen feet long and weigh up to 2,500 pounds in a beautiful setting. Admire their distinctive melon heads up close.
If you can't make it, book a Zoom call to connect with the beluga team and check out a beluga painting session in action. This is an enrichment program that gives you a unique look into the world of these belugas. This experience also gives you an opportunity to ask experts your most pressing questions. Plus, you get the finished beluga painting delivered directly to your home so you can spruce your space with it! In addition, there are tons of experiences to explore, including Marine Biologist for a Day. This experience gives you the opportunity to learn, in a hands-on fashion, what an animal expert does in a day.
3. SeaWorld
Locations: San Diego, California, Orlando, Florida, and San Antonio, Texas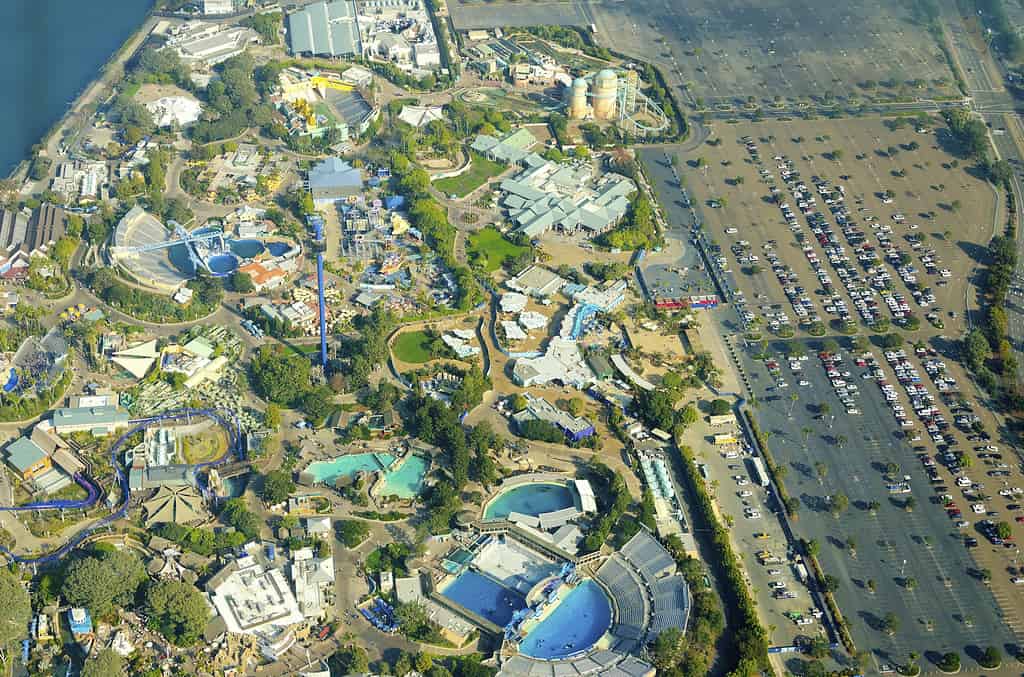 SeaWorld has a couple of different locations throughout the United States where you can see beluga whales. There's a list of underwater creatures you can visit that includes orcas, dolphins, bat rays, sea turtles, sharks, and beluga whales. At the San Diego location, you can schedule a Beluga Up-Close Encounter. This allows you to enter their habitat and peek behind the veil to learn more about them. You can also meet these creatures via the Beluga Interaction Program, which invites you into their naturalistic habitat where you step into the water, touch, and feed these gentle giants.
At the Orlando location, you can meet belugas alongside walruses in the Wild Arctic® exhibit and take a Beluga Whales Up-Close Tour for a more intimate, hands-on experience. In San Antonio, you have several options that include the Ultimate Animal Experience, Animal Adventure Tour, In-Water Beluga Interaction, and the Beluga Whale Tour. Visit any of these three aquariums with beluga whales for a memorable time.
4. John G. Shedd Aquarium
Location: Chicago, Illinois
At the John G. Shedd Aquarium, you can enter the mesmerizing world of aquatic creatures. Animals you can see include turtles, sharks, sea otters, corals, seahorses and seadragons, stingrays, and beluga whales among others. There are a number of exhibits to keep you busy during your visit, including the Abbott Oceanarium, Wild Reef, Caribbean Reef, Polar Play Zone, and Oceans.
To find belugas, head to the Abbott Oceanarium or the Polar Play Zone where you have the opportunity to enjoy a Beluga Encounter, learn from audio guides, and learn to differentiate the belugas that call this aquarium home (their names are Atlas, Aurek, Beethoven, Naya, Kimalu, Kayavak, Bella, and Annik!). Although it's fascinating enough to just stand and witness these large beings swirling about throughout the water, it's another experience entirely when you learn their names and get to know a bit more about their pasts and personalities.
Summary of the 4 Lucky Aquariums with Beluga Whales
| Rank | Aquarium | Location |
| --- | --- | --- |
| 1 | Georgia Aquarium | Atlanta, Georgia |
| 2 | Mystic Aquarium | Mystic, Connecticut |
| 3 | SeaWorld | San Diego, California, Orlando, Florida, and San Antonio, Texas |
| 4 | John G. Shedd Aquarium | Chicago, Illinois |
---