Americans love Florida. In 2022, the U.S. Census Bureau found that it was the fastest-growing state in 2022 with over 300,000 people moving from other regions to the Sunshine State. Florida also ranks in the top three spots for something else: flooding.
According to National Flood Services, Florida is the second-most flood-prone state in America behind Louisiana. As such, hopeful Floridian residents should educate themselves on the most flood-prone towns in Florida before they make a major investment.
Learn more about the most flood-prone towns in Florida, the reasons that Florida floods so much, and considerations to take when choosing to live in a flood-prone Florida town.
The 10 Most Flood-Prone Towns in Florida
In terms of both properties that have a 26% chance or greater of flooding in the next 30 years, and total flood risk calculated in dollars, the following coastal towns and cities in Florida have the most flood risk out of any others in the state.
Cape Coral
The canal-laden Cape Coral has an elevation of three feet above sea level and sits near the Gulf of Mexico. Covered with mangroves, Cape Coral is a relaxing and beautiful place to live on the water — when it's not raining.
Two major causes of floods affect Cape Coral: heavy rain and tidal surges. According to some estimations, nearly every building in the town — a staggering 90% — has at least some risk of flooding. Most of the buildings at risk don't sit at a moderate risk, either. The majority have a high risk of flooding.
Tampa
Tampa, a major Floridian city located on the state's Gulf Coast, has a variety of attractions, activities, and cultural offerings that make it a vibrant place to live or vacation. Its aquarium, zoos, and amusement park, Busch Gardens, draw in families while vibrant neighborhoods like Ybor City remain hotspots for dining, shopping, and nightlife.
While Tampa can sometimes dodge landfall from major hurricanes, it almost always feels some sort of effect from the storm. Most recently, Tampa faced major flooding from Hurricane Idalia even though the landfall of the storm was over 100 miles away. The floods covered streets, making them undrivable.
Jacksonville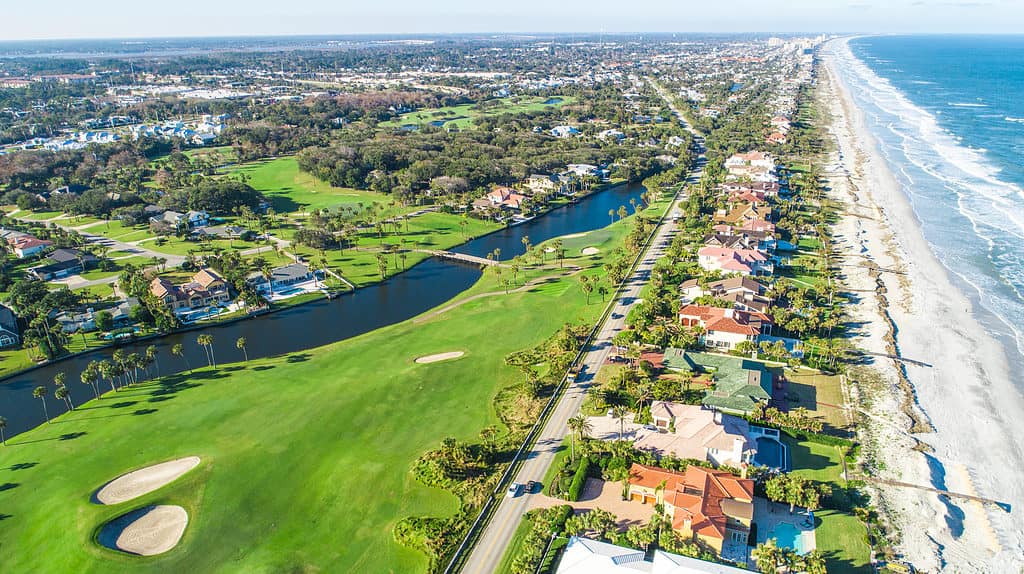 Located on the Atlantic coast of Florida, Jacksonville is a hub of music and art. Some historians even call it the "Harlem of the South" for its influence on music in the twentieth century. While Jacksonville sits on the coast, it isn't a coastal city. Some of the nearest beaches are 15 to 20 miles away from the semi-inland city.
Flash flooding is almost the norm in Jacksonville. According to Risk Factor, a whopping 37,549 properties have greater than a 26% chance of being severely affected by flooding over the next 30 years in Jacksonville.
Fort Lauderdale
According to VisitFlorida.com, some call Fort Lauderdale the "Venice of America" for its picturesque Las Olas Boulevard which offers gondola rides, upscale shopping, and high-quality restaurants. With sandy beaches, unique museums, and a thriving retirement community, it's a top destination for both retirees and families looking for a sunny vacation spot.
In April 2023, catastrophic flooding occurred in Fort Lauderdale. The area reported an astonishing 25 inches of rain in a flash flood event that crippled the town, as well as nearby areas of Dania Beach, Hollywood, and South Miami. Preliminary assessments after the flood projected damage to cost over $100 million.
St. Petersburg
Located on Florida's Gulf Coast, St. Petersburg boasts art museums, golf courses, marinas, and sandy beaches. Sometimes called the "Sunshine City in the Sunshine State," St. Petersburg's usually nice weather fades away during heavy rain storms or hurricanes when the land easily becomes flooded.
Recent Hurricane Idalia left some streets completely impassable — so much so that residents got out their paddleboards to traverse from their homes to another destination. Shore Acres in St. Petersburg floods often, but Hurricane Idalia brought over four feet of water to front doors and garages.
Fort Myers
Tourists love Fort Myers for its incredible beaches; perfect for combing the sands, looking for shells, kayaking along the shore, or bird watching. Fort Myers sits about 10 feet above sea level, making it one of the lowest-lying major cities in Florida.
With its low sea level position, wetlands, and rivers, it's no wonder that Fort Myers floods often. Most recently, with Hurricane Idalia, Fort Myers' downtown saw inches of water on most major streets. Similarly, Hurricane Ian caused flooding around Fort Myers for about 25 miles inland.
Lehigh Acres
Located in Lee County, Lehigh Acres is most well-known for its proximity to Fort Myers and fast-growing neighborhoods. First planned in the 1950s, the developer abandoned the project after World War II. In the early 2000s, redevelopment occurred with the construction of over 7,000 new homes in 2006 alone. After the Great Recession and COVID-19 pandemic, life came back to the area and it has steadily grown in popularity.
Lehigh Acres has a moderate to major risk of flooding in many areas. Streets quickly become flooded when heightened weather events occur, including heavy rains and tornado warnings.
Miami
Even the second-largest city in Florida isn't strong enough to stave off flooding. The coastal metropolis of Miami is known most for its vibrant party scene and diverse, colorful culture. The pristine beaches and diving sites make it a great destination for aquatic adventurers. However, in stormy times, the beaches and deep pockets of the ocean only exacerbate flooding.
During the 2023 Hurricane season, Hurricane Idalia skirted past Miami — but still caused flooding with tidal surges. The city of Miami also got slammed by heavy rain and coastal flooding ahead of more tropical systems forming in the Atlantic Ocean.
Naples
The sands of Naples aren't the only thing that people remember about this gorgeous town. It remains both a retirement destination for many Americans, as well as a leisure spot for vacationers looking for high-end shopping, world-class theater and art, and sophisticated dining opportunities.
Naples has an extreme risk of flooding. For example, even before Hurricane Idalia hit Florida in August 2023, the town began to see flooding from tidal surges and rainfall. The local park, North Collier Park, even created a do-it-yourself station for residents to create sandbags to protect their properties.
Siesta Key
Siesta Key is a barrier island off the coast of Sarasota. More than anything, it's known as a relaxing getaway for families and couples featuring a small-town vibe, cute restaurants, unique shops, and sandy beaches.
Most recently, Siesta Key saw major and minor flooding after Hurricane Idalia swept through the coastal town. The flooding overtook many roads and side streets, caused damage to beach dunes, and shuttered some businesses for a few days after the storm to clean up the messes.
Considerations for Residents of Flood-Prone Towns in Florida
Just because a town is flood-prone doesn't mean it's not worth living in. Adrian Santiago Tate ended up leaving his geophysics Ph.D. at Stanford University because he felt an urgency to do something about flooding. He moved back to Florida to bootstrap HighTide Intelligence, which provides governments in Florida, California, and Puerto Rico with flood risk analysis.
"After Hurricane Ian, we decided to make our flood risk data available to the public and launched Arkly.com so that homeowners could compare their risk to the cost of risk management solutions such as flood insurance and mitigation and take action," shared Tate. "Our mission is to make it possible for people to continue enjoying life by the water."
In conversation with A-Z Animals, Tate expounded upon the risks and considerations businesses and homeowners should take amid Florida's most flood-prone towns.
"Flood risk in Florida today is already high, but when you consider climate change, it becomes especially worrying," Tate started. "Nobody knows exactly what the future holds, but scientists all agree that we can expect to see more extreme weather events, which cause both coastal and inland flooding, as well as higher sea levels. HighTide Intelligence has modeled storm surge and sea level rise risk for all of Florida. We found that millions of buildings are at risk from storm surge in the present, and that more than a million buildings will be permanently underwater by the end of the century."
When choosing to live or work in a flood-prone town in Florida, keep a few considerations in mind as you buy your home.
Protect Your Possessions
Across the board, home buyers whose potential new residence lies in a moderate or high-risk flood zone will tend to pay higher rates. Lenders may require buyers to have flood insurance when they buy a home, too, depending on the location of the residence.
If you know you live in a flood-prone town, it's smart to store your most valuable items and prized possessions in air-tight, waterproof containers. Try to store them above water level, like in attics or upstairs storage closets, as well. This could include small instruments, valuable books, antique jewelry, or artwork.
Heirlooms like large furniture or upholstery — especially pieces you use every day — may need to weather the flood. After you've come back home to assess the damage, you can restore the item if flood waters incur any damage.
While birth certificates, marriage licenses, and wills may not rank among your prized possessions, they're important legal documents you should have access to at all times. If you only have paper copies, scan them into your computer so you have the digital file. Because many people store paper documents in file cabinets or shelves on the ground level of a home, they run the risk of ruining their only physical copies of the document.
Evacuation Preparedness
When it comes to flooding in Florida, residents don't always need to evacuate their homes. However, they must stay aware of their home's integrity, the surrounding area's zone classification, and updates about the weather's intensity.
According to FloridaDisaster.org, residents who live in an evacuation zone ordered to evacuate by local authorities should leave no matter their circumstances. They can travel to a shelter, stay at a hotel outside of the evacuation area, or go to a friend or family's home that's outside the evacuation area.
Flooding doesn't always mean immediate evacuation. For example, during torrential rains, residents may not need to leave. Similarly, if your home was built after 2002 with features that make it resilient to hurricanes and flooding, it might be safer to stay in your home than try to fight the weather outside.
When it is time to evacuate, you'll need a plan. This includes:
Emergency bags or kits with essentials like food, water, clothes, and survival tools.
An evacuation destination, and a backup, to decrease delays in departure.
Plans to ensure the safety of vulnerable family members who live in the home, including the elderly, infants, and pets.
Reasons for Florida Flooding
While communities across the United States flood for a variety of reasons, Florida has a few particular reasons why it sees so many floods.
"The element that makes Florida so special — water — is also what can make life in the Sunshine State risky (and I'm not talking about gators)," Tate informed A-Z Animals. "In simple terms, flooding happens when coastal waters rise or heavy rainfall overwhelms drainage systems. The Gulf Coast of Florida is especially susceptible to storm surge flooding caused by hurricanes, which are fueled by hot water in the Gulf of Mexico. Additionally, the Gulf is shallow, which leads to higher storm surges than deep water. Combining all the physics, you can expect storm surge on the Gulf coast of Florida to be approximately double what it would be on the Atlantic coast."
In addition to Tate's expert analysis, some related factors can cause or worsen Florida flooding.
Homes at Sea Level
Outside of the natural disasters and weather events that cause an influx of water to rush into Florida, the elevation of homes is a major reason for Florida flooding. Did you know that the average elevation for a home in Tampa is only 48 feet above sea level? Miami is even worse — most of the area's elevation averages to just six feet above sea level.
Why does that matter?
These low-lying areas have a fundamental risk for flooding if any sudden surge of water invades the area. Whether it be a storm surge or a heavy thunderstorm, storms have a greater destructive ability in cities at or around sea level.
Saturated Ground
When the ground or soil is already saturated with water, it's unable to absorb any additional moisture brought to it. Because rain, river water, or other precipitation has nowhere to go, it collects on the surface of the ground. During significant weather events in a place with already saturated ground, the large amount of rain simply piles on top of itself, causing flooding.
South Florida towns, especially by the coast, have a constantly saturated ground. Coupled with its low sea level and proclivity to be the landfall of hurricanes, it creates the perfect storm for a bad flood.
Hurricanes and Rainfall
Both coastal towns and inland cities suffer from floods brought on by hurricanes and heavy rainfall. Hurricanes bring thunderstorms, tornados, and tidal surges — all of which, on their own, can cause flooding in already low-lying areas. When combined, these weather events can (and do) cause massive destruction. When accounting for deaths after hurricanes, many find that the cause was drowning in a flooded area, not trauma. This was especially true in the early twentieth century, when the U.S. Weather Service had just begun and tracking equipment failed to accurately predict storm trajectories. As such, unexpected flooding led to the deaths of many.
Tidal Surges
Along with hurricanes and rainfall are tidal surges. Also known as storm surges, this is an abnormal rise in water above the normal tidal level — not a random wave. Fueled by low-pressure systems like cyclones, tropical storms, and hurricanes, tidal surges spurred by storm tides can cause extreme flooding with inches or feet of water over the normal amount.
Hurricanes like Katrina illustrate the devastation floods brought on by tidal surges can have.
Florida Flood Watch
Living in Florida brings many residents joy. Most of the year, the weather remains sunny (with a few afternoon showers) and beautiful. However, living in towns at or below sea level carries an inherent risk of flooding. When buying a home or fortifying your current residence in a flood-prone zone in Florida, remember that insurance may cost you more and to prepare a plan for evacuation if weather conditions become dangerous.
The photo featured at the top of this post is © Chad Robertson Media/Shutterstock.com
---