Throughout the world are beautiful rock formations. These wonders are created over thousands of years of the changing landscape, with the natural flow of sand, water, and wind. Rock formations change shape over the years depending on their location and how much exposure they get to the elements. Some barely change, while others drastically shift throughout history.  Each time the formations change, it reveals more about the earth's physical history.
You don't have to venture to far-off places to see them either, as the United States is home to many. Here are some of the most incredible rock formations in the United States to see.
1. The Grand Canyon, Arizona
This rock formation is one of the most famous in the United States due to its size and incredible geological features. As one of the Seven Natural Wonders of the World, it welcomes over 5 million visitors each year.  
The Grand Canyon formed five to six million years ago as the Colorado River flowed through. You can see the various rock layers, seeing parts of geologic history as some rock layers date back billions of years. The canyon measures 277 miles long, 18 miles wide, and over one mile deep.
2. Kasha-Katuwe Tent Rocks National Monument, New Mexico
Volcanic eruptions six or seven million years ago resulted in deposits of pumice, ash, and tuff that sprung up in the shape of gigantic cones. The formations occurred from volcanic eruptions and resemble tents, which contributes to its name, while the Kasha-Kutwe means "white cliffs" in the Pueblo language Keresan.
Kasha-Katuwe Tent Rocks is currently closed to improve access and address other concerns. When open, visitors can walk the Cave Loop Trail for an easy way to enjoy the scenery. However, if you're looking for a challenge, you can choose the Canyon Trail, which is uphill through a slot canyon. 
3. Palo Duro Canyon, Texas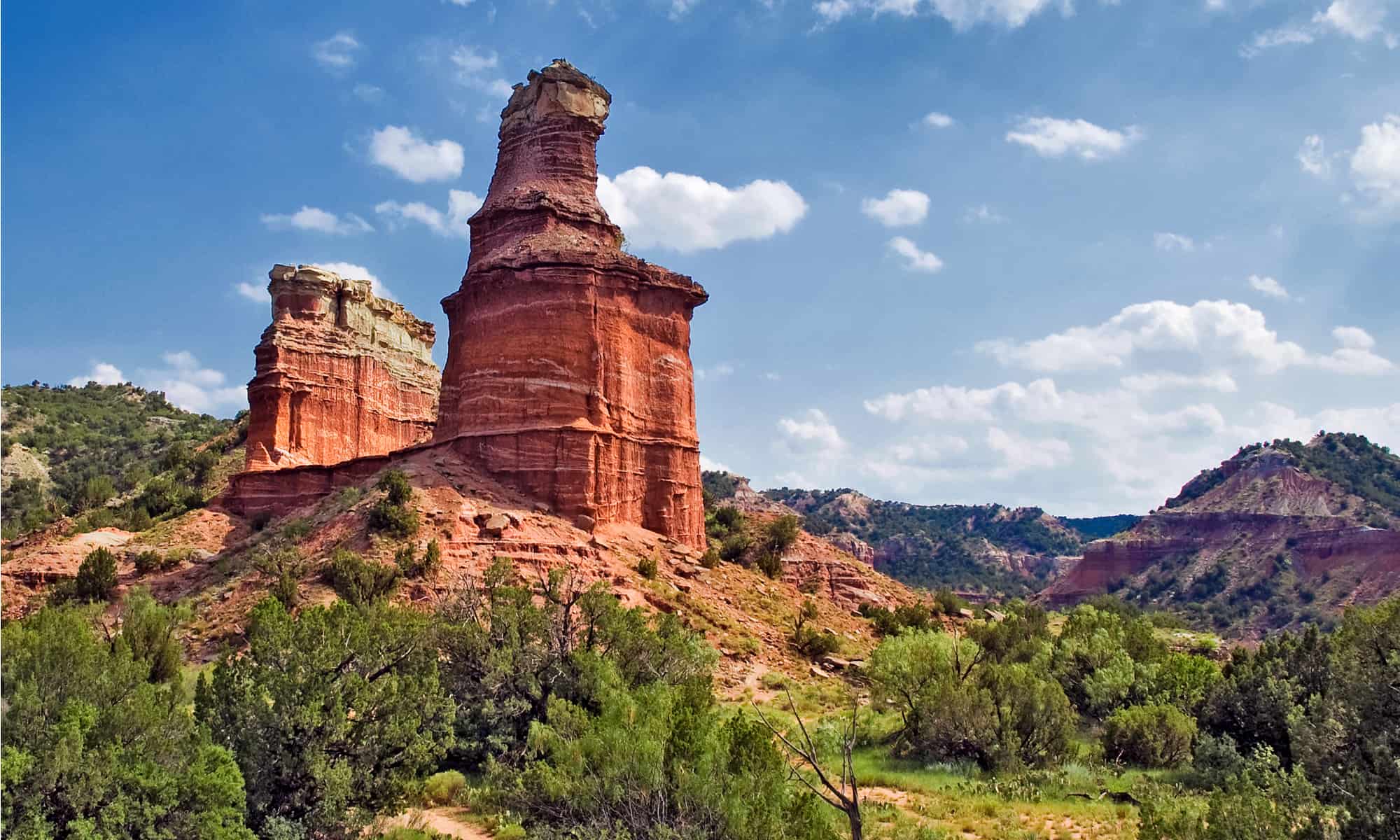 Located in Northern Texas, the Palo Duro Canyon has been a protected state park since 1934. It is the second largest canyon in the county at 120 miles long, 20 miles wide, and more than 800 feet deep. It was formed by water and sediment erosion from a fork of the Red River over the past 90 million years.  
4. The Totem Pole, Arizona
The Totem Pole is part of Monument Valley, a group of rock formations near the intersection of the borders of Colorado, Nevada, New Mexico, and Utah. This area is called the 'Four Corners' region due to its location.   
The rock formation is made up of three visible layers, or stratifications, that began forming around 245 million years ago during the Late Triassic Period. These layers vary in color and texture, making it easy to see the differences.   
The other formations in Monument Valley include:
Camel Butte
Three Sisters
The Mittens
Elephant Butte 
The Thumb
5. Half Dome, California
This rock formation sits in Yosemite National Park in California and began around 65 million years ago. While it looks like the other half of a dome is no longer there, it likely never existed. Instead, the rock likely cracked apart into thin shells, leading to a smooth rock mountainside.  
6. Antelope Canyon, Arizona
Antelope Canyon is a slot canyon in Arizona that occurred because of years of flash flooding during monsoon season. The formation of Antelope Canyon began between 174 and 191 million years ago. 
The floodwaters gathered speed and picked up segments that eventually carved the contours and corridors of the incredible canyon. Floods still occur in the area, so erosion continues to slowly change the rock formation.  
7. Turnip Rock, Michigan
This rock formation on Lake Huron is shaped like a turnip and has trees growing on top of it. It was formed from wave erosion over thousands of years, although the formation time is unknown. This formation has a flat top and tapers down to a narrow base rising from the water.
Turnip Rock is close to the shore, but that part of the shoreline is private property protected by a gated community. Instead, many people kayak to the Turnip Rock to get an up-close look at the incredible sight.
8. Monument Rocks, Kansas
Monument Rocks in Kansas was formed around 80 million years ago and became the United States' first natural national landmark in 1968. It is made of seventy feet of eroding chalk left behind by an ancient sea that once filled the area. If you visit, don't touch the rocks because preservation is essential as contain numerous fossils.   
Monument Rocks rises unexpectedly in farmland, catching many people off guard. It's on private property, but you can walk around the monument because the owners allow visitors.
9. Horseshoe Bend, Arizona
Formed 200 million years ago, Horseshoe Bend was carved by the Colorado River. It is in the Glen Canyon National Recreation Area and is a horseshoe-shaped sandstone formation.
As water continuously moved over larger dunes, it created a formation by strengthening dunes as minerals mixed with water and snow. The water flowing through the middle of Horseshoe Bend includes minerals such as iron, hematite, platinum, and granite.   
10. Natural Bridge, Virginia
Erosion from Cedar Creek in Virginia created the Natural Bridge, a large gorge that goes through limestone rock. This 215-foot natural archway was formed several hundred thousand years ago. Scholars say President Thomas Jefferson's viewing of the Natural Bridge occurred on August 23, 1767. He eventually purchased the formation for $160 in today's money and owned it till his death, after which it was sold as part of his estate.
Geologists believe the Natural Bridge is likely the last part of a cave or tunnel roof the Cedar Creek flowed through. Over time, deterioration levels led to the collapse of the rest of the land. It's unclear when this happened, but it likely took thousands of years to develop.
11. Goblin Valley State Park, Utah
This state park is home to towering red buttes and cliffs. The valley below also has rock pillars that look like goblins but are scientifically called "hoodoos". These goblin-like formations were created by water erosion and dust blowing around the valley.
This area was once next to an ancient sea, and the formations are made of Entrada sandstone. The formation process likely began 170 million years ago and continually changes because of erosion.
12. Craters of the Moon, Idaho
The Craters of the Moon National Monument and Preserve in Idaho consist of 618 square miles of lava. It formed between 2,000 and 15,000 years ago and includes many volcanic rock formations, including:  
Lava tubes
Tree molds
Cinder cones
Lava beds
Spatter cones
Lava rivers
13. Rock City, Kansas
Rock City is the size of two football fields and is full of enormous sphere-shaped rocks with space in between to walk around. It creates a maze-like landscape that can be fun to explore. The rocks are made of Dakota sandstone, and the formations occurred about 100 million years ago when an inland sea covered the area.  
One of the best parts of visiting Rock City is that you are encouraged to climb on the formations. It's the perfect place for kids to learn about geology and history while burning energy and exploring.
14. Elephant Rock, Nevada
This formation is in the Valley of Fire State Park in Nevada and is close to the east entrance station if you want to check it out. You'll take a trail to the elephant rock, named after what it looks like.
The Valley of Fire State Park spans 40,000 acres and is made of orange-red Aztec sandstone. Sandstone and rock formations were likely formed 150 million years ago during the Jurassic period, but the state park wasn't formed until 1935.   
An interesting part of the rock formations in Valley of the Fire State Park is that there is evidence of man living in the area 2,500 years ago. This information was determined based on petroglyphs carved in the rocks.
Other rock formations found at this state park include:
Beehives
Balancing Rock
White Domes
Mouse's Tank
Seven Wonders
Atlatl Rock
Arch Rock
Pink Canyon
15. Devils Tower, Wyoming
This rock formation in Wyoming occurred when magma slowly cooled and solidified underground. As time passed, erosion exposed the Devils Tower sometime between 195 and 225 years ago during the Triassic period, resulting in what we see today.   
Once exposed, erosion didn't end. Today, the formation still erodes but maintains a great height of 867 feet above the ground. According to park employees, baseball-sized pieces of the rock fall regularly.
16. Arch Rock, Michigan
You can find Arch Rock on Mackinac Island, MI, which forbids travel by car. You must travel by bicycle, horse, or carriage. The rock formation spans 146 feet, and it is easy to reach for a beautiful sight of it framing Lake Huron. Arch Rock formed about 7,500 years ago during the Nipissing post-glacial period. 
17. Tufa Towers, California 
California's Mono Lake features Tufa Towers rising above the water's surface. Mono Lake is a shallow saltwater lake with high salt concentration and no ocean outlet to lower the levels.   
The salt comes from Sierra streams that also provide minerals, including calcium. As salt and calcium mix, a chemical reaction creates the calcium carbonate spires. Tufa began forming in the lake tens of thousands of years ago and continues today.
18. Arches National Park, Utah
Southeastern Utah boasts the Arches National Park, known for having the largest concentration of arches worldwide. With over 2,000 natural sandstone arches, it shows the power of erosion and provides an incredible sight you'll never forget. The formation of the famous arches began around 65 million years ago and has continually changed throughout the ages.
Arches National Park also has the 5th longest stone arch in the world, called the Landscape Arch. The top of the Landscape Arch is so thin that visitors aren't allowed to go beneath it because it could collapse anytime.
19. Bryce Canyon, Utah
The incredible rock formations at Bryce Canyon are red and pink, with many in the shape of pillars. Some pillars look like they have a person's head on top of them, but it was how the elements naturally shaped it. The formation of this canyon occurred during the Cretaceous period 100 million years ago, as the layers show Dakota Sandstone as the oldest layer.
Summary of Most Incredible Rock Formations in the United States
| | | | |
| --- | --- | --- | --- |
| Number | Rock Formation | Location | Likely Formation Time Period |
| 1 | The Grand Canyon | Arizona | 5-6 million years ago, Miocene Epoch Period |
| 2 | Kasha-Katuwe Tent Rocks National Monument | New Mexico | 6-7 million years ago, Miocene Epoch Period |
| 3 | Palo Duro Canyon | Texas | Throughout the past 90 million years |
| 4 | The Totem Pole | Arizona | 245 million years ago, late Triassic Period |
| 5 | Half Dome | California | 65 million years ago, the Cretaceous Period |
| 6 | Antelope Canyon | Arizona | 174-191 million years ago, Jurassic Period |
| 7 | Turnip Rock | Michigan | Unknown |
| 8 | Mountain Rocks | Kansas | 80 million years ago, Cretaceous Period |
| 9 | Horseshoe Bend | Arizona | 200 million years ago, Triassic Period |
| 10 | Natural Bridge | Virginia | Unknown |
| 11 | Goblin Valley State Park | Utah | 170 million years ago, Jurassic Period |
| 12 | Craters of the Moon | Idaho | 2,000-15,000 years ago |
| 13 | Rock City | Kansas | 100 million years ago, Cretaceous Period |
| 14 | Elephant Rock | Nevada | 150 million years ago, Jurassic Period |
| 15 | Devils Tower | Wyoming | 195-225 million years ago, Triassic Period |
| 16 | Arch Rock | Michigan | 7,500 years ago, Nipissing Post-Glacial Period |
| 17 | Tufa Towers | California | Hundreds of thousands of years ago |
| 18 | Arches National Park | Utah | 65 million years ago, Cretaceous Period |
| 19 | Bryce Canyon | Utah | 100 million years ago, Cretaceous Period |
The photo featured at the top of this post is © Lu Paniagua/Shutterstock.com
---