Dinosaurs are some of the most fascinating creatures that have ever existed on Earth. They were large and powerful and roamed the earth for millions of years before us. But what about flying dinosaurs?
Technically, there were no "flying dinosaurs" as the term "dinosaur" refers to a specific group of reptiles that lived on land and became extinct around 66 million years ago. However, many species of flying reptiles called pterosaurs lived alongside the dinosaurs during the Mesozoic Era. Pterosaurs are often commonly referred to as "flying dinosaurs" or "pterodactyls", and these are the "dinosaurs" that we'll be covering today.
You might have seen them in movies or pop culture, but these flying creatures were 100% real. There are currently only a handful of known pterosaurs. However, we are likely to discover more in the future. With new technological advances and our deepening understanding of the Earth's history, we may soon reveal more about these incredible creatures.
Here, we will discuss and get to know the most common "flying dinosaurs" that existed millions of years ago.
1. Pterodactylus antiquus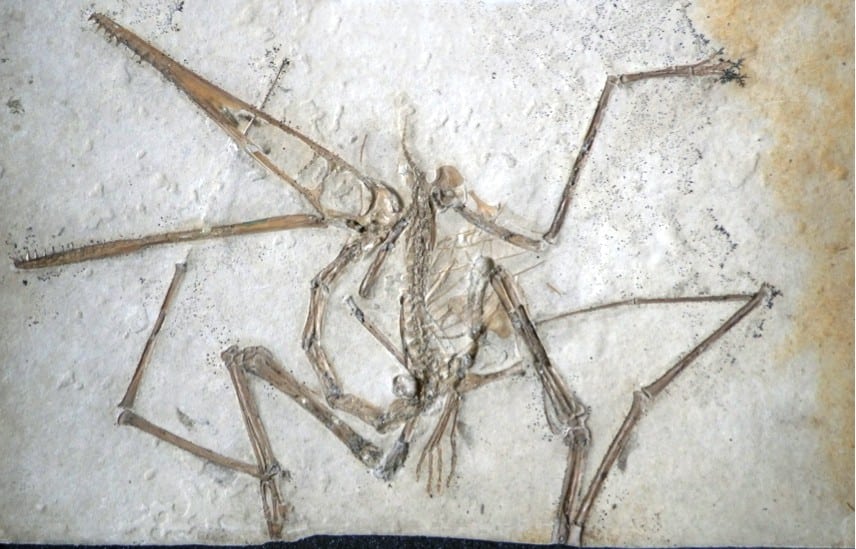 The Pterodactylus antiquus was a fascinating creature that lived during the late Jurassic period and was the first pterosaur to be identified. This creature was a small pterosaur with a wingspan of around 5 feet or 1.5 meters and a weight of around 5.5 pounds. This ancient reptile was able to achieve flight thanks to its lightweight body and thin and hollow bones.
A distinguishing feature of the Pterodactylus antiquus was its elongated fourth finger, giving the pterosaur a bat-like appearance and allowing it to fly with great agility. The Pterodactylus antiquus also had a long tail, which allowed it to stabilize its flight and make sharp turns in the air.
This flying dino was most likely a carnivore, primarily feeding on fish and small animals like insects and lizards. It most likely caught its dinner by swooping down from the sky and using its sharp teeth and long beak to grab its prey. The pterosaur was well-adapted to life near water. It may have lived near lakes and rivers where it could catch fish more easily.
Italian naturalist Cosimo Collini discovered he first pterodactylus antiquus fossil in 1784. Since then, researchers have found many more fossils all over the world.
2. Pterodaustro
This creature was a fantastic sight to behold, with a long neck and beak that it used to filter small ancient crustaceans and plankton from the water. They likely fed on insects, small aquatic animals, and other invertebrates. But their diet would have varied depending on what was readily available in their environment at the time. The pterodaustro probably lived in what is now South America during the Cretaceous period, around 100 million years ago.
This pterosaur likely had a wingspan of approximately 8.2 feet. Pterodaustros had long, curved beaks perfect for snatching up small prey.
The Pterodaustro is also known for its social behavior. Groups of Pterodaustro fossils have been found, so it has been suggested that these pterosaurs lived and traveled in flocks. This social behavior may have provided benefits, such as increased protection from predators.
The first fossil of this incredible creature was discovered in Argentina in the late 1960s, and more have been found in other parts of the world.
3. Moganopterus
The Moganopterus was first discovered in 2012. It lived during the early Cretaceous period. This wonderful creature had an approximate wingspan of 13 feet or 4 meters, making it one of the larger pterosaurs.
It fed on small animals, such as ancient lizards, insects, and birds. Scientists believe that the Moganopterus hunted by swooping down on its prey from above. Once it had captured an animal, it used its sharp teeth to tear it apart and eat it whole.
It is believed that the Moganopterus lived in what is now China. This area was possibly once a wetland and may have been perfect for this creature to live and thrive.
4. Pteranodon
The Pteranodon was a large creature, with some specimens measuring up to 16 and 33 feet in wingspan alone. This pterosaur had a distinctive cranial crest, which was likely for display or communication.
These creatures were incredibly efficient flyers and had sharp beaks and teeth that they used to hunt for fish, small mammals, and other reptiles. Given their size and flying abilities, Pteranodons likely had a diverse diet. Studies of Pteranodon fossils have shown that these creatures probably ate mostly readily available fish. This theory is supported by the fact that many pteranodon fossils have been found near bodies of water. However, there is some evidence to support that Pteranodons could have also been omnivores, as they had access to various food sources. Small mammals and other reptiles, along with fruit, nuts, and other plant material, could have made up a significant portion of their diet as well.
Scientists unearthed the first Pteranodon fossils in the late 19th century.
5. Quetzalcoatlus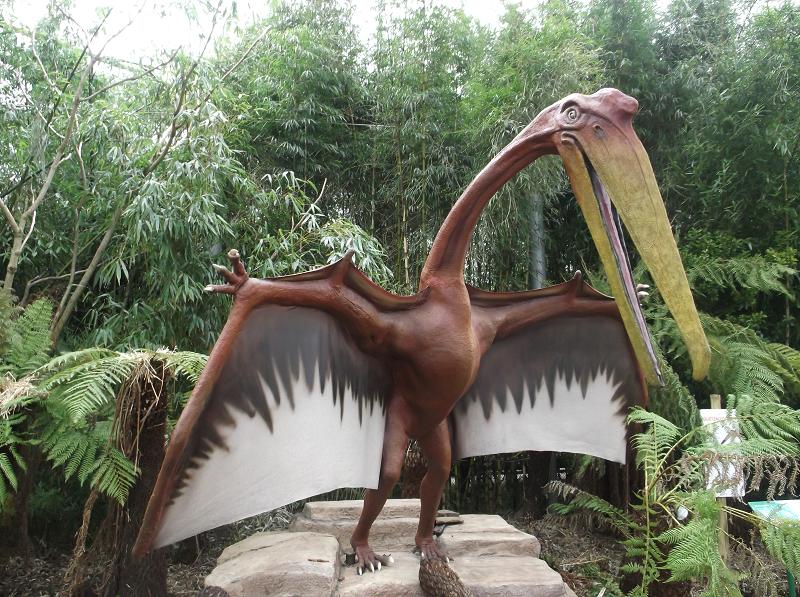 This huge creature would have been an intimidating sight to behold. It had a wingspan of between 33-36 feet and is thought to have weighed around 250 kg. This is larger than any other known pterosaur or bird! However, it's worth noting that the wingspan estimates for the Quetzalcoatlus are based on incomplete fossil evidence, so this is still a matter of debate among scientists.
Given its size, it is likely that the Quetzalcoatlus had a very hearty appetite. So, what did this massive creature eat? Well, like most flying reptiles, scientists believe that the Quetzalcoatlus was primarily a carnivore. This animal most likely hunted smaller dinosaurs and other reptiles, which it then devoured whole. Some researchers believe that the Quetzalcoatlus may have even been capable of taking down oversized prey items, such as ancient crocodiles. While we may never know for sure what the quetzalcoatlus ate daily, we can be sure that it was a fierce predator with a big appetite.
The Quetzalcoatlus probably lived in what is now North America around 65-85 million years ago during the Late Cretaceous period. But it wasn't until 1971 when paleontologist Douglas A. Lawson formally described and named this creature.
6. Istiodactylus
The Istiodactylus was a huge pterosaur that lived during the Early Cretaceous period. It may have had a wingspan of between 16-23 feet. You would not want to encounter this reptile in a dark alleyway, that's for sure!
Despite its large size, the Itiodactylus was a scavenger rather than a predator. It likely fed on dead or dying animals that it came across. However, scientists highly debate this claim. Conversely, other researchers have suggested that the Istiodactylus was an active predator that proactively hunted its food.
Fossil evidence suggests that the Istiodactylus lived in what is now Europe and Asia.
7. Tupandactylus
This fascinating creature had a wingspan of around 9-11 feet and a body length of just 3.3-6.6 feet. The Tupandactylus most likely weighed around 22-33 pounds. This pterosaur lived in South America approximately 100 million years ago during the Cretaceous period.
The Tupandactylus may have had a diet mainly consisting of fish, as many of the bones found in its stomach region have been those of fish. However, scientists also believe that tupandactylus may have eaten other small animals. Therefore, it is possible that Tupandactylus was an opportunistic eater and consumed whatever small animal it could get its claws on.
The fossils of the Tupandactlyus have been found in what were once swampy and forested regions. The Tupandactylus was first reported in 2007 and has since captured people's imaginations worldwide.
8. Rhamphorhynchus
This flying reptile lived during the Late Jurassic period. It was likely a very agile flyer due to its long and narrow wings. The Rhamphorhynchus also had a long tail that helped it steer in flight.
As for its eating habits, the Rhamphorhynchus was a carnivore. It is likely that this creature hunted small prey, such as insects and other reptiles.
Paleontologists haven't determined the exact location where the Rhamphorhynchus lived. However, given its time period and known flying abilities, it is possible that this creature inhabited many different areas around the world.
German paleontologist Samuel von Sömmerring made the first discovery of the Rhamphorhynchus in 1846. Since then, numerous unearthed fossils have provided us with more information about its appearance and lifestyle.
9. Dimorphodon
The Dimorphodon was first discovered in the 1820s by paleontologist Mary Anning. This creature measured approximately 3 to 5 fee long and had a wingspan of around 15 to 16 feet. This pterosaur weighed about 4.4 to 6.6 pounds.
The Dimorphodon likely lived in the early Jurassic period, around 190 million years ago. It probably inhabited areas near water, such as swamps or lakes. This creature's diet would have consisted of small animals, such as lizards, insects, and fish. Given its size, it is possible that Dimorphodon hunted in groups to take down larger prey. Some theorize that the Dimorphodon may even have been able to swim and dive to catch prey.
Interestingly, some scientists believe that the Dimorphodon may have also been capable of eating plants. This theory is based on this creature's teeth being suitable for grinding plant matter. However, there is no evidence to support this claim.
10. Hatzegopteryx
Unfortunately, paleontologists don't know the exact size of this flying reptile as fossil evidence remains limited. However, it is generally estimated that the Hatzegopteryx had a wingspan of up to between 33 or 39 feet. The Hatzegopteryx likely lived in what is now modern-day Romania during the Late Cretaceous period, around 70 million years ago.
Hatzegopteryx was a carnivore. This reptile would have hunted smaller animals, such as dinosaurs and other smaller reptiles. It's possible that the Hatzegopteryx fed on carrion as well. This creature had sharp teeth and powerful jaws that could crush its prey. Overall, the diet of Hatzegopteryx would have been varied, depending on what food sources were available at the time.
This flying reptile was first discovered in the early 2000s when its fossilized remains were uncovered in a Romanian quarry.
Summary of the Top 10 Most Common Flying Dinosaurs
| Rank | Dinosaur |
| --- | --- |
| 1 | Pterodactylus antiquus |
| 2 | Pterodaustro |
| 3 | Moganopterus |
| 4 | Pteranodon |
| 5 | Quetzalcoatlus |
| 6 | Istiodactylus |
| 7 | Tupandactylus |
| 8 | Rhamphorhynchus |
| 9 | Dimorphodon |
| 10 | Hatzegopteryx |
Summary Table of The 10 Most Common Flying Dinosaurs
The photo featured at the top of this post is © iStock.com/Warpaintcobra
---