The state of Washington is located in the far northwestern corner of the continental United States. During the country's westward expansion, the expedition of Lewis and Clark laid the foundation for claiming this land for the U.S., but long before, Spanish and British explorers had claimed it for their countries. Overlapping territorial claims led to a division of the region between British Colombia to the north and Washington to the south. In 1889, it became the 42nd state of the United States. In this article, we'll discover 5 of the oldest cities in Washington and what they tell us about the state's history and all it has to offer today.
1. Vancouver, 1824 (population 190,915)
Vancouver is one of the oldest cities in Washington. Right away you might think that's a mistake. Isn't Vancouver a major city in British Columbia, just north of Washington? That's another Vancouver. Vancouver Washington is located on the southern border of the state next to Portland, Oregon, and is considered a suburb of Portland. It was founded by the Hudson's Bay Company as a fur trading post on the Columbia River and named for a British explorer. Vancouver served briefly as the territorial capital but was moved to Olympia out of fear that Oregon would have too much influence on the state if its capital were so close to Portland. Today many Vancouver residents are able to take advantage of different tax policies between the two states by shopping in Portland, where there is no sales tax, but living in Vancouver where there is no state income tax.
Vancouver has some interesting historical and natural features that are worth a visit:
Fort Vancouver: a historic site where you can see, among other things, the home of Ulysses S. Grant when he was stationed there.
Silver Star Mountain: an extinct volcano in the Cascade chain. It offers a magnificent view in all directions. You can see Vancouver, Portland, Mount St. Helens, and Mt. Rainier from here.
Waterfront Renaissance Trail: a 5-mile riverfront route ideal for walking, running, or biking. There are a lot of nice sights along the way as well as places to eat and shop.
Ridgefield National Wildlife Refuge: has 5,300 acres of wildlife in wetland, grassland, and forest habitats. Many species of waterfowl winter here, including Canada geese.
Vancouver Land Bridge: a land bridge over the highway with scenic river and mountain views, indigenous plants, and information about the Lewis and Clark expedition.
2. Olympia, 1846 (population 55,605)
Olympia, the state capital, is 60 miles southwest of Seattle on the Puget Sound. In the 19th century, it served as the Customs District Authority for ships and goods coming into the port. World War II brought a ship-building boom and swelled the city's population by four times as the nation vastly expanded its Pacific fleet after Pearl Harbor.
Visiting Olympia, you might want to visit the Olympic National Forest, Olympic National Park, and Nisqually National Wildlife Refuge, a wetlands refuge for a variety of birds and aquatic life. Another outdoor adventure is the Evergreen Valley Lavender Farm, with four acres of cultivated lavender, demonstrations of how oil is extracted from the plants, and opportunities to shop for fresh and dried lavender flowers, essential oils, bath products, and arts and crafts. Lattin's Country Cider Mill & Farm is a similar opportunity focused on fresh fruits from the area, like berries, peaches, plums, pears, and of course, apples. You can pick up some fresh apple fritters and doughnuts and wash them down with apple cider. The kids will enjoy petting and feeding baby animals. If you need your history fix, visit the Olympic Flight Museum with nearly two dozen vintage aircraft from World War II to Vietnam years. The Washington State Capitol building is a beautiful sight, especially when the cherry blossoms are in season in spring. While walking the Capitol Campus, check out the Medal of Honor Memorial, which honors Washingtonians who have received the Congressional Medal of Honor.
3. Port Townsend, 1851 (population 10,148)
Port Townsend is at the northern entrance to Puget Sound on the west side. It was a good place for a settlement because it had an excellent harbor deep enough for oceangoing vessels. It also had large timber supplies. Early in its history, it was overbuilt in anticipation of becoming one of the largest ports on the west coast, but it was bypassed in the railroad-building boom for cities on the east side of the Sound and never grew as large as expected. But this early optimism earned it the nickname "City of Dreams."
Port Townsend has some beautiful scenic and historic attractions. At Fort Worden State Park visitors can enjoy hiking, beaches, tennis courts, and horseshoe pits, and see the historic Point Wilson Lighthouse. The Port Townsend Marine Science Center has interactive experiences for all ages including aquariums, touch tanks, and a hydrophone to hear whalesong. The Bell Tower, a fire alarm station once used to call up volunteer firefighters, is on a bluff above downtown. Walking around downtown, you'll see a lot of Victorian houses and get a feel for what the area was like a century ago.
4. Seattle, 1851 (population 737,015)
Seattle is on the eastern side of Puget Sound and is said to sit on seven hills. It was named after a Native American chief. The economy of the city was founded on the timber business. It soon gained a bad reputation for prostitution, liquor, and gambling, which some of the founders believed were necessary to attract loggers and sailors to the area. In 1889 much of the wooden city burned down in what became known as the Great Seattle Fire, but it quickly bounced back with new zoning laws that required stone and brick construction. Seattle today is the largest city in Washington and, with a metropolitan area of over 4 million, the 15th largest city in the United States.
There's a lot to do and see in and around Seattle. It's surrounded by rivers, forests, lakes, and the sea, giving ample opportunities for sailing, skiing, biking, camping, and hiking. It also has a lot of popular tourist attractions. In addition to the iconic Space Needle, thousands of visitors flock to the Seattle Aquarium, Seattle Japanese Garden, Seattle Great Wheel, the Ballard Locks, and the Sky Observatory on the 73rd floor of the Columbia Center. You can take water ferries to other locations, and Seattle is also one of the main departure points for Alaska cruises. A quirky attraction is the Gum Wall, which, as the name suggests, is a wall covered with gum left there by visitors. And hopefully, but probably not, sprayed with antibacterials now and then.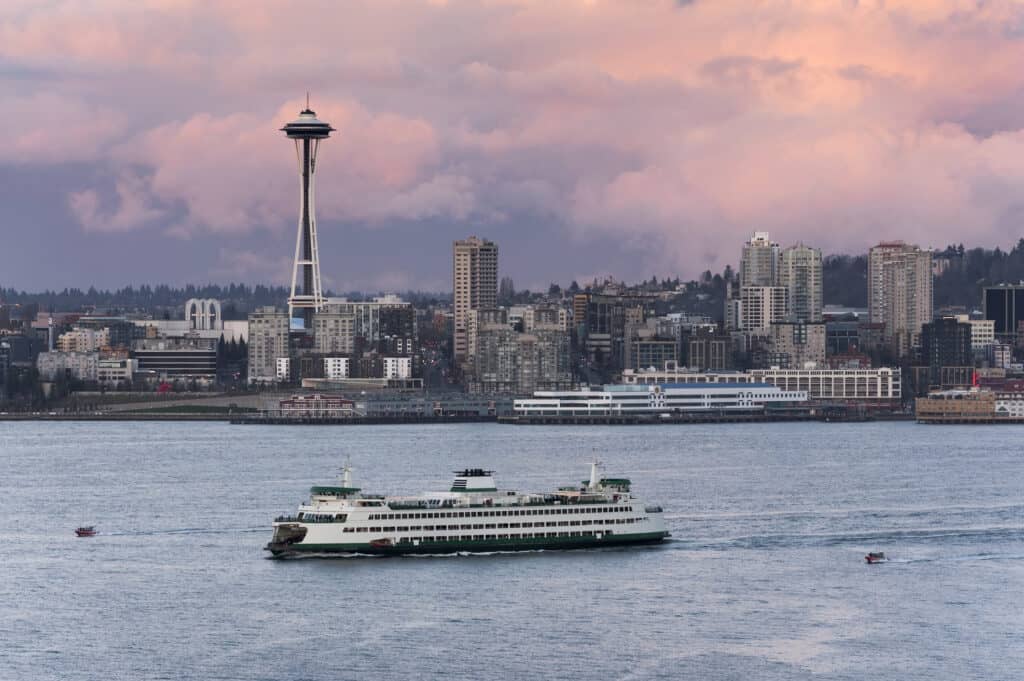 5. Spokane, 1810 (population 228,989)
Spokane and the Spokane River that runs through it were named for a Native American tribe meaning "children of the sun." The area was attractive to them for its fertile hunting grounds and abundant salmon in the river. In the early 1800s, Europeans set up a trading post in the area, and shortly thereafter missionaries arrived and set up a medical center to serve the Native Americans, traders, and settlers. They were killed in a raid, but by the end of the century had reestablished and built a church. Spokane prospered when it was connected to the national railroad system in 1881 and when a few years later gold was discovered close by in neighboring Idaho. After the mining industry died down, agriculture and logging became the mainstays of the city's economy. In 1974 it became the smallest city ever to host a World's Fair, which was attended by over 1.5 million people.
One of the best attractions of Spokane is the natural environment around it. The local forests, hills, and meadows are home to a diverse range of big game, such as grizzly bears, caribou, elk, bighorn sheep, cougars, moose, and wolves. Bald eagles and rainbow trout are common in the area. In the city itself, you might want to visit Riverfront Park, with 100 acres of pedestrian paths, the World's Fair Pavilion, a 1902 clock tower, the Louff Carousel, and views of Spokane Falls from a bridge over them. Riverside State Park is a good location for camping. Mount Spokane Ski & Snowboard Park has 45 runs for different levels of ability and 1,400 skiable areas to explore. Those who love the theater can include on their itinerary the Martin Woldson Theater at The Fox, a popular venue since 1931. Today it is the home of the Spokane Symphony.
Visit Washington!
For those who live in distant parts of the country and wonder if it is worth the trip, the five cities we've explored show that it definitely is! From its historic sites to its entertainment venues and its natural wonders, Washington impresses and amazes. The question for you now is not whether you'll visit Washington, but when!
Summary Five of the Oldest Cities in Washington
| | City | Year Settled |
| --- | --- | --- |
| 1 | Vancouver  | 1824 |
| 2 | Olympia | 1846 |
| 3 | Port Townsend | 1851 |
| 4 | Seattle | 1851 |
| 5 | Spokane | 1810 |
---