With jaw-dropping landscapes, lush forests, magnificent waterfalls, and glorious mountain peaks, Colorado is a natural beauty that has earned its spot on the list of the nation's most scenic states. It's home to over 4,000 lakes and reservoirs that draw in thousands of locals and travelers daily. These include the breathtaking Grand Lake – the state's deepest natural lake – and the spectacular Blue Mesa, its largest artificial lake by volume.
When it comes to age, Sloan's Lake, also known as Sloans Lake or Sloan Lake, takes the prize as the oldest reservoir in the state and the largest one in Denver. Tranquil, beautiful – and a haven to many biological species – this artificial lake offers 177 acres of stunning park greenery, watersports, and trails. With the city's dazzling skyline as your backdrop, it's exactly where you should come to relax and immerse yourself in nature. 
If you're contemplating visiting Sloan's Lake, you're in the right place. We'll cover everything you should know before your getaway, including how the reservoir came into existence, the interesting creatures it harbors, and why it's one of the most popular attractions in Denver.
History of Sloan Lake
Despite being an urban retreat for many, most people don't know the story behind the creation of Sloan Lake. This reservoir is the aftermath of a pleasant accident in 1866 when former US president Andrew Johnson gave Thomas M. Sloan, a local farmer, a patent to use the land around the Denver area. He unknowingly tapped into an aquifer as he dug a well to prepare it for farming and cattle rearing. When he woke up the following day, a large chunk of his land was flooded.
Some people argue that Lake Sloan appeared between 1861-1863, but no one truly knows the real history of the reservoir. Still, this could be inaccurate because if the lake was created in the early 1860s, why would Sloan be interested in farming it? Based on the Southern Homestead Act of 1866, he wouldn't even be eligible for the right to cultivate the land.
Sloan Lake's Geography
Sloan Lake is located at 1700 North Sheridan Boulevard on the western edge of Colorado's capital, Denver. Right at its center is the nearly barren Penny Island, home to an osprey nesting building established in 2014. Although the 67,396 square-foot piece of land is not particularly popular among tourists in the city, local drone pilots have made it their mission to explore every nook and cranny.
Notably, the now almost 160-year-old Sloan's Lake sits on 177 acres of a 290-acre park. The latter is Denver's second largest park, right after the 330-acre City Park in the east-central part of the city. Both locals and tourists can indulge in an extensive list of activities at Sloan's Park, including fishing, boating, cycling, and picnicking. Thanks to the 2.6-mile-long walking trail at the location, you can also jog or walk at your convenience.
Moreover, Sloan's Lake is conveniently located near many attractions. For instance, the historic Denver Art Museum is only a 10-minute drive. If you're into art, be sure to stop by to marvel at unique art collections showcasing different cultures. You'll also find the works of the most talented artists from Denver. Diners have these nearby options to mull over:
The Partio at Sloans
Rupert's at the Edge
Ohana Grille
Tap & Burger Sloan's Lake
GB Fish & Chips, Edgewater
Vatos Tacos & Tequila
Syrup Edgewater
Where is Sloan Lake Located on a Map?
Sloan Lake is situated in the northwestern part of Denver, Colorado. It lies to the west of Interstate 25 and south of West Colfax Avenue. The lake itself is surrounded by Sloan's Lake Park, which covers an area of approximately 177 acres. The park offers stunning views of the Rocky Mountains and features a variety of recreational activities for visitors to enjoy, such as fishing, boating, biking, and picnicking.
Which Animals Live Around Sloan Lake?
Sloan's Lake prides itself in being more than just a reservoir; it's a habitat for many animals, including the following.
Many Types of Fish
The Colorado Division of Wildlife often stocks Sloan Lake with fish. Anglers have caught a broad range of fish species at Sloan Lake, such as largemouth bass, black crappie, rainbow trout, common carp, Saugeye, obtuse barracuda, muskie, walleye, and channel catfish.
Should you go there to fish, your catch will depend on the time and spot you pick. For instance, some species could be overfished, meaning you might have to wait until more are released into the water to catch them. In other cases, you may find too many fish, especially if the lake has recently been stocked.
If you're new to the game, consult experienced anglers to know the best locations to spot. Otherwise, you could go home empty-handed.
Also, note that boating and fishing are the only watersports you can indulge in at Sloan's Lake; swimming is prohibited.
Various Bird Species
You can't miss some of these birds at Sloan Lake:
Night hawks
White pelicans
Seagulls
Mallard ducks
Geese
Cormorants
Wading birds like avocets
If you're a birder, remember having a memorable bird-watching experience requires more than just showing up. Use these actionable tips to relish every second you spend observing birds at Colorado's oldest man-made lake.
Carry Your Binoculars
A quality pair of birding binoculars is a must-have when watching different bird species at Sloan Lake. They provide a more natural view of the animals, showing you their colors and details to enable you to identify them. These tools also help you to observe the animals for long hours without eye strain.
Explore as many binoculars as possible before making your pick. Unfortunately, trying them out in person is not an option if you plan to buy them online. But that doesn't mean you can't land the best pair on the market—consider durable, portable models with good objective lenses (at least 8x42s) and a wide field of view so that you can comfortably observe the birds as they fly.
Interact With Other Birders
You're likely to find different types of birding fans at Sloan's Lake, ranging from hardcore birders who strive to see specific species to enthusiastic ones hell-bent on observing as many birds as possible. No matter the category you're in, connect with others to learn more about the bird species found in the area. You can also discover the best spots to see them and when you should stop by the reservoir.
Ideally, you can watch birds at Sloan's Lake at any time of the day, but your timing determines the species you see. Typically, birds rise early to catch worms as they crawl out of the soil in the morning due to the sun's warmth. This makes dawn the perfect time to go to the lake to watch them. Since these creatures are less active at noon, you'll spot only a few species around the vast water body.
Research Bird Species Around the Lake
Imagine going to Sloan Lake one morning to stumble upon a striking bird with long, thin legs and a distinctly curved bill, but you can't tell whether it's a wading or perching bird. Frustrating, right? That's why digging into the bird species around the Denver area, and their distinguishing features is advisable.
If you're a birding blogger and content creator, use your smartphone to take a few shots for your website and Instagram and get the caption right.
Observe Birding Ethics
Sloan Lake is an excellent location to watch birds. Nevertheless, remember that these creatures are in their natural habitat, and they should enjoy their space at all times. Don't spook them or affect their behavior by following these ethical birding guidelines:
Watch the birds from a distance without disturbing their nests
Keep your dog on a leash to avoid scaring them away
Don't litter, as some bird species can die from ingesting poison from the waste
Avoid making loud noises because they disturb birds and force them to flee
Wear neutral outfits with shades of black and brown since some birds perceive bright colors as threats
Native and Non-Native Rodents
It's common to find the muskrat (Ondatra zibethicus) around Sloan's Lake. The native semiaquatic rodents are heavyset, with large heads and tiny ears. While most of them weigh 2-4 pounds, the females are smaller than the males, which ferociously compete for them.
Muskrats are fantastic swimmers, with their partially-webbed back feet and thin, vertically flatted tails to propel and steer them in the water. During Denver's cold, snowy weather in winter, their short, thick fur keeps them warm.
Another rodent living around Sloan's Lake is the nutria (Myocastor coypus), the only known representative of the family Myocastoridae. Despite being a non-native, it lives in tunnels along the water body, feeding on cattails and other nearby plants.
Foxes
Because Denver is home to red and gray foxes, you might catch sight of them around Sloans Lake—the red fox (Vulpes vulpes) is more popular in the area. Unless it's rabid, the animal won't harm you, so there's no need to run if you spot one. In fact, most crave human companionship, meaning there's a high chance it'll approach you.
But no matter how cute a fox is, don't feed it, as it's likely to become aggressive. It's best to admire its beauty and let it be. The animals will eat almost anything, including rodents and insects, to control pest populations around the lake.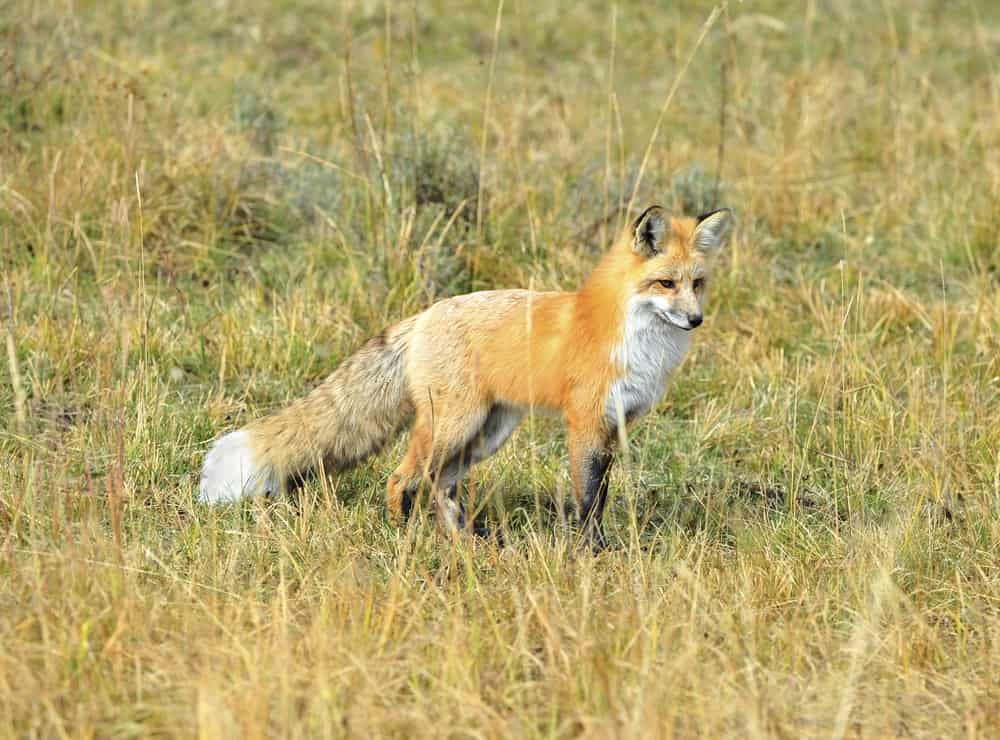 Coyotes
The coyote (Canis latrans) is another predator living near Sloan's Lake. The wild canine boasts a lean body, a thin snout, yellow eyes, thick fur, and a brushy tail. Though intelligent, adventurous, and independent, this creature is a trickster like the fox. And it also helps to control pests by fiercely hunting rodents. But despite their similarities, coyotes and foxes aren't the same. Sometimes, the former may even become aggressive and kill the latter.
If you encounter a coyote during your trip to Sloan Lake, don't sprint; rather, wave your arms or throw a rock at it to scare it away. Remember, the goal is to avoid conflict, not injure the animal, so avoid hurling objects like weighted tennis balls because they can hurt them.
Alligators
Not every day you find an alligator in Sloan Lake, but you might get lucky. For example, in 2022, Denverites saw a caiman swimming in the lake, which they later named Miss Bo Mangles. Since the animal is not endemic to the city or Colorado, they assumed its owner had released it into the water. Thankfully, it was harmless and was taken to Oscar and Friends to educate young and old alligator enthusiasts.
Plants Around Sloans Lake
If you're a botanist or nature enthusiast, you'll be glad to discover the plants near and in Sloan Lake, such as:
Cottonwood Trees
Cottonwood is a resilient, fast-growing tree that offers plenty of shade and soil stability for areas prone to flooding, such as Sloan's Lake. It features a thick back, which helps it to survive harsh conditions like forest fires and droughts, living up to 100 years.
Bluegrass
When you walk into Sloan's Lake Park, the first thing that'll catch your eye is the delightful carpet of dense, lush bluegrass. Despite its name, this type of grass is green. You can safely walk on it barefoot, explaining why parents like throwing picnics at the park since their kids can play as much as they'd like.
Algae
Sloan Lake's water supports the growth of diverse aquatic plants. So, along its shoreline, you'll find algae, eukaryotic, photosynthetic organisms without leaves, stems, or roots. Although they're free-living, they often build symbiotic relationships with other lifeforms.
Typically, there are three types of algae:
Red algae
Blue-green algae
Green algae
Unfortunately, blue-green algae are one of the types you'll find around Sloan Lake. Exposure to its toxins is dangerous as it causes the following symptoms in humans:
Skin and throat irritation
Hay fever-like symptoms, including coughing and sneezing
Breathing problems
Nausea and vomiting
Diarrhea
Blue-green algae also poison dogs and can potentially kill them. Therefore, keep your furry pal from drinking or swimming in Sloan Lake's water if it has these life forms. You should also steer clear of the area to be safe.
In 2021, blue-green algae bloomed in Sloan's Lake and saw the closure of the park to protect visitors and their pets.
Duckweeds
Duckweeds, also known as water lenses or water lentils, are common in Sloan's Lake. These aquatic plants without stems or leaves are hard to miss since they float on the water's surface, thanks to their aeriferous parenchyma. Unlike algae, these flowering plants are not poisonous and cannot harm you or your furry friend.
Sloan's Lake Reviews
Most people have confessed to having a great time at Sloan's Lake, thanks to its family and dog-friendliness. Besides, it's a safe place to run or stroll, even when alone. Based on the positive reviews, people are taken with the unusually stunning Colorado sunset views the reservoir offers. Others report some quiet places you can go to when you need quality me time.
Unfortunately, a few people have left some negative reviews, complaining that the bathroom facilities at Sloan Lake are not always clean. Since it's home to countless bird species, it's common for these birds to poop on your car, clothes, and – if they have a soft spot for you – your head! Moreover, the lake is a hotspot, welcoming hundreds of people at a time. If you dislike crowds, it's not the best place to hang out.
Explore Colorado's Sloan Lake
With these handy details up your sleeves, you'll have the time of your life at Sloan's Lake. Thankfully, it's only 14 minutes (3.3 miles) from Denver. To get there, you can self-drive or take the bus—routes 28, 32, and 51 stop near Sloan's Lake Park.
If you prefer the light rail transit, Perry Station is only 13 minutes (3.2 miles) away from downtown.As you head to Sloan Lake, remember to dress appropriately, depending on the weather and the activities you plan to engage in near the water body. For instance, runners should wear running shoes and compression clothing. Boaters should bring safety equipment such as life jackets and floatation devices.
The photo featured at the top of this post is © Jeremy Janus/Shutterstock.com
---