Key Points:
Buckeye Lake is one of Ohio's largest lakes, with a surface area of nearly 5 square miles and a shoreline of approximately 40 miles.
The lake's maximum depth is 14 feet.
Buckeye Lake is located east of Columbus, at the junctions of Fairfield, Licking, and Perry counties. It was formed in 1826 to block the South Fork of the Licking River.
Humanity has been directing water to create man-made lakes for around 5,000 years. Farmers directed water to craters of extinct volcanoes in Arabia to store it for irrigation, and the people of India built a reservoir in Girnar around 3,000 BC. Archeologists discovered artificial lakes in Greece, dating back to the 5th century BC. The idea is not new, then. The state of Ohio, admitted to the United States in 1803, is somewhat more recent. What, then, is the oldest man-made lake in Ohio?
Man-Made Lakes
Before we get to that, let's talk about what a man-made lake is and what it's used for.
Reservoirs, otherwise known as man-made lakes, are controlled water sources. Typically, all or part of a river will be dammed to store water, creating a reservoir. The reservoir will also absorb seasonal precipitation and runoff, limiting the amount of water lost to evaporation. Apart from using dams, reservoirs can also be formed through dikes and land excavation. These man-made lakes are helpful for drinking water storage and management, flood control, energy production, irrigation, canals, and recreation.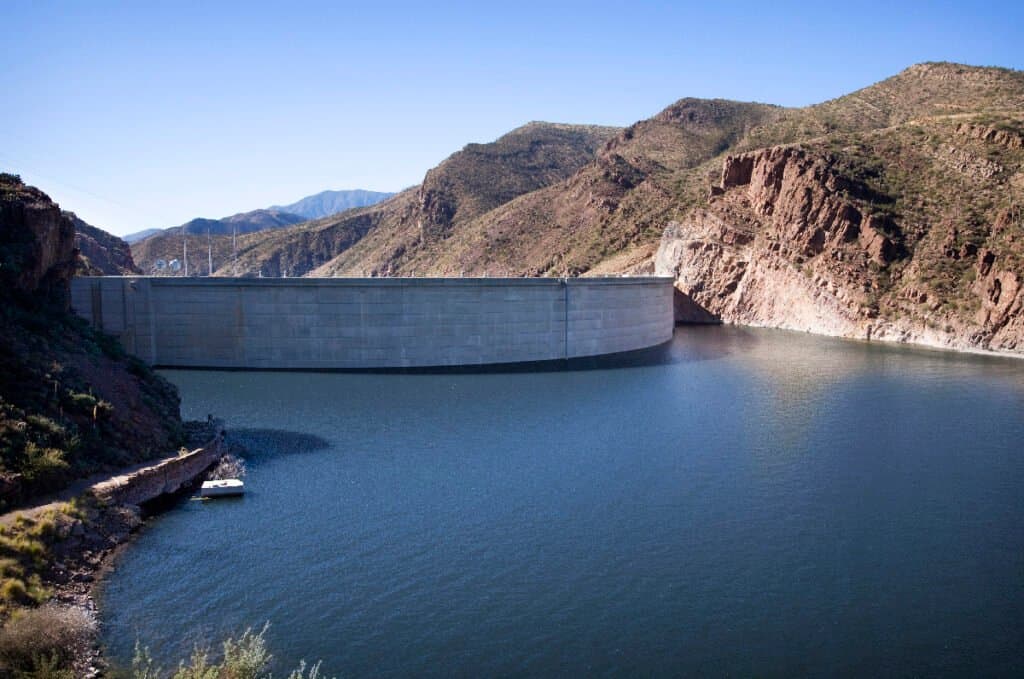 Buckeye Lake: The Oldest Man-Made Lake in Ohio
Buckeye Lake is one of the largest lakes in Ohio, with a surface area of nearly 5 square miles and a shoreline measuring approximately 40 miles, though it never gets deeper than 14 feet. Located east of Columbus, across the junctions of Fairfield, Licking, and Perry counties, it was built in 1826 when a dike was constructed to block the South Fork of the Licking River. The resulting body of water, the Licking Summit Reservoir, replaced the Buffalo Lick swamp and was America's first large man-made reservoir.
The reservoir was initially for the Ohio and Erie Canal as a water source. Toward the end of the 19th century, the Ohio Legislature called it "Buckeye Lake." Though it was primarily part of the state's canal system, recreational businesses, including an amusement park, formed around it. As the canal system faded from use in the early 20th century, recreational uses took over, and many vacation homes and permanent residences were built here. With the founding of the Ohio Department of Natural Resources (ODNR) in 1849, Buckeye Lake was established as a state park.
In 2015, the U.S. Army Corps of Engineers issued a report identifying several weaknesses and flaws in the dam, which had accumulated during the nearly 200 years it had been in existence. It was feared that the dam would fail soon if repairs were not undertaken. To avoid catastrophic failure of the dam, it was recommended that the dam be repaired or the lake drained. In response, the state budgeted $150 million to repair the dam. The work was completed in three years for $107 million (under budget.) It was reopened in November 2018.
What Is There to Do at Buckeye Lake?
Due to its presence at a state park, there are several activities at Buckeye Lake, including camping, hiking, waterfowl hunting, fishing, and birdwatching opportunities for outdoor types.
There are swimming, boating, and kayaking options for those who want to enjoy the lake recreationally. There is even a restored 88-foot sternwheeler, the Queen of the Lake III, that provides lake tours.
If you want to enjoy a day at the park, picnic shelters with grills are available. Playgrounds are also available at Brooks Park and Fairfield Beach. Recreational opportunities abound, with golf courses nearby, a biking path along the dam, and disc golf at Evans Park.
Get your culture on with the Millersport Sweet Corn Festival held every year, Wednesday through Saturday, before Labor Day. If you're interested in canal history, you can check out the deepest part of the old canal—the Deep Cut at Licking Summit. Buckeye Lake also has a Historical Society Museum with hundreds of artifacts related to Buckeye Lake Village and the old amusement park. At the end of a hot day, you can travel back to the lake in Millersport to get a dish or a cone of old-fashioned ice cream at Weldon's, a fixture of Buckeye Lake since 1930.
If you want to take in some of the environmental features of the lake, look into a tour of the famous Cranberry Bog State Nature Preserve, made up of a floating island in the middle of the lake. It's home to several unique plant species. Also, look into Brooks Park's wetland project.
The fun doesn't stop in the winter. Ice skating, ice fishing, ice boating, and cross-country skiing are available when weather conditions permit.
What Wildlife Lives Around Buckeye Lake?
One fascinating feature of Buckeye Lake is a National Natural Landmark. Cranberry Bog State Nature Preserve is a floating island created when a portion of the original Cranberry Bog detached from the lake's floor. Cranberries and pitcher plants cover this island of floating sphagnum moss. This natural wonder is so fragile that special permission from the ODNR is required to access it.
Buckeye Lake is also a birder's delight. During spring and fall migrations, there are great opportunities to birdwatch. The waterfowl diversity is pretty good throughout the year, as well, meaning you don't have to wait for migrations to view some excellent specimens along the lake's shores. There are frequent sightings of bald eagles, cormorants, herons, and osprey. Great blue herons inhabit a large rookery by the lake, but you can still see them in the park.
While enjoying yourself in the park, whether hiking, camping, or boating, there's a chance you will see plenty of wildlife, including frogs, raccoons, red foxes, snakes, squirrels, and white-tailed deer if you pay attention.
Of course, with the fishing available at Buckeye Lake, there are large quantities of largemouth bass, bluegill, channel catfish, bullhead catfish, crappie, muskie, and perch.
Buckeye Lake on a Map
Other Notable Man-Made Lakes in Ohio
Ohio has several other man-made lakes, some for canal control, others for flood control, water conservation, pollution control, water supply, and recreation. Here are a few notable lakes:
Indian Lake
Initially intended to feed water into the Miami-Erie Canal, Indian Lake was built in Logan County between 1851 and 1860. Towards the end of the 19th century, canals fell out of use, and by 1898, the state designated the lake as a recreation area. It remains a popular destination today. The lake has a surface area of 5,100 acres and an attached state park of 800.
The park has boat launches, swimming beaches, picnic areas, and hiking trails. Fishing is a popular activity with plenty of fish for anglers, including bluegill and saugeye. Indian Lake is along a major avian migration route, attracting both birders and waterfowl hunters.
Grand Lake St. Mary's
Among Ohio's canal feeder reservoirs, Grand Lake St. Mary's, completed in 1845, was the largest at over 13,000 acres. Initially recognized as the largest man-made lake in the world, this Miami-Erie Canal reservoir spans Ohio's Mercer and Auglaize counties.
The lake offers camping, hiking, dog parks, boating, and also blinds for duck hunting. The big yearly event, however, is the Celina Lake Festival. Amazingly, this festival features swimming cars! Operating both on land and water, these amphibious cars—or "Amphicars"—are German-made and work on water and land.
Seneca Lake
Seneca Lake, near Senecaville, Ohio, was built in 1938 by the U.S. Army Corps of Engineers for flood control and water conservation. It has a surface area of 5.5 square miles and is 31 feet deep at its deepest point. The Muskingum Watershed Conservancy District now manages it.
Mosquito Creek Lake
Mosquito Creek Lake has a surface area of 12.3 square miles, a 133.5-mile-long shoreline, and a depth of 24 feet. Constructed for flood control, water supply, and to help with pollution reduction. Mosquito Lake has become a top outdoor recreation site in the city of Cortland, Ohio, with ample populations of crappie, bass, pike, catfish, and walleye.
Pymatuning Lake
Pymatuning Lake, straddling the border of Ashtabula County, Ohio, and Crawford County, Pennsylvania, has a surface area of 26.7 square miles and a 70-mile-long shoreline. It does triple duty as a water source, flood prevention, and recreational lake. It is also a popular fishing destination for walleye, largemouth and smallmouth bass, and muskellunge.
Summary
Ohio is a state with many lakes, some natural and some man-made, like its reservoirs. These reservoirs perform several essential functions, including flood control, pollution mitigation, power generation, and drinking water supply. In addition to this, they provide recreational benefits to citizens of the state and tourists. All of this began with the Buckeye Lake, the oldest man-made lake in Ohio.
The photo featured at the top of this post is © Tara Ballard/Shutterstock.com
---