Arizona is home to the world-famous Grand Canyon and many other spectacular attractions, including wineries, parks, and forests with countless animal species. 
The Grand Canyon state is also known for its diverse weather. Locations like Yuma and Parker boast an average temperature of 89 degrees. Even more intriguing, on June 29, 1994, Lake Havasu City recorded a super-high temperature of 128 degrees, making it the hottest day the region had seen in a century. 
And yet, some parts of Arizona are famous for being the reverse, receiving plenty of rain during most times of the year. The truth is precipitation increases as you go farther east and south. So, which part of this iconic state rains the most? This article answers that question and provides helpful information to discover and make the most of your time in the place, despite the rainy and cold weather. 
Which is the Rainiest Place in Arizona? 
Nestled on the historical White Mountain Apache Tribal Land, Hawley Lake is the rainiest and wettest place in Arizona. In 1978, the 300-acre reservoir recorded an annual precipitation of 58.92 inches, setting a record for the state. Then, the lake had a weather station, but it shut down in 1988 when the area's average precipitation was 38.2 inches. 
Note that precipitation includes rain and the water obtained after the snow melts. As expected, Hawley Lake is also on the list of Arizona's snowiest and coldest places. In 1967, a snowstorm saw the lake set another record for the most snow, with a whopping 102.7 inches. 
Unfortunately, the Arizona State Climate Office no longer publicizes the rainiest regions in the state. Nevertheless, according to the State Climatologist Nancy Selover, it keeps track of their weather, and there's a high chance Hawley Lake is still among the areas receiving the most rain. 
Why is Hawley Lake Arizona's Rainiest Place? 
Hawley Lake's high elevation of over 8,000 feet is why it receives so much rain. Typically, an increase in altitude raises precipitation since the cooler weather only holds in a little condensation, leading to more significant amounts of rainfall and snowfall. 
But, of course, Hawley Lake doesn't rain every day. According to Weather U.S., the area enjoys several warm summer days where residents don't have to bring umbrellas everywhere, although monsoon rains are common in the season.
Why is Hawley Lake Special? 
The high amount of rainfall Hawley Lake receives sets it apart from the rest of Arizona. Still, other aspects make the reservoir unique. For starters, it's a result of the Mogollon Rim's Pliocene volcanism that happened millions of years ago. And a part of the lake is an artificial extension designed to facilitate irrigation. Moreover, breathtaking mountain peaks and plenty of towering trees – including alpine and aspen – surround it, making it a top destination for revelers in the state and beyond. 
Top Things to Do at Hawley Lake
Nothing beats spending time at Hawley Lake. With the panoramic landscapes and the crisp weather, it's the perfect place to go when you crave an escape from your hectic work life. Indeed, the views here are unmatched. And you can do more than bask in nature's beauty as there's a long list of riveting activities to try out, such as:
Indulging in Watersports
Hawley Lake is a popular destination for water sports enthusiasts in Arizona. It presents many opportunities to canoe, kayak, and boat. Fishing is also a well-liked activity in the area because various  trout species call this reservoir home, such as:
Cutthroat trout
Brown trout
Apache trout
You must attain a $9 tribal license to fish at Hawley Lake. Although its shoreline is easily accessible, guests are prohibited from swimming in the reservoir or streams on the Fort Apache Indian Reservation.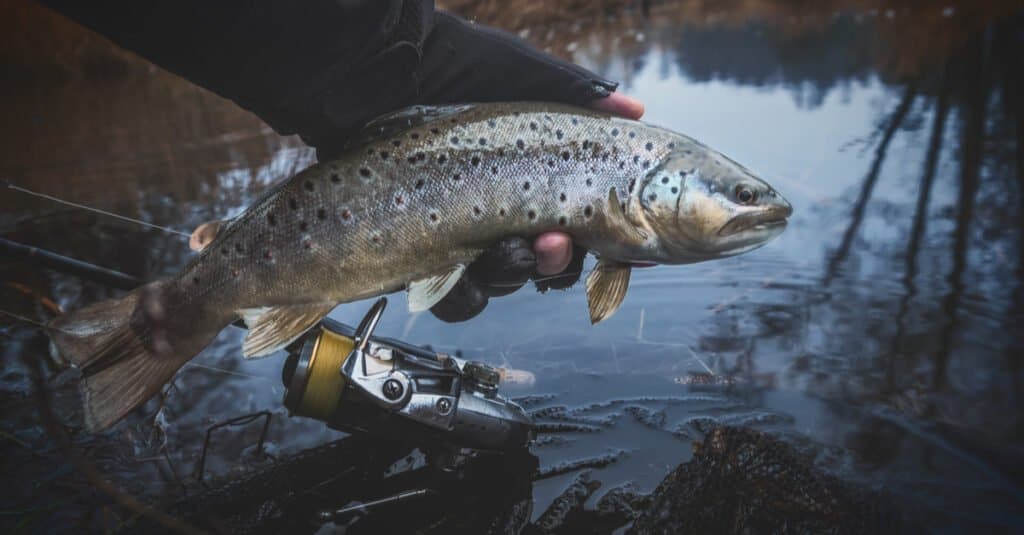 Camping with Your Loved Ones
The White Mountain Game & Fish maintains around 100 campsites at Hawley Lake. Each has essential facilities like picnic tables, vault toilets, and water faucets to ensure nothing comes in the way of you having immeasurable fun. Camping during the day lets you enjoy the beautiful scenery while bonding with friends or relatives. As you do so, consider these exciting activities to make your experiences in the rainy region more memorable:
Organize a scavenger hunt
Ride bikes
Improve your nature photography skills by taking more photos
Sunbathe while you tell stories
Watch the clouds and even try to pick shapes and characters out of them
Cook delicious meals
Indulge in friendly competitions such as tossing a frisbee
Camping at Night
Your camping adventure at Hawley Lake doesn't have to end as soon as the night sets in. Because the reservoir is conveniently situated away from the city, the night sky is always pristine, with plenty of stars shining over the trees. Here are some fantastic ways to have unmatched nighttime fun:
Play truth or dare.
Grab a beer or any other drink you prefer.
Sit by the roaring fire and share corny jokes.
Hang out with your loved ones and relax as you prepare to get some shut-eye.
Exploring Nearby Attractions
Hawley Lake is close to many intriguing destinations you shouldn't think twice about visiting while in the area. Some of them include:
Earl Creek 
Only 3 minutes from Hawley Lake, Earl Creek is home to Earl Park Lake, where you can fish at your convenience. The most popular varieties of fish in this lake are the rainbow trout, but you might also catch an Apache trout. As of 2008, only fly fishing is allowed in the reservoir. 
Horseshoe Cienaga Lake
Located in eastern Arizona's White Mountains, Horseshoe Cienaga Lake is about a 40-minute drive from Hawley Lake. Like the latter, this water body also harbors many trout species and makes an excellent location for fishing, hiking, and camping. Interestingly, it once held the state record for the largest brown trout weighing 16 lbs., 7 oz, and almost 30 inches long.
Butterfly Lodge Museum
The legendary Butterfly Lodge – which has nothing to do with butterflies – is about an hour from Hawley Lake. It is incredibly popular among history buffs who may be curious to see what the over-a-century-old venue offers. Fortunately, it has something for everyone, including both tourists and locals. It educates people about the region's past, including its occupants, such as the avid hunter and explorer James W. Schultz and his lovely wife, Naomi. 
Having Fun at Hawley Lake on a Rainy Day
Visiting Hawley Lake at any time of the year means you're in the clutches of Mother Nature. Yes, it can rain at any time. But that doesn't translate into a boring time because there are still many exciting things you can do indoors, such as:
Nap or snuggle with your loved one.
Enjoy a good read.
Play card games such as poker.
Make friendship bracelets.
Catch your favorite TV show.
When is the Best Time to Visit Hawley Lake?
You can visit Hawley Lake at any time of the year. While the winters are windy, snowy, and frigid, the summers are pleasantly warm. But regardless of the season you decide to discover Arizona's rainiest place, there's a lot of thrill in store for you. Make sure to familiarize yourself with the region's weather to know what to expect and prepare accordingly. Speaking of which, here are more tips for planning your trip to the White Mountain Apache Indian Reservation.
Do Your Homework
When planning a weekend getaway in Hawley Lake, the first thing to do is research the location. For instance, which are the best ways to get there? You can self-drive if you enjoy road trips and live in Navajo County or the surrounding areas. If you're coming from Phoenix through Payson, take the Mogollon route. Visitors from Tucson should use the Apache Reservation Route to get to the lake.
At the same time, find out when the area receives the most guests. Typically, the breezy spring and warm summer months welcome throngs. So, if you visit the lake during those times, prepare to share the space with many adventurers. You can head to the location in the winter because it's less crammed with people, but you must brace yourself for shallow temperatures.
How Long Will You Stay?
Deciding the length of your trip is essential because it helps you to plan your budget and itinerary based on where you're from. The Hawley Lake Campground allows guests to stay for only ten days. Still, it would help if you considered the activities you'd like to enjoy on-site before determining the duration of your getaway. If, for instance, you'd like to explore the lake's every nook and cranny, 7-10 days gives you plenty of time to do that.
Supposing you only want to catch the Apache trout, the species once on the verge of extinction, a few days will do. Of course, you might be lucky to find other types of fish, such as steelhead and channel catfish, and discover more marine animals in the waters of Hawley Lake.
Pack Essentials
A packing mishap can ruin your entire trip to Hawley Lake. That's why you must pack diligently, considering your destination's rainy and cold weather, the time of your visit, and your must-do activities.  
Ideally, your ultimate packing list should comprise the following:
Clothes: Weather-appropriate clothing, comfortable hiking boots, and sneakers.
Toiletries: Dental floss, toothbrush, toothpaste, sunscreen, soap, toilet paper, hand sanitizer, deodorant, shampoo, hair brush, shaving supplies, pain relievers, bug repellent, body lotion.
Miscellaneous necessities: Mobile phone, electronic charger, copy of your passport or driving license, memory card, laptop/tablet, money and credit cards, banking information, a charged camera and an extra fully-charged battery, maps, insurance card.
Go for a Medical Checkup 
Something else to do to ensure you have the time of your life at Hawley Lake is to visit your doctor before the trip. Your well-being is a priority, and you want to confirm you're healthy enough to spend time in one of Arizona's wettest and coldest places. This helps to avoid future medical issues that could prevent you from engaging in various fulfilling outdoor activities and getting the most out of your getaway. 
Get your checkup a few days before embarking on your journey. If you have any health conditions or allergies, let your doctor know about your planned activities, so they can advise you on how to stay safe.  
Accommodation in Hawley Lake 
Staying in Hawley Lake is ideal for discovering the rainy region because it provides easy access to places like fishing spots and campsites. Fortunately, the Hawley Lake Hotel & Cabins on-site offers guests top-notch accommodation. Each cozy cabin comes with many amenities, including: 
Free parking. 
A fully stocked kitchen. 
A sizable smart T.V. with Netflix.
A dedicated workspace.
Beautiful mountain views.
Air conditioning. 
Stable Wi-Fi.
Choosing Accommodation in Hawley Lake
While Hawley Lake Hotel & Cabins offers accommodation for everyone discovering the reservoir, it doesn't avail the same features. Therefore, you must be careful when booking your cabin to enjoy value for your money and guarantee the best time at the rainiest place in Arizona. Always consider the following factors before making your pick.
Your Company 
The rentals available at Hawley Lake Hotel & Cabins can accommodate between 2 and 14 individuals. If, for example, you're visiting the place with your friend or lover, a one-bedroom unit with enough parking space for one vehicle is enough. However, six guests will need at least three bedrooms and a larger parking area if they have two or more cars. 
Price
The pricing is something else to mull over before choosing your Hawley Lake accommodation. The cabins have varying costs per night, depending on the amenities provided. Be sure to select a rental whose pricing is within your budget. But don't forgo essential facilities just to cut back on expenses. For example, a smart TV and Wi-Fi should be non-negotiable. Remember, it rains a lot in the area, and you might be forced to spend some days indoors, so you'll need quality entertainment to pass the time.
Location 
Hawley Lake sits on a 300-acre piece of land, with more than 1,000 homes in the area. This makes factoring in your cabin's location necessary, depending on the exhilarating activities you plan to engage in. For instance, passionate anglers should stay close to fishing spots like Earl Creek. 
Have Fun in Arizona's Rainiest Places
Hawley Lake is a magical haven for adventurous people looking to make unforgettable memories. Although sometimes it's super cold and rainy, you can still have a good time with adequate preparation. If you're ready to discover this pristine region, make your arrangements several weeks or months before the day of your trip, depending on where you're coming from. Also, create a bucket with fun must-do things—the location offers so many thrilling activities to indulge in that you'll likely become confused upon arrival.  
Supposing you enjoy the downpour, don't hesitate to research and discover other rainy places in Arizona. For instance, Bisbee, a free-spirited historical city about six hours away from Hawley Lake, receives up to 19 inches of rain. On the other hand, Tucson, the state's former largest city, gets around 12 inches and is approximately five hours away from the 300-acre lake. The region offers the most delicious Mexican dishes, and the nightlife is to die for. 
Where Is Hawley Lake Located on a Map?
You'll find this reservoir 9 miles south of State Route 260, right off Arizona 473. It is on the Fort Apache Reservation in the White Mountains and the Apache Sitgreaves National Forest.
---
The Featured Image
---