Caruthersville is located on the Mississippi River in the heart of Missouri's Bootheel region. When European migrants arrived, Native Americans lived in the area around Caruthersville. They belonged to the culture that created enormous earth mounds all across the Mississippi Valley. There is still one such land mass, which is located four miles southwest of Caruthersville and rises 270 feet above sea level. It contrasts sharply with the nearby delta-like plain. Today we're talking about this small town because Caruthersville is the rainiest place in Missouri.
History of Caruthersville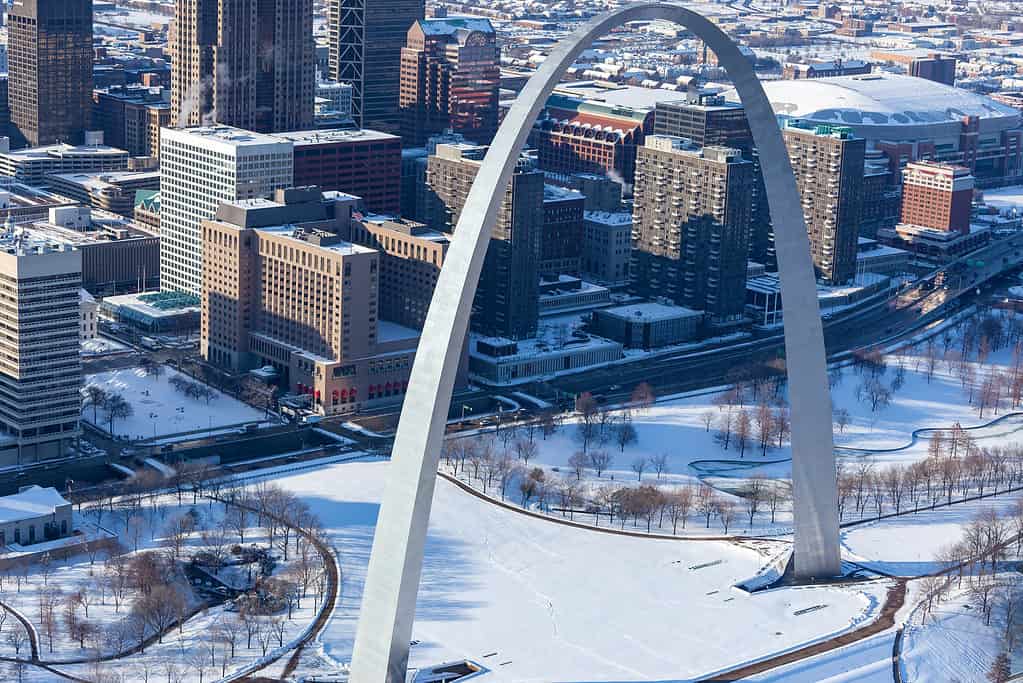 The town of Caruthersville was built out and platted in 1857 by John Hardeman Walker and G. W. Bushey. Samuel Caruthers, who initially represented the region in the U.S. Congress, was honored with the town's name. 
On May 18, 1874, the City of Caruthersville became a legal entity. Sanborn maps, which documented property ownership, and materials, can be used to trace the initial few decades of the town's development. 
The Saint Francis Levee District was established in 1893 by the General Legislature of Missouri. This district was tasked with building levees that would protect the area of the Saint Francis River basin that was located in the counties of Dunklin, New Madrid, and Pemiscot. This law authorized taxes to be collected for the district's levees' construction, upkeep, protection, and repair.
Where Is Caruthersville Located on a Map?
Caruthersville is the county seat of Pemiscot County, named after the Native American word for "liquid mud." It's situated along the Mississippi River in the bootheel area of Missouri's far southeast. It is around 95 miles' drive north of Memphis, Tennessee.
Weather in Caruthersville
Summers in this region are hot and muggy, whereas winters are often pleasant to chilly. The Köppen Climate Classification system classifies Caruthersville's climate as humid subtropical. It is partly cloudy all year round, and the winters are brief, bitterly cold, wet, and windy. 
The average annual temperature ranges from 31°F to 89°F, with lows of 16°F and highs of 95°F being extremely rare. From May 21 and September 21, the warm season lasts for four months, with an average high temperature every day of more than 81°F. In Caruthersville, the month of July is the hottest of the year, with an overall average of 89°F and a low of 71°F.
An average high temperature below 54°F is typical during the three-month-long cold season. The cold season runs from November 29 to February 27. With a typical low temperature of 31°F and a high temperature of 46°F, January has been the coldest month of the year in Caruthersville.
Precipitation in Caruthersville
A day is deemed wet if there is at least 0.04 inches of water or liquid-equivalent weather in this region. In Caruthersville, the likelihood of rainy days changes throughout the year. 
From March 22 to July 28 (the length of the wetter season), there is a higher than 32% chance that any particular day will be rainy. May has an average of 12.1 days with a minimum of 0.04 inches of precipitation each day, making it the rainiest place in Missouri. 
Between July 28 and March 22, the dry season lasts just under eight months. January has an average of eight days with at least 0.04 inches of precipitation. This makes January the month with the least wet days in Caruthersville.
Rainy days can be divided into three categories: those with only rain, those with only snow, and those with both. May, with a median of 12.1 days, is the month in Caruthersville with the rainiest days. 
According to this categorization, rain is the most common form of precipitation all year long and has a peak likelihood of 72% on July 31. In Caruthersville, April has an average rainfall of about four and a half inches, making it the wettest month. 
August has just over two inches of average rainfall, making it the driest month in Caruthersville.
Wildlife in Caruthersville
Missouri is home to almost 70 different species of wild mammals, making them the second-smallest category of vertebrate creatures in terms of species in our state. However, compared to other mammals, humans occupy the largest amount of space in Missouri. 
Although Missouri doesn't have an official state animal, the Missouri mule has served as the state animal since 1995. Since the 1820s, farmers have valued this doughty animal greatly. It was also utilized in both World Wars to transport troops and supplies. The best mules came from Missouri for a long time.
The 3,068,800-acre Mark Twain National Forest, which is located in the historic Missouri Ozarks in the southern portion of the state, is one of the best places in Missouri to find the state's top wild animals. 
More than 650 natural wildlife species can be found here, including over 300 bird species, almost 200 fish species, about 100 amphibians and reptiles, and around 60 mammal species. Even though the cougar is thought to be extinct, it has been observed to travel in and out of the state. 
The largest mammalian predator in Missouri is the black bear, even though it primarily consumes mostly plant matter.
Final Thoughts
Now that you know all there is to know about the rainiest place in Missouri, what do you think? Perhaps you call this place home or consider yourself a midwest weather buff! Either way, we hope you found this article helpful and educational! 
Up Next:
More from A-Z Animals
---
The Featured Image
---