Climatic conditions vary across Maryland. The eastern part of the state experiences a humid subtropical climate due to its proximity to the Atlantic Ocean, while the western section has a continental climate.
Like most areas in the U.S., the coldest season is winter which lasts from December to February. But the coldest places in the state experience snow as early as September, which continues into March. 
The coldest places in Maryland also experience the most snow. 
Even though many areas around the Allegheny Plateau experience significant snowfall, Oakland, a town in central Garrett County, is the snowiest in the state. 
Let's learn some exciting details about Oakland town. 
History of Oakland, MD
Maryland is one of the 13 original American colonies. Most areas in the county, including Oakland, have contributed to the rich U.S. history. 
The history of Oakland traces back to the early 1800s when the authorities established its boundaries. This decision followed the Baltimore and Ohio Railway Company's resolution to construct a rail line passing through the region. 
Oakland became a town in 1862 and has seen significant growth since then.
The completion of the railway in 1949 transformed Maryland into a famous tourist destination. The town is still home to the historic B&O railroad, which became even more popular in 1974 when it got its space in the National Register of Historic Places. 
Trains still operate on the tracks but are mostly used for special gatherings or organizations. 
Historical Buildings in Oakland 
The Oakland main street comprises edifices, mostly two, three, and four floors high. They house shopping facilities, bookstores, museums, antique shops, banks, and clothing stores. In addition, several businesses and homes in the downtown region of Oakland portray Victorian Architecture and have been listed in the National Register of Historic Places. 
St. Mathew's Episcopal Church is one of the prominent historic constructions in the town. After whom Garret County was named, John Garret constructed the church in 1859. John dedicated the church to his brother Henry Garret, who passed on in 1867. Henry chose the church location, but he died before he could realize his vision of constructing the church. 
Oakland residents called the church "the stone church" since it was first constructed using stones.
That is not the only reason behind the church's popularity.
St. Mathew's Episcopal Church has also made a name for itself by hosting several U.S. presidents. Presidents Ulysses Grant, Grover Cleveland, James Garfield, and Benjamin Harrison attended the church's services, which explains why it has the unofficial title of the "Church of the presidents."
Recent Growth Patterns
Today, Oakland is a thriving small town in Maryland, but it was not always that way. From 1970 to 1990, the town struggled with high unemployment cases, which could be attributed to the state-imposed development restrictions. 
The restrictions arose from the country's problems with sewerage. Despite its gradually increasing population, the town did not have a sewerage treatment plant. Instead, it dumped untreated sewage into River Youghiogheny for many years.
The state responded to Oakland's refusal to construct the sewerage plant by imposing a development moratorium. The unemployment problem peaked in 1995 when Bausch and Lomb shut down its plant and relocated to another state.
Oakland's fortunes began improving in 1988 when its newly elected mayor found ways of financing and constructing a sewage treatment plant. This construction caused the state to lift its moratorium in the mid-1990s. By the late 1990s, Oakland became a Main Street Community after accepting to revitalize its downtown activities. 
The revitalization process saw the town renovate and respite historic buildings, including its famous train station. These improvements revitalized the town's antique and jewelry stores, hardware, pharmacies, beauty shops, and restaurants. The town even introduced the Wonderful Wednesday summer concert to attract more visitors to the city. 
Today, the town's activities continue to be driven by its thriving business, tourism, and agricultural activities. In addition, Oakland attracts many tourists via its snow skiing, boating, hiking, trout fishing, and waterskiing activities. 
The Average Snowfall in Oakland, MD
Oakland receives about 127 inches of snowfall annually, making it among the snowiest towns in the U.S. The U.S. average is 28 inches annually. 
Oakland receives the most snowfall in January and very little in October and May. 
The town gets snowfall for eight months every year, but the levels vary across the months. 
Snowfall Across Different Months 
Snowfall in Oakland begins in October, when it receives an average of 1.2 inches and roughly 0.6 snowy days. The town experiences over an inch of snow on the ground for 0.4 days in October. 
Snowfall levels increase in November to 9.3 inches and 3.5 snowy days. In November, the number of days with more than an inch of snow on the ground is 4.9 days.
In December, the town receives an average of 25.1 inches of snowfall and 9.6 snowy days. About 16.5 days in December manifest more than an inch of snow on the ground.
Like most parts of the U.S., January is the coldest month in Oakland and also the snowiest. The town gets 35.1 inches of snow in January and 12.7 snowy days. About 23.6 days in January receive more than an inch of snow on the ground.
February is the second snowiest month in Oakland, receiving an average of 27.9 inches of snow and 9.9 snowy days. In February, you will find more than an inch of snow for 20.1 days in the town. 
The snowfall drops to 20.4 inches in March, and snow falls for about 7.2 days in the month. The number of days with more than an inch of snow in the month is 13.2 days.
In April, Oakland gets 7.8 inches of snowfall and 2.9 snowy days. The number of days with more than an inch of snow on the ground is three.
The snowy season ends in early May when the town only gets an average of 0.1 inches of snowfall. Snow falls for 0.1 days, and the snow level is below an inch the entire month.
Oakland's Climate 
Oakland receives at least one type of precipitation for an average of 173 days annually and approximately 145 sunny days. The town's primary forms of precipitation include hail, sleet, rain, and snow.
Oakland receives 50.9 inches of rain annually, much higher than the 38.1 inches U.S. average. The hottest month is July, when the temperatures reach an average of 78.1 degrees Fahrenheit against a national average of 85.8 degrees Fahrenheit. These temperatures make Oakland the coolest place to spend the summer holiday.
The most pleasant weather in Oakland is experienced between June and August when temperatures range between 70 and 85 degrees Fahrenheit. For 0.6 days annually, Oakland experiences temperatures exceeding 90 degrees Fahrenheit. 
Meanwhile, January is the coldest month when the residents experience low temperatures that average 16.7 degrees Fahrenheit against the national average of 21.7 degrees Fahrenheit.
The UV index in Oakland is 3.5, which is lower than the national average of 4.3. 
Night temperatures are significantly lower than those of day. Oakland residents experience night temperatures below freezing for 145.1 days annually. In addition, the temperatures go below 0 degrees Fahrenheit for 5.9 days annually. These cold days make Oakland one of the coldest areas to spend your nights in Maryland.
The generally cool temperatures in Oakland are responsible for the area's low humidity. Humidity remains low for most of the year except during the summer months of June, July, and August.
The Population of Oakland
Oakland had a population of 2,099 people in 2020, whose median age was 40.1. All Oakland residents were citizens in 2020, although 1.19% of them (25 people) were born outside the U.S. 
The population in Oakland is diverse, although Whites make up most of it. In 2020, 94.9% of the area's population were Whites, while 2.14 were African Americans. Mixed-race people (Hispanic) made up 1.72% of the population, Asians were 1.1%, and Native Indians were 0.191%. 
Thus, the Whites were 44.2 times more than any other race or ethnic group in Oakland.
All the residents in Oakland reported that they communicated using the English language in their homes. Even homes with bi- and multilingual speakers used English to communicate in the household. 
Oakland's Economic Activities
Oakland's economy grew by 29.65% between 2019 and 2020 and employed 1020 people, up from 754 in 2019. 
Most of the employees in Oakland work in administrative and office occupations (14.1% or 143 people), management (13.4% or 136 people), health diagnostics (11.1% or 113 people), and sales occupations (10.7% or 109 people). 
Other popular careers in Oakland include food preparation and serving (6.3%), education and instruction (5.51%), installation and maintenance (5.31%), building and ground cleaning (4.92%), and construction and occupation (4.13%). 
Educational Attainment
A significant working population in Oakland has a high school diploma as their highest educational attainment (17.9%). Those with a bachelor's degree are 16.9 %, while 9.58% have a master's degree. In addition, about 5.25 % of the town's working force have an associate degree. 
As of 2020, 0.892% of the women in Oakland and 0.977% of the men aged more than 25 did not have any academic qualifications. 
Wildlife in Oakland
Maryland has a wide variety of flora and fauna, including endangered and rare species. Maryland hosts 90 mammalian species, 93 amphibian and reptile species, 400 bird species, and several hundreds of freshwater and marine fish species. 
An unknown number of crustaceans, such as mollusks, spiders, and crustaceans, call Oakland home. 
Birds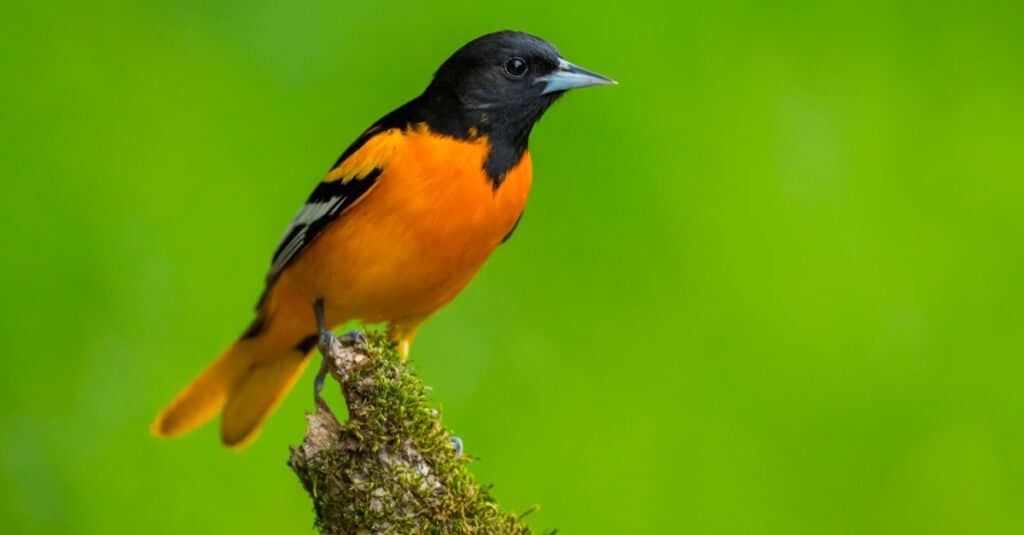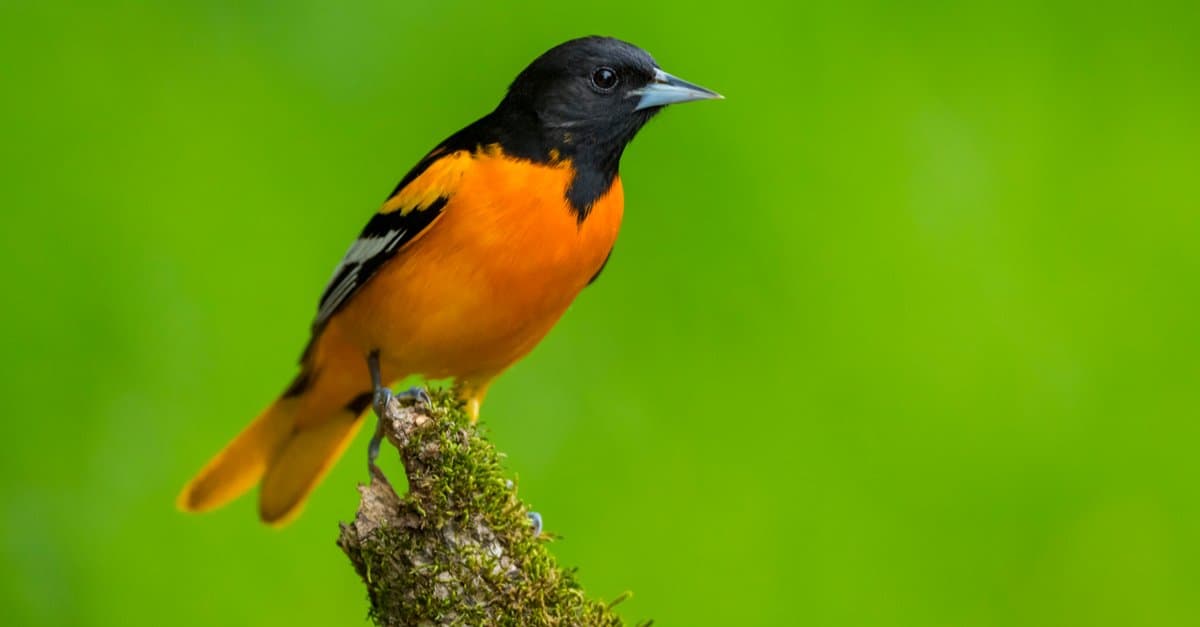 If you love bird-watching, you will easily spot one bird species in Oakland: the Baltimore oriole. In 1947, Maryland state officials named the Baltimore oriole the official state bird. As a result, you can spot this bright orange songbird in various areas around the state.
Bird watchers should also look out for ospreys, bald eagles, scarlet tanagers, and prothonotary warblers. Maryland hosts the largest population of breeding ospreys worldwide. 
The best time to watch the birds is spring when many species take their southerly and northerly migration. 
Reptiles and Amphibians 
The reptiles found in Oakland and other parts of Maryland include snakes, lizards, turtles, and tortoises, while the amphibians include frogs, salamanders, newts, and toads. 
The amphibians mostly live near water bodies where they lay their eggs. 
Twenty-seven snake species live in Oakland and Maryland, including the eastern rat snake, milk snake, and the eastern ribbon snake.
Conclusion
Oakland town in Garrett County is the snowiest place in Maryland. The town experiences snowfalls for seven months per annum but varies in monthly levels. For example, January is the snowiest month in Oakland, followed by February, while May and October experience very little snow. 
Oakland became a town in 1862 and remains popular because of its historic railway. The town has a diverse population, but Whites make up the majority, all U.S. citizens. A lot of birds, reptiles, and amphibians also call Oakland home. 
Up Next…
More from A-Z Animals
---
The Featured Image
---
Sources

Data USA, Available here: https://datausa.io/profile/geo/oakland-md/
Wikipedia, Available here: https://www.wikipedia.org/