Montana is in the mainstream consciousness now, thanks to the hit TV show Yellowstone. As a result, many people have opted to sell their belongings and head west to live their dream life. The only problem is that most of those newcomers don't anticipate Montana's winters being as harsh as they are. And many of them end up leaving after their first cold season. So before joining the throng headed to the wild west, it may help to learn about the snowiest place in Montana.
The article below will look at the snowiest place, the snowiest town, and what kinds of wildlife you can expect to see there. Keep reading to learn more!
What Is the Snowiest Place in Montana?
Not everyone realizes that Montana gets as much snow as it does, even though they flock to the area for winter sports. But, there is a significant snowfall difference between the populated areas and those a little off the beaten path.
The snowiest place in Montana is Big Sky Resort, which technically isn't a town. However, that fact is not exactly important to the thousands of visitors who arrive annually to ski on slopes that receive over 400 inches of snow annually!
Among the areas with a larger local population, Cooke City is the snowiest town in Montana. Residents there have to cope with roughly 200 inches of snow every year. If you have ever visited Yellowstone, you may be familiar with Cooke City, which is at one of the park's entrances.
Where Is Big Sky Resort?
Big Sky Resort is a popular destination year-round, and it is easy to see why. The stunning area sits almost perfectly mid-way between West Yellowstone and Bozeman, in the state's southwestern corner. Tourists can easily fly into Bozeman and take a short drive to reach the resort. Likewise, locals of Montana and Wyoming can hop onto one of the highways connecting both states to the resort.
Big Sky Resort boasts 5,850 acres of terrain for skiers and snowboarders to enjoy. Over half of that terrain offers some of the best opportunities for advanced skiers to push their limits. It has 30 lifts that take visitors to 300 named runs.
And when you are finished exhausting yourself (or waiting on a friend), sit down by the fire at one of the four hotels or countless vacation rentals. 
Where Is Big Sky Resort Located on a Map?
Big Sky Resort is in Big Sky in Madison County. The resort's central base village is Mountain Village. It's around 50 miles and an hour's drive south of Bozeman on U.S. Highway 191.
What Is the Snowiest Place in the United States?
The amount of snow that falls at Big Sky Resort annually may be slightly mind-blowing. But, surprisingly, it doesn't even hold a candle to the snowiest place in the United States. Many people may automatically think of Alaska as the location that receives the most snow due to its reputation. However, the famous northern state does not take home the top spot. 
After averaging snowfall data from the last 30 years, Crater Lake National Park, Oregon, came out on top. The stunning national park receives 463.1 inches of snow on average every year. 
What Is There to Do in the Winter at Big Sky Resort?
The slopes draw most visitors to Big Sky Resort in Montana in the winter. With hundreds of named slopes that range from beginner to extreme, winter enthusiasts can take their pick. Snowboarders and downhill skiers love the stunning and challenging terrain. And the resort also regularly hosts ski races. So, if racing down the white stuff is not your calling, there is something there for you too.
Other skiing opportunities at the resort include headlamp night skiing and nordic skiing trails. Additionally, visitors can head out for an afternoon of sledding with the family. Or take to the trails for a snowshoeing adventure. 
Big Sky Resort also offers fun adventure opportunities like dog sledding, tours via snowmobile or snow coach, sleigh rides, horseback riding, Sno-go biking, zip lines, and an enchanted forest. There is something for the whole family!
And for those who want to really brave the cold, winter fly fishing opportunities exist. Two local outfitters will take you on a winter adventure to one of the area's five blue-ribbon trout streams.
What Animals Live Around Big Sky Resort, Montana?
Montana is well-known for its wide-open land (and skies) that supports an abundant and diverse wildlife population. The Big Sky region is no different. Big Sky Resort is in Madison County, which boasts some of the animal life we explore below.
Mammals
While you are busy admiring the stunning scenery, you may spot one of 35 species of mammal that call the area around Big Sky Resort. Look for wapiti, bighorn sheep, mountain goat, moose, and American bison. Some other animals in the area may be slightly more challenging to see. Those include black bears, American minks, Pacific martens, American badgers, and muskrats.
Fish
Most people who spend the winter in Big Sky Resort or the surrounding area most likely aren't thinking much about fishing. But as the snow melts, many anglers pick up their poles to hit the water. The fishing in Montana is spectacular and brings in fishermen from all over who want to get a shot at one of the eight local species. Some fish cruising the lakes and rivers include the longnose dace, mountain whitefish, mottled sculpin, and European carp. But who can forget the epic trout fishing around Big Sky? The area is home to brown trout, cutthroat trout, rainbow trout, and brook trout.
Birds
The wide-open skies over Montana are the perfect playground for over 100 species of birds. Osprey, bald eagles, red-tail hawks, golden eagles, and ferruginous hawks dominate the sky. But keep an eye (or binoculars) peeled for the American white pelican, greater sage-grouse, white-faced ibis, summer tanager, and the great grey owl. 
Amphibians
Even though Big Sky Resort and the surrounding area are home to countless other species, not many amphibians live there. Only three, in fact. Those species are: the Columbia spotted frog, Western toad, and Barred Tiger Salamander.
Reptiles
Likewise, visitors probably won't encounter too many snakes. The area is home to the Western terrestrial garter snake, Northern rubber boa, and gopher snake. However, watch yourself near rocks and low brush. The prairie rattlesnake also lives in Montana.
Other
What the Big Sky area lacks in amphibians and reptiles, it makes up for in insects and arachnids. A stunning 247 species have been observed living in the area. That collection of tiny creatures includes species as benign and friendly as butterflies, ladybugs, and bees. But it also includes species you want to watch out for, like the black widow spider.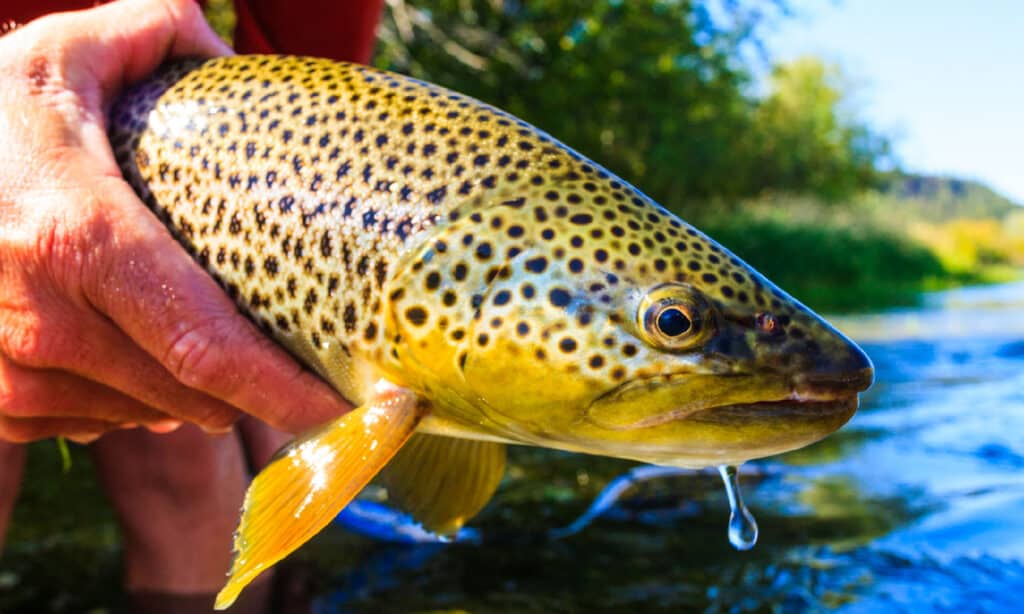 Up Next:
More from A-Z Animals
---
The Featured Image
---
FAQs (Frequently Asked Questions) 
What part of Montana has the warmest winters?
Southern Montana and Billings are typically the warmest parts of the state during the winter.
Does Montana get blizzards?
Yes, Montana does get its fair share of blizzards during the winter. The state is known for cold, howling storms.
What is the snowiest month in Montana?
On average, December is the snowiest month in the state of Montana.