September tends to be a sweet spot for weather across the country. It's an in-between month, as summer comes to a close and fall quickly approaches. Temperatures slowly drop, settling into a mild and pleasant range. If you're thinking about taking a trip this fall, check out these 10 states with the best September weather.
Note: The top seven picks take into account average temperatures, precipitation, drought, and natural disasters for the month of September.
1. Colorado
September is a beautiful time of year in Colorado. This Southwest state begins showing its bright red and orange fall colors without the freezing temperatures. Daytime is mild and pleasant, with temperatures ranging between the low 60s and upper 80s. And evenings are cool, rarely exceeding 65℉ or falling below 40℉. But the Southwest corner can stay warmer in September compared to the rest of the state. September is also a great time to visit if you want to avoid the drought and snowfall.
2. Washington
While summers seem to be most favorable in Washington, September is also an underrated time of year to visit. The crowds have died down, but the weather is still mild and warm enough to enjoy the scenery. Campgrounds are typically still open, and the skies are clear and blue. September is reliably dry in Washington, saving you from the fast-approaching wet winter season. Daytime temperatures range from the upper 60s to mid-70s, and nights hover in the 50s.
3. Massachusetts
Early to mid-September is one of the best times of the year to visit Massachusetts. The weather is still warm, mild, and sunny, with daytime highs ranging from the upper 60s to the upper 70s. Nights are cool but nowhere near freezing, typically falling within the 50s. Massachusetts in September produces breathtaking fall foliage, mild weather, and lower humidity, allowing you to really enjoy your stay without sweltering heat or freezing cold. By the end of the month, you can expect cooler temperatures around the mid-60s.
4. New York
September is, by far, one of the best months to visit New York. It provides a comfortable temperature, fewer crowds, and beautiful early fall scenery. Most of the month is clear or partly cloudy, and the temperature is pleasant, with days in the mid-70s and nights in the low 60s. You can beat the sweltering heat and the frigid winter, just be sure to wear light layers so you can adjust between day and night.
5. Wyoming
With mild weather, cheaper accommodations, and better wildlife viewing, Wyoming is a dream in September. Because this western state is an outdoor lover's paradise, weather can make or break your trip. Thankfully, September is neither hot nor cold and early enough to beat the snow. Whether you're camping or visiting Old Faithful, you can expect the temperature during the day to be between the upper 50s to mid-70s. On average, September weather in Wyoming is mild and somewhat cool, with a light breeze.
6. Montana
September is the best month of the year to visit Montana. This transition month produces mild and pleasant weather, neither too hot nor too cold, and the summer vacationers have cleared out, leaving a peaceful late summer and early fall atmosphere. Montana in September is dry and clear, with highs in the low 80s to low 70s. Depending on the day, you might see a temporary cold front move through, but nothing too drastic. September snow in Montana is very rare.
7. Vermont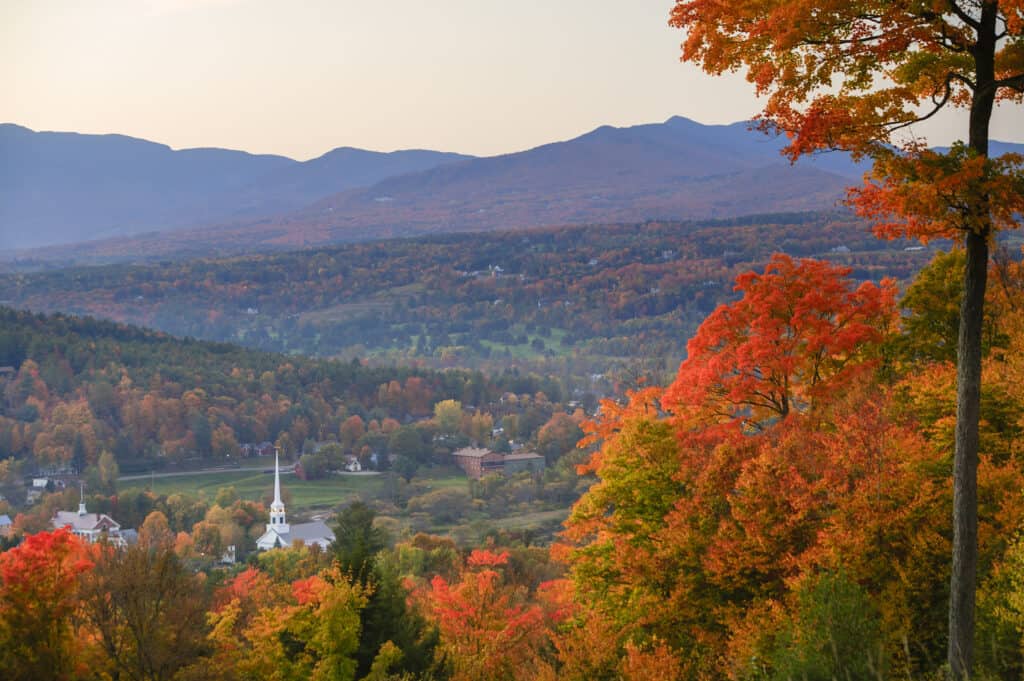 Falls in Vermont are swoon-worthy, and September is no exception. This Northeast state comes alive with burnt orange, yellow, and red by mid-September. Temperatures begin to drop slightly but stay relatively mild. And many feel the best time to visit Vermont is between September and November when the weather is still agreeable, and the colors are in full effect. The average daily high is in the low 70s, and the daily low is in the low 50s.
8. Idaho
Though still hotter than most on this list during September, Idaho is pleasantly warm and features a light breeze and clear skies. However, the northern regions can experience cooler weather during September, but still mild overall. The average daily highs are in the low 80s, while the lows are in the upper 50s.
A Recap of the 7 States with the Best September Weather
| Rank | States With the Best September Weather | Average Highs and Lows |
| --- | --- | --- |
| 1 | Colorado | 78℉/44℉ |
| 2 | Washington | 72℉/54℉ |
| 3 | Massachusetts | 75℉/58℉ |
| 4 | New York | 76℉/61℉ |
| 5 | Wyoming | 74℉/57℉ |
| 6 | Vermont | 71℉/53℉ |
| 7 | Idaho | 82℉/58℉ |
The photo featured at the top of this post is © Francois Roux/Shutterstock.com
---