Key Points:
The tallest waterfall in New York State is Taughannock Falls which has a 215-foot drop.
It is taller than Niagara Falls.
Taughannock Falls are found tucked away in the Taughannock Falls State Park in Tompkins County.
Waterfalls are some of the most breathtaking sights, with the constant flow of the water crashing down over rocks. They can be formed in several different ways and can be a variety of sizes. Although New York state is well-known for its popular urban areas, it also has a vastly diverse landscape where you can find a stunning waterfall that is taller than Niagara Falls. So, read on to learn about the tallest waterfall in New York state. We'll discover where it is located and how it was formed, as well as what animals you might see there.
What Is the Tallest Waterfall in New York State?
The tallest waterfall in New York State is Taughannock Falls which has a massive 215 foot drop. Incredibly, Taughannock Falls is 33 feet taller than Niagara Falls, although it has a much smaller volume of water. However, it is also considered to be the tallest single-drop waterfall to the east of the Rocky Mountains.
Taughannock Falls are located in the Taughannock Falls State Park in Tompkins County. Taughannock Falls are just 10 miles north of Ithaca on the western shores of Cayuga Lake. The waterfall can be viewed from two hiking trails — Gorge Trail and South Rim Trail. Gorge Trail is three-quarters of a mile long and follows Taughannock Creek to the base of the waterfall where there is a viewing area. The South Rim Trail is a longer trek at approximately 1.25 miles. It offers a scenic view of the waterfall, as well as a view of the nearby Upper Falls waterfall.
The state park is named after the waterfall. However, the true origin of the name of the falls is somewhat uncertain. Much of the surrounding area is part of the historical lands of the Cayuga Nation. These are one of the original constituents of the Iroquois Confederacy. The most widely accepted theory as to the origin of "Taughannock" is that it is derived from the Iroquoian and Algonquian words which mean "great fall in the woods". However, another theory claims that Taughannock is the name of a Chief from the Delaware tribe who died in a battle near the waterfall.
How Were Taughannock Falls Formed?
Taughannock Falls can be found along Taughannock Creek which is part of the Cayuga Lake watershed. It flows through a steep gorge with 400 feet high sides. As spectacular as the waterfall is, one of the most fascinating things about it is how it was formed. The gorge is made from layers of rock, including limestone, shale, and sandstone. They are sedimentary rocks and these layers were formed over millions of years. Much of the area was originally underwater, though, with only shallow lakes and rivers, compared to those in the area today. Glaciation changed this, causing deep U-shaped regions and hanging valleys.
The water in Cayuga Lake was also originally 600 feet higher than its present level, allowing the creek to flow directly into it. However, the constant movement of the water over the rock has eventually eroded the layers of rocks enough to create the stunning waterfall and the three-quarter mile long gorge.
Wildlife Around Taughannock Falls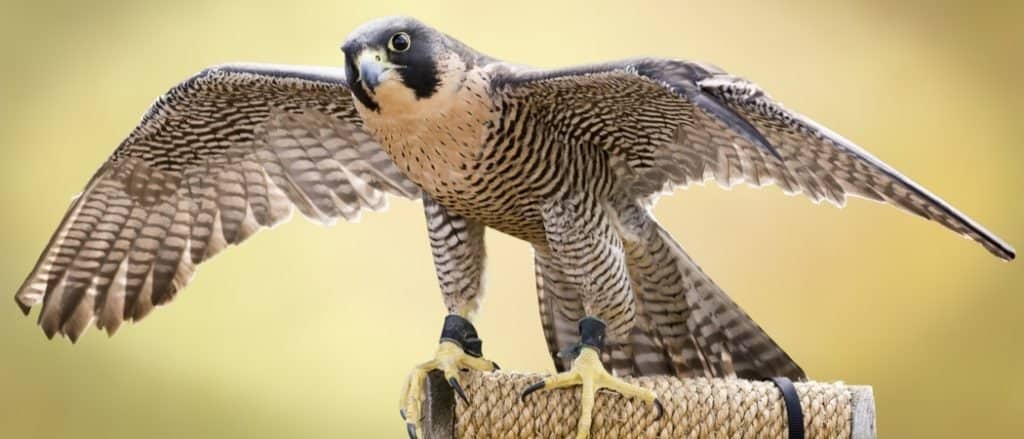 If you're visiting Taughannock Falls then it's not just the spectacular waterfall that you're likely to see, as there are many different animals living in the surrounding area too. In fact, as Taughannock Falls State Park spans 750 acres, it is home to a diverse range of flora and fauna. In 2020, peregrine falcons finally returned to Taughannock Falls after several decades of near extinction. A breeding pair choose the gorge as their nesting spot. They have now successfully reared chicks there several years in a row.
Other animals that can be spotted in the area include deer, bats, foxes, coyotes, weasels, and huge turkey vultures. When it comes to the creeks and lakes near the waterfall then you can expect to find lake trout, brown trout, pike, lake sturgeon, and catfish.
Things to Do Near Taughannock Falls
There are plenty of things to do if you're visiting Taughannock Falls and want to make a trip of it. There are numerous other hiking trails around the park, as well as the Gorge and South Rim Trails which take you to the waterfall. These include the Black Diamond Trail. Although not part of the park it is one of the more challenging routes in the area at just shy of 8.5 miles long. However, there are plenty of picnic and camping spots throughout the park, allowing you to take your time and enjoy the scenery.
If hiking isn't your thing then you try your hand at fishing. You can even go for a relaxing swim in Cayuga Lake (in a dedicated area that is monitored by lifeguards). There's also a summer concert series which is held in July and August, with local bands headlining the stage.
Although Taughannock Falls State Park is undoubtedly popular in the summer, there are still plenty of winter activities to explore. There is a dedicated sledding and ice-skating spot on Rice Hill, overlooking Cayuga Lake. As well as the hill and two ponds, there are several trails which are perfect for skiing or snow-shoeing. Plus, there's even a hut with a wood stove so you can warm up again!
Where is Taughannock Falls Located on a Map?
Taughannock Falls is known as the tallest free-falling waterfall that is found east of the Mississippi. In fact, it is 33 feet taller than Niagara Falls however, the volume of water is much smaller. The Gorge and Rim trails offer an amazing view of the falls.
Here is Taughannock Falls on a map:
---
The Featured Image
---